Best known for her quirky and deadpan comedic prowess, Aubrey Plaza boasts a personality as enigmatic as her on-screen characters, such as April Ludgate from Parks and Recreation. Her multi-layered personality is a perfect blend of sarcasm, wit, mystery, and logic!
Today we will unravel Aubrey Plaza's personality type, traits, zodiac, and much more for her audience who is fascinated by her distinctive sense of humor and candid approach to life!
Takeaways
Aubrey Plaza possesses an INTP personality type, according to the Myers-Briggs Type Indicator. 
As an INTP, Aubrey's best-matching MBTI types are ENTJ and ENFJ.
Her Enneagram of personality is Type 6 with the wing type 7.
Aubrey was born on the 26th of June, so her zodiac sign is Cancer.
| | |
| --- | --- |
| Name | Aubrey Christina Plaza |
| Age | 39 |
| Birth Date | June 26, 1984 |
| Zodiac Sign | Cancer |
| MBTI Personality Type | INTP |
| Enneagram Personality | Type 6w7 |
| Personality Match | ENFJ and ENTJ |
| Occupation | Actress, Comedian, Producer, Writer |
| Parents | Bernadette Plaza and David Plaza |
| Siblings | Natalie Plaza, Renee Plaza |
| Spouse | Jeff Baena |
What is Aubrey Plaza's MBTI Personality Type?
American actress and comedian Aubrey Plaza's MBTI personality type is INTP, with signature traits of introversion, intuition, thinking, and perceiving. One of the core traits of an INTP, intellect, is reflected in Plaza's incredibly witty comedy!
Moreover, Plaza likes to drill down into the details of everything to ensure the consequences. She relies on her intuition and sees the bigger picture instead of stressing over practical reality.
She has high standards and possesses a strong sense of curiosity about the things surrounding her. And although the actress is reserved, she has flexibility regarding actions and thoughts and doesn't like to conform to routines.
What is Aubrey's INTP Subtype?
Considering her self-assured, independent, and self-reliant personality, Aubrey Plaza is likely to be an INTP-A (Assertive). Her assertiveness also displays in the way she is always focused on her goals and interests, despite having a skeptical and reserved attitude as an INTP.
What is Aubrey Plaza's Enneagram Type?
According to the Enneagram of Personality, Aubrey Plaza is Type 6, which we also refer to as The Loyal Skeptic. She is a sucker for innovative ideas to try, which is one of the reasons behind her flourishing comedic career.
Moreover, as Type 6, The White Lotus actress is easily impressed by abstract concepts and having informative and logical discussions. However, Aubrey is also quite skeptical about her actions, which often makes her anxious. But she has a way of working with it.
What is Plaza's Enneagram Wing Type?
Aubrey Plaza's Enneagram wing type is 6w7, which makes her a wholesome personality. For instance, this wing balances her introverted persona and makes her more light-hearted in a way that she'd laugh at her fears instead of stressing over them.
Moreover, it also allows the actress to be optimistic and less inclined to her anxious and negative thoughts. Thanks to her Type 6w7 type, Plaza always brings creativity and positive, contagious energy to the stage and screen!
What are Aubrey Plaza's Personality Traits?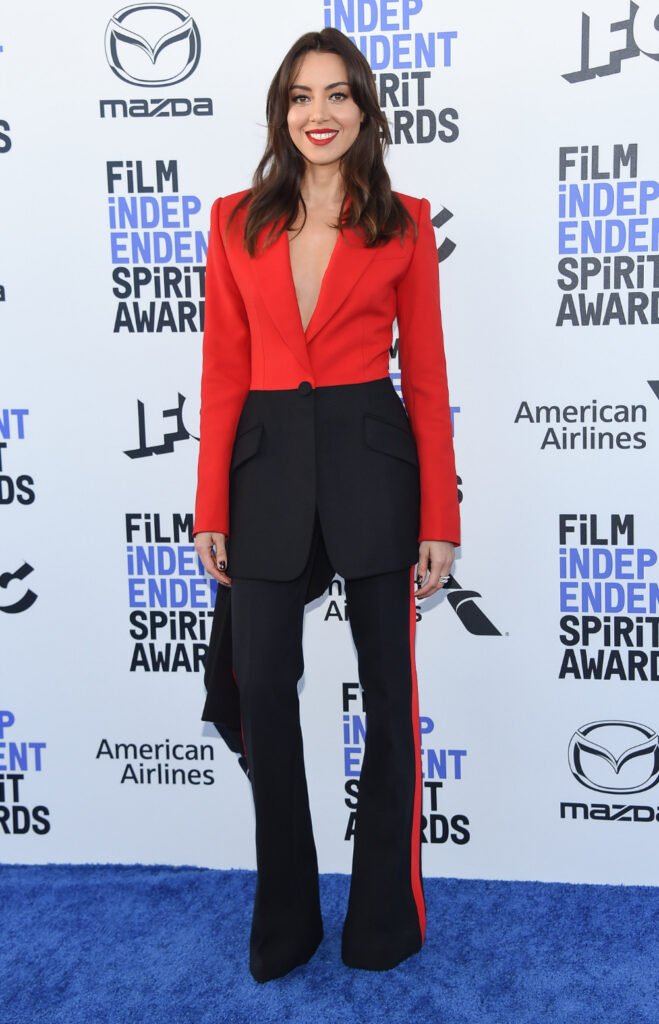 Innovative: Aubrey Plaza is so drawn to thinking and trying out innovative ideas with her inventive mindset. And this attribute helps her a lot in comedy gigs and stand-ups as well as in on-screen roles.
Independent: Aubrey is an independent woman, personally and professionally. As an INTP, she is also an independent thinker but sometimes may need help clarifying her thoughts.
Curious: Curiosity comes naturally to this amazing actress. She is deeply curious about the world around her. Besides, she is driven by a thirst for knowledge and enjoys exploring new ideas, theories, and possibilities.
Reserved: Plaza is a somewhat reserved human being and takes time to open up to others. She observes before participating in social interactions. And rather than going out, she'd prefer to binge-watch her favorite stuff on TV.
Dependable: Being a Type 4 personality, Plaza has a strong sense of loyalty and commitment to people and causes she deems worthy. She would often go above and beyond to fulfill her obligations.
Anxious: As someone with INTP type, Aubrey experiences a sense of anxiety and fear in certain situations, which may affect her performance. But the actress is able to work on her anxiety, thanks to her Wing Type 7.
Which Is Aubrey Plaza's Zodiac Sign?
American actress and comedian Aubrey Plaza's zodiac sign is Cancer, as she was born on the 26th of June. Some of the core traits of a Cancer female, like being intuitive, imaginative, visionary, and sensitive, perfectly correlate with her MBTI personality type.
What is Aubrey Plaza's Best Matching Personality Type?
Since Legion actress Aubrey Plaza is an INTP, her most compatible and best-matching personality types are ENFJ and ENTJ. These personalities have some common as well as opposing traits, which makes them a perfect match for INTPs.
For instance, both ENFJs and ENTJs are highly intuitive and curiously explore possibilities, just like Aubrey's personality type. On the other hand, the extraversion trait of both types will balance her introverted and reserved personality, proving to be a compatible match!
Is Aubrey an ENTP?
Aubrey Plaza does not have an ENTP personality as she prefers to keep herself reserved and focus inwardly, gaining energy from her thoughts and ideas, making her an INTP.
Moreover, unlike an ENTP, Plaza prefers solitude and introspection over socializing a lot; she does it only as much as she needs to!
Aubrey's Quotes That Show Her Personality
Let's check out some of Aubrey Plaza's quotes, which gave us a glimpse into her personality!
"I'm totally an anxious mess all the time. There's a constant dialogue going on in my brain, and it's just reminding me of all the failures that I have had, and all of the things I need to do, and all of the things I'm not doing good enough." – This quote speaks a lot about her INTP and Type 4 personality.
"My people would love it if I smiled more, if I was more 'approachable." – These words reflect Aubrey's reserved personality.
"I'm not super comfortable in my skin. I have to make it work for me, and that usually amounts to making it uncomfortable for everyone else." – This quote shows her skeptical traits.
"I'm not a super emotional person, so that's one reason I love acting–it makes me deal with myself in that kind of way." – This quote hints that Aubrey is more of a logical person than an emotional one.
"There are always parts of me that come out in the characters that I play – it's the only thing I have to work with and to draw off of." – This shows the sensitive side of the actress.
Aubrey Plaza is loved not just for her impressive acting and witty humor but also for her charming personality. And we hope you got all the exciting details about her personality and attitude!