From beginning her career as a comedian to becoming a well-established actress in the industry, Aubrey has come a long way. She has faced challenges, both personally and professionally but has never backed down.
Whether it's the big screen or the silver screen, the Golden Globe-nominated actress knows how to swoon us with her witty humor and charm, as seen in one of her recent performances in The White Lotus. A born actor in all senses!
IN A GIST
Multifaceted actress Aubrey Plaza has an admirable height of 5 feet 6 inches or 168 cm (1.68 m).
Aubrey Plaza looks sensational with her toned figure weighing around 54 kg or 119 pounds.
Born on the 26th of June, Aubrey is soon to enter her 40s. If you're an Aubrey fan, then read along about her life, relationships, measurements, & more!
How Old Is Aubrey Plaza?
Aubrey Plaza is a talented and beautiful 39 years old American actress, comedian, and producer born on June 26, 1984. But despite being in her late 30s, Aubrey's INTP personality type and timeless charm can make anyone feel like she's in her early 20s.
Aubrey Plaza's Story of Success
Though Aubrey entered the industry in 2006 with a few short films and the show 30 Rock, she got her first lead role in 2012 with 'Safety Not Guaranteed.' She has also appeared in the films Mystery Team, Life After Beth, Black Bear, and more.
One of her most renowned roles on TV is April Ludgate from Parks and Recreation. She has been greatly appreciated for this role and the deadpan employee she played.
In 2017, Aubrey made her production debut with the movie The Little Hours. The most popular films produced by Aubrey Plaza are Black Bear (2020) and Ingrid Goes West (2017). She has won and has been nominated for her work in these films.
Plaza is currently all set to star in the Netflix comedy film Hope along with a few other projects.
Moreover, she wrote a children's book, "The Legend of The Christmas Witch," in 2021 with co-author Dan Murphy & illustrator Julia Iredale. This book has also done quite well.
Aubrey's Dating History
Aubrey Plaza is currently happily married to director and writer Jeff Baena. Both the stars have worked together several times & have been in a relationship since 2011. It was in 2021 that Aubrey took to Instagram to announce her wedding.
There have also been rumors of Aubrey dating her co-stars in the past, but she has never acclaimed any of it. However, Aubrey has once accepted that she is bisexual. She said that girls are into her & she is into them too.
Full Born Name: Aubrey Christina Plaza
Nickname: Aubrey
Occupation: Actress, Comedian, Writer, Producer
Date of Birth: 26 June 1984
Birthplace: Wilmington, Delaware, US
Zodiac Sign: Cancer
Father Name: David Plaza
Mother Name: Bernadette Plaza
Siblings' Names: Natalie Plaza, Renee Plaza
Spouse: Jeff Baena (m. 2021)
Aubrey Plaza's Height
The White Lotus actress possesses a great stature, thanks to which she has landed quite some great roles till now. Aubrey Plaza stands 5 feet 6 inches or 168 cm (1.68 m) tall, which gives a perfect model-like appearance! 
Aubrey Plaza's Weight
Aubrey Plaza has done a fabulous job carving out a chiseled figure, and she weighs only around 54 kg or 119 pounds. Such an excellent height-to-weight ratio is not that easy to maintain. But Aubrey does it so well.
Plaza starts her day the right way with water and smoothies to give her body what it needs. She also drinks herbal teas between her shoots to keep her energy up throughout the day.
Moreover, though Plaza is not consistent in her workouts, she did use to play basketball, which helped her a lot in staying lean. Other than that, she majorly prefers Yoga in her routine. It is actually her favorite kind of workout.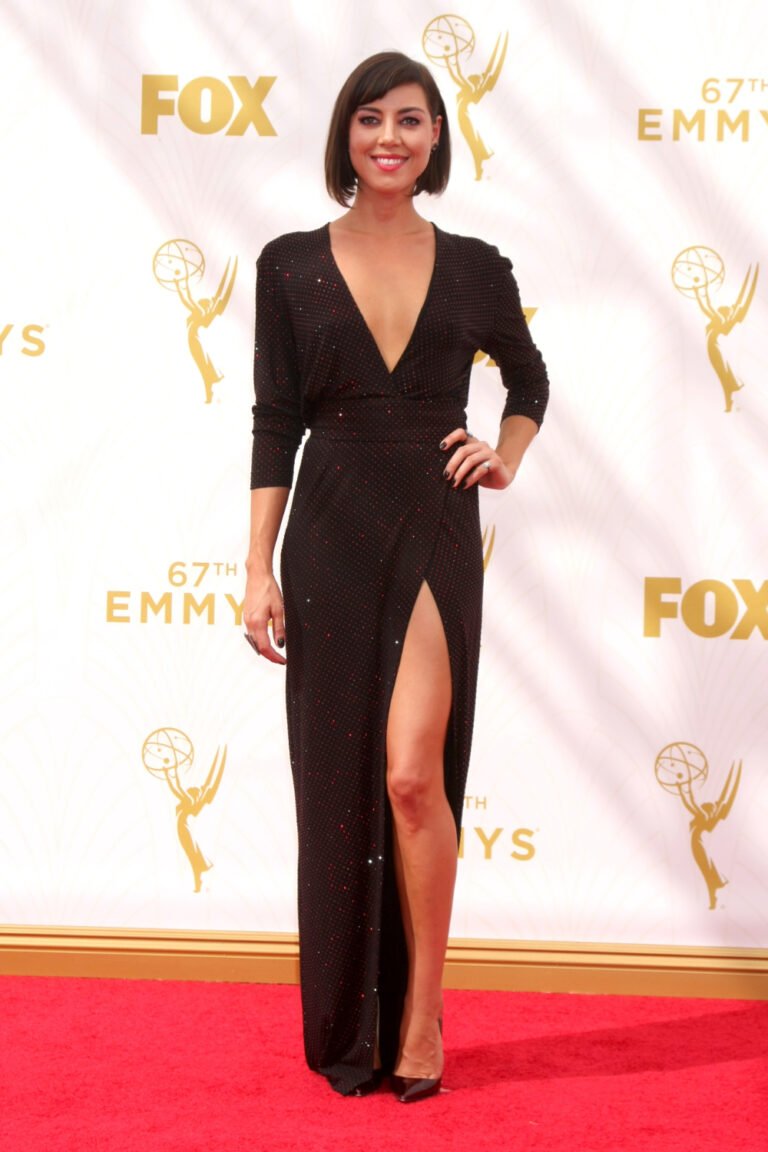 Aubrey Plaza's Body Measurements and Striking Features
Aubrey Plaza has never failed to woo her viewers with the utmost beauty and hot figure that measures around 34-25-36 in or 86-63-91 cm. Thanks to such a sensational physique, Plaza is a true fitness icon for many aspiring actresses out there!
And why just a fitness icon; the gorgeous actress is a complete beauty icon with her naturally dazzling oval face with chiseled cheekbones and those hypnotic light brown eyes. The way Plaza styles her mid-brunette hair makes all the fashionistas go crazy!
Thanks to her well-sculpted physique, Plaza simply rocks body-hugging outfits, with her dress size being 6 (US) or 38 (EU) or 10 (UK). And while her stunning physique gets her the spotlight, Aubrey's feet in showy footwear of shoe size 8 (US) or 39 (EU) or 6 (UK) displays her classy fashion sense!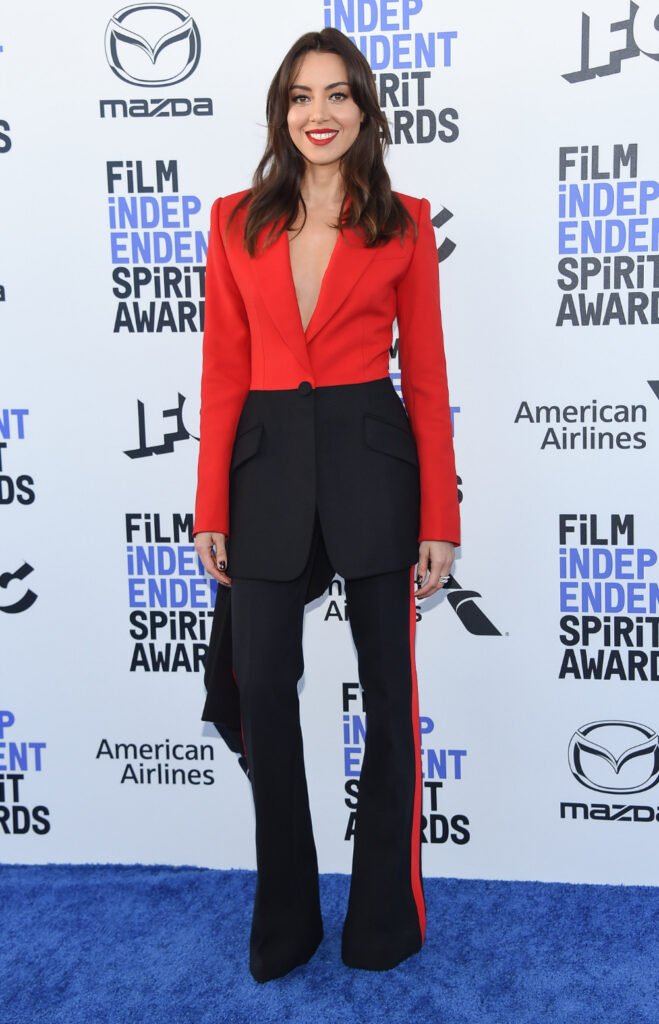 Aubrey Plaza's Ample Bosom
Be it on the big screen or on TV shows, the Legion actress has always left the viewers with a fantastic experience with her attractive and sensual appearance. Aubrey Plaza's breast size is 34 inches, and she seemingly wears a bra size 32B with a cup size B.
Did you know that Aubrey was initially offered the role of Zac Efron's love interest in the 'Dirty Grandpa'? However, after reading the script, Aubrey decided to play the role of Robert De Niro's girlfriend in the film.
She just wanted to go for something crazy and out of the ordinary. And so, it was this role of the girlfriend for Aubrey that ended up in an epic sensual scene with Robert in the film.
| | |
| --- | --- |
| Height | 5 feet 6 inches or 168 cm (1.68 m) |
| Weight | 54 kg or 119 pounds |
| Face Shape | Oval |
| Breast Size | 34 inches |
| Bra Size | 32B |
| Cup Size | B |
| Body Measurements | 34-25-36 in or 86-63-91 cm |
| Figure | Banana |
| Shoe Size | 8 (US) or 39 (EU) or 6 (UK) |
| Dress Size | 6 (US) or 38 (EU) or 10 (UK) |
| Eyes Color | Light Brown |
| Hair Color | Dark Brown |
Disclaimer
Aubrey Plaza's Net Worth
With her multiple talents and gorgeous looks, Aubrey Plaza is surely one of the most renowned personalities in the Hollywood industry today. Thanks to her lucrative career with huge shows like The White Lotus, Aubrey Plaza has an estimated net worth of $8 million as of 2023.
Aubrey Plaza's Most Loved Things
Favorite Comedian: Louis CK
Favorite Show: Saturday Night Live
Favorite Place: Beach
Favorite Pets: Cats, Dogs
Favorite Cast: Emily the Criminal Cast
A Few Fun Facts About Aubrey
There have always been major rumors about Plaza's name that 'Aubrey' was named after one of the songs of the 70s band 'Bread.' Well, yes, this rumor is absolutely true, and Aubrey loves her name and the song.
We all have our fantasies of wanting to become superhuman at least once in life, right? But do you know what Aubrey has always wanted to be? Catwoman. She wants to become or play Catwoman's role more than anything.
What face shape does Aubrey Plaza have?
Aubrey has a beautiful face in an oval shape. Her face shape plays an important role in adding more beauty to her features overall.
What is Aubrey Plaza's hair color?
Aubrey Plaza's natural hair color is medium to dark brown, but she likes to experiment with her hair and is seen in light blonde hair, as well as darker shades of black and red.
What color eyes does Aubrey Plaza have?
Aubrey has beautiful eyes with a light brown shade that enhances all her other features.
Did Aubrey Plaza win a Golden Globe?
Aubrey Plaza was nominated for a Golden Globe Award for Best Supporting Role in the 2022 show The White Lotus, but she didn't win the award.
Does Aubrey Plaza have aphasia?
Plaza suffered from temporary expressive aphasia during her 20s when she had a stroke.
Was Aubrey Plaza a portress?
Yes, Aubrey Plaza worked as a portress before becoming an established actress.
Did Aubrey Plaza play Wednesday Addams?
No, Aubrey Plaza didn't play Wednesday Addams; the role was played by Jenna Ortega in the new Netflix series Wednesday.
Does Aubrey Plaza do stand-up?
Aubrey Plaza performed stand-up comedy before kickstarting her full-fledged acting career.
Can Aubrey Plaza speak Spanish?
Though Aubrey is half-Puerto Rican, she still doesn't know Spanish that well. She is not quite fluent in the language, and neither is her father.
Is Aubrey Plaza Latina?
Yes, Aubrey Plaza is Latina, given her half Puerto Rican descent and half Irish & English descent.
Did Aubrey Plaza go to college?
Aubrey graduated from Ursuline Academy in 2002 and then graduated from New York University's Tisch School of the Arts in 2006.
Where does Aubrey Plaza live?
Aubrey Plaza was born in Wilmington but currently resides in Los Angeles, California.
With her multiple successful talents, Aubrey Plaza inspires many to experiment in their professional lives. Her coming out is also something that others might take inspiration from. Like Plaza, Amanda Bynes has also been an inspiration to the LGBTQ+ community. Join us to know more about her!