Halle Berry is an amazing actress who is known to commit to her fitness with an iron-hard will. Despite having Type 1 Diabetes, she has had nothing but unwavering determination to look lean and have rock solid abs in this uphill battle.
Halle Berry follows a keto diet to help her manage her diabetes. Her meals include foods rich in fats, proteins, and other essential nutrients from vegetables, fruits, and supplements.
Halle Berry's Diet Plan
Halle's diet plan is entirely focused on nutrition to help deliver fuel for her intense workouts while also combating her diabetes. Her diet plan has been custom-designed by her trainer, Peter Lee Thomas, the effectiveness of which is evident in her measurements.
Height: 5 feet 5 inches or 1.65m
Weight: 121 pounds or 55 kg
Age: 45 years
Halle has always had to be conscious about what she eats due to her diabetes. However, she credits her determination to eat healthy to her doctor, who told her that she has to make drastic changes to her lifestyle or die slowly.
Meal #1: Breakfast
A large glass of water with the juice of one lemon
Meal #2: Morning Snack
Master Amino Pattern (Supplement)
Coffee with MTC oil
Can't Beet This (Supplement) on workout days
Meal #3: Lunch
Chicken/Steak
Spinach/Kale
Two or Three Eggs
Meal #4: Evening Snack
Fruits
Vegetables
Avocado
Bone Broth
Meal #5: Dinner
Lamb Stew/Lamb Chops/Chilli Con Carne
Zucchini Noodles with pine nuts and pesto
Halle Berry's Indulgences
While Halle had to clean up her diet after being diagnosed with diabetes, she refused to part with wine. However, she has had wine every day for the last 20 years, as it's the best way for her to unwind the day.
Halle Berry's Diet for Movies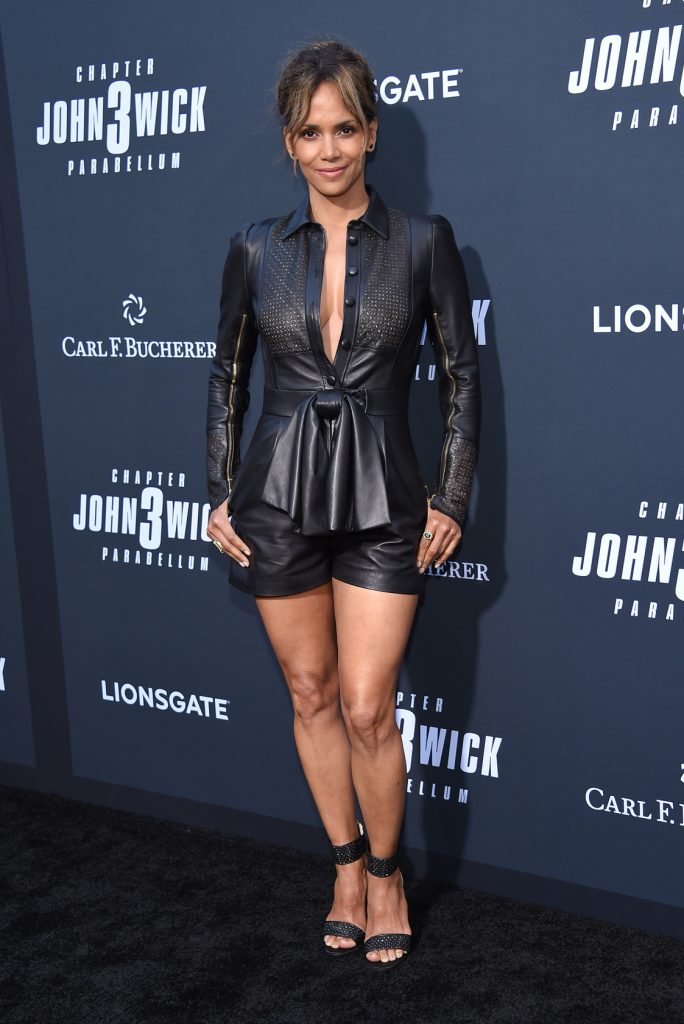 While Halle has stayed healthy throughout her career, she has adjusted her diet plan for certain movies. Let's take a good look at what changes she brought into her healthy diet.
Halle's diet has been relatively consistent over the years due to her condition. However, she has also tweaked it at times to prepare for upcoming films.
John Wick Series
During the shooting of John Wick 3 and 4, Halle stuck to her keto diet while increasing her protein intake to gain some more muscles. She also started drinking bulletproof coffee around this time.
X-Men Series
During the X-Men series, Halle Berry started eating complex carbs and proteins to look superhero-ready. Each of her meals was prepared with only five ingredients and took five minutes to cook.
Halle Berry's Workout Routine
Halle Berry lives an active lifestyle and has acquired great eating and training habits to achieve a perfectly toned physique. She runs a fitness Friday series on her Instagram account, which has gained many social media followers because of her perfect body statistics.
Halle Berry is highly committed to her workouts. She performs high-intensity MMA style cardio workouts, plyometric training, strength training, running, meditation and boxing to stay in good shape throughout the year.
Halle Berry's Exercise Plan
Halle Berry takes workouts as a fundamental part of life and believes that one can transform their life entirely by staying focused on training regularly.
Monday to Friday:
Workout 1: Kettlebell Training (3 sets)
Kettlebell Deadlift
Kettlebell Walking Lunge
Kettlebell Goblet Squat
Kettlebell Swing
Workout 2: Resistance Training (3 sets)
40 Lunges
Bicep Curls
Ankle Weights Training
Dumbbell training
20 Squats
Overhead presses
Workout 3: Full Body
Pliés – 50 reps
Seated bicep curls – 60 reps, 5lb dumbbells
Side lateral – 35 reps, 3lb dumbbells
Butt lift – 75 reps
Bicycle crunches – 60 reps
Plank – 60 seconds
Bench Press – 60 reps, 18lbs medicine ball
Triceps pushdown – 35 reps
Workout 4: Fight Training
MMA Training
Plyometric Training
Punching Bag
Core Workout
Running
Boxing
Workout 5: Power Yoga
45-minute sessions twice a week
Workout 6: Spin Class
Workout 7: Stretching
Stretching before and after every workout
Workout 8: Meditation
half an hour of meditation helps her stay connected to God
Path towards spirituality
Saturday & Sunday: Rest Days
Halle Berry's Workout in Movies
Halle Berry is an amazing actress who knows how to commit to a role indeed. She has switched up her workout routine several times just to fit in the body of the character she's playing.
Workout for John Wick Series
Halle Berry played Sofia in the action thriller movie 'John Wick 4', and she trained under her trainer Peter Lee Thomas to get fit for the role. Her trainer has testified that she teaches harder than any other celebrity to get in shape, as they trained for core exercise and strength training.
Workout for X-Men Series
Halle Berry has received top billing for her role in the theatrical X-Men movie series. She credits weight training and abs exercises that have helped her develop maximum core strength. She even trained for martial arts and used dumbbells and ankle weights that made the workout even more challenging.
Workout for Catwoman
Halle Berry trained with celebrity trainer Harley Pasternak to fit the role of Catwoman and followed a 5-factor workout routine. While filming, she got a 40 minutes lunch break that she utilized as a 25-minute workout session and the remaining time for having her meals.
The 5-factor workout routine includes cardio warmup, three sets of lower body training, three sets of upper body training, three sets of core exercise, and five minutes of cardio cool down.
What does Halle Berry eat for Breakfast?
Halle Berry eats a keto diet, including egg whites, avocados, and sliced tomatoes in her breakfast.
How did Halle Berry reverse diabetes?
Halle Berry did not cure herself of Type 1 Diabetes because it is incurable, though she stirred headlines when she weaned herself off insulin to reverse diabetes.
What did Halle Berry cut out of her diet?
Halle Berry had to cut off sugar from her diet and switch to a keto diet when she was diagnosed with Type 1 Diabetes, as she was a major sugar addict.
Halle Berry is a very talented actress and model who has pushed her limits to achieve her success. She has perfected her diet and workout routine over the years and maintained an ideal body despite her condition. Heidi Klum is another actress with a similar commitment to her diet and fitness regimen. She has been featured along with Halle Berry in fitness magazines and Top Hottest Women's list.