Candice Swanepoel is a Victoria's Secret Angel and one of the most famous lingerie models in the world. However, this South African model has always been serious about maintaining her health.
Candice Swanepoel has a personalized diet plan consisting of a big breakfast, a filling lunch, and a light dinner.
Candice Swanepoel's Meal Plan
Candice has a unique diet plan when compared with other Victoria's Secret Models. She enjoys filling up completely during her breakfast because it keeps her from snacking later in the day. Doing so also boosts her metabolism and helps her maintain her perfect measurements.
Height: 5 feet 9 inches or 1.77 m
Weight: 119 pounds or 54 kg
Age: 32 years
Candice loves to eat a healthy yet delicious meal. She isn't one to compromise on the quality of her meal just to eliminate a few calories from it.
What Does Candice Swanepoel Eat for Breakfast?
Candice's breakfast begins with some protein, and she often eats bacon and eggs. When she's not in the mood for bacon, she enjoys a nice smoothie made with fruit, coconut oil, flaxseeds, and nut butter.
She also eats a few berries to get a healthy dose of antioxidants. Candice likes coffee but stays away from caffeine in the morning. So instead, her go-to beverage would either be her smoothie or a cup of decaf to help replenish her energy levels.
What Does Candice Swanepoel Eat for Lunch?
For lunch, Candice goes for a filling meal like grilled chicken and brown rice with veggies. This is her go-to meal, especially when she's busy with work since it's quick and easy.
What Does Candice Swanepoel Eat for Dinner?
Candice enjoys a light dinner and usually eats a nice salad with fresh ingredients or a light soup. She follows this order of meals to maintain her ideal metabolism; however, she also listens to her body.
She isn't too worried about what she eats and doesn't believe in counting calories. It's mostly because she was born with a fast metabolism and can eat almost anything she wants without gaining noticeable weight.
However, Candice does listen to her body and eats what she feels her body needs. Thus, she is in tune with her internal systems and knows what her body needs precisely and in what amounts.
What is Candice Swanepoel's Body Type?
Candice Swanepoel has an ectomorph body, which naturally has a lower body weight and higher metabolism. However, she also finds it very hard to gain muscles because of this.
Candice's Diet During Fashion Shows
Candice has a very balanced diet and doesn't like restricting herself when it comes to eating food that she likes, but she does switch things up a bit before and during her fashion shows with Victoria's Secret.
During these stretches, she makes sure that she only eats fresh foods and ensures that her nutritional requirements are met well. She also starts drinking caffeinated coffee during her shows because it can get stressful to manage two children and prepare for the show simultaneously.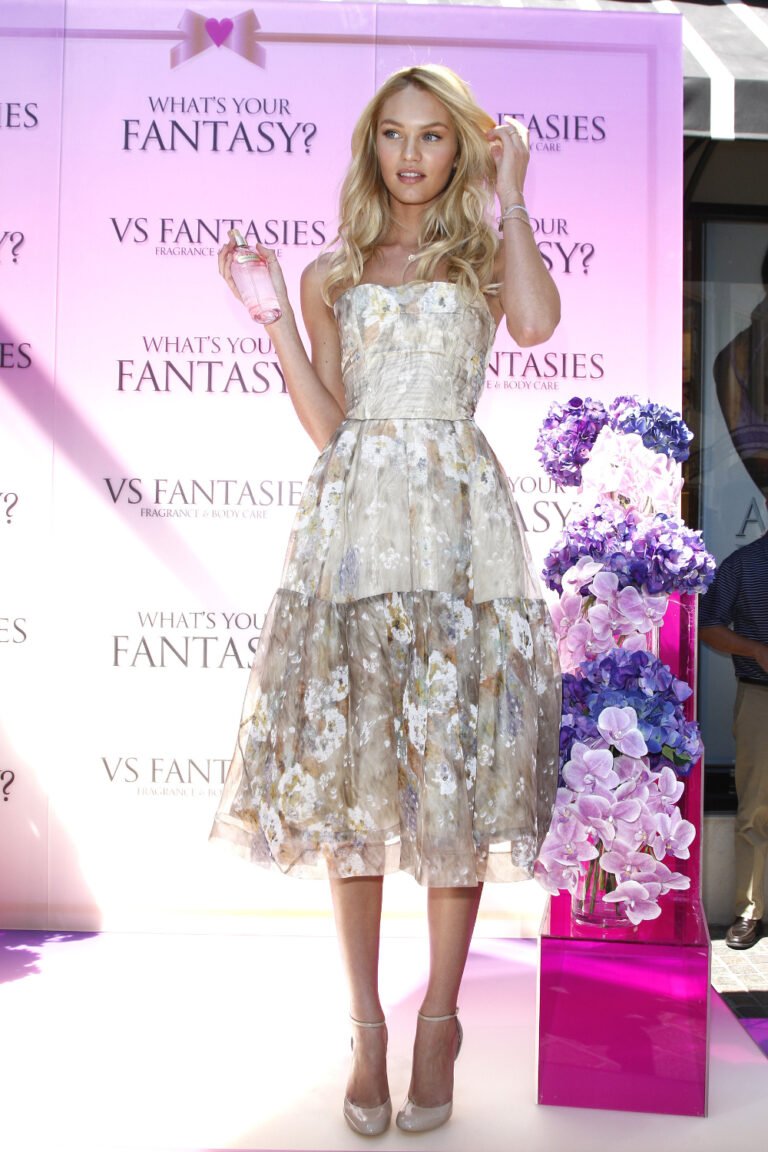 Candice Swanepoel's Workout Routine
Candice Swanepoel doesn't simply achieve her perfect body measurements with her healthy diet. She also works out like hell to achieve her perfectly toned figure. Her workout routine hits all the right spots to ensure that she will stay fit and lean even if she occasionally indulges in a pizza.
Candice Swanepoel works out with the right combination of running, resistance training, boxing, weightlifting, circuit training, yoga, Pilates, spinning, and Bosu balls.
Candice Swanepoel's Exercise Plan
Candice's workouts include a balance between cardio and resistance training. The initial cardio helps her burn calories and maintain a healthy heart, the resistance workouts keep her body toned, and the yoga helps her destress.
Monday to Sunday:
Cardio
Candice loves cardio workouts, and her favorite one is running. She loves to run on the peach and other natural places instead of on a treadmill in her gym. Other cardio routines for her include swimming, hiking, and walking.
Boxing
Like many models, Candice also loves boxing and uses it to tone her body and gain strength without bulking up. It also functions as an excellent core workout and benefits her in her other workouts.
Resistance
Candice uses a full-body circuit routine to tone her body and gain strength. Her circuits involve additional weight with ankle weights, gliding discs, resistance bands, and bodyweight vests.
She does 15 reps on average for each exercise in her circuits before switching to weightlifting.
Yoga/Pilates
Yoga gives Candice that instant dose of mental peace when she feels stressed or too tired to follow through with her regular workouts. She also uses this to maintain body flexibility and keep herself at ease. She does yoga at least twice each week, and on other days replaces it with Pilates.
Candice Swanepoel's Pregnancy Workouts
Candice never stopped her desire for fitness – even when pregnant. During her first pregnancy, Candice would still run but not overdo it and harm her baby.
Candice stopped running entirely for her second pregnancy but continued cardio training with other sports like swimming, spinning, walking, and hiking. The latter two got her the same sense of accomplishment that running did, and she loved them the most.
---
Candice Swanepoel is a real angel on earth. Her beauty doesn't have any limits and is something that she developed with her hard work and commitment towards a healthy lifestyle. She has always wanted to eat healthily and work out to feel good, and it has got her to a point where she's one of the biggest names in the modeling world. This supermodel shows similarities with Gisele Bündchen in her workout routine and desire for a healthy lifestyle.