Khloé Kardashian is one of the most gorgeous models and one of the most inspiring media personalities of today! With sheer dedication, Khloé has established herself as a renowned model and businesswoman and has transformed entirely inside out!
Alongside her TV appearances, Khloé owns a clothing boutique called DASH and has written a few books. The mother of two is focusing all her energy on becoming the best version of herself, and Khloe's fans are totally loving it.
IN A GIST
Famous media personality Khloé Kardashian stands stunningly tall at 5 feet 10 inches or 177 cm (1.77 m).
Khloé Kardashian weighs around 55 kg or 123 pounds, boasting a slim hourglass figure.
Khloé looks stunning at 39, and she celebrates her birthday on June 27. Want to know more? Read on about Khloe's career, education, lifestyle, measurements, etc.
Khloé Kardashian's Age and Birthday
Popular TV personality and socialite Khloé Kardashian cuts her birthday cake on the 27th of June, which makes her a proud Cancer woman. Born in the year 1984, Khloé Kardashian enjoys her stardom at the age of 39.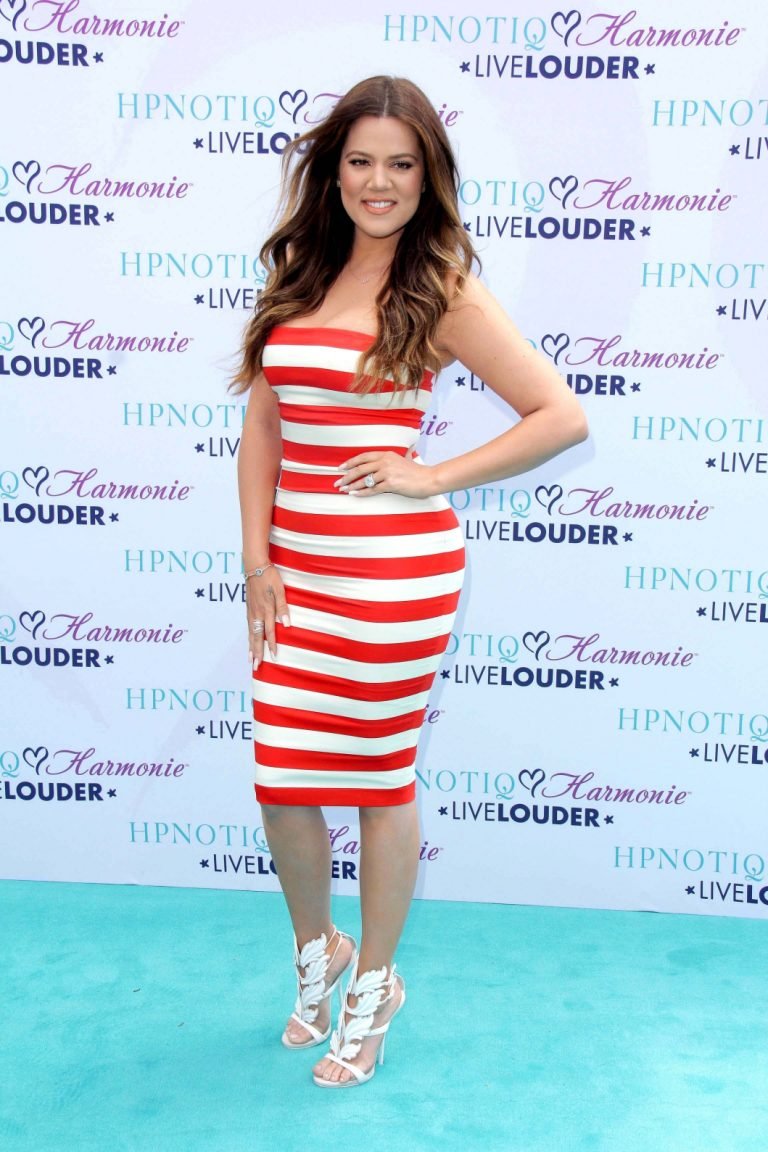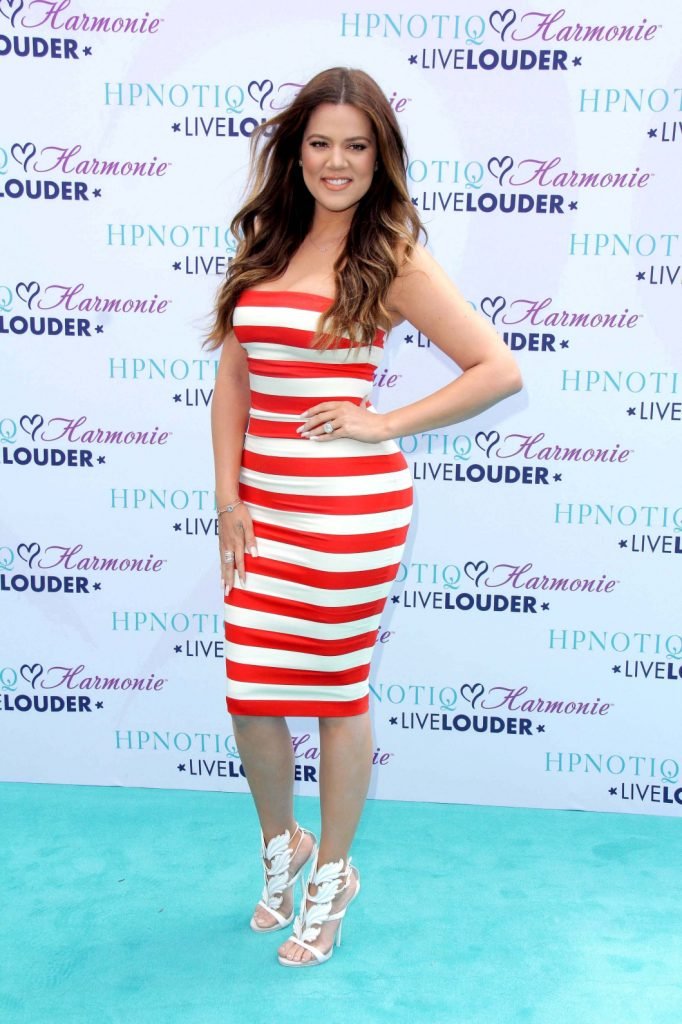 Khloé Kardashian's Education and Net Worth
As a kid, young Khloé attended different schools for her early education. She first went to Bel Air Prep, then to Saint Martin of Tours School, and then switched to Daniel Webster Middle School.
Khloé also went to A.E. Wright Middle School and Montclair Prep before attending a Catholic Girls' school, Marymount High School. But she again switched to Alexandria Academy, finally graduating high school at 17.
Since then, Khloé has been involved in several TV projects and brand endorsements, owing to her fame. She's also a fantastic businesswoman, model, and one of the richest actresses of today, with an estimated net worth of $60 million as of 2023.
Khloe's fortune results from her clothing brand Good American with Emma Grede, other clothing collections with her sisters, and fragrances like Unbreakable, Unbreakable Joy, etc.
Khloé Kardashian Loving Family
Khloé Kardashian belongs to the Kardashians family. Her mother is popular TV personality Kris Jenner, and her father was a well-known American attorney, Robert Kardashian.
Khloé has three siblings; Kim Kardashian, Kourtney Kardashian, and Rob Kardashian. Besides, she also has five half-siblings, including Kylie and Kendall Jenner. The entire family is known for their unbreakable bond.
As for her love life, Khloé was married to Lamar Odom, a professional basketball player, from 2009 to 2016. After that, Khloé was in a few relationships, including one with another NBA player, Tristan Thompson.
Khloé and Tristan had a daughter, True Thompson, in 2018. The couple reportedly broke up a few times after having their first child together. But recently, in 2022, they had a baby boy through surrogacy, whose name isn't known yet.
Full Born Name: Khloé Alexandra Kardashian
Nicknames: Baby K, Khlo, KoKo
Religion: Christian
Date of Birth: June 27, 1984
Birthplace: Los Angeles, California, USA
Zodiac Sign: Cancer
Father Name: Robert Kardashian
Mother Name: Kris Jenner
Siblings' Names: Kourtney Kardashian, Kim Kardashian, Rob Kardashian, Kendall Jenner, Kylie Jenner
Spouse: Lamar Odom (2009-16)
Children: True Thompson
Khloé Kardashian's Height and Weight
Khloé Kardashian stands 5 feet 10 inches or 177 cm (1.77 m) tall and is the tallest among all the Kardashian sisters. Her towering, lean figure surely gives Khloé a separate spotlight to shine under.
Even after having a baby, Khloé Kardashian looks sensational as ever, boasting her weight of around 55 kg or 123 pounds. The mother of two struggled with her chubby figure, but she sweated it all out in the gym the past few years and got into her best-ever shape!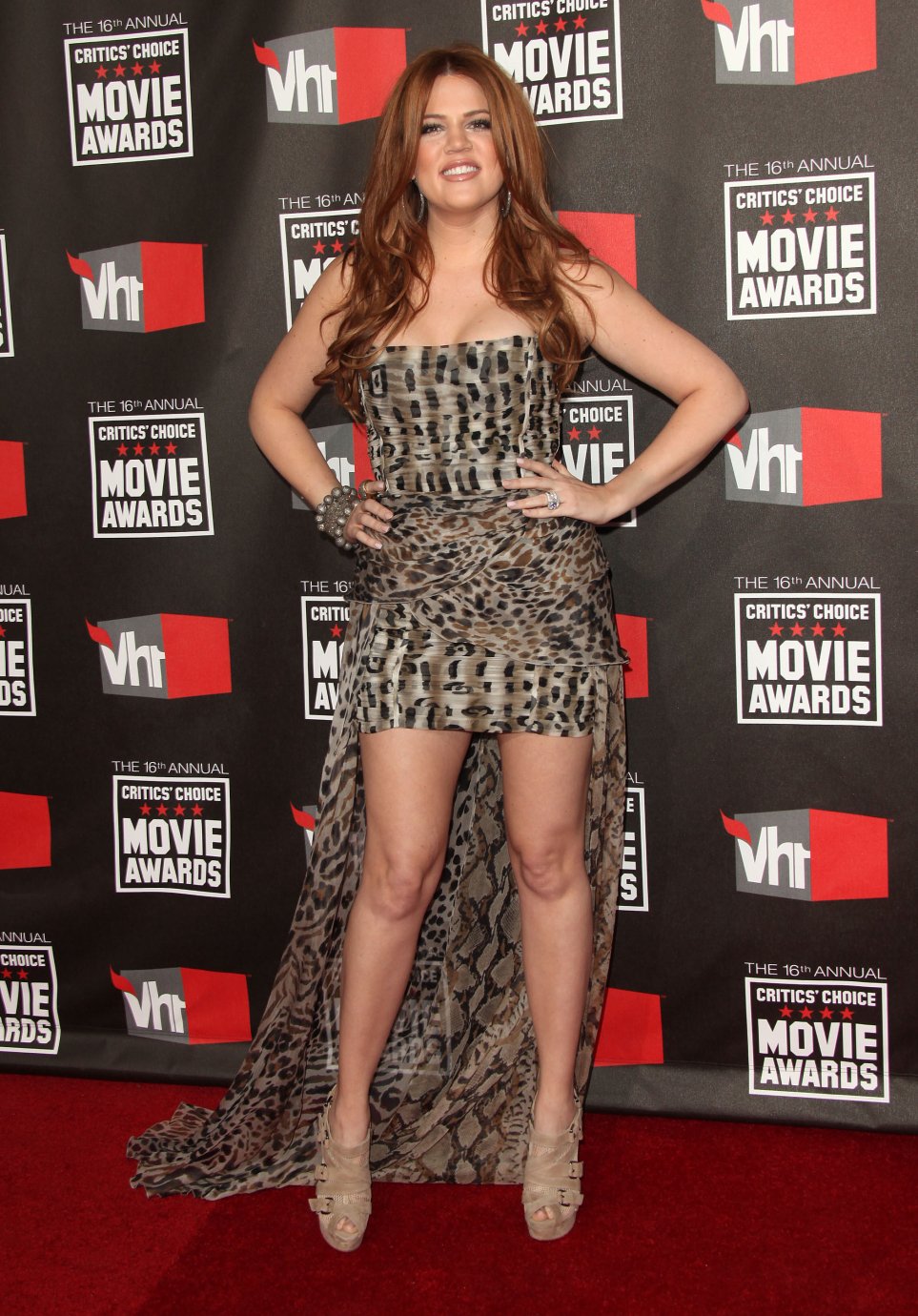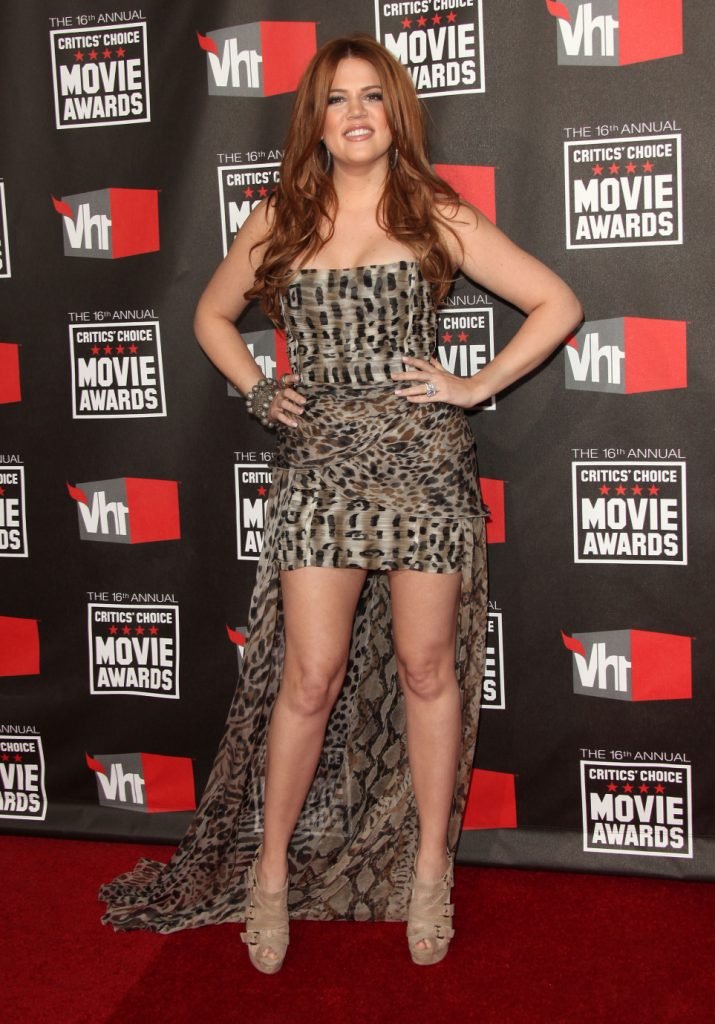 Khloé Kardashian's Body Measurements and Physical Traits
Khloé Kardashian proudly flaunts her slim and toned figure with close body measurements of 36-25-35 inches or 92-63-89 cm. She has sculpted herself into her best version and is now giving women solid bikini body goals!
Khloe's physical attributes also add to her glamorous appearance. She's got shiny brunette hair, which she mostly turns dark blonde and platinum blonde, looking striking in both. Currently, she sports long dark blonde hair with gorgeous bangs.
Plus, Kardashian's light hazel eyes, complimenting her oval face, often leave her fans wondering how her eyes are naturally so pretty!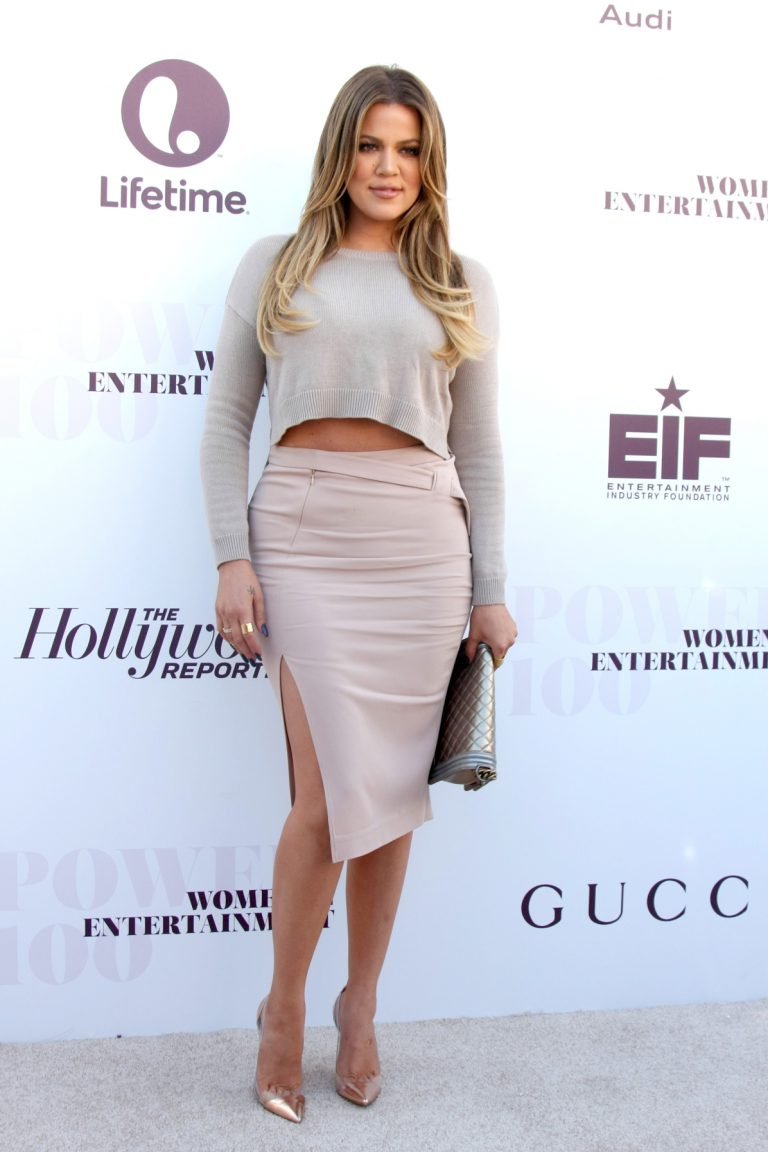 Khloé Kardashian's Bosom
Acknowledging the fact that her body transformation has boosted her confidence, Khloé promotes a positive body image for everyone. She proudly flaunts her breast size of 36 inches, wearing a bra size 34C with a cup size C.
Now that the lady has carved out her physique perfectly, she is much more confident displaying her curves in bodycon dresses, tiny attires, as well as two pieces.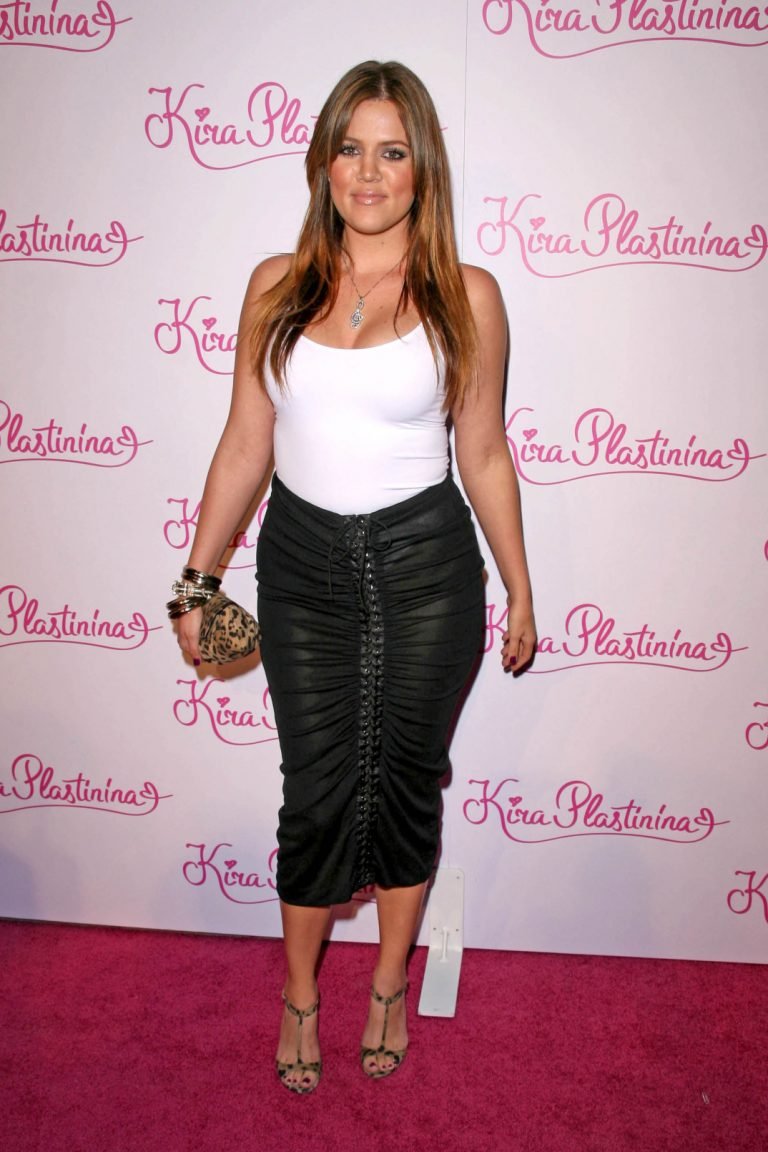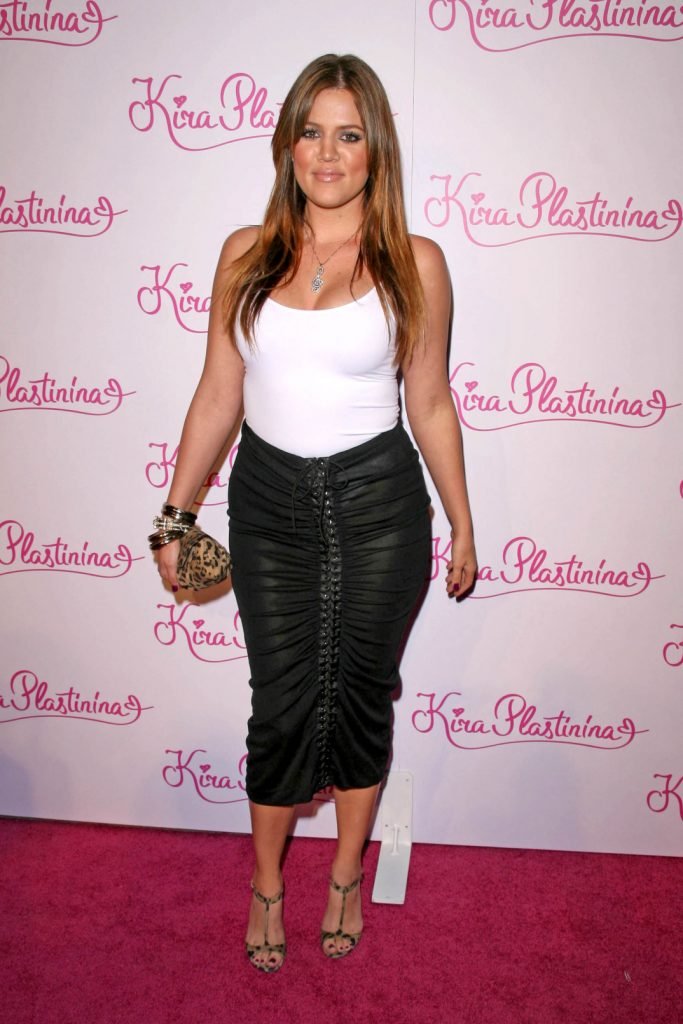 How Did Khloé Kardashian Lose Weight?
For Khloé Kardashian, her weight was one of her insecurities since her career's beginning. But after her divorce, she invested all her energy into sculpting her body, throwing herself into exercising and gymming. And the results are shining on her toned abs and curves.
Kardashian's Instagram is proof that she follows intense workouts at the gym and includes a lot of cardio and strength training in her routines. But her favorite go-to routine is a 20-minute total body workout session at the gym.
Besides, Khloé's hot abs result from her intense abs workout, which includes plank pulses, plank jumps, knee hugs, etc. And her curves are sculpted by upper body workouts with resistance training.
Apart from working out, Khloe also followed a strict diet after her pregnancy in 2018. However, she believes in balanced eating, and not depriving oneself entirely from delicacies.
Khloé is set on her journey to become fitter as well as to inspire and motivate other people to get into better shape. She has a self-titled youtube channel where she shares glimpses of her workouts, diet plans, and healthy recipes.
| | |
| --- | --- |
| Height | 5 feet 10 inches or 177 cm (1.77 m) |
| Weight | 55 kg or 123 pounds |
| Face Shape | Oval |
| Breast Size | 36 inches |
| Bra Size | 34C |
| Cup Size | C |
| Body Measurements | 36-25-35 inches or 92-63-89 cm |
| Figure | Slim |
| Dress Size | 4 (US) or 36 (EU) or 8 (UK) |
| Shoe Size | 8 (US) or 39 (EU) or 6 (UK) |
| Eyes Color | Light Hazel |
| Hair Color | Dirty Blonde (Naturally Brunette) |
Disclaimer
Khloé Kardashian's Favorite Things
Favorite Colors: Purple, Black, Pink
Favorite Activities: Swimming, Cooking
Favorite Food: Ethnic Foods, Cheesecake, Pizza
Favorite Quotes: "I crave a love so deep the ocean would be jealous."
Favorite Animals: Dogs, Cats
Favorite Movies: Maid of Honor, Fools Rush in, Princess Bride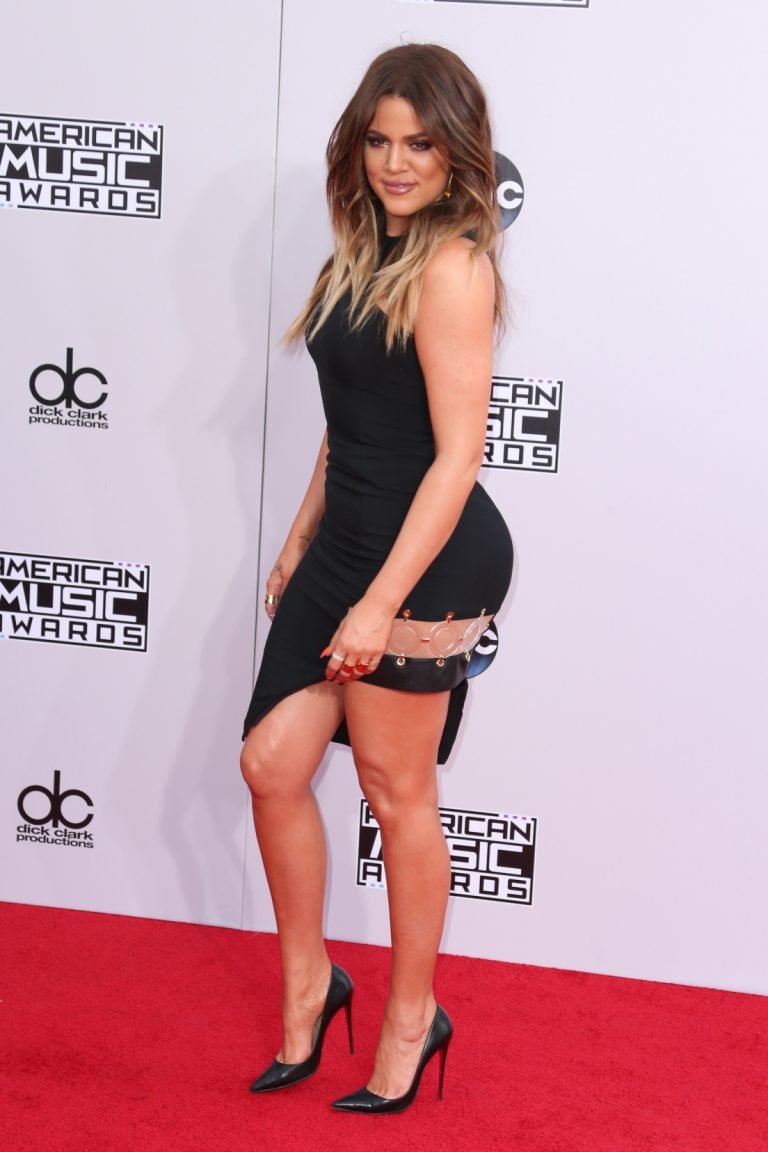 How Khloé Kardashian Rose to Fame
Khloé Kardashian stepped into the show biz as an assistant to famous TV personality Nicole Richie. Then she got a lot of exposure once she started appearing in E!'s popular reality show Keeping Up with the Kardashians.
But before that, Khloé, along with the whole Kardashian family, came into the limelight because of Kim's leaked private tape with her boyfriend.
After becoming a popular face on TV, Khloé began endorsing several brands, establishing herself as a model. She also went on to appear on the spin-offs of Keeping Up with the Kardashians, called Khloé & Lamar, Kourtney and Khloé Take Miami, and Dash Dolls.
Khloé also participated in the reality competition series, The Celebrity Apprentice. Besides, the mother of two has also appeared on shows like Fashion Police, Law & Order: LA, etc., and even co-hosted The X Factor in 2012.
Kardashian has also risen as a successful businesswoman and has launched several clothing lines with her sisters Kim and Kourtney and fragrances with her ex-husband Lamar Odom. Not just that, she's also co-authored the book Kardashian Konfidential.
Khloé's latest TV appearance was on the show The Kardashians, as one of the lead roles among her sisters.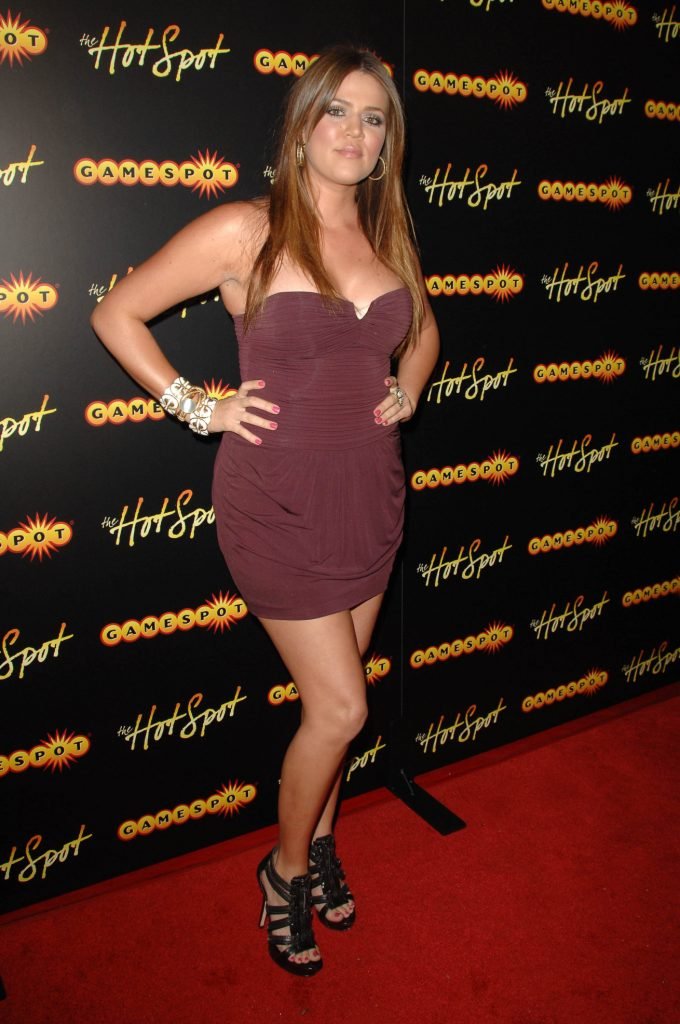 Exciting Facts about Khloé Kardashian
Khloé has survived a serious brain injury during a fatal car accident she met in 2001. It even caused her long-term memory loss.
Kardashian has been struggling with migraine since she was in the sixth standard.
Khloé had a boxer dog, "BHops" Hopkins, which she had named after the former professional boxer Bernard Hopkins.
Khloé Kardashian is quite religious and goes to church regularly. She's also into theology.
She has authored a book, Strong Looks Better Naked, in 2015.
What is Khloé Kardashian's Face Shape?
Khloé has an oval face with a pointy and defined face structure, which makes her one of the most beautiful models today.
What is Khloé Kardashian's natural hair color?
Khloé Kardashian's natural hair color is brunette, but she's often seen sporting blonde shades, ranging from dark blonde to light and platinum blonde.
Is Khloé Kardashian's Hair Naturally Curly?
Yes, Khloé Kardashian has naturally blonde and curly hair.
What color eyes does Khloé Kardashian have?
Khloé has light hazel eyes, which give a hint of gray under certain light settings.
Does Khloé Kardashian own Good American?
Yes, Khloé Kardashian owns the clothing brand Good American, as she launched the line with Emma Grede in 2016.
Does Khloé Kardashian have tattoos?
Yes, Khloé has been inked a few times. She got a tattoo of her ex-husband Lamar Odom's initials. She also had a "daddy" tattoo on her lower back as a tribute to her father, which she got removed in 2015. She seems to have gotten a new "I love you" tattoo on her right wrist.
Where does Khloé Kardashian live?
Khloé Kardashian lives in Hidden Hills, California, with her children.
Khloé Kardashian is an amazing model and socialite who has helped the entertainment industry evolve with new trends. Bella Hadid is another popular supermodel who's made her name worldwide with her striking ramp walks. Join us to learn more about Bella!