Olivia Holt is one of the most popular Disney actresses in the mainstream film industry with a successful musical career. She has worked hard to become successful, and her talent shows through her performances.
Olivia is extremely beautiful and has won hearts globally since her debut in Cloak and Dagger. If you also find yourself daydreaming about this incredible actress, then follow along as we go over her diet, workout, body measurements, the story of success, and more.
Olivia Holt's Story of Success
Olivia Holt was born in Germantown, Tennessee, on August 5, 1997. She was raised by Mark and Kim Holt with two of her siblings. Olivia began gymnastics while still in school and performed for seven years. She also worked in television commercials for Hasbro and Mattel during this time.
In 2011, the Holt family moved to Los Angeles, where Olivia got interested in acting. She started working in local theatre and was a part of several productions. Soon after, she got a role in a Disney XD's show called Kickin' It, a production about martial arts.
For the show's first three seasons, Olivia played a prominent role and reprised her role as Kim with several guest appearances in Season 4. This got her fame, and she played a major role in another Disney production called Girl vs. Monster.
This was her film debut, and while it was a television movie, Olivia played her character beautifully. As a result of the fame from this film, she was cast in Same Kind of Different as Me. The film was directed by Michael Carney and was another big success for Holt.
Soon after, Olivia started appearing in various other Disney shows, which helped her transition into Marvel for more mature roles. Her first role with Marvel was Tandy Bowen or Dagger in Cloak and Dagger's show.
Since then, Olivia also took up voice acting and voiced her character in Disney XD's Spiderman show. She also reprised her character as Dagger in the final season of Runaways.
Holt has a successful musical career as well. She began singing on the Girl vs. Monster soundtrack, for which she recorded three songs. She won a Radio Disney Music Award for her performance of Had Me @ Hello.
Since then, Olivia signed with Hollywood Records and has released several successful albums. Her work as an actress has also brought her a ton of fame across the globe and made her one of the most iconic young celebrities of today.
Olivia Holt's Height and Weight
Olivia has always had an impressive height that's benefited her as an athlete, actress, and singer. She stands 5 ft 3 inches or 161 cm (1.61 m) tall, and her weight is only 50 kg or 110 Pounds.
Olivia maintains her perfect height and weight ratio by keeping her diet healthy and free of preservatives. She doesn't eat packaged or processed foods and instead goes for more clean meals while trying not to skip anything even when she's at her busiest.
Her eating habits start with a healthy breakfast. She never skips this, which ensures she wouldn't go for junk food to snack on before lunch. Moreover, her meals mainly consist of lean meats, fruits, vegetables, and healthy fat sources.
Olivia Holt's Dating History
Olivia Holt is a magnificent diva who has charmed her fans and admirers time and again. She believes in privacy and has kept most of the personal information from her dating life a secret from the general public.
Olivia Holt started dating actor Luke Benward in 2012 after they met on the set of the Disney Channel movie Girl vs. Monster. Luke Benward confirmed their relationship during a Skype interview.
Olivia Holt and Luke Benward made an adorable couple together and even shared pictures together at the proms and exotic vacations on their social media. However, they went through an amicable breakup in 2014 but are still great friends.
Olivia Holt stepped up on the dating track again in 2015 with the Instagram star Ray Kearin. She spent her eighteenth birthday with Ray Kearin, and they even attended the Coachella Music Festival 2016.
Olivia Holt and Ray Kearin were in the media's limelight for being a cute couple in the industry. Though their relationship was seen as a couple goal in the industry, they went through an amicable breakup in 2017.
In 2017, Olivia Holt met actor Taylor Lautner, and they were spotted attending the church together. They were also seen together hanging out with their mutual friends at a football game, but as soon as they got in the media's limelight, they went separate ways and never confirmed their alliance in public.
Presently, Olivia Holt is dating artist and songwriter Tony Ferrari, signed to Disney records. It is unknown when they started dating, but in 2020, Tony posted a picture with Olivia on his Instagram.
Olivia Holt and Tony Ferrari are in a happy relationship in the present, and fans are shipping for their marriage. However, the couple is not in any hurry and is taking things slow in the present.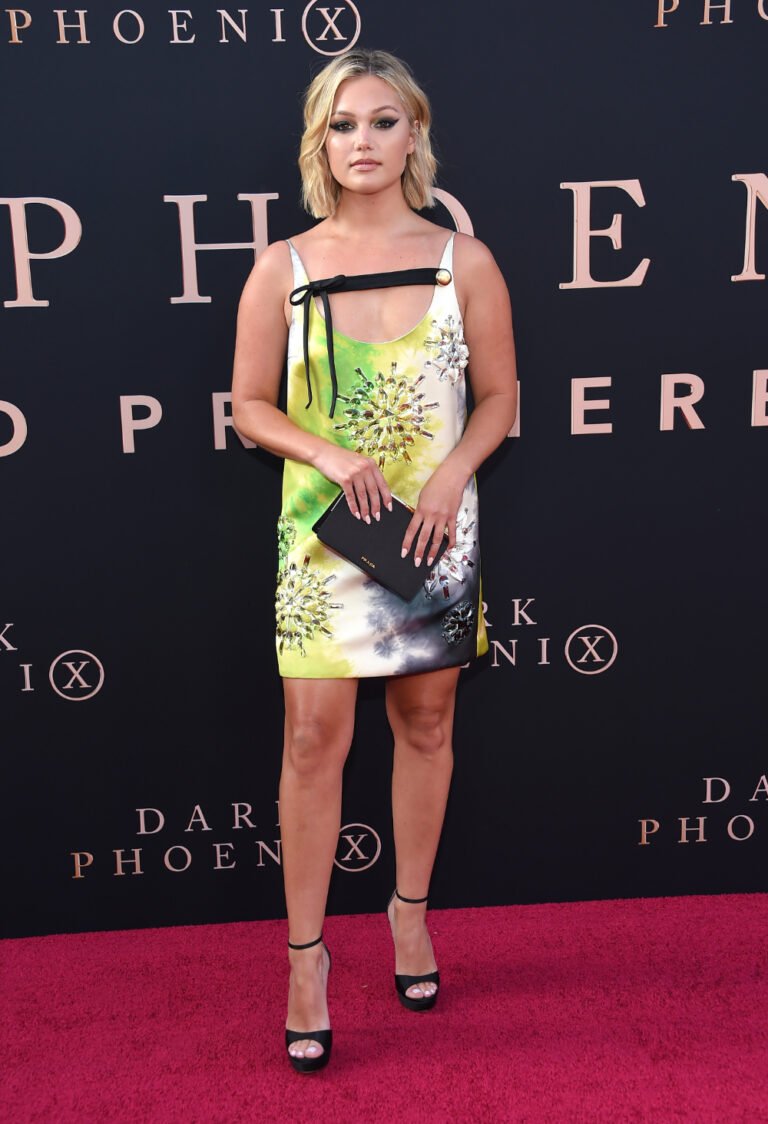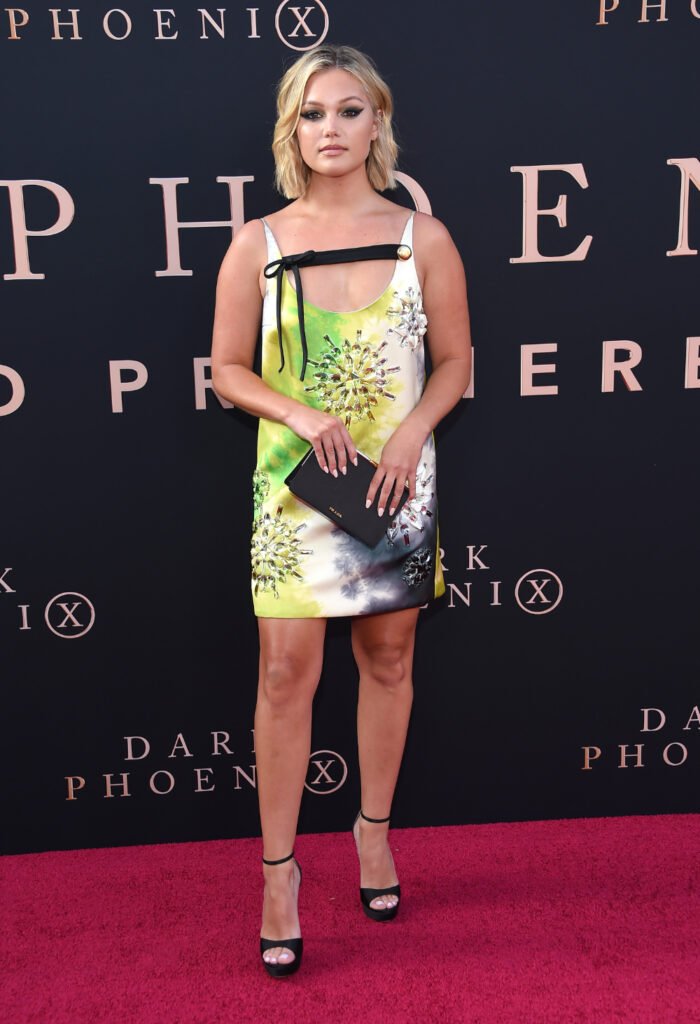 Full Born Name: Olivia Hastings Holt
Nickname: Livey, Liv, Livvy
Religion: Christianity
Date of Birth: 5 August 1997
Birthplace: Germantown, Tennessee, United States
Zodiac Sign: Leo
Father Name: Mark Holt
Mother Name: Kim Holt
Siblings Names: Cade Holt, Morgan Toll
Spouse: None
Children: None
Olivia Holt's Body Measurements
Olivia Holt is one of the major fitness icons of young women today. Her body measurements are 33-23-32 in or 83.82-58.42-81.28 cm.
Olivia maintains her perfect measurements by working out intensely and keeping herself active throughout the day. She's always been very athletic while practicing gymnastics since an early age.
Currently, her workouts primarily consist of stretching and cardio. She works out at the gym regularly and even went to the gym at night while her work schedule was busy during the daytime. Her go-to exercises are all movements that involve jumping, which keeps her body ready for gymnastics.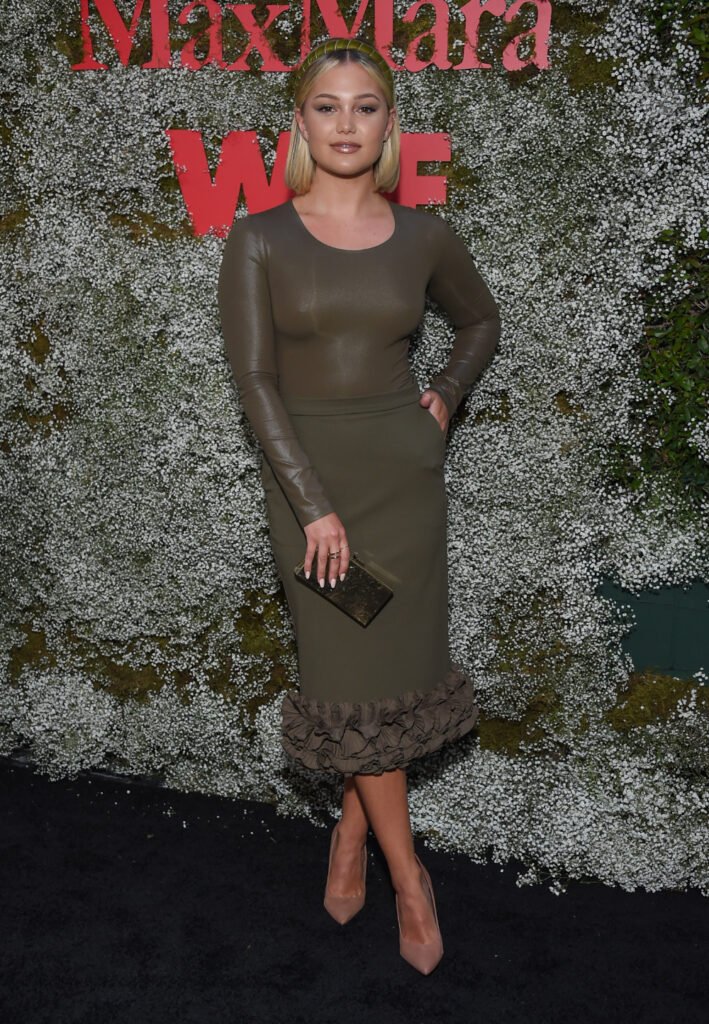 Olivia Holt's Ample Bosom
Olivia Holt has extremely attractive assets and is fancied by fans all across the globe. Her breast size is 33 inches, and her bra size is 32B with cup size B.
Olivia may be one of the hottest actresses of this day and age. However, she has also dealt with body insecurities. She spoke about how these insecurities have grown after gaining or losing weight for her varying roles.
This caused her trouble finding out her body type and made her feel too broad in her shoulders, muscular, skinny, or thick. However, we are glad this phase is long gone in this beautiful actress's life.
| | |
| --- | --- |
| Height | 5 ft 3 inches or 161 cm (1.61 m) |
| Weight | 50 kg or 110 pounds |
| Breast Size | 33 inches |
| Bra Size | 32B |
| Cup Size | B |
| Body Measurements | 33-23-32 in or 83.82-58.42-81.28 cm |
| Figure | Slim |
| Chest Size | 33 inches or 83.82 cm |
| Waist Size | 23 inches or 58.42 cm |
| Hips Size | 32 inches or 81.28 cm |
| Shoe Size | 7 (US) or 37.5 (EU) or 5 (UK) |
| Dress Size | 2 (US) or 34 (EU) or 6 (UK) |
| Eyes Color | Hazel |
| Hair Color | Blonde |
| Natural breasts or implants | Natural |
Did Olivia Holt Go Under the Knife?
Olivia Holt has always been a beauty icon, whether as a Disney actress, superhero, or singer. However, beauty isn't always only loved – it also attracts the attention of haters.
In Olivia's case, many sites have claimed that she would have undergone surgery to make herself look this perfect. However, they make these claims without any reasonable proof.
After looking at Olivia's looks through the years, it's easy to see that not much has changed about her. As such, it's time to discard these false rumors and agree upon the fact that this celeb is naturally perfect.
Olivia Holt's Net Worth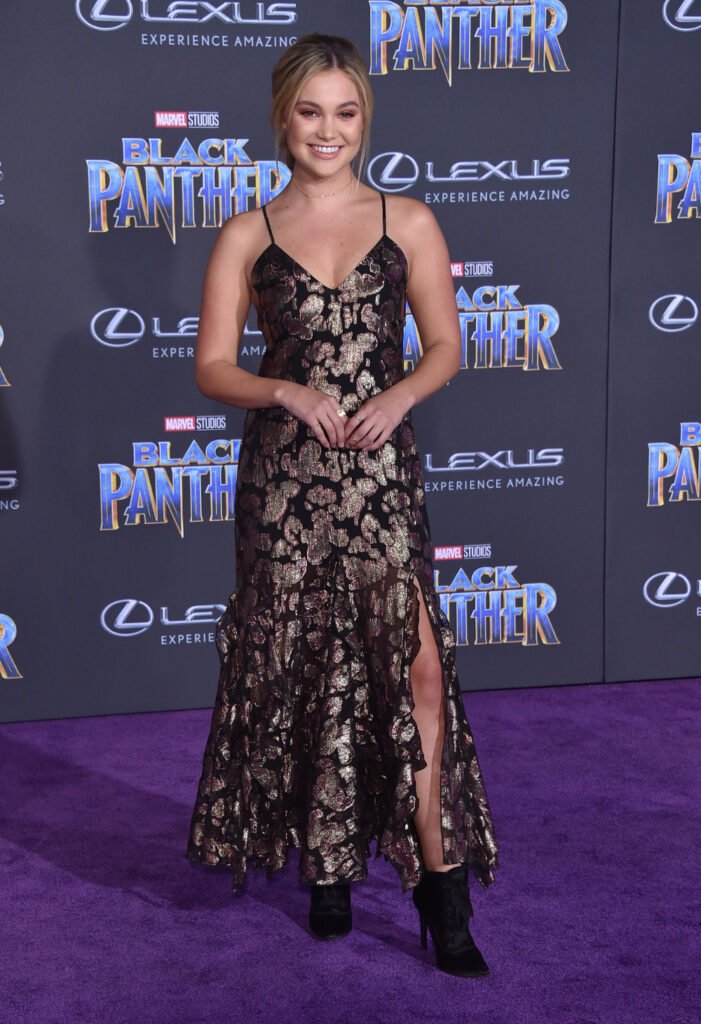 Olivia Holt has worked hard as an actress and singer throughout her career and has earned the love of millions of fans worldwide. As of 2022, she has an estimated net worth of $2 million.
She has earned a significant share of this fortune from her work in popular shows and films like Disney's Kickin' It and Marvel's Cloak and Dagger. She has also had a successful singing career with her albums and tours providing many positive responses from fans.
Olivia Holt's Most Loved Things:
Favorite Food: Chicken with Ketchup, Strawberry Banana Smoothie, Watermelon Sour Patch Kids, White Cheddar Popcorn
Favorite Products: Le Labo Bergamote 22, Dr. Barbara Sturm Balancing Toner, Naturopathica White Tea Antioxidant Mask, Cliganic USDA Organic Castor Oil
Favorite Colors: Turquoise
Notable Awards Won by Olivia Holt
Napa Valley Film Festival: Favorite Actress, Class Rank, Audience Award, 2017
Newport Beach Film Festival: Outstanding Achievement in Filmmaking – Acting, Mad to Be Normal, Honors, 2017
Teen Choice Awards: Choice Summer TV Actor, 2018
A Few Fun Facts About Olivia Holt
Olivia Holt is an avid fitness enthusiast who has trained in gymnastics for seven years and holds a black belt in martial arts. Olivia Holt was on her school's chess team, and she has also done cheerleading in numerous cheer tournaments.
Olivia Holt has a personalized advice column in the TIGER BEAT magazine titled 'Hey, Olivia!' She also has her show on Radio Disney, which is live every Thursday.
What face shape does Olivia Holt have?
Olivia Holt has a heart-shaped face with adorable facial features and vibrant beauty making her look charming.
What is Olivia Holt's hair color?
Olivia Holt's natural hair color is Blonde, and she looks magnificent in shoulder-length wavy hairstyles.
What color eyes does Olivia Holt have?
Olivia Holt has mesmerizing Hazel-colored eyes which have captivated the hearts of millions.
Does Olivia Holt have tattoos?
Olivia Holt has about two visible tattoos on her body: a star on her wrist and a crescent moon tattoo on her right ankle.
Does Olivia Holt know karate?
It is a less known fact that Olivia Holt knows Karate, and in her childhood, she'd even earned a black belt in martial arts.
Is Olivia Holt a black belt?
Yes, Olivia Holt has earned a black belt in martial arts in her childhood.
Did Olivia Holt go to college?
After graduating from Oak Park High School in 2015, Olivia Holt has attended former education from the University of Southern California.
Where does Olivia Holt live?
Presently, Olivia Holt lives in Los Angeles, California, the United States, as she has several ongoing projects in Hollywood.
Olivia Holt has charmed the world with her magnificent aura and proved her worth in the industry time and again. She deserves all the fame and recognition in the present, just like her peer Alicia Vikander who has taken the world by storm with her exquisite beauty. So do check out her insightful success story and transformational journey in the industry.