Sylvia Hoeks is one of the most famous actresses from the Netherlands. She has worked hard to establish herself on the international stage, and her fans adore her talents.
Sylvia's beauty knows no bounds, with her eyes being ever so mesmerizing. If you are interested in learning more about this wonderful actress, follow along as we go over her body measurements, dating history, fitness routine, and more.
Sylvia Hoeks' Success Story
Sylvia Hoeks was born on 1 July 1983 in Maarheeze, North Brabant, Netherlands. There, she attended the Maastricht Academy of Dramatic Arts and learned acting.
However, the start of her career was quite early, at the age of 14, when Elite Model Management detected her. Her first job involved being the cover girl for Elle Girl magazine, which gave her opportunities to travel across Europe for her photoshoots.
After her graduation, she got her debut role in a TV film called Staatsgevaarlijk. She did pretty well in the movie and was noticed by a few popular Dutch directors, and this helped her career kick off in the next gear.
Sylvia got her first main role in a psychological thriller series called Vuurzee. The show showcased Sylvia's refined acting skills to the world, and she started to get even more fame.
After a few minor roles in films like The Girl and Death, Sylvia moved on to one of her most prominent roles to date. She played the replicant Luv in Blade Runner 2049, and the role was one of her most demanding ones to date.
Since then, Sylvia has been working on a few more projects, and while they weren't as successful as Blade Runner 2049, they have helped her get even more fame on an international level.
Sylvia Hoeks' Height and Weight
Sylvia Hoeks has an impressive height that showcases her abilities in action roles, such as Blade Runner 2049. Her height is 5 feet 9 inches or 175 cm (1.75 m), and she weighs only 55 kg or 121 pounds.
After seeing her perfect height and weight ratio, it may come off as a surprise that Sylvia is a big foodie. She loves to eat certain delicious treats from time to time and doesn't starve herself to maintain her weight.
However, her diet focuses on eating larger amounts of protein and fewer carbohydrates while maintaining portion control on most days. This allows her to enjoy the occasional burger with no regrets at all.
Sylvia Hoeks' Romances
Since Sylvia is a famous actress, it is expected that fans would think that she's had no trouble in finding love. But, unfortunately, Sylvia isn't the kind of person who would leak her life details online, and even the paparazzi have had trouble getting such information about her.
Sylvia is either single or dating someone in complete secrecy as of currently available information. In either case, we respect her privacy and will wait to see if she discloses her relationship status in the future.
Full Born Name: Sylvia Gertrudis Martyna Hoeks
Nick Names: Sylvia Hoek, Sylvia Hoecks
Religion: Not Disclosed
Date of Birth: 1 June 1983
Birthplace: Maarheeze, Netherlands
Zodiac Sign: Gemini
Father Name: Not Known
Mother Name: Not Known
Siblings Names: Not Known
Spouse: None
Children: None
Sylvia Hoeks' Body Measurements
Sylvia Hoeks has a sensual body, which has made people envy her for the longest time. Her body measurements are 34-25-34 inches or 86.36-63.5-86.36 cm.
Sylvia Hoeks has maintained these fabulous measurements thanks to her perfect workout routine. She works out for five days a week and spends the remaining days regaining her energy for the next week.
Her workouts focus on toning every portion of her muscle groups, boosting strength, and increasing her heart rate with cardio. She also uses resistance training combined with cardio for an incredible combination of different exercises.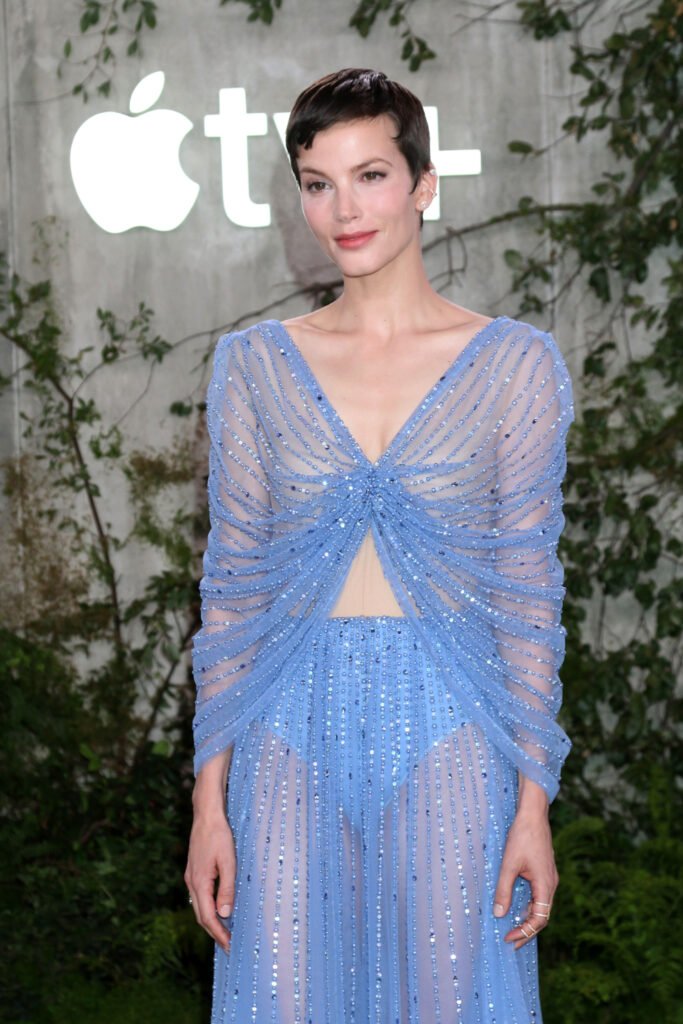 Sylvia Hoeks' Ample Bosom
Sylvia Hoeks knows that her assets are perfect, and she always carries herself with confidence and grace that never fails to impress. Her breast size is 34 inches, and she wears a bra of size 32A with a cup size A.
Sylvia Hoeks had always remained professional and graceful while performing sensual scenes, such as when she did De Bende Van Oss. Audiences found her scenes quite tasteful, and hence the film was also very well received.
| | |
| --- | --- |
| Height | 5 feet 9 inches or 175 cm (1.75 m) |
| Weight | 55 kg or 121 pounds |
| Breast Size | 34 inches |
| Bra Size | 32A |
| Cup Size | A |
| Body Measurements | 34-25-34 inches or 86.36-63.5-86.36 cm |
| Figure | Slim |
| Chest Size | 34 inches or 86.36 cm |
| Waist Size | 25 inches or 63.5 cm |
| Hips Size | 34 inches or 86.36 cm |
| Shoe Size | 6 (US) or 36.5 (EU) or 4 (UK) |
| Dress Size | 4 (US) or 36 (EU) or 8 (UK) |
| Eyes Color | Light Brown |
| Hair Color | Light Brown |
| Natural breasts or implants | Natural |
Has Sylvia Hoeks got Plastic Surgery?
Beauty is often rejected in today's world due to the envy felt by haters. Sylvia Hoeks has also been subjected to discrimination from haters who consider her beauty to be naturally impossible to attain.
Several sources have accused Sylvia of undergoing plastic surgery such as a rhinoplasty procedure and breast implants to change her appearance. However, these claims come without any solid evidence to back them up.
While Sylvia has not officially commented about the matter, we can see her pictures from her teen years and safely say that there is no considerable difference today to warrant such claims. Therefore, we can conclude that she is a natural beauty and does not need any surgery to help her feel better about herself.
Sylvia Hoeks' Net Worth
Being a famous model and actress, Sylvia has fabulous opportunities to grow her fame and fortune. She has been working from a very young age and has earned the love and respect of millions of fans across the world.
As of 2022, Sylvia Hoeks' estimated net worth stands at $4 million.
Sylvia Hoeks' Most Loved Things:
Favorite Products: Primrose oil, Olaplex, Louis Widmer Remederm Cream
Favorite Food Franchise: Shake Shack, Umami Burger, In-N-Out
Favorite Colors: Black, White, Golden, Silver
Awards Won By Sylvia Hoeks
Nederlands Film Festival: Best Supporting Actress, Golden Calf, 2007
Golden and Platin Film, Netherlands: Winner, 2010-2011
Festróia – Tróia International Film Festival: Best Actress, 2010
Berlin International Film Festival: Winner, 2011
Austin Fantastic Fest: Gutbuster Comedy Feature, 2014
Film by the Sea International Film Festival: Winner, 2014
Exciting Facts About Sylvia Hoeks
Apart from being a talented actress, Sylvia Hoeks is also a talented linguist. While she doesn't have an official degree or career as a linguist, she does know quite a few languages. Among her fluent languages are Dutch, English, French, and German.
Also, during her time in the Maastricht Academy of the Dramatic Arts, Sylvia was quite a famous model. As such, students would get conscious of having her study with them, and she would try to appear as stealthy as possible.
What face shape does Sylvia Hoeks have?
Sylvia Hoeks has a triangle-shaped face which suits most of her hairstyles in every role.
What is Sylvia Hoeks' hair color?
Sylvia Hoeks' natural hair color is light brown, and she has rocked the hairstyle for years. However, she also likes to experiment with her hair and has dyed them in black and dark blonde shades.
What color eyes does Sylvia Hoeks have?
Sylvia Hoeks has mesmerizing natural light brown colored eyes that have captivated millions' hearts.
Does Sylvia Hoeks have an Oscar?
No, Sylvia Hoeks has never won an Oscar award.
Does Sylvia Hoeks have tattoos?
No, Sylvia Hoeks does not have any visible tattoo on her body. However, she is highlighted in the media for joining the sequel titled 'Girl With the Dragon Tattoo.'
Where does Sylvia Hoeks live?
Sylvia Hoeks was born and raised in Maarheeze, the Netherlands, where she continues to live.
Sylvia Hoeks is an outstanding actress who has worked hard throughout her career to achieve the next level of fame. Since her first appearance as a model, she has wowed the audience, and her journey reminds us of her fellow actress and model, Chrissy Teigen.