Bella Hadid is a name that all young girls aspiring to be models chant. Being one of the top supermodels in the world, there would hardly be any magazine cover that Bella hadn't landed on.
A popular face of Vogue magazine, Bella Hadid has modeled for world-famous brands, including Victoria's Secret, Calvin Klein, and many more! Her beauty, talent, and hard work have made her a multimillionaire in her 20s.
IN A GIST
Bella Hadid stands stunningly tall at the height of 5 feet 9 inches or 175 cm (1.75 m).
Supermodel Bella Hadid weighs only 54 kg or 120 pounds boasting a lean figure.
Born on October 9, Bella Hadid is enjoying her successful life at the age of 26. Want to know more about her lifestyle, career, and measurements? Read along!
Bella Hadid's Age and Birthday
American model Bella Hadid celebrates her birthday on October 9, and she was born in 1996, making her 26. With beauty and brains, the model reflects all the signs of her star Libra!
Bella Hadid's Education and Net Worth
Bella Hadid is a graduate of Malibu High School. With a strong passion for photography, she later attended Parsons School of Design, studying it. But, Hadid chose to expand her modeling career and eventually dropped her studies.
And what a wise decision it was!
Today, Bella Hadid has earned a ton of fame and fortune, being an extremely successful model for big brands like Victoria's Secret. Hadid is one of the most sought-after models in the world, with an estimated net worth of around $25 million as of 2023.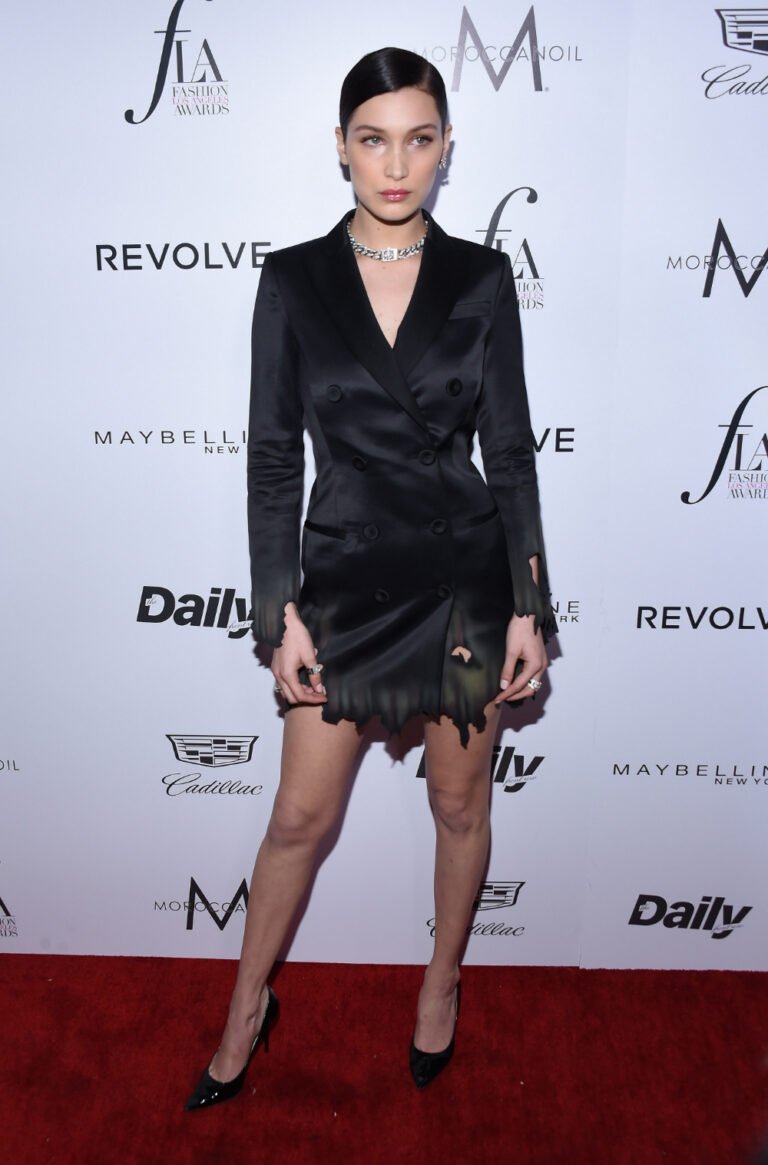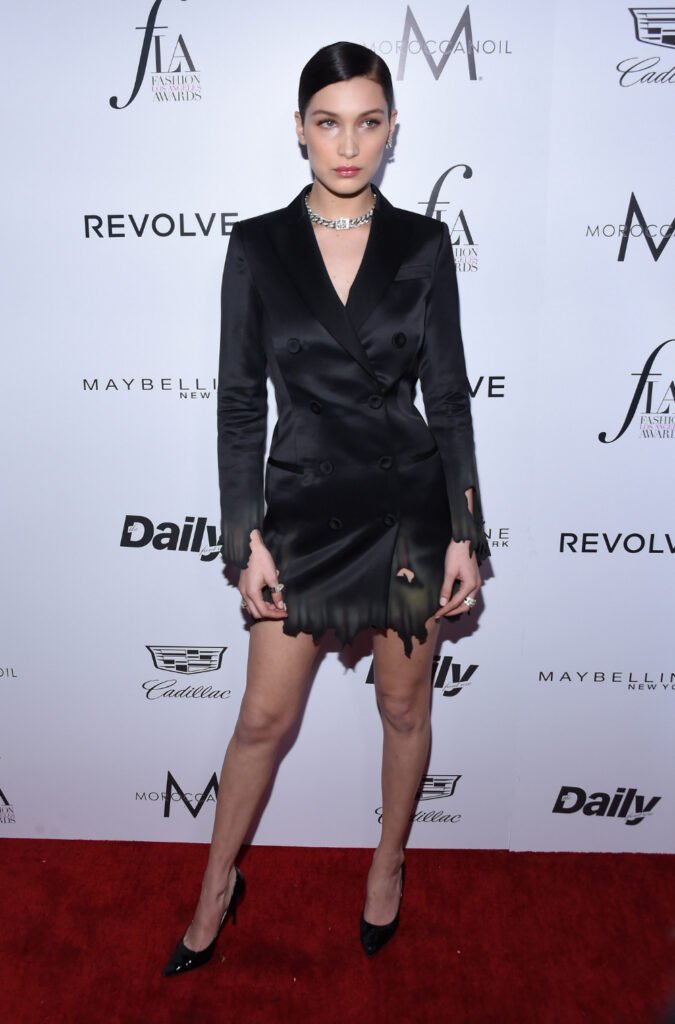 Bella Hadid's Family Life
Bella Hadid is the second of three children of Mohamed Hadid and Yolanda Hadid. Her elder sister is none other than famous supermodel Gigi Hadid, and her younger brother, Anwar Hadid is also a model.
If you ever wondered what got Bella and her sister into modeling, well, it's her mother, who's a famous former Dutch model herself.
Bella's father is in the real estate business. And she also has two half-sisters from her father's side. The model spent her early years on a ranch in Santa Barbara with her siblings, later moving to Beverly Hills with her family.
Full Born Name: Isabella Khairiah Hadid
NickName: Bella
Occupation: Model
Religion: Muslim
Date of Birth: October 9, 1996
Birthplace: Washington D.C., USA
Education: Malibu High School; Parsons School of Design
Zodiac Sign: Libra
Father Name: Mohamed Hadid
Mother Name: Yolanda Hadid
Siblings' Names: Gigi Hadid, Alana Hadid, Anwar Hadid, Marielle Hadid
Bella Hadid's Impressive Height & Weight
Supermodel Bella Hadid stands 5 feet 9 inches or 175 cm (1.75 m) tall, and her incredible height surely earns her the spotlight in all her ramp walks and shoots.
As a model, the VS fame maintains a perfect body weight and height ratio. Hadid weighs around 54 kg or 120 pounds and confidently displays her lean figure on social media!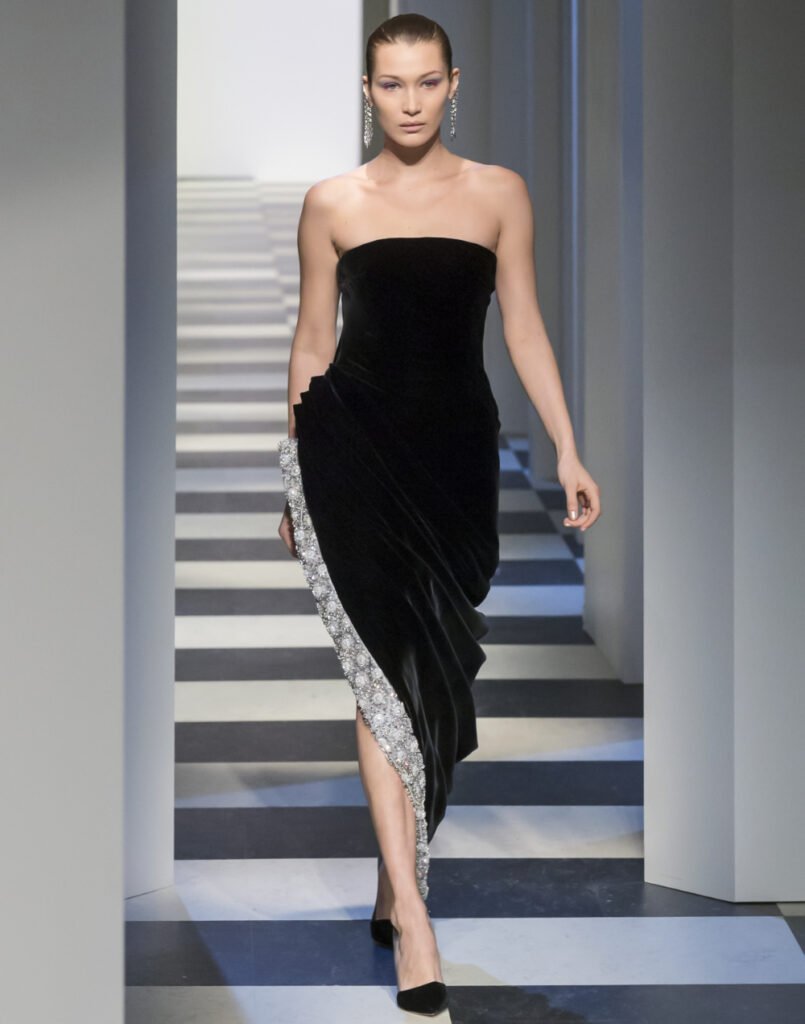 Bella Hadid's Body Measurements and Physical Traits
Being a highly successful supermodel isn't something that comes easily. Bella Hadid works hard to maintain her close body measurements of 34-24-32 inches or 86-61-81 cm. With a perfect hourglass figure, she rocks all her shoots and ramp walks!
And Bella's physical features complement her slim physique quite well! Be it her dreamy blue eyes or her dark blonde hair, everything accentuates her appearance and her slim oval-shaped face.
Bella has dyed her hair in several colors, like dark brown and black. She recently turned her hair into Aspen blonde in December, looking as stunning as ever!
Bella Hadid's Perfect Bosom
Bella has all the right curves to be the successful top supermodel she is today! Bella flaunts her breast size of 34 inches, wearing bra size 32B with a cup size B.
Last year, Hadid got herself spray-dressed in white at the Coperni show at Paris Fashion Week 2022, displaying her perfect bosom and abs!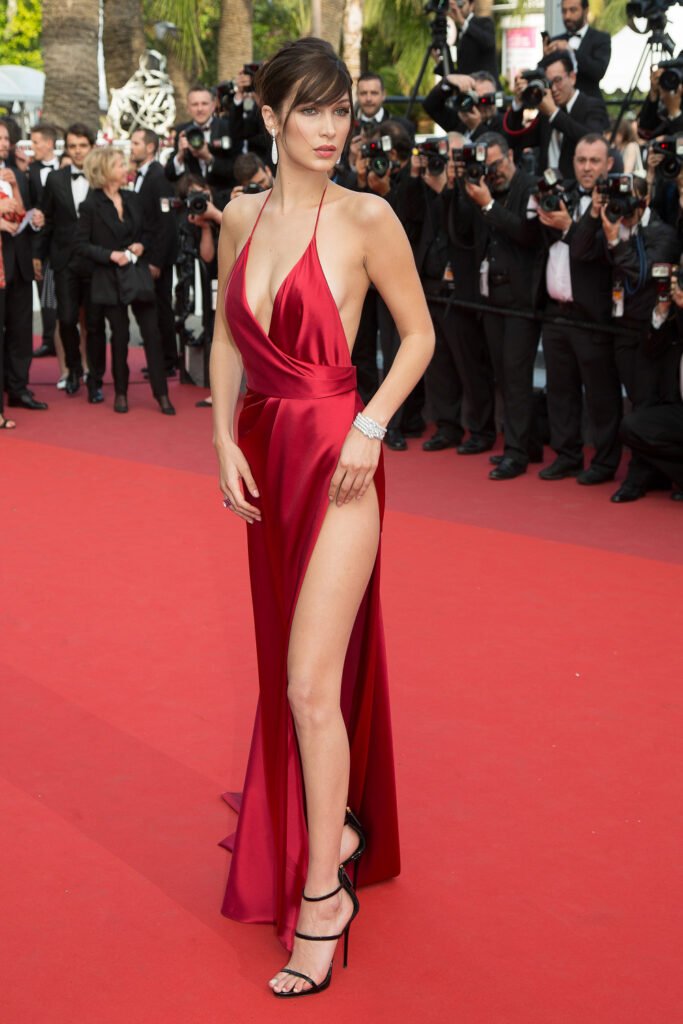 How Does Bella Hadid Maintain Her Figure?
Looking at Bella's sizzling figure, it's not hard to guess that her daily routine involves a lot of exercising and healthy eating. Bella does regular gym workouts, which include running and boxing sessions, apart from intense training.
To meet her body's demands, Hadid makes sure to eat high-protein foods and meals, including lots of veggies, fruits, and green smoothies. But the supermodel seems to have a special love for pizza and craves it often.
| | |
| --- | --- |
| Height | 5 feet 9 inches or 175 cm (1.75 m) |
| Weight | 54 kg or 120 pounds |
| Face Shape | Oval |
| Breast Size | 34 inches |
| Bra Size | 32B |
| Cup Size | B |
| Body Measurements | 34-24-32 inches or 86-61-81 cm |
| Figure | Slim |
| Dress Size | 4 (US) or 36 (EU) or 8 (UK) |
| Shoe Size | 8.5 (US) or 39 (EU) or 6 (UK) |
| Eyes Color | Blue |
| Hair Color | Dark Blonde |
Disclaimer
Bella Hadid's Favorite Things
Favorite Foods: Pizza
Favorite Books: The Outsider
Favorite Things: Flowers, Crystals
Favorite Perfume: Velvet Orchid Perfume
Favorite Activity: Horse Riding
Favorite Colors: Red, Yellow
Bella Hadid's Journey with a Bird's Eye View
It's no secret that the American Model Bella Hadid was always in the spotlight, with her elder sister Gigi Hadid being a fellow supermodel and her mother Yolanda being a former renowned model. But Bella surely made a name for herself.
Bella kickstarted her professional career at sixteen with commercials. From there, she made her way into modeling for Hanna Hayes' Fall/Winter Collection in 2013.
Finally, she signed her modeling contract with IMG Models, debuting at the New York Fashion Week 2014. Soon came Bella's debut cover feature in Jalouse Magazine.
Since then, she's graced the glossy covers of countless notable magazines, including Seventeen, Harper's Bazaar, Allure, and many more. She's also a popular face on Vogue magazine and has graced 27 Vogue covers internationally at just 26.
Bella was also the brand ambassador for Dior Makeup in 2016 and TAG Heuer and Bulgari in 2017. She went on to become the opening model for many renowned designers. In 2019, Bella also debuted in acting with her guest role in the Hulu series Ramy.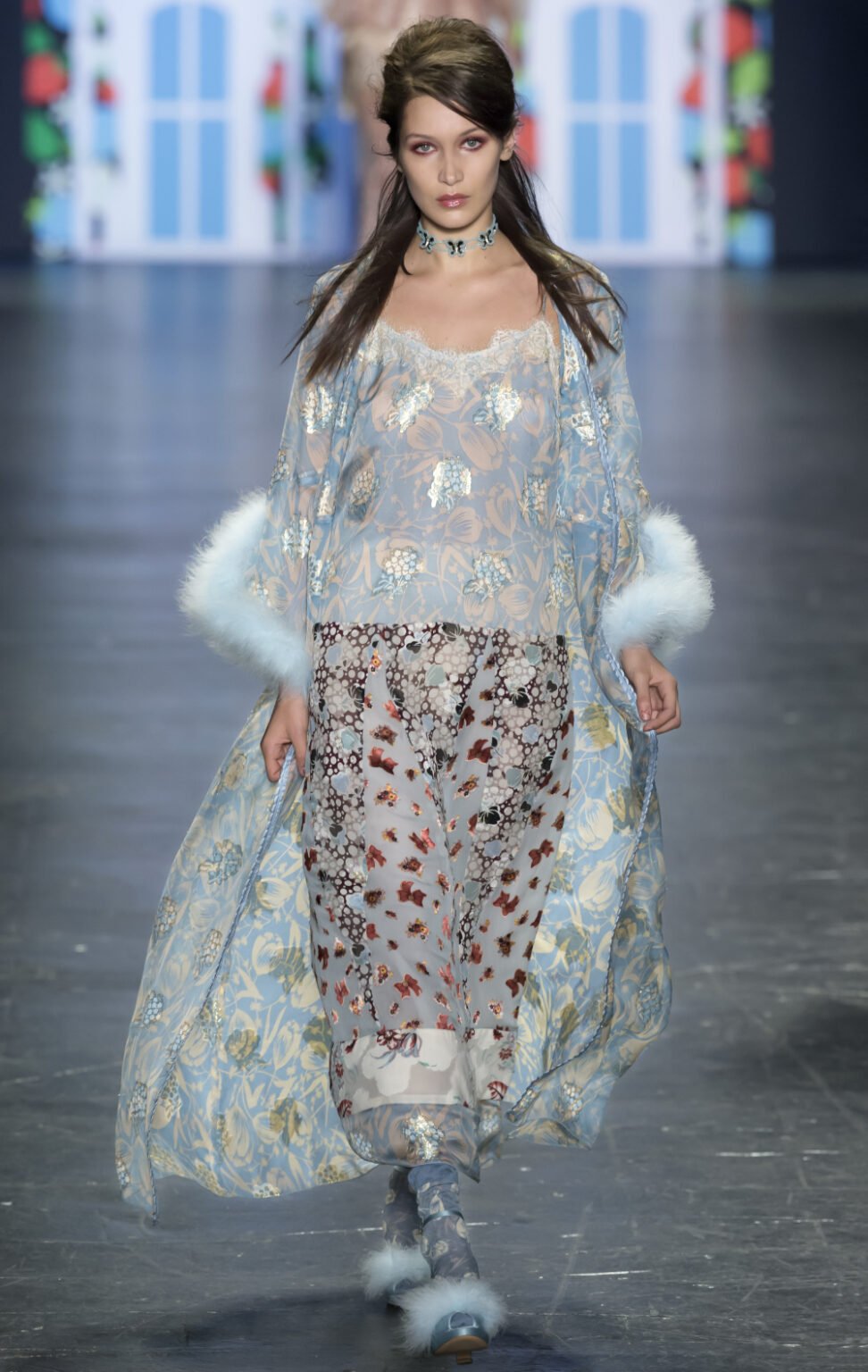 Exciting Fun Facts About Bella Hadid
As a teenager, Bella was determined to compete in the Olympics.
In 2012, Hadid was diagnosed with Chronic Lyme Disease and had to give up her Olympics dream.
Hadid wants to continue her studies in Fashion Photography.
Hadid is very much interested in starting an acting career. She might also star in the third season of the TV series Ramy.
As a top supermodel, Hadid has graced more than 25 International Vogue covers.
Bella Hadid was awarded Model of the Year by Models.com Industry Awards in 2016.
Hadid is proud to be a Muslim.
Why is Bella Hadid the Most Beautiful Woman?
According to Dr. Julian De Silva's study of the Golden Ratio, Bella Hadid ranked the highest in her facial symmetry, proving that she is mathematically the most beautiful woman.
What is Bella Hadid's face shape?
Bella Hadid has a gorgeous oval face shape that allows her to rock different hairstyles like curls and buns.
What's Bella Hadid's Real Name?
Bella Hadid's real name is Isabella Khairiah Hadid.
What is Bella Hadid's Eye Color?
Bella Hadid has gorgeous blue eyes, which look mesmerizing under her perfect pointy eyebrows.
What is Bella Hadid's hair color?
Bella Hadid's natural hair color is brown, but she keeps experimenting with different hair colors to spice up her look.
Did Bella Hadid wear an extension?
Yes, Bella wore hair extensions for her walk at Dior's fall 2020 Men's Runway.
Does Bella Hadid have tattoos?
Yes, Bella Hadid's got at least 3 tattoos on her body; a rosebud on her arm, angel wings on her ankle, and two Arabic writings on her left.
Did Bella Hadid win the model of the year?
Yes, Bella Hadid won the Model of the Year: Women (Industry Choice) Award by Models.com in 2016. She also won the Model of the Year from the GQ Men of the Year Awards.
Is Bella Hadid a scientist?
No, Bella isn't a scientist; she is a prominent American supermodel.
Did Bella Hadid play in never have I ever?
No, Bella Hadid plays no role in 'Never Have I Ever.' Her sister Gigi Hadid had recently replaced Chrissy Tegen as the show's narrator.
Did Bella Hadid go to college?
No, Bella didn't go to college as she quit her Photography classes at Parsons School of Design to expand her modeling career.
Is Bella Hadid richer than Gigi Hadid?
No, Bella Hadid has an estimated net worth of around $25 million as of 2023, which is a few million dollars less than Gigi Hadid's estimated net worth of $29 million.
Is Bella Hadid naturally blonde? 
Yes, Bella Hadid has naturally blonde hair, and she usually dyes her hair dark brown. But, recently, in 2022, she dyed her hair honey blonde.
Can Bella Hadid speak Dutch?
Bella Hadid speaks a little bit of Dutch as her mother, Yolanda, is Dutch.
Bella Hadid grew up in the spotlight. And there's no denying that her sister Gigi Hadid has greatly inspired Bella's current success. But Bella took her life into her own hands, made the best of it, and is now one of the most recognized supermodels in the world. Kylie Jenner is another popular model and TV personality you must read about!