Reality television series, in reality, are powerful enough to enhance and transform lives. Kourtney Mary Kardashian, the American media personality, model, and socialite is a live example of the same.

Kourtney was born on April 18, 1979, in Los Angeles, California to Robert George Kardashian and Kristen Mary Jenner. Her parents got divorced in 1991 while she was in school.
She attended a Roman Catholic all-girls school in LA and following graduation moved to Dallas, Texas. In Dallas, Kourtney attended Southern Methodist University for two years. She then migrated to Tucson, Arizona, and graduated with a bachelor's degree in Theatre Arts and a minor in Spanish.
This five-minute read is a compilation of the most interesting facts and measurements of Kourtney Kardashian.
Kourtney Kardashian's Career
It was with Filthy Rich Cattle Drive that she first garnered public attention in the reality-television space. A leaked sex tape in the year 2007 with former boyfriend Ray J contributed to her rise to prominence. It was later in that same year that her family was commissioned in the reality series Keeping Up with the Kardashians. It turned out to be successful and also resulted in several spin-offs. 
Kourtney Kardashian was now a popular name and she followed her instincts to make the best of her career. She soon released a clothing line and also a sunless tanner.

She co-authored the book Kardashian Konifidential with her sisters and released it in 2010. Since then she is dynamically engaged in promotions, advertisements, and releasing her solo fashion line.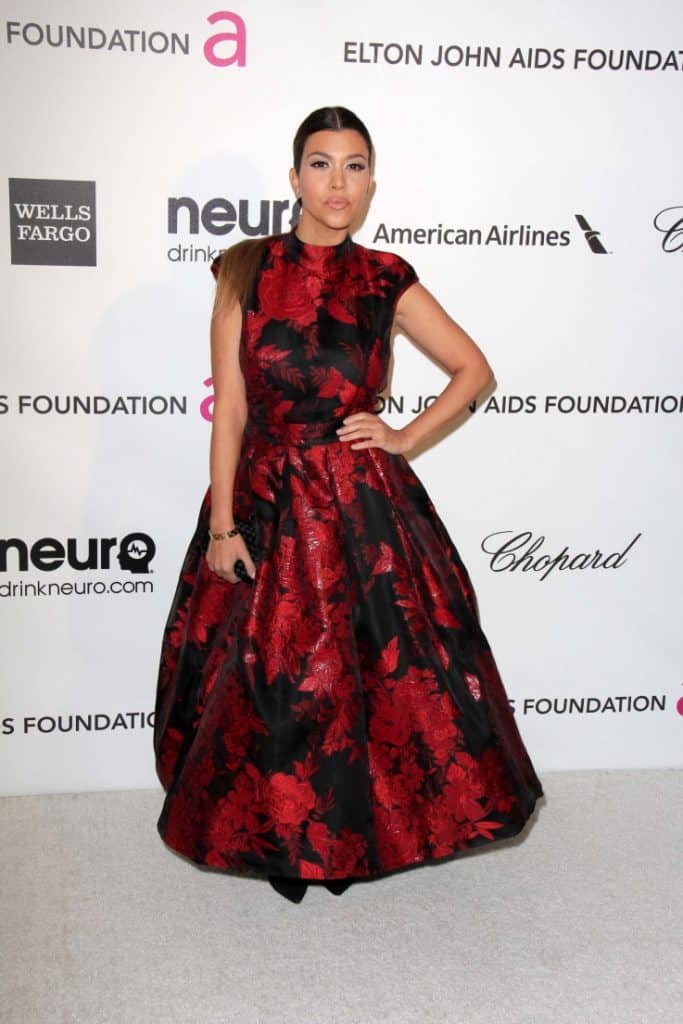 Kourtney Kardashian's Height and Weight
Kourtney has an average height and yet stands out strong with her personality and immaculate sense of business. Her height is 5 feet 1 inches or 155 cm and her weight is 54 kg or 120 pounds. She feels comfortable and soothing inside her skin which probably is the reason she has a terrific screen presence.
Kourtney Kardashian's Dating History
Kourtney met Scott Disick at a mutual friend's house party in Mexico. She has been in an on-again, off-again relationship with Scott from 2006 to 2015. The world has witnessed their love and emerging love story in Keeping Up with the Kardashians in 2007.

In 2010, when they temporarily moved to Miami she believed that Scott had an alcohol problem. He regularly attended therapy for the same and even for some time gave up alcohol. Neither Kourtney nor Scott have ever confirmed getting married to each other. This terrific couple is blessed with two sons and one daughter.
Kourtney has also been in an on-again, off-again relationship with model Younes Bendjima from 2017 to 2018.
Full Born Name: Kourtney Mary Kardashian
NickNames: Kourt, Shorty, Gayane
Occupation: Media Personality, Socialite, Model
Religion: Roman Catholic
Date of Birth: 18th April 1979
Birthplace: Los Angeles, California
Zodiac Sign: Aries
Father's Name: Robert Kardashian
Mother's Name: Kris Jenner
Siblings: Khloé Kardashian, Kim Kardashian, Kendall Jenner, Kylie Jenner, Rob Kardashian, Rob Kardashian, Brody Jenner, Burt Jenner
Spouse: Travis Barker
Children: Mason Dash Disick, Penelope Scotland Disick, Reign Aston Disick
Kourtney Kardashian's Body Measurements
With all her social appearances as well as screen appearances she has garnered the reputation of remaining fit. Her body measurements are 34-26-39 inches or 86.3-66-99 cm.
She is a mother to three lovely children. Despite this, she has worked hard to remain in perfect shape. Moreover, one of her most popular personal quotes is "I love being pregnant in general". Kourtney is truly an example and inspiration for her fans to remain in proper shape irrespective of any situation.
Kourtney Kardashian's Ample Bosom
Her terrific personality and stunning physique have earned her a popular fan following across the globe. Her breast size is 34 inches or 86.3 cm, and she wears a bra of size 32B with a cup size B.
She is popular and known to everyone. But she has often gone on record to say that she loves being a mum and sometimes wishes that nobody knew who she was. One of the perks that she enjoys being a celebrity is that her kid's doctor will quickly answer her emails, even if it's 11:00 at night.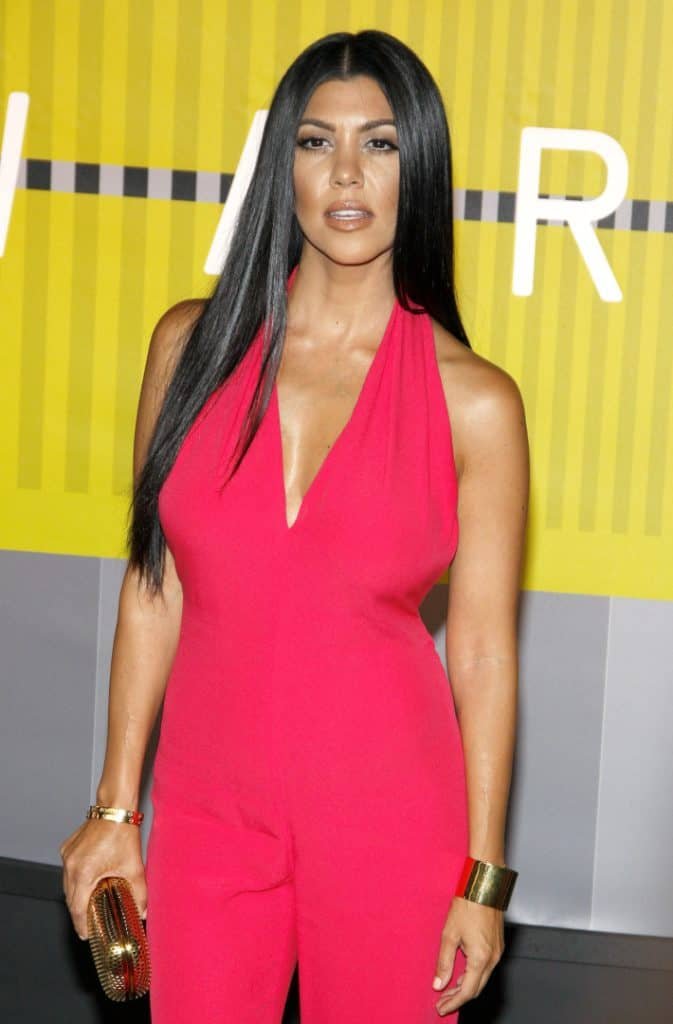 | | |
| --- | --- |
| Height | 5 feet 1 inches or 155 cm |
| Weight | 54 kg or 120 pounds |
| Breast Size | 34 inches |
| Bra Size | 32B |
| Cup Size | B |
| Body Measurements | 34-26-39 inches or 86.3-66-99 cm |
| Figure | Voluptuous |
| Chest Size | 34 inches or 86.3 cm |
| Waist Size | 26 inches or 66 cm |
| Hips Size | 39 inches or 99 cm |
| Dress Size | US 6 or EU 36 or UK 10 |
| Shoe Size | US 5 or EU 35 or UK 3 |
| Eyes Color | Dark Brown |
| Hair Color | Black |
| Natural Breasts or Implants | Implants |
Did Kourtney Kardashian Have Any Plastic Surgeries?
Irrespective of celebrities revealing about their breast implants fans always come up with before and after pictures. In Kourtney's case, she has openly and humbly accepted having breast implants. According to lifeandstylemag she went on record in 2010 and said "I have had breast implants, but it's so funny cause it's not a secret, I could care less."
However, she has also accepted that she regrets the procedure done at a young age.
Everyone has been watching Kourtney for more than a decade now. The one thing that has amazed everyone is that she hasn't changed even a little. This resulted in speculations and rumors about Kourtney undergoing Plastic Surgery.
Kourtney has never responded to such rumors. If it had been true we don't feel there would be any reason for her to keep it a secret. She would have accepted it just like her breast implants. A healthy lifestyle, diet, and exercise have a lot to contribute to than we can think of.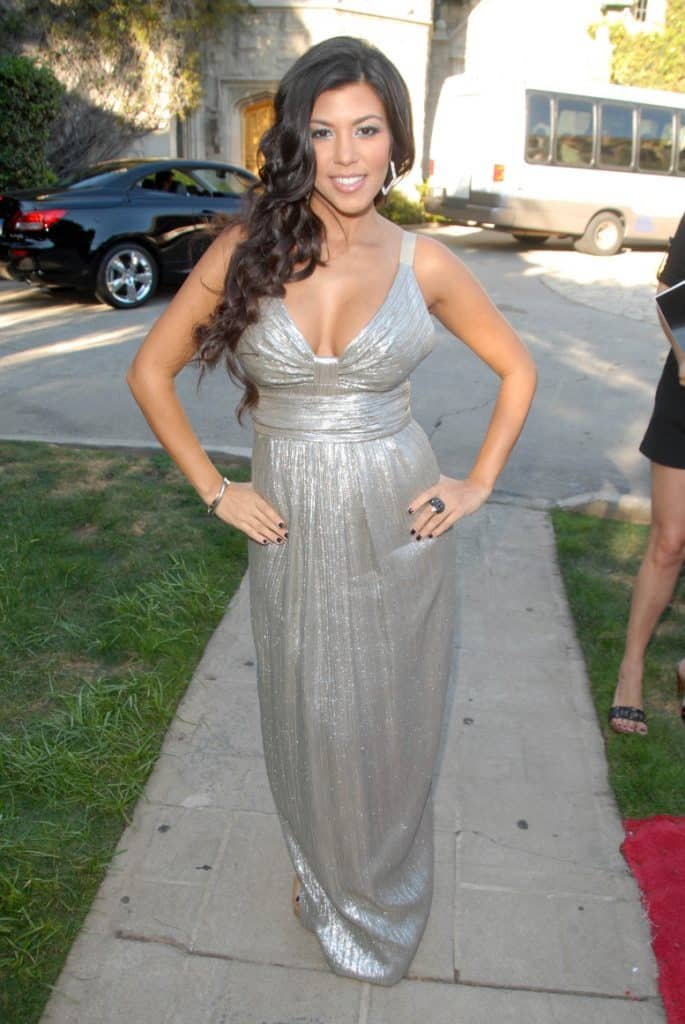 Kourtney Kardashian's Net Worth
Apart from appearing as an artist and model, over the years Kourtney has invested and developed in multiple businesses. She has also co-authored a book. Her approximate net worth is believed to be $65 Million.
Kourtney Kardashian's Most Loved Things
Favorite Books: What To Expect The First Year, Domicilium Decoratus, The Prayer of Jabez, The Bible, The Catcher In the Rye
Favorite Shows: Lost (2004), The Oprah Winfrey Show (1986), Sex and the city (1998), Snapped (2004), Divine Design (1999), American Idol (2002), Beverly Hills, 90210 (1990), Punky Brewster (1984), and Saved by the Bell (1989)
Favorite Music/Musicians: Michael Jackson, Ne-Yo, The Black Eyed Peas, Michael Buble, Lady Gaga, Stevie Wonder, DeBarge, and Madonna
Favorite Movies: Troop Beverly Hills (1989), Breakfast at Tiffany's (1961), My Fair Lady (1964), Funny Face (1957), Cary Grant Movies, Bette Davis movies, and she enjoyed watching most of the old movies
Kourtney Kardashian is a living example of everything an artist can achieve by being true to their personality. We wish Kourtney all the success for a prosperous career and the strength to win all the battles on the personal front. You can explore interesting facts about another popular artist Britney Spears measurements as well.
What color eyes does Kourtney Kardashian have?
Kourtney Kardashian has often confused fans with her new and experimental looks on Instagram with contact lenses. She puts on contact lenses to suit her mood and costume. However, naturally, her eyes are Dark Brown.
What is Kourtney Kardashian's natural hair color?
The natural hair color of Kourtney Kardashian is Black. She rarely dyes her hair which is not so common with her co-stars. An interesting fact is that Kourtney always has a unique hairstyle in her public appearances like High Ponytail, Straight, Waist Length, and Long Bun among others.
What ethnicity is Kourtney Kardashian?
Kourtney Kardashian is an Armenian. In October 2019, Kourtney and her children were baptized in an Armenian Apostolic ceremony at the Etchmiadzin Cathedral in Vagharshapat, Armenia. She was christened with the Armenian name Gayane during this ceremony.