Gisele Bundchen is an amazing supermodel who has been wowing hearts since her debut. She was born on July 20, 1980 in Horizontina, Rio Grande do Sul in Brazil. She was a highly intelligent child and is fluent in five languages. In her school days, she was also very good at Volleyball and wanted to find a career in it.
If it wasn't for the modelling course she took in 1993 to correct her bad posture, she would have probably become a famous athlete instead. If you love this supermodel as much as we do, follow along as we explore everything from Gisele Bundchen's measurements to her dating history.
Gisele's Rise on the Runway
Gisele was discovered at age 14 and placed second place in the Elite Model Look Contest. However, she got her big break at age 16 in New York Fashion Week where she was chosen for two international shows. During this time, she gained fame as a model who could walk on the slippery runway in extremely high heels.
Today, she is one of the highest-paid models in the world. She has had contracts with big names in the industry like Victoria's Secret, and Vogue. She also became the spokeswoman for Chanel No. 5, and is a businesswoman with her own line of designer shoes called Ipanema.
Gisele Bundchen's Height and Weight
Gisele Bundchen's height has made fans swoon over her as she walks each runway. She stands 5 feet 11 inches or 1.80 m (180 cm) tall, and her weight is only 121 pounds or 55 kg.
A recent post by Women's Health talks about Gisele's fitness secrets. She has been an avid yogi for more than half her life which has certainly contributed to her fit figure and graceful mindfulness. She is also big on dancing and is known as a Choreo Queen.
Gisele Bündchen's Relationships
Gisele wasn't always with Tom Brady and it took her some trial and error to find true love. Here are some of the men she dated before finding the love of her life.
She was with Joao Paulo Diniz while she was 19 and celebrating her status as a supermodel after winning Vogue Model of the Year. This relationship lasted a few months before she had another fling with fellow model Scott Barnhill the same year.
One of her most famous boyfriends was Leonardo DiCaprio himself as they dated from 1999 to 2005 with regular splits in between. In the end, Gisele had to call it quits to save their friendship.
In 2006, she met Tom Brady and her life was never the same again. She has a good relationship with him and they have two children together, along with Tom's other son Jack who also has a good relationship with Gisele.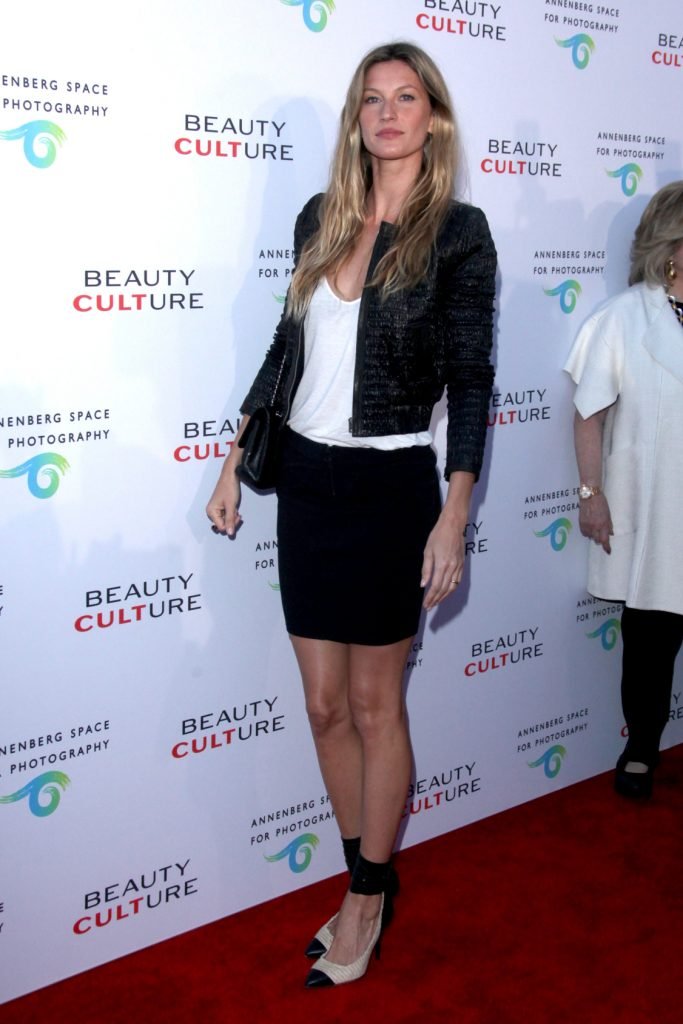 Full Born Name: Cisele Caroline Bundchen
NickNames: Gisele, The Body
Occupation: Model, Businesswoman, Activist
Religion: Catholic
Date of Birth: 20 July, 1980
Birthplace: Horizontina, State of Rio Grande do Sul, Brazil
Zodiac Sign: Cancer
Father Name:Valdir Bundchen
Mother Name: Vania Nonnenmacher
Siblings Names: Patricia N. Bundchen, Rafaeia N. Bundchen, Raquel N. Bundchen, Graziela N. Bundchen, Gabriela N. Bundchen
Spouse: Tom Brady
Children: Vivian Lake Brady, Benjamin Brady
Gisele Bundchen's Body Measurements
Gisele has never had trouble in making audiences appreciate her graceful figure on the runway or in photoshoots. Her body measurements are 35-23-35 inches or 88.9-58.4-88.9 cm.
In the same Women's Health post, it's described that Gisele gets fit by getting some natural exercise from sports and similar activities. She enjoys surfing each time she visits her family home and also loves climbing large mountain trails. She is also an avid horse rider, apart from being excellent at volleyball.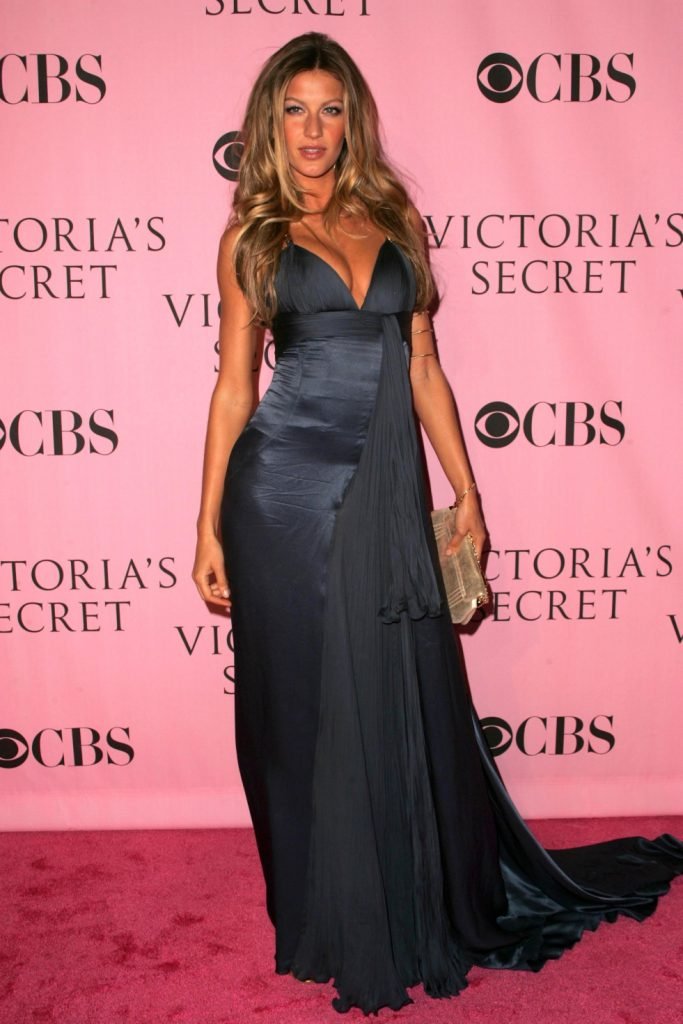 Gisele Bundchen's Ample Bosom
Gisele's curves are perfect for all her photoshoots. Her breast size is 35 inches, and her bra size is 32C with a cup size of C.
After giving birth to her two children, and breastfeeding them for almost two years each, she found her breasts to have gotten lopsided and smaller. She was very self-conscious about this and decided to get surgery to fix them.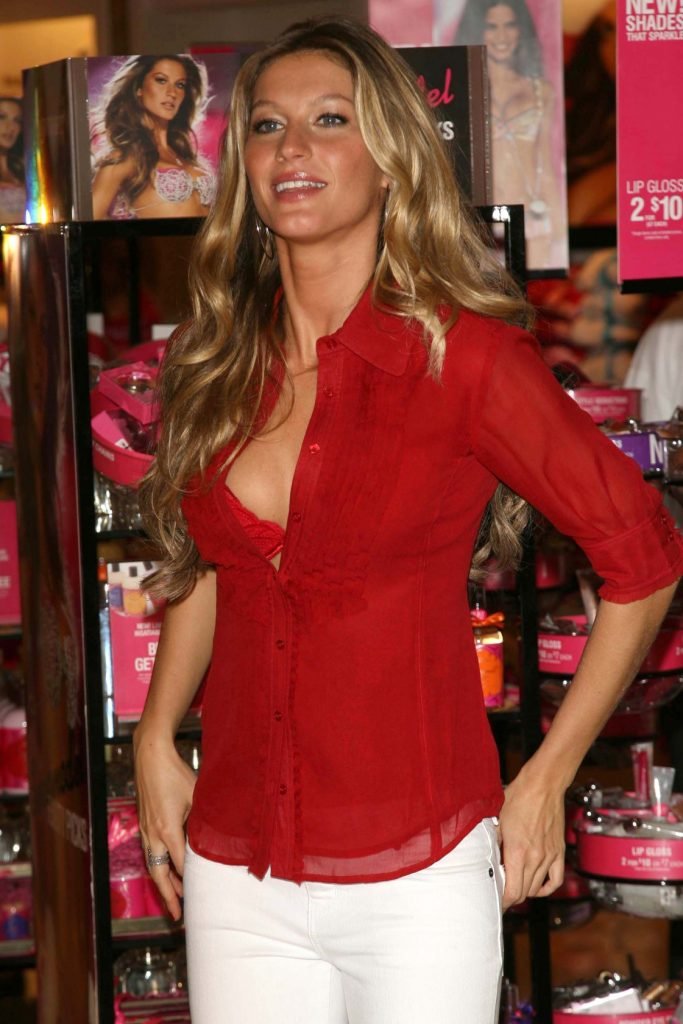 | | |
| --- | --- |
| Height | 5 feet 11 inches or 1.80 m |
| Weight | 121 pounds or 55 kg |
| Breast Size | 35 inches |
| Bra Size | 32C |
| Cup Size | C |
| Body Measurements | 35-23-35 inches or 88.9-58.4-88.9 cm. |
| Figure | Hourglass |
| Chest Size | 35 inches or 88.9 cm |
| Waist Size | 23 inches or 58.4 cm |
| Hips Size | 35 inches or 88.9 cm |
| Dress Size | 4 (US) or 36 (EU) or 8 (UK) |
| Shoe Size | 10.5 (US) or 41 (EU) or 8.5 (UK) |
| Eyes Color | Blue |
| Hair Color | Blonde |
| Natural breasts or implants | Implants |
Did Gisele Bundchen Get breast implants?
Yes, as Gisele talks about it in her new book "Lessons: My Path to a Meaningful Life", she did get breast implants after finding her breasts slightly deformed from breastfeeding her children for four years in total. However, she says that she does regret the decision as she got uncomfortable with the size of her breasts after the surgery.
Gisele Bündchen's Net Worth
This Brazilian Supermodel has achieved massive success beyond most models in the world. While keeping her wealth independent of her husband's, she has a net worth of $400 million, and while combining them the couple share a net worth of $650 million.
Gisele's List of Favorites
Favorite Food: Cheeseburger
Favorite Workout: Anusara Yoga
Favorite Perfume: Dolce & Gabbana The One
Favorite Movie: Bicycle Thieves
What's Gisele Bundchen's Face Shape?
Gisele Bundchen has an angular face which is a mix of oval and oblong at the same time.
Does Gisele Bundchen Have Hooded Eyes?
Gisele Bundchen has Hooded Eyes which cause her to focus more on her mascara.
Does Gisele Bundchen Color Her Hair?
Yes, Gisele Bundchen colors her hair two to three times a year.
Gisele Bundchen is an extremely successful supermodel who has inspired several young models to aspire to new heights. Much like another Brazilian Beauty Adriana Lima, she has earned a massive amount of success thanks to her beautiful looks, modelling talent, and business skills. We wish her the best for her future.