The Brazilian bombshell who took the fashion world by storm with her godly looks and flawless beauty, this is time to meet Adriana Lima!
From strutting down the runway as a Victoria's Secret Angel to gracing countless magazine covers, Lima has swooned millions of hearts! A strong advocate for body positivity, the model enjoys her parenting life while juggling modeling as well. A true inspiration!
IN A GIST
Gorgeous Brazilian model Adriana Lima stands 5 feet 10 inches or 178 cm (1.78 m) tall.
As a supermodel, Adriana Lima maintains a healthy weight of 59 kg or 130 kg.
Adriana is a proud Gemini, as her birthday falls on the 12th of June. Read along to learn more about Adriana's career, measurements, dating history, and more!
How Old Is Adriana Lima?
Talented and stunning Adriana Lima was born on June 12, 1981, in Salvador, Brazil. Lima is currently rocking at the age of 42 and loves to celebrate her birthday in peace, but she always thanks her fans for their heartwarming birthday wishes!
Adriana's Rise to Victoria's Secret
Adriana landed her first modeling breakthrough on the magazine cover of Marie Claire Brazil. Since then, she has landed on the covers of several other magazines like Vogue, Elle, and GQ.
Lima has also worked as a runway model for various eminent brands like Giorgio Armani, Vera Wang, Versace, Christian Dior, and more.
Her popularity has only gone up since her start. She has also been the face of Mavi Jeans and currently enjoys her status as a world-famous supermodel for Victoria's Secret.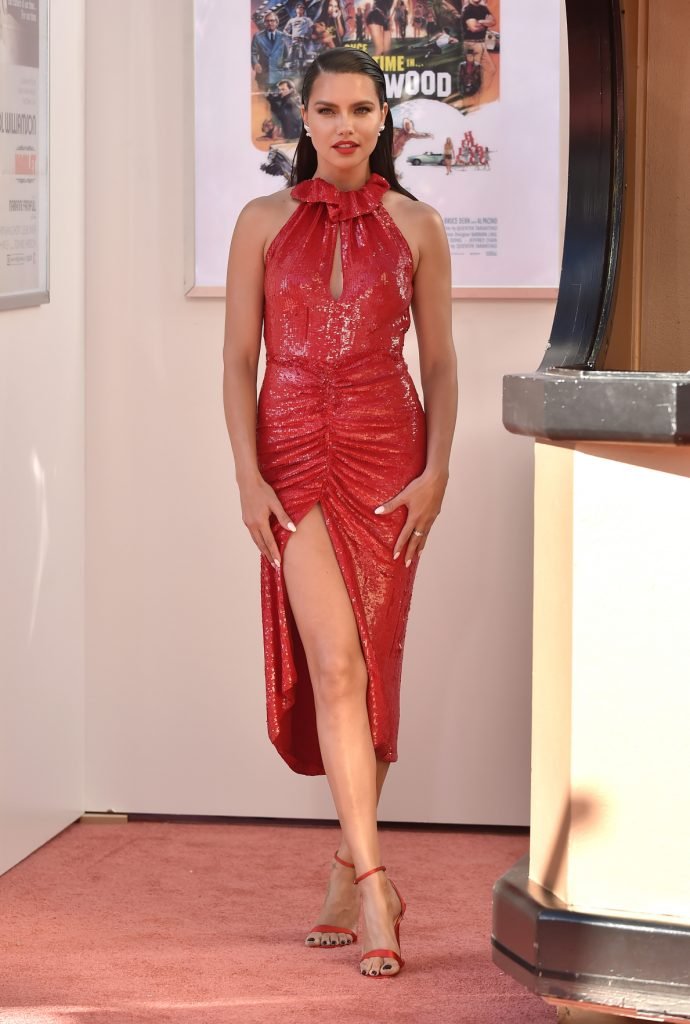 Adriana Lima's Relationships
Being one of the most beautiful women in the world, there's no shortage of fish in the sea for Adriana Lima. Here are the sneak peeks into her love life she has given us occasionally.
From 2001 to 2003, Lima dated Lenny Kravitz. Soon after, her relationship took a royal turn when she was with Prince Wenzeslaus of Liechtenstein. They dated for three years, from 2003 to 2006.
Then Lima met Marko Jarić, and they got engaged within nine months of dating. They eventually married in 2009 and have two daughters together. However, the couple announced their separation in 2014 and divorced within two years.
Lima started dating film producer Andre Lemmers in 2021, and a year later, she revealed her third pregnancy. The couple welcomed their first child together, a son, in August 2022.
Full Born Name: Adriana Francesca Lima
Nicknames: LimaBean
Occupation: Actress, Supermodel
Religion: Roman Catholic
Date of Birth: June 12, 1981
Birthplace: Salvador, State of Bahia, Brazil
Zodiac Sign: Gemini
Father Name: Nelson Torres
Mother Name: Maria da Graça Lima
Spouse: Marko Jarić (m. 2009 – div. 2016)
Children: Valentina Lima Jarić, Sienna Lima Jarić, Cyan Lima Lemmers
Adriana Lima's Height and Weight
Adriana Lima has an extremely impressive height of 5 feet 10 inches or 178 cm (1.78 m). There's no doubt that it's her tall stature that has gotten her a prominent spot in the modeling world! 
Given her incredibly tall height, Adriana Lima weighs around 59 kg or 130 pounds, and she likes to focus on her overall appearance and health. 
Adriana's Instagram proves that she is quite fond of high-intensity resistance training and is able to benefit her body even more by switching up her routine from time to time. This dedication to fitness allows Adriana Lima to always look stunning.
A post by Elle discusses Lima's diet and describes it as refreshingly honest. Adriana treats her body the same as an athlete would and takes all the measures she can in order to remain in shape. Lima eats a plant-based diet and even packs healthy meals while traveling.
Adriana Lima's Body Measurements and Hypnotic Attributes
Adriana Lima's stunning figure can popularize any magazine cover in minutes. Lima has desirable body measurements of 36-26-36 inches or 91-66-91 cm, which get her all the spotlight on the runways!
Lima's natural beauty also plays an important role in her sensational appearance. The credit for her vibrant aura goes to her radiating oval face with a hint of diamond shape, highlighting cheekbones, deep icy blue eyes, and shiny and thick dark brown hair!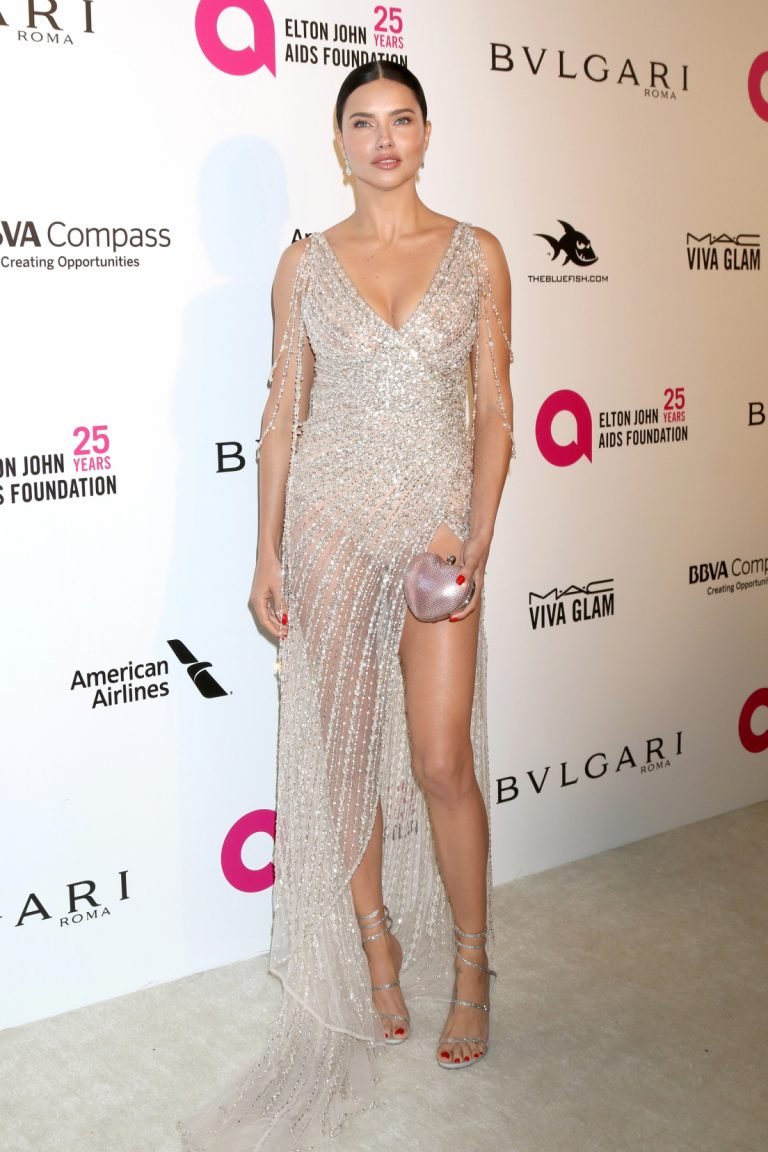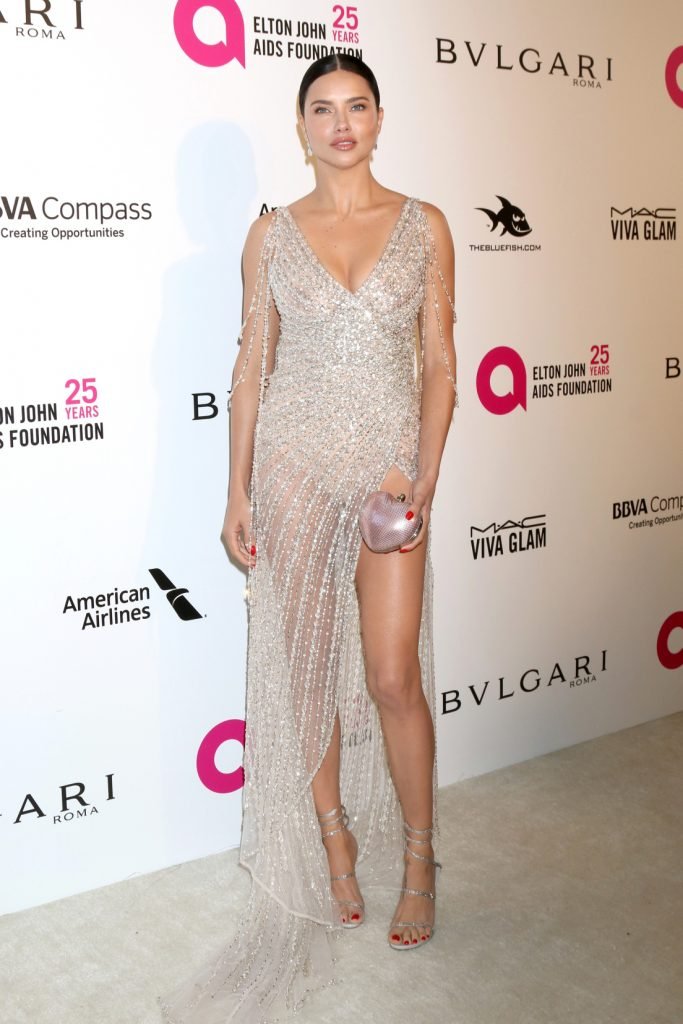 Adriana Lima's Ample Bosom
Thanks to her voluptuous figure, Adriana Lima has all the right curves to raise the temperature during fashion shows. Looking at Lima in bodycon outfits, she appears to flaunt her bosom size of 36 inches in a bra size 34C with a cup size C.
Despite being superhot, Adriana identifies with the body struggles in the fashion industry. She believes that it is good to be comfortable in your own body and is a big supporter of body positivity.
| | |
| --- | --- |
| Height | 5 feet 10 inches or 178 cm (1.78 m) |
| Weight | 59 kg or 130 kg |
| Face Shape | Diamond |
| Breast Size | 36 inches |
| Bra Size | 34C |
| Cup Size | C |
| Body Measurements | 36-26-36 inches or 91-66-91 cm |
| Figure | Hourglass |
| Dress Size | 4 (US) or 36 (EU) or 8 (UK) |
| Shoe Size | 8.5 (US) or 39.5 (EU) or 6.5 (UK) |
| Eyes Color | Blue |
| Hair Color | Dark Brown |
Disclaimer
Adriana Lima's Net Worth
Being one of the most super successful models in the fashion industry, Adriana Lima has an estimated net worth of $95 million as of 2023. And she continues to earn around $11 million every year. This is all thanks to her hard work, which landed her collaborations with big brands like Versace and Victoria's Secret.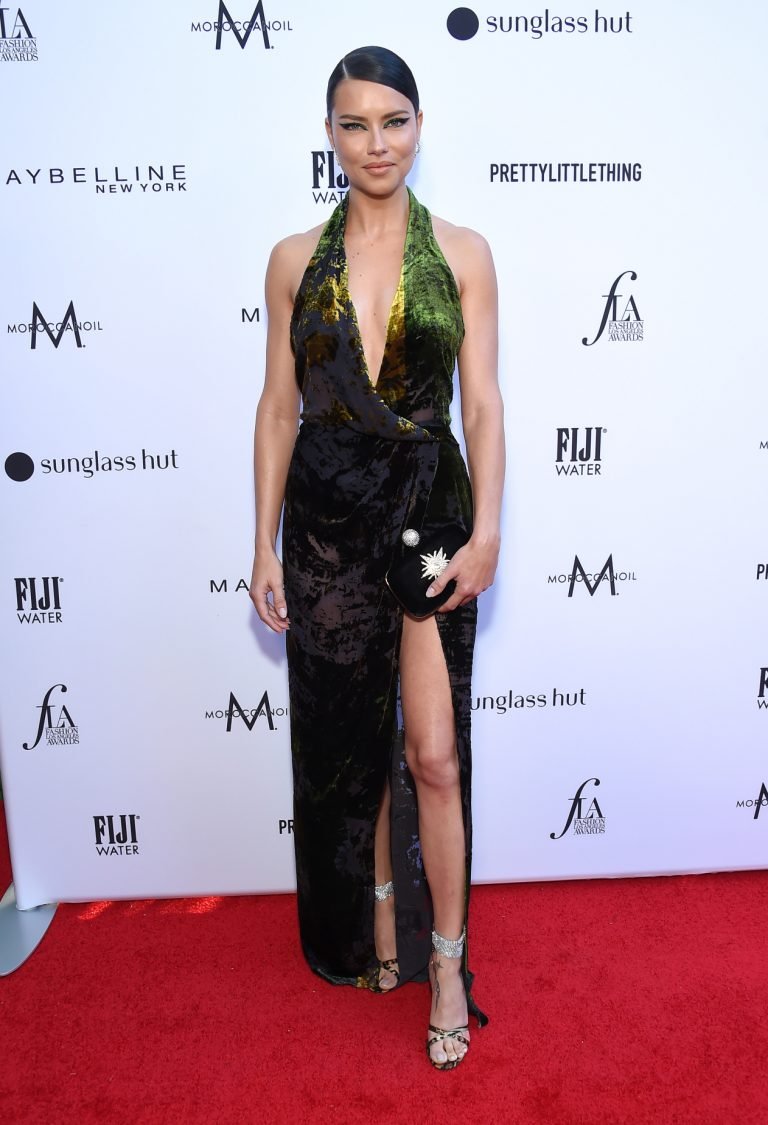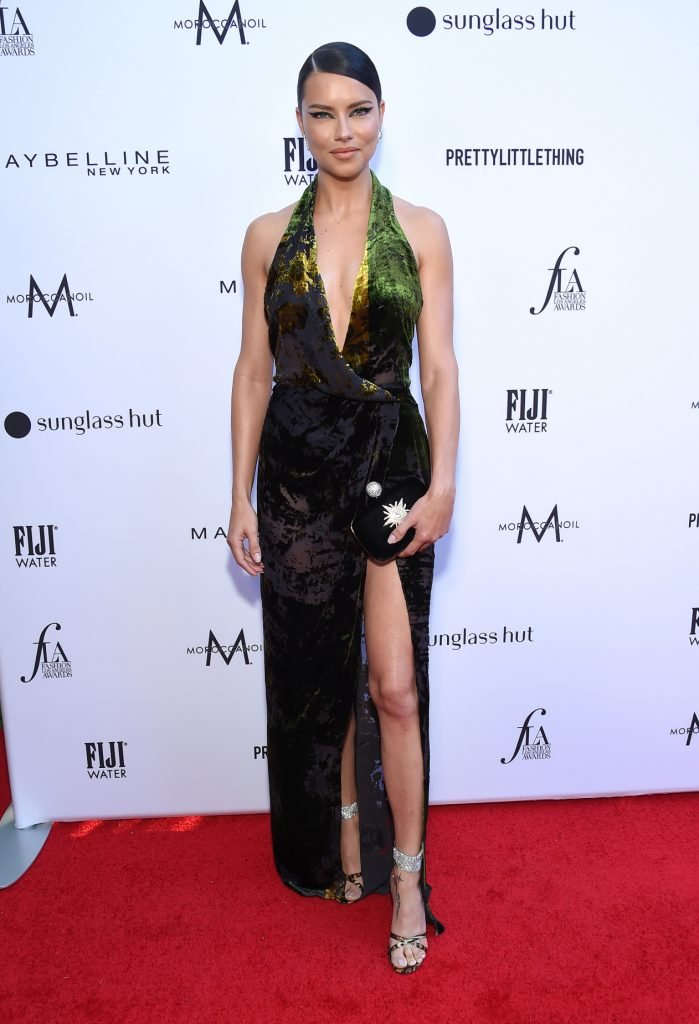 A Few of Adriana's Favorites
Favorite Movie: La Dolce Vita
Favorite Song: Nightcall
Favorite Book: The Gift: Poems by Hafiz
Favorite Photographer: Vincent Peters
Favorite Color: Cyan
Favorite Hobbies: Traveling, Swimming, Boxing
What's Adriana Lima's Face Shape?
Adriana Lima's face shape is a mixture of oval and diamond shapes. Her jaw is angular.
What Color is Adriana Lima's Hair?
Adriana Lima's hair is naturally dark brown in color.
What color eyes does Adriana Lima have?
Adriana has icy blue eyes, giving her a bold and unique aura.
Does Adriana Lima have hooded eyes?
Yes, Adriana likely has hooded eyes, which look amazing with smokey eye makeup.
Does Adriana Lima have tattoos?
Lima sports a tribal tattoo on her left foot.
Does Adriana Lima speak Spanish?
Yes, Adriana is fluent in Spanish. She can also speak Portuguese and Italian, apart from English.
What Ethnicity is Adriana Lima?
Adriana Lima is of Portuguese, Japanese, Swiss, African, and Native Brazilian ancestry. She identifies as Afro-Brazilian.
Was Adriana Lima in Friends?
No, Adriana Lima didn't play any role in the sitcom Friends.
Was Adriana Lima Miss Universe?
Adriana Lima hasn't been crowned Miss Universe yet.
Did Adriana Lima go to college?
Lima didn't attend college as she got her modeling career debut quite early.
Where does Adriana Lima live?
Adriana Lima currently resides in Miami with her family.
Adriana Lima is an industry-defining supermodel. She has worked extremely hard throughout her career to earn her spot today. Quite like Lima, Ivanka Trump has not let anything hold her back when it comes to achieving her dreams. Read more about her journey and other details with us!