From being crowned the Miss Universe at 5 to her fame from Baywatch and then appearing on Lifetime's holiday movies, Nicole Eggert has had a notable career in the entertainment industry. Furthermore, she has appeared in various reality shows showcasing her different talents.
Eggert grew up in front of the camera. If you want to know what her personal and professional life has been like, here is everything about Nicole Eggert's career, dating life, body measurements, diet, workout routine, plastic surgery, and more.
Nicole Eggert's Career
Nicole Eggert was born in Glendale, California. With her mother having her compete in beauty pageants, she entered the limelight at a very young age. And she became a Miss Universe in the petite category when she was just 5.
Nicole Eggert's victory opened many doors for her as she got cast in different commercials. Eggert bagged her first acting role in the television movie When Hell Was in Session in 1979.
She has starred in other made-for-television films such as Annihilator, Secrets, Blown Away, Frequent Flyer, Baywatch: Hawaiian Wedding, Phantom Racer, and others.
Nicole acted in her first television series, Fantasy Island, in which she had a cameo in 1981 and another episode in 1982. After this, Eggert had guest roles in other TV series, including Clueless, Boy Meets World, Gilmore Girls, and many more.
Nicole Eggert has also had recurring roles in T.J Hooker, Who's The Boss, Charles in Charge, and Home Fires.
She is best known for her main role in Baywatch and is also recognized for being a contestant on Splash and Celebrity Fit Club.
Nicole Eggert's debut film, Rich and Famous, came out in 1981. And she followed it with her roles in several other movies such as Cattle Call, Blown Away, Loaded, The Price of Kissing, and many more.
Nicole Eggert's latest on-screen appearance was her guest appearance on The Bachelor in 2022.
Nicole Eggert's Height and Weight
Nicole Eggert is a mother of two children, and after her intensive postpartum workouts post babies, she looks fit in her recent pictures. Her height is 5 feet 3 inches or 160 cm (1.60 m), and she weighs 60 kg or 132 pounds.
Nicole Eggert shed her postpartum diet by cutting down on certain foods. She drank The Virgin Diet Shake in place of two of her meals every day. The strict diet helped her lose 35 pounds.
Nicole Eggert's Dating History
Nicole Eggert dated DJ Lethal for a while. The duo was in a court case in 2008 after Nicole accused DJ Lethal of domestic abuse. The case came to an end in 2015 after the court found DJ Lethal not guilty.
After this, Nicole Eggert dated Corey Haim, to whom she was engaged. The pair got engaged when both of them were underage.
Nicole Eggert was also rumored to have married Justin Herwick, but as shown on Google, she was actually not married to Justin.
Nicole Eggert also admitted to sleeping with Scott Baio just so she could lose her virginity. She also alleged that Scott Baio sexually harassed her, which Scott Baio continuously denied.
Full Born Name: Nicole Elizabeth Eggert
Nickname: Nickel
Occupation: Actress
Religion: Unknown
Date of Birth: 13 January 1972
Birthplace: Glendale, California, United States
Zodiac Sign: Capricorn
Father Name: Rolf Eggert
Mother Name: Gina Eggert
Siblings' Names: April Eggert
Spouse: None
Children: Dilyn Elizabeth Eggert and Keegan Eggert
Nicole Eggert's Body Measurements
Nicole Eggert may not have the slim waistline she once flaunted on Baywatch, but there is no denying that the actress still looks gorgeously fit and healthy. Her body measurements are 37-27-37 in or 94-69-94 cm.
Nicole Eggert stays in shape by doing high-intensity interval training. Her workouts also include resistance training, walking, and jumping ropes.
Nicole Eggert's Ample Bosom
Nicole Eggert's breasts have gone through some transformation as she got cosmetic surgery to get bigger busts and then another to reduce their size. She undoubtedly looks glamorous regardless of her cup size. Her breast size is 37 inches, and her bra size is 34C with a cup size of C.
Appearing on the Splash, Nicole Eggert looked curvaceous as her body-grabbing swimsuit elevated her figure and brought notice to her ample bosom.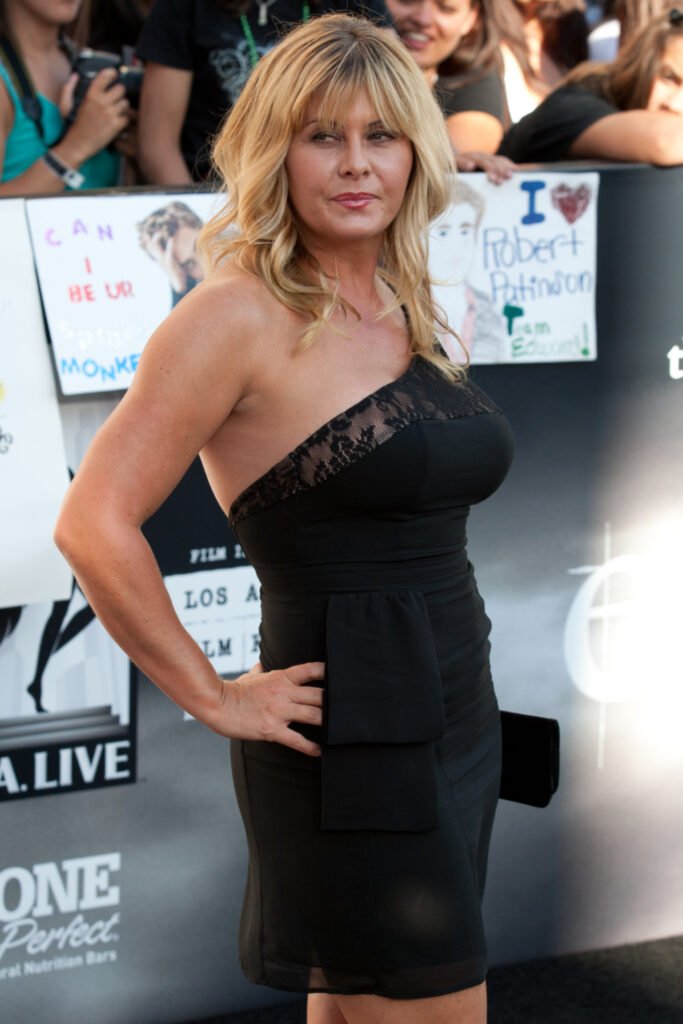 | | |
| --- | --- |
| Height | 5 feet 3 inches or 160 cm (1.60 m) |
| Weight | 60 kg or 132 pounds |
| Breast Size | 37 inches |
| Bra Size | 34C |
| Cup Size | C |
| Body Measurements | 37-27-37 in or 94-69-94 cm |
| Figure | Curvy |
| Chest Size | 37 inches or 94 cm |
| Waist Size | 27 inches or 69 cm |
| Hips Size | 37 inches or 94 cm |
| Shoe Size | 6 (US) or 36 (EU) or 3.5 (UK) |
| Dress Size | 10 (US) or 42 (EU) or 14 (UK) |
| Eyes Color | Blue |
| Hair Color | Blonde |
| Natural breasts or implants | Implants |
Did Nicole Eggert Have Any Plastic Surgeries?
People constantly compare themselves to the people around them, and Nicole Eggert is no exception. The celebrity who worked with Pamela Anderson on Baywatch aspired to have bigger busts like the Canadian-American star.
For this, Nicole Eggert got breast augmentation surgery which caused an issue as the Baywatch crew had already shot many scenes with her natural cup size.
Nicole Eggert had gotten breast implants twice before she went ahead and had breast reduction surgery as she was not happy with her ample bosom. The actress does not seem to undergo any other cosmetic surgeries as of now.
Nicole Eggert's Net Worth
Nicole Eggert has had many memorable roles. Currently, while she continues to act, she also runs her own ice cream truck business, Scoops, and earns money from sending personalized videos to fans through the website Cameo. Her ventures have resulted in her net worth of approximately $500 thousand as of 2022.
Nicole Eggert's Most Loved Things
Favorite Band: Depeche Mode
Favorite Dessert: Pumpkin pie
Favorite Dish: Hotdogs
Favorite Skincare Brand: Vincenzo
Favorite Musical: Mary Poppins
Nicole Eggert's Most Notable Awards And Nominations
Young Artists Award: Best Young Actress, Guest on a Series, Fantasy Island (1983) – Nominated
Young Artists Award: Exceptional Performance by a Young Actress in a Television Comedy Series, Charles in Charge (1988)
Young Artists Award: Best Young Actress in a Family Syndicated Show, Charles in Charge (1989) – Nominated
Young Artists Award: Best Young Actress Starring in a Television Series, Baywatch (1993) – Nominated
Young Artists Award: Youth Actress Leading Role in a Television Series, Baywatch (1994) – Nominated
Unbelievable Facts About Nicole Eggert
Nicole Eggert hurt her back and kidneys while competing on Splash.
Nicole Eggert has two daughters, but neither of their father's identities is known to the public.
Nicole Eggert felt that she was uncool for being a virgin at 17.
What face shape does Nicole Eggert have?
Nicole Eggert has a square-shaped face that makes her look pretty with both side and center partition hairstyles.
What is Nicole Eggert's hair color?
Nicole Eggert has blonde hair. That, accompanied by her red bathing suit, made her look ravishing on Baywatch.
What color eyes does Nicole Eggert have?
Nicole Eggert has blue eyes that add to her charming beauty.
Does Nicole Eggert have tattoos?
Nicole Eggert used to have a tattoo on her ankle; however, she has got it removed.
Did Nicole Eggert win an Emmy?
Nicole Eggert did not win any Emmy Awards. However, she has been nominated for a couple of Young Artists Awards and won one of them.
Did Nicole Eggert win the Miss Universe?
Nicole Eggert won the Miss Universe pageant. She was given the Little Miss California Universe title.
Was Nicole Eggert on Baywatch?
Nicole Eggert was on Baywatch. She played the role of Roberta Summer Quinn.
Where did Nicole Eggert live?
Nicole Eggert lives in Los Angeles with her two daughters.
Nicole Eggert became prominent for her leading role in Baywatch. Another actress who gained recognition for being a regular in a television series is Emily Deschanel, who portrayed the main role in Bones. She has also appeared on The Cleveland Show, Animal Kingdom, and Spider-Man 2.