Jane Seymour is a veteran actress who has continuously proved her impeccable acting skills from the moment she stepped into Hollywood. She has been in the industry for more than 50 years, and it does not look like she is slowing any time soon. Besides her acting, Jane has managed to look gorgeous even with all the years passing.
Read along to know about Jane Seymour's career, marriages, body measurements, workout routines, diet, and more.
Jane Seymour's Career
Jane Seymour was born and raised in Uxbridge, Middlesex. She speaks English, French, and Dutch. She attended the Tring Park School for the Performing Arts.
Jane Seymour began her acting career in 1969 with her appearance in the film, Oh! What a Lovely War. However, she was not given acting credits in it. Only in 1970, when she took a role in the war film, The Only Way, was she given credits for the first time.
Appearing in hit films like Young Winston, Live and Let Die, and Frankenstein: The True Story, Jane Seymour's acting career was a success from the very start. She received global attention for her playing Solitaire, the Bond girl in the James Bond movie, Live and Let Die.
Since then, Jane Seymour has had roles in various films, including The Four Feathers, Somewhere in Time, Wedding Crashers, Blind Dating, The Family Tree, Freeloaders, The Female Brain, Little Italy, and more. Her latest movie role was in the critically-acclaimed film Ruby's Choice.
In addition to acting in the theatrical, Jane Seymour's career was also filled with her roles in television films. She acted in her first television film, The Story of David, in 1976.
Her prominent movies on television include Seventh Avenue, The Phantom of the Opera, The Woman He Loved, Onassis: The Richest Man in the World, Heidi, Lovestruck: The Musical, A Royal Christmas, and others.
Boasting an acting career that spans over five decades, Jane Seymour is also known for her award-winning roles in television series such as East of Eden and Dr. Quinn, Medicine Woman.
Jane Seymour's other notable television series included her debut series in 1970, Here Come the Double Deckers, and others such as Captains & the Kings, War and Remembrance, Dharma & Greg, Castle, How I Met Your Mother, Jane the Virgin, and The Kominsky Method.
In 2022, Jane Seymour is seen playing the recurring character Bette in B Positive, and the main character, Addison Walker, in The Guardians of Justice.
Beyond acting, Jane Seymour has also demonstrated her talents in writing. She published her first self-help book, Jane Seymour's Guide to Romantic Living, in 1986. She has authored more books, namely, Two at a Time: Having Twins, Remarkable Changes, and Among Angels.
Jane Seymour is a well-established name in the design industry too. She has worked on designing a collection for Kay Jewelers. She was the ambassador of the fashion brand CC. She has also collaborated with Michael Amini and designed a popular furniture line in the Middle East.
Jane Seymour's Height and Weight
Whether decades ago or recently, Jane Seymour always looks splendid when she comes to red carpets or other events in her exquisite dresses. She is blessed with a beautiful figure. Her height is 5 feet and 4 inches or 163 cm (1.63 m) tall, and she weighs 55 kg or 121 pounds.
Jane Seymour stays slim by following a diet that is high in proteins and fibers. She eats chicken and a lot of vegetables which are mostly grown in her garden. Also, she does portion control instead of avoiding the food altogether. Instead of not eating the cake she wants, Jane Seymour has one bite.
Jane Seymour lost 12 pounds before her 69th birthday. She lost weight in 3 weeks by doing intermittent fasting and not drinking alcohol.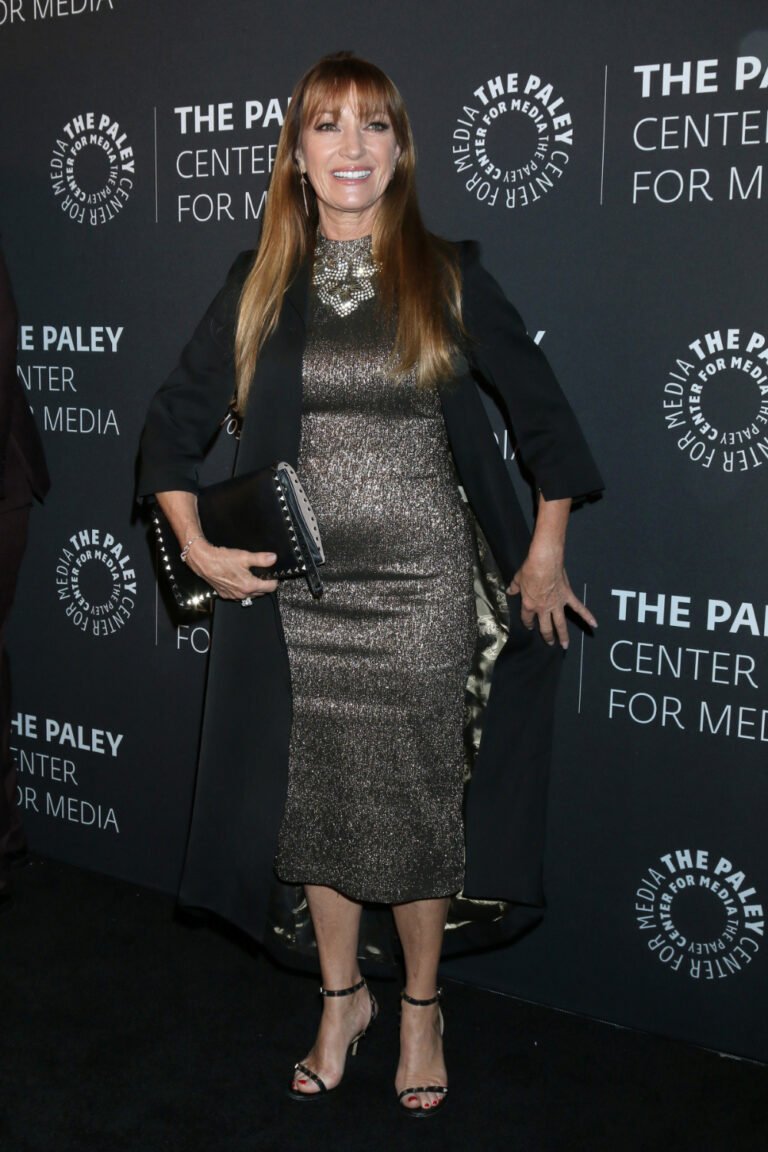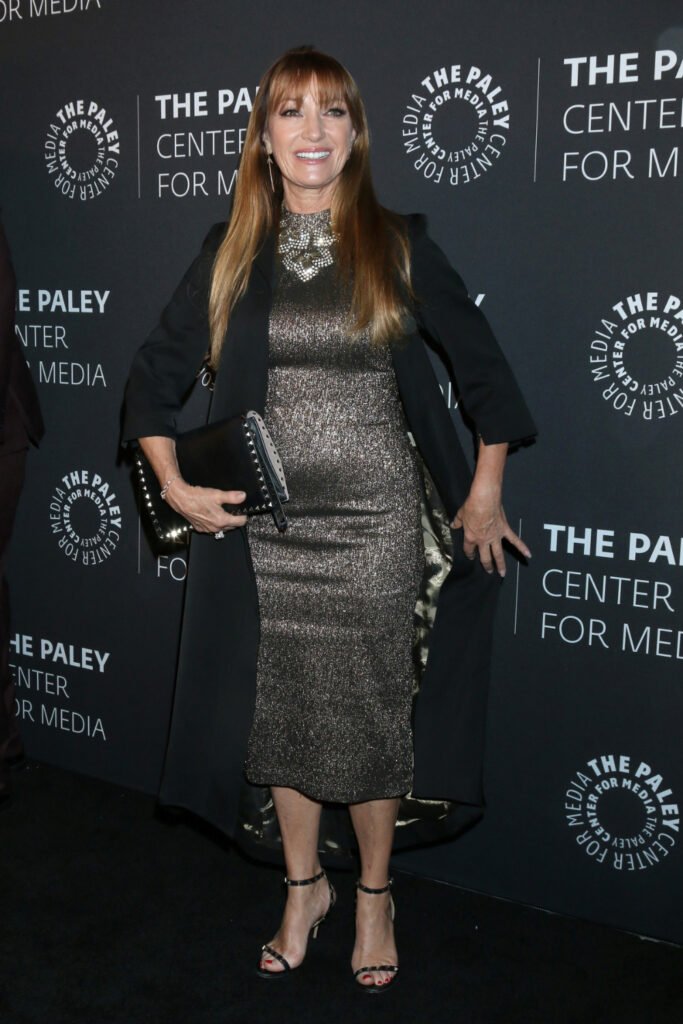 Jane Seymour's Dating History
Jane Seymour authored the book Open Hearts: If Your Heart Is Open, Love Will Always Find Its Way. Similarly, love found Jane Seymour, too, but it looks like she had to go through some heartbreaks and divorces before finding the right partner as Jane has been married four times to date.
Jane Seymour was first married to Michael Attenborough from 1971 to 1973. She met him on the sets of her debut film, Oh! What A Lovely War. His father, Richard Attenborough, was the director.
Then, Jane Seymour married Geoffrey Planer in 1977. Unfortunately, that marriage ended in just a year, with the couple divorcing in 1978. Geoffrey Planer was a friend of Michael Attenborough.
Following Jane Seymour's split with Geoffrey, she tied the knot to David Flynn in 1981. The couple has two children, Katherine Flynn and Sean Flynn. David Flynn encouraged her to invest in the housing market. However, the outcome was not as they expected. As a result, Jane Seymour became bankrupt. Jane and David divorced in 1992.
The next year, Jane Seymour married James Keach. The pair welcomed twins in 1995. Later in 2022, she collaborated with Pamela Patrick Novotny and published Two at a Time: Having Twins: The Journey Through Pregnancy and Birth.
Jane Seymour has also partnered with James Keach and written the books Boing! No Bouncing on the Bed and Splat! The Tale of a Colorful Cat. The couple separated in 2015.
Jane Seymour was never the one who initiated any of her divorces. As she could not find a balance between her career and love life, she did not have the time to focus on any of her relationships.
Jane Seymour is currently dating David Green. The two met in 2015 and were friends first. They bonded because both of them were just divorced. Jane Seymour publicly revealed that she was dating David Green when she attended the AARP Awards in 2018.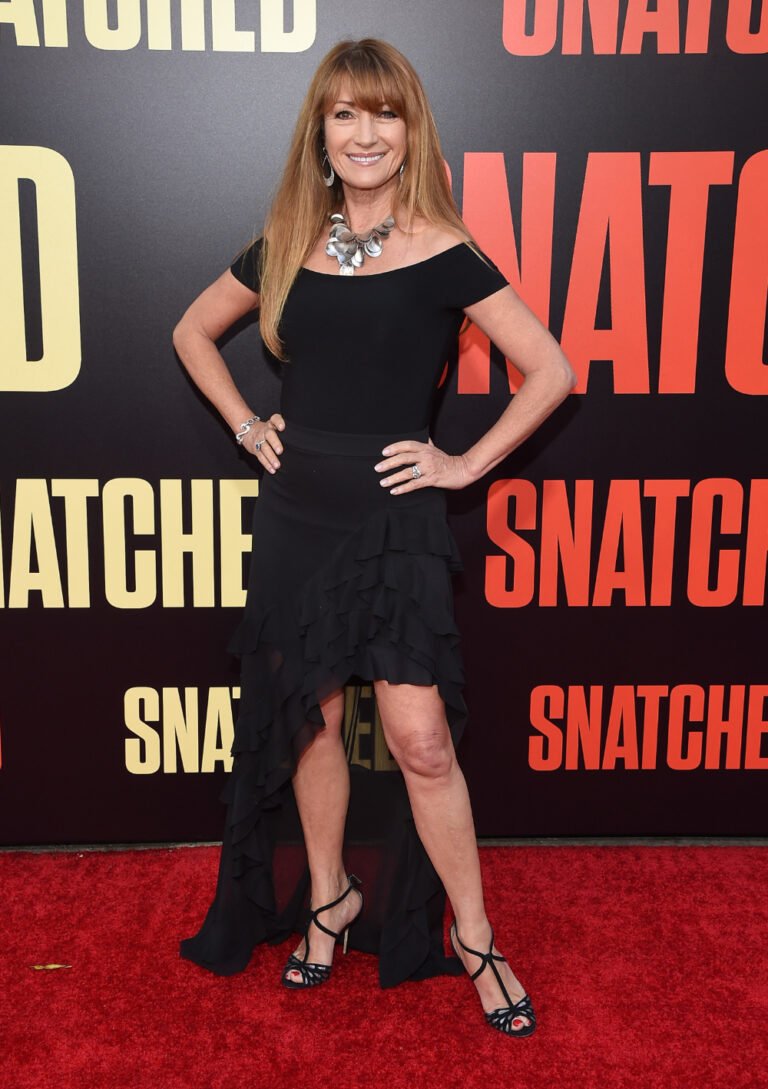 Full Born Name: Joyce Penelope Wilhelmina Frankenberg
Nickname: Jane Seymour
Occupation: Actress and Writer
Religion: Judaism
Date of Birth: 15 February 1951
Birthplace: Uxbridge, United Kingdom
Zodiac Sign: Aquarius
Father Name: Benjamin John Frankenberg
Mother Name: Mieke van Tricht
Siblings Names: Sally Frankenberg and Anne Gould
Spouse: James Keach (m. 1993–2015), David Flynn (m. 1981-1992), Geoffrey Planer (m. 1977-1978), and Michael Attenborough (m. 1971-1973)
Children: Katherine Flynn, Sean Flynn, John Stacy Keach, and Kristopher Steven Keach
Jane Seymour's Body Measurements
Jane Seymour always strives to be the best version of herself, and she is. She looks healthy and fit with the body measurements 35-24-34 in or 89-61-86 cm.
She recently posted a photo of herself working out at the gym. Fans could not stop raving about how good she looked and appreciated her for putting her health at the forefront.
To be in her best shape, Jane Seymour does isometrics, pilates, and Gyrotonics. She works out for two 20 minute-periods every week. While the duration seems relatively short, her exercises are hectic to the point she can feel the impact by exercising for that short period. Jane Seymour also hits the gym.
Jane Seymour's Ample Bosom
Jane Seymour's breast size is 35 inches. Her bra size is 32C with cup size C. She has rounded and full busts, proving to everyone that age is just a number.
Following her 70th birthday in 2021, Jane Seymour was seen rocking a black swimsuit on a beach. With the garment having a plunging neckline, it was notable that her breasts are perfectly shaped.
| | |
| --- | --- |
| Height | 5 feet and 4 inches or 163 cm (1.63 m) |
| Weight | 55 kg or 121 pounds |
| Breast Size | 35 inches |
| Bra Size | 32C |
| Cup Size | C |
| Body Measurements | 35-24-34 in or 89-61-86 cm |
| Figure | Slim |
| Chest Size | 35 inches or 89 cm |
| Waist Size | 24 inches or 61 cm |
| Hips Size | 34 inches or 86 cm |
| Shoe Size | 7 (US) or 37.5 (EU) or 4.5 (UK) |
| Dress Size | 4 (US) or 36 (EU) or 8 (UK) |
| Eyes Color | Brown (right eye) and Green (left eye) |
| Hair Color | Light Brown |
| Natural breasts or implants | Natural |
Did Jane Seymour Have Any Plastic Surgeries?
For Jane Seymour, it is important to feel good about herself. That is why she decided to get botox. However, she was not satisfied with the outcome the fillers had on her face and has sworn off botox since the first try.
While Jane Seymour will never get botox again, she is open to the idea of getting a facelift. She hopes that if she goes under the knife, it does not change her facial features too much.
Jane Seymour also takes good care of her skin by avoiding the sun as much as she can and applying retinol at night.
Jane Seymour's Net Worth
Jane Seymour has had a stable career over the years. She has acting, writing, and credits under her name. In addition to that, she has also lent her voice talents to movies. With all those years of hard work, Jane Seymour's net worth is estimated to be $60 million in 2022.
Jane Seymour's Most Loved Things
Favorite Subject: Science
Favorite Hobbies: Stamp Collection, Scuba Diving, Snorkeling, Painting, Sculpting, and Designing
Favorite Foods: Prawns and Pickles
Favorite Genre: Comedy
Jane Seymour's Most Notable Awards
Downtown Film Festival Los Angeles: Best Supporting Actress, Jake Squared, 2014
Family Film Awards: Outstanding Actress In A Series, Dr. Quinn, Medicine Woman, 1996
Golden Globe: Best Performance by an Actress in a Television Series – Drama, Dr. Quinn, Medicine Woman, 1996
Aftonbladet TV Prize: Best Foreign TV Personality – Female, 1995
Primetime Emmy: Outstanding Supporting Actress in a Miniseries or a Special, Onassis: The Richest Man in the World, 1988
Golden Globe: Best Performance by an Actress in a Miniseries or Motion Picture Made for Television, East of Eden, 1982
Fun Facts About Jane Seymour
Jane Seymour gets her screen name from Queen Jane Seymour, who was a consort during King Henry VIII's rule.
Jane Seymour bought a microscope for herself when she was only seven years old.
Jane Seymour spent many childhood vacations in the Netherlands, where she learned to speak Dutch.
Jane Seymour once got rejected for a role as she has two-colored eyes.
Jane Seymour's mother used to be a prisoner of war during World War II.
What face shape does Jane Seymour have?
Jane Seymour has an oval-shaped face. She usually styles her hair with bangs that compliment her face.
Does Jane Seymour have gray hair?
Jane Seymour does not have naturally gray hair. She colored it gray for her role in The Kominsky Method.
Does Jane Seymour have two different colored eyes?
Jane Seymour has two different colored eyes. She has heterochromia, which makes her left eye, green and right, brown.
Does Jane Seymour have tattoos?
Jane Seymour does not have any tattoos. She even tells other young actors not to get one.
Did Jane Seymour win an Oscar?
Jane Seymour has not won an Oscar yet. However, she is accoladed with other prestigious awards like an Emmy, two Golden Globes awards, and more awards.
Does Jane Seymour sing?
Yes, Jane Seymour sings. Fans can hear her vocals in Here Come the Double Deckers! and Somewhere in Time, in which she sings the song, You Made Me Love You.
Does Jane Seymour play on B Positive?
Jane Seymour is in B Positive. She plays Bette, a recurring character, in the sitcom.
Where does Jane Seymour live?
Jane Seymour lives in a Malibu beach house. It has a breathtaking view of the ocean.
Jane Seymour is a phenomenal actress who came from England and established a career in Hollywood. Another actress who is originally from a European country is Carice Van Houten. She is a Dutch actress who has made a mark in the industry.