Laetitia Casta is a world-class supermodel whose timeless beauty, sensuous physique, and exceptional confidence has led her to become a worldwide sensation. Her exquisite looks, angelic charm, and unusual grace can effortlessly mesmerize anyone, from agents to strangers.
Owing to her enchanting looks, this French goddess has earned a multi-million fan base for herself from all around the world. From being a GUESS? Girl to a Victoria's Secret Angel, Laetitia Casta, has set a benchmark in the fashion industry and gone to become an inspiration for millions of aspiring models globally.
If you wish to know more about this diva, keep reading as we explore her life story and take a deeper dive into everything, from her road to success to her body measurements!
Laetitia Casta's Story of Success
Laetitia Casta was born on 11th May 1978 in Pont Audemer, Normandy, France, and has inherited Corsican-French ancestry from her parents. Laetitia's astonishing beauty, owing to her distinctive ethnic background, has put her in a prominent position before various dignitaries over the years and has thereby helped her soar to success.
Laetitia's career supposedly started at the age of 15, when she was on a family holiday in Corsica. A Paris Madison Models' agent approached her while she was playing around on the beach. The photographer requested to take some test photos, which later turned out to be incredibly beautiful.
These photographs were impressive enough to make a great impression on the Founder of the modeling agency, as well as the Director of Elle Magazine. And subsequently, after her encounter with the agent, modeling contracts started pouring in for her, and she eventually signed a contract with Guess? Jeans, in the year 1993, for an advertising campaign.
The campaign was a total hit and her role in the Guess? Campaign gained her further recognition and helped her grab the attention of several accomplished and eminent designers and modeling agencies. In 1996, Laetitia Casta went on to become one of the lead models of the most popular lingerie brand, Victoria's Secret.
As her fame kept growing, Laetitia featured in various prominent magazines and brands, including but not limited to L'Oreal, Svarovski, Tommy Hilfiger, Valentino, Ralph Lauren, Yves Saint Laurent, and more. Her enthusiasm and perseverance have made her prosper in the Fashion Industry and one of the most beloved catwalk queens on the ramp.
Laetitia Casta's Height and Weight
Laetitia Casta has the quintessential height for the ramp. Various people have complimented her for her height, which harmonizes with her extraordinary physique, and have together helped her acquire a prominent position in the field. Laetitia Casta stands 5 feet 7 inches or 170 cm (1.70 m) tall, and her weight is only 128 pounds or 58 kg.
However, ironically, Laetitia is a foodie. She loves to eat and is open to all sorts of food. Although, her secret to a fit body is controlling her food proportions. She eats whatever she wants but in small portions.
From burgers to lean proteins, her diet is inclusive of everything. She also likes to eat organic, so you will see a lot of fruits, veggies, dairy products, and meat on her plate.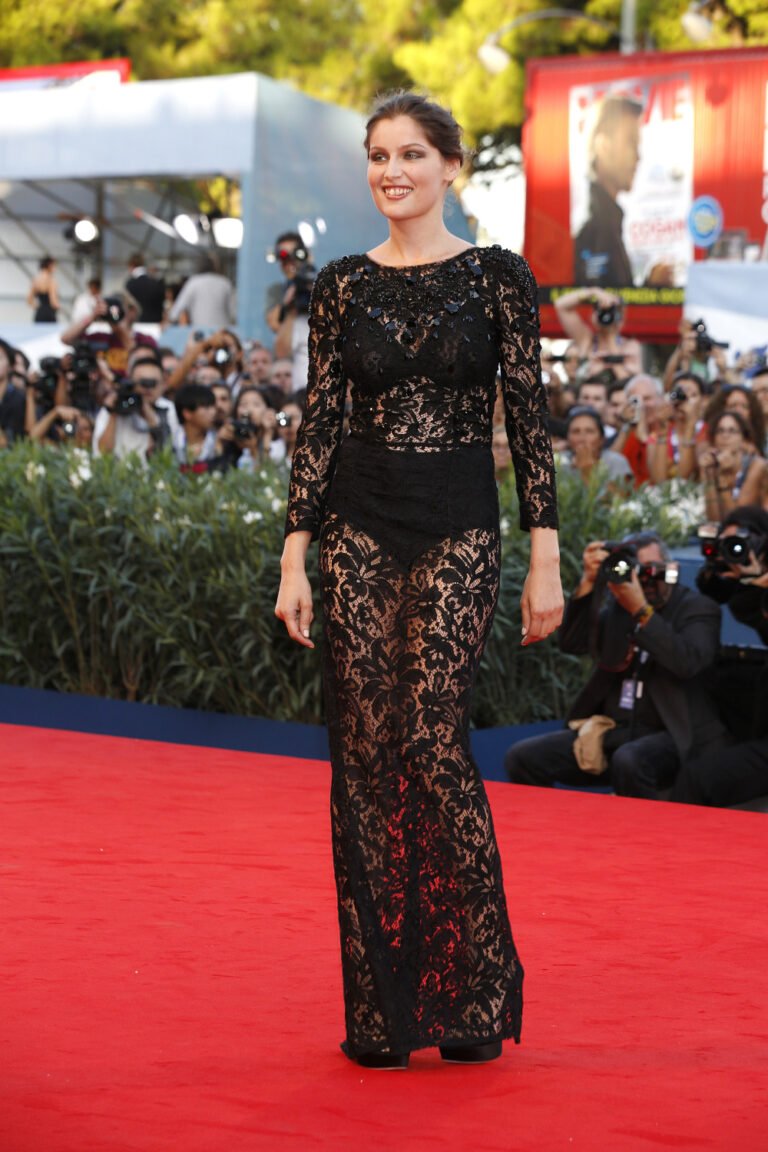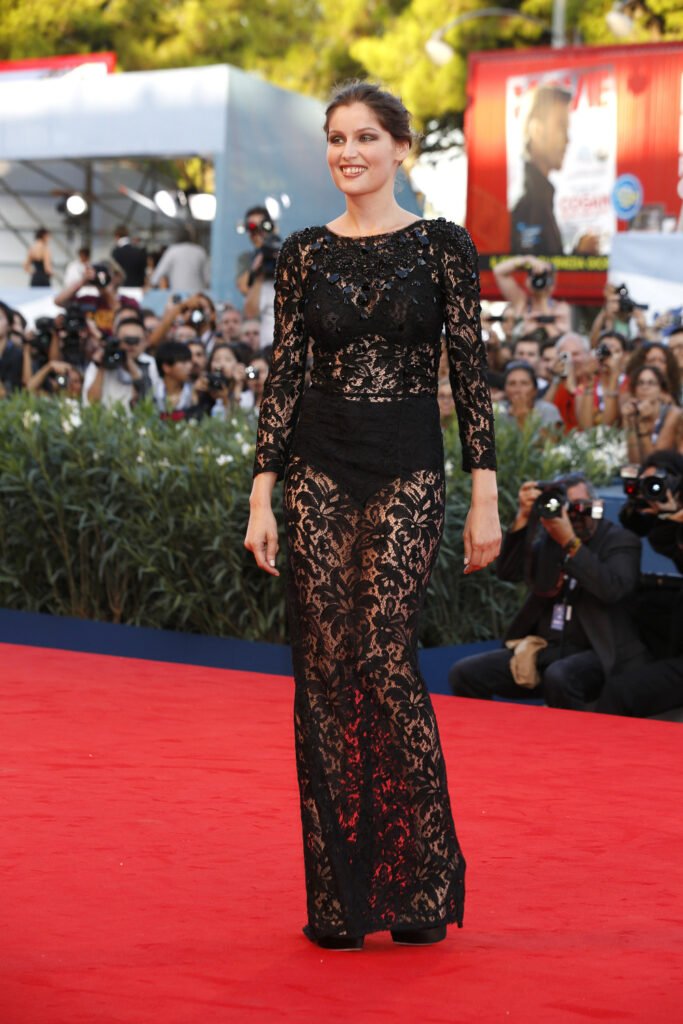 Laetitia Casta's Dating History
Laetitia Casta is the epitome of beauty, and therefore, an eminent name amongst people worldwide. Her beauty is fancied by a majority of people; however, Laetitia has only been in three serious relationships, out of which she has four children.
In the early 2000s, Laetitia Casta and Stephane Sednaoui had a thriving relationship with whom she had her first daughter, Sahteene, in the year 2001. However, they broke up after two years, and Laetitia went on to exchange rings with the renowned Italian actor, Stefano Accorsi.
The couple has two kids, Orlando, who was born in the year 2006, and Athena, who was born in the year 2009. However, her engagement with Stefano did not work out either, and after staying together for 10 long years, the duo called it quits.
But as they say, third time's a charm. Laetitia married French actor Louis Garrel in the year 2017. They dated for two years before tying the knot. Laetitia has her fourth child with Louis, a son named Azel. He was born 4 years into their marriage, on 17th March 2021.
Full Born Name: Laetitia Marie Laure Casta
Nickname: Laetitia
Occupation: Actress, Supermodel
Religion: Christianity
Date of Birth: 11th May 1978
Birthplace: Pont Audemer, Normandy, France
Zodiac Sign: Taurus
Father Name: Dominique Casta
Mother Name: Line Blin
Siblings Name: Jean Baptiste Casta, Marie Ange Casta
Spouse: Louis Garrel (m.2017-present)
Children: Sahteene, Orlando, Athena, Azel
Laetitia Casta's Body Measurements
Laetitia Casta has been termed as one of Victoria's Secret's 'Hottest Angels Ever,' owing to her sensuous frame. Her body measurements are 36-23-35 inches or 91.44-58.42-88.9 cm. The temptress has an incredibly desirable and seductive figure, which makes her a perfect fit to rock the ramp in sexy designer outfits.
However, her angelic body does not come easy. Laetitia Casta has a highly active lifestyle. She has a strict routine when it comes to her workout sessions, and she aims to stick to it as much as possible.
The Victoria's Secret supermodel does not believe in the concept of gymming; however, she is heavily into cardio, such as walking, running, and swimming.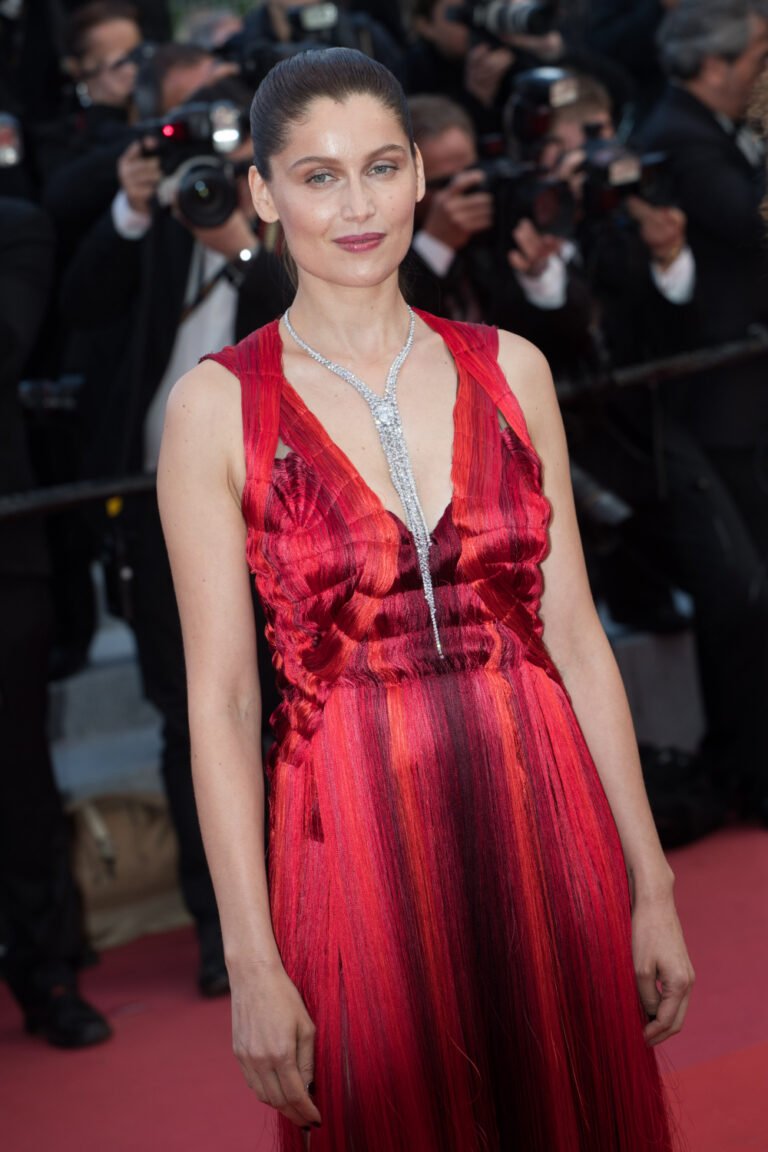 Laetitia Casta's Ample Bosom
Laetitia Casta has a sensational figure, and we have no doubts about that. She looks absolutely incredible in all of her outfits, owing to her breast size being 36 inches, and her bra size is 32D, with a cup size of D.
Laetitia Casta looks astonishing as she proudly and confidently walks down the ramp during her fashion shows. This bombshell shows off her flawless, bosomy body while catwalking for the lingerie brands in her seductive lingerie and slinky heels, making her fans drool over her beauty.
| | |
| --- | --- |
| Height | 5 feet 7 inches or 170 cm (1.70 m) |
| Weight | 58 kg and 128 pounds |
| Breast Size | 36 inches |
| Bra Size | 32D |
| Cup Size | D |
| Body Measurements | 36-23-35 inches or 91.44-58.42-88.9 cm |
| Figure | Hourglass |
| Chest Size | 36 inches or 91.44 cm |
| Waist Size | 23 inches or 58.44 cm |
| Hips Size | 35 inches or 88.9 cm |
| Shoe Size | 8 (US), 41 (EU), 7.5 (UK) |
| Dress Size | 6 (US), 36 (EU), 10 (UK) |
| Eyes Color | Blue |
| Hair Color | Dark Brown |
| Natural breasts or implants | Natural |
Did Laetitia Casta Undergo Plastic Surgery?
Laetitia Casta is often considered one of the sexiest women in the world, thanks to her exemplary physique. She has a perfectly proportioned hourglass figure, with all her curves in the right places.
In today's day and age, where everyone is opting for body augmentation procedures, Laetitia Casta has expressed her clear views against any such cosmetic surgeries. She strongly believes in realism and regularly speaks about her body-positive thoughts on screen.
And to everyone's surprise, Laetitia Casta has stayed natural all through the years in the industry, and her phenomenal figure is the result of her dedicated workout regime and well-planned dietary habits.
Laetitia Casta's Net Worth
As of 2022, Laetitia Casta has an estimated net worth of around $12 million. Laetitia's fashion shows and cover features have helped her earn millions of bucks, and she has also stepped foot into the acting industry.
The Model-turned-actress has acted in over thirty movies, four music videos, and three theatrical plays since the beginning of her stardom.
Laetitia Casta's Most Loved Things:
Favorite Color: Black
Favorite Perfrume: Pour Femme
Favorite Food: Pasta Vongole
Notable Awards Won by Laetitia Casta
Askmen.com: Rank 1 Top 50 Most Beautiful Women, 2001
Cabourg Film Festival: Golden Swann of the Best Actress, 2008
Cesar Awards: Best Supporting Actress, 2011
Locarno International Film Festival: Excellence Award, 2021
Fun Facts About Laetitia Casta
Laetitia Casta has always been a fun-loving person and thoroughly enjoys spending time with her family and friends doing activities outside of her house. One of the activities that she is extremely passionate about is go-karting, and she ensures that she is seen on the sporting tracks whenever she gets an opportunity.
One of the facts that very few people know about Laetitia Casta is that Laetitia has a step-daughter called Celine Garrel, who was born in the month of November 2008. She is the adopted child of Laetitia's present husband, Louis Garrel, and his then spouse, Bruni Tedeschi.
Another fun yet undiscovered fact about Laetitia Casta is that she is a brown belt in Judo, and that is where she gets her extraordinary physique!
Everyone knows Laetitia for her beauty, but she is just as kind and compassionate. Laetitia had once invited a homeless man over to her hotel and offered him dinner while she was in London.
What shape of face does Laetitia Casta have?
Laetitia Casta has a square-shaped face with a broad and sharp jawline. She has high cheekbones too, which perfectly suit her face and give it a strong-looking structure.
What is Laetitia Casta's hair color?
Laetitia Casta has prepossessing and lustrous locks, which are dark brown in color. Her recent bob cut makes her hair fall flawlessly around her face and gives it a cute yet chic look.
What color eyes does Laetitia Casta have?
Laetitia Casta has dazzling ocean blue eyes, which highly compliment her Corsican-Italian skin tone, her brunette head, and her alluring smile.
Where does Laetitia Casta live?
Laetitia Casta has lived in Corsica and Eure before and during her modeling career. However, her present address, where she lives with her husband and her children, is yet to be updated.
Laetitia Casta has been a worldwide sensation since the beginning of her career. She started her modeling career at the young age of 15 and has only flourished since then, with a cover feature in over 80 magazines around the world.
Laetitia Casta's journey in the modeling world reminds us of another highly renowned American model, Taylor Hill. If you wish to know more about this former Victoria's Secret Angel, don't miss to check out her success story, body measurements, love life, and more!