Hailey Baldwin is a multi-talented performer who has caught everyone's attention after appearing in popular music videos like "On My Mind" and "Popstar." With her striking beauty and captivating presence, Hailey became a statement in herself!
From being a child star to modeling for eminent brands and magazines and founding her skincare brand, Rhode, Hailey's rise to the top of the modeling industry has become an inspiration for all aspiring models.
IN A GIST
Popular TV personality Hailey Baldwin Bieber stands 5 feet 7 inches or 171 cm (1.71 m) tall.
Hailey Bieber keeps her figure well-toned at a weight of around 52 kg or 114 pounds. 
26-year-old Hailey is living a beautiful life with her love, Justin Bieber. Want to know more exciting details about Hailey's career, measurements, and more? Read along! 
How Old Is Hailey Baldwin Bieber?
Hailey Baldwin Bieber is a gorgeous 26-year-old model and TV personality. Hailey was born on the 22nd of November 1996 and is a proud Sagittarius lady, as is shown in her charming and kind personality.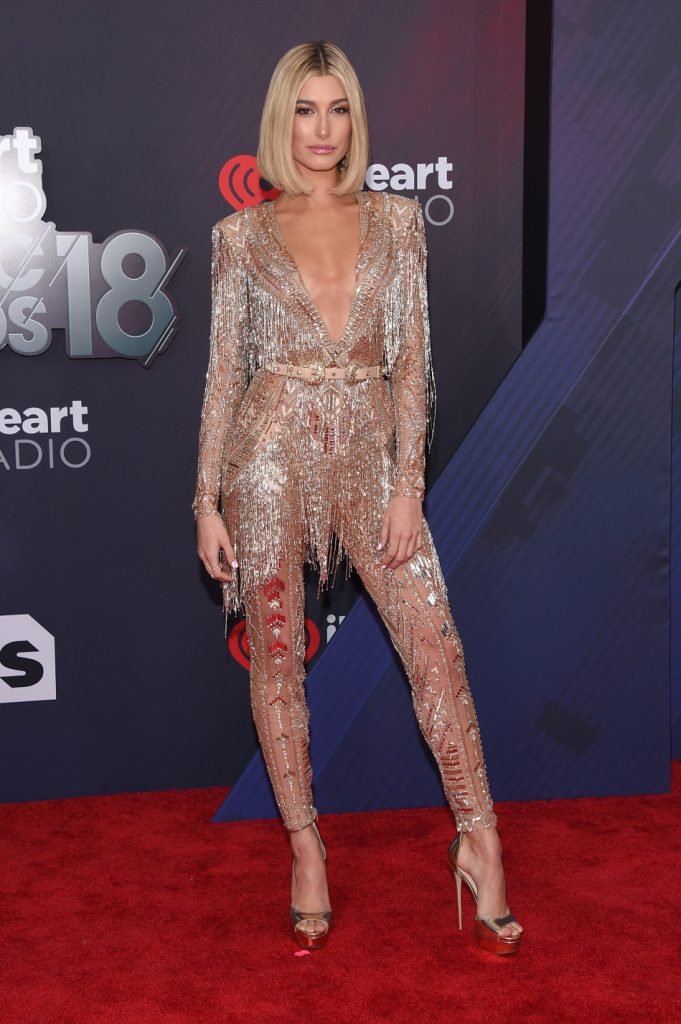 Hailey Baldwin Bieber's Career Highlights
Hailey Baldwin attended the American Ballet theater in her childhood and came from a family of reputed professionals. Her keen interest was in modeling and acting, which grew with time.
Hailey rose to fame after appearing in music videos like 'On My Mind,' 'Stuck with U,' and 'Popstar.' She received worldwide recognition by appearing in fashion shows, magazine covers, and photography campaigns for established brands.
In addition, Hailey has made several acting and TV appearances in shows like 'Saturday Night Live' and 'Drop the Mic.' In 2021, she also made a cameo in the 2021 comedy series DAVE.
Hailey Bieber's Dating History
With such an angelic aura, any man would fall for Hailey. Her dating history is quite insightful, so read along as we unravel some confirmed relationships from her past.
In 2015, Hailey started dating the famous Australian singer Luke Hemmings from the boy band 5 Seconds of Summer. But none of them had confirmed their relationship in front of the media.
Fai Khadra, Jordan Barrett, Cameron Dallas, Jordan Clarkson, and Chandler Parsons are celebrity models who have dated Hailey Baldwin. But all these relationships turned out to be casual ones.
Hailey Baldwin was also rumored to be dating singers like Drake and Shawn Mendes, but she denied them all. And then, Hailey found the love of her life in Justin Bieber.
Hailey married the famous pop icon-Canadian singer Justin Bieber in 2018 after dating each other for a few years. They had the final wedding ceremony in 2019 in South Carolina to announce their marriage publicly.
Full Born Name: Hailey Rhode Baldwin
Nick Names: Baby, One Less Lonely Girl, Halley's Comet
Religion: Christian
Date of Birth: 22 November 1996
Birthplace: Tucson, Arizona, United States
Zodiac Sign: Sagittarius
Father Name: Stephen Baldwin
Mother Name: Kennya Baldwin
Siblings' Names: Alaia Baldwin
Spouse: Justin Bieber
Hailey Baldwin Bieber's Height and Weight
Hailey Bieber has inherited quality genes; she is taller than average women, with a height of 5 feet 7 inches or 171 cm (1.71 m). Her impressively tall stature plays a vital role in landing all the modeling contracts! 
Maintaining an ideal weight to shine out as a model, Hailey Bieber weighs around 52 kg or 114 pounds, which gives a striking, toned figure. 
Hailey Baldwin Bieber's Body Measurements and Charming Features
Hailey Baldwin's sculpted figure with estimated body measurements of 32-24-34 inches or 82-61-86 cm has stunned people worldwide. The model gracefully displays her slim frame in vibrant bikinis, robbing many hearts at the same time!
Hailey's adorable rectangular-shaped face with a sharp jawline and sparkling hazel eyes is the key highlight of her bold appearance. Besides, her natural blonde hair suits her lean face frame perfectly.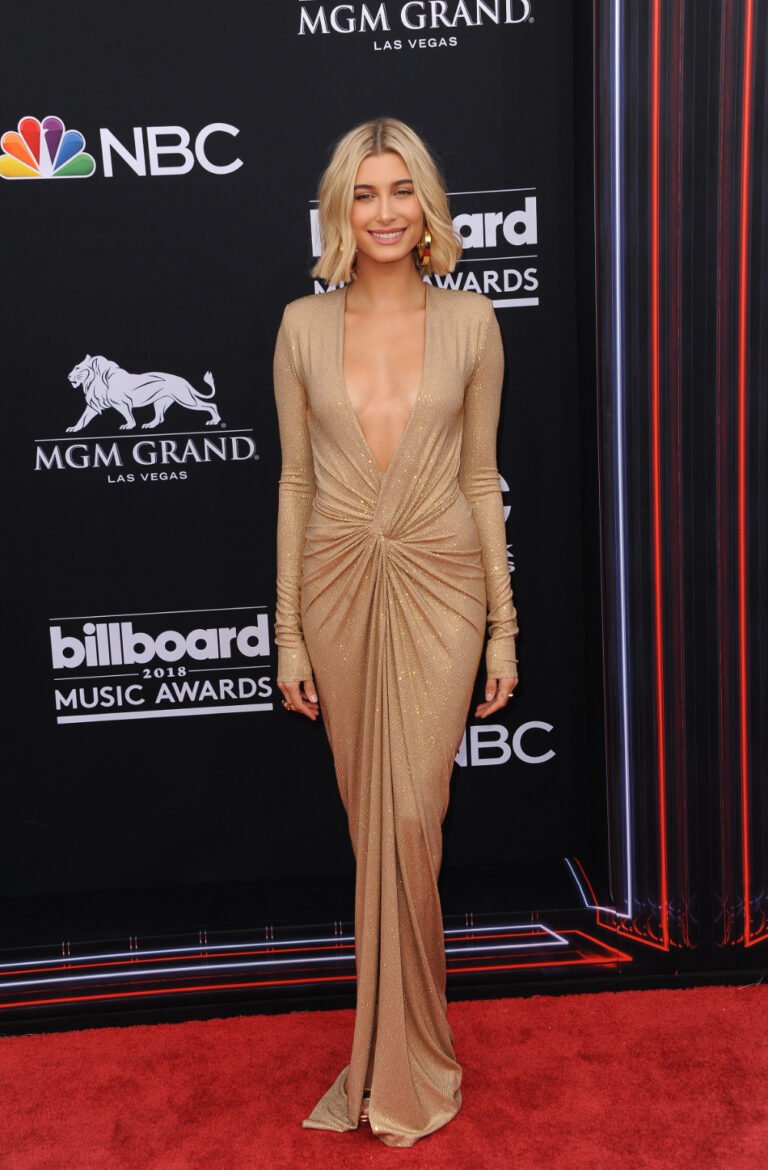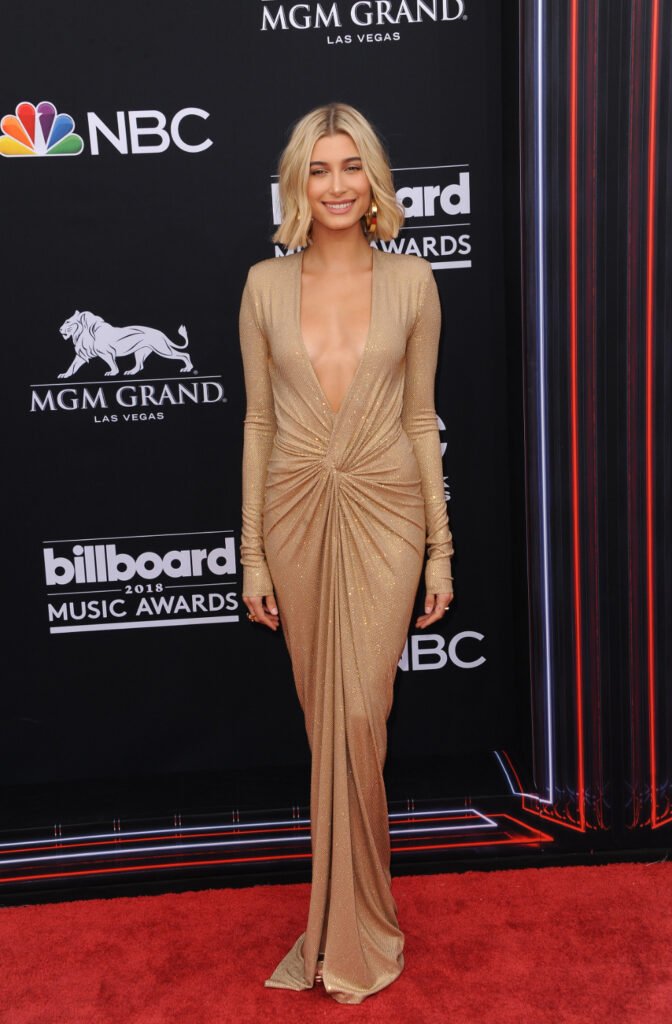 Hailey Baldwin Bieber's Ample Bosom
Hailey has quite a fan base because of her social media presence and skills to rule the red carpet while walking the fashion show ramp. The world fancies Hailey's perfect assets, as she flaunts a breast size of 32 Inches, wearing a bra size 30B and a cup size B.
Hailey Baldwin has been in the spotlight for being featured on many fashion magazine covers, catalogs, and clothing line advertisements because of her glamorous appeal. She is also featured multiple times in the list of hottest supermodels in the world.
| | |
| --- | --- |
| Height | 5 feet 7 inches or 171 cm (1.71 m) |
| Weight | 52 kg or 114 pounds |
| Face Shape | Oval |
| Breast Size | 32 inches |
| Bra Size | 30B |
| Cup Size | B |
| Body Measurements | 32-24-34 in or 82-61-86 cm |
| Figure | Slim |
| Dress Size | 2 (US) or 32 (EU) or 6 (UK) |
| Shoe Size | 8 (US) or 39 (EU) or 6 (UK) |
| Eyes Color | Hazel |
| Hair Color | Blonde |
Disclaimer
Hailey Baldwin's Net Worth
Hailey Bieber is amongst the highest-paid supermodels of this era and earns a lot of money as an actor, fashion designer, and TV personality. In 2023, Hailey Baldwin Bieber's net worth is estimated at $20 million. 
A significant revenue comes from her collaboration with brands like 'Guess,' 'Denim & Supply Ralph Lauren,' 'H&M,' 'Bulgari,' 'Miu Miu Eyewear,' and 'Levi's.'
Hailey Baldwin Bieber's Most Favorite Things
Favorite Foods: Pizza Toast, Coffee, Burgers, Fries
Favorite Products: BareMinerals Mascara
Favorite Hobbies: Baking, Cooking, Traveling
Favorite Place: Beaches, Tokyo, New York
Favorite Animals: Dogs
Favorite Brands: Levi's
What is Hailey Baldwin's Face Shape?
Hailey Baldwin has an oval face complimented by her chiseled jawline and cheekbones.
What is Hailey Bieber's hair color?
Hailey Baldwin's natural hair color is blonde, which suits her skin complexion and face frame perfectly. She also looks stunning with dark blonde hair.
Is Hailey taller than Justin?
No, Justin Bieber is taller than Hailey Baldwin as his height is 5 feet 9 inches or 1.75m, whereas Hailey stands at 5 feet 7 inches or 1.71 m.
What color eyes does Hailey Bieber have?
Hailey's eyes are a lovely shade of hazel, and she loves to adorn her shapely eyes with eccentric eye makeup.
Does Hailey Bieber wear glasses?
Yes, Hailey wears glasses to aid her poor eyesight.
Does Hailey Bieber have tattoos?
Hailey Baldwin has over nineteen tattoos on her body. Of all these, she loves the tiny, lined heart tattoo on her collarbone the most.
Is Hailey Baldwin Bieber vegan?
No, Hailey can be seen eating non-vegetarian food on her social media, so she's not a vegan or vegetarian.
Does Hailey Bieber speak Portuguese?
Yes, Hailey speaks a little bit Portuguese as she has Brazilian roots from her mother.
Did Hailey Bieber do ballet?
Yes, Hailey learned ballet at American Ballet Theatre in New York before starting her journey as a model.
Did Hailey Bieber finish high school?
Hailey completed her high school via homeschooling.
Where did Hailey Bieber live?
Hailey Bieber lives with her husband, Justin Bieber, in Cambridge, Ontario.
Hailey Baldwin has worked her way to the top to deserve all the fame and success she owns today, and her career has grown marvelously. Hailey's friend Cara Delevingne supports her in every venture, and they are mostly seen sharing some quality time. If you want to know more about Cara, join us now!