Starting as a porn star to becoming a well-established actress in Hollywood, Traci Lords has come a long way. She has modeled, acted, designed, composed songs, and contributed her talents to the entertainment industry in many other ways.
If you are one of her craziest fans, read on to learn about Traci Lords, her career, body measurements, childhood, diet, and more.
Traci Lords' Career
Born Nora Louise Kuzma in Steubenville, Ohio, Traci Lords had a traumatic early life. Following her parents' divorce, she left for California with her sisters, mother, and mother's boyfriend, Roger Hayes. She was sexually abused by Roger Hayes in her sleep. She revealed this in her autobiography, Traci Lords: Underneath It All, published in 2003.
Traci Lords studied in the Redondo Union High School but discontinued her education. She joined the adult film industry when she was only 15, using a fake birth certificate that showed her name as Kristie Elizabeth Nussman and age as 20.
In 1984, Traci Lords began modeling and posing naked for magazines. The same year, she performed in her first porn film, What Gets Me Hot! Then, she acted in Talk Dirty To Me Part III and was dubbed as the Princess of Porn after it.
After Traci Lords became 18, government officials discovered that she was underage while working in the porn industry. When people who worked with her in the porn industry were addressed regarding the issue, they all were unaware that Traci Lords was underage as she submitted fake documents.
Every pornographic film featuring Traci Lords was removed from shelves to stop the distribution of child porn. This resulted in the industry facing losses worth millions of dollars. Afterward, Traci Lords was sent to therapy.
Following her time in therapy, Traci Lords attended the Lee Strasberg Theatre and Film Institute to begin a career in acting in Hollywood. She made her television debut with a guest role in the series, Wiseguy in 1988.
Traci Lords continued to do guest roles until she joined the cast of Profiler in 1997 as a recurring character. Since then, she has had recurring roles in First Wave and Swedish Dicks. She has also appeared in popular series such as Melrose Place, Highlander, Gilmore Girls, Will & Grace, and more.
As for movies, Traci Lords made her first appearance in Not Of This Earth in 1988. She never had a lead role in a television series. This could be because of her busy schedule, working in movies as she had films released almost every year. Some of her prominent films include Skinner, Serial Mom, Underworld, Nowhere, Blade, Frostbite, Devil May Call, The Farm, and others.
Traci Lords also made vocal appearances in video games. To name a few, Defender, True Crime: New York City, Hitman, and Let It Die.
Traci decided to venture into the music industry and began writing her first album in 1994 and released her first album, 1000 Fires, in 1995. Later, in 2010, she dropped her single, Pretty.
Currently, Traci Lords has the movie Nicole, her Ex & the Killer lined up for release.
Traci Lords' Height and Weight
Traci Lords stands tall at 5 feet and 7 inches or 170 cm (1.70 m) tall, and she weighs 54 kg or 119 pounds. She has long, slender legs and a beautiful figure that makes her look captivating in whatever garment she wears.
Traci Lords manages to look ready for tightly fitted clothing by eating healthy. She includes ample fish, vegetables, and proteins in her diet. Luckily for her, she has never been a fan of junk food.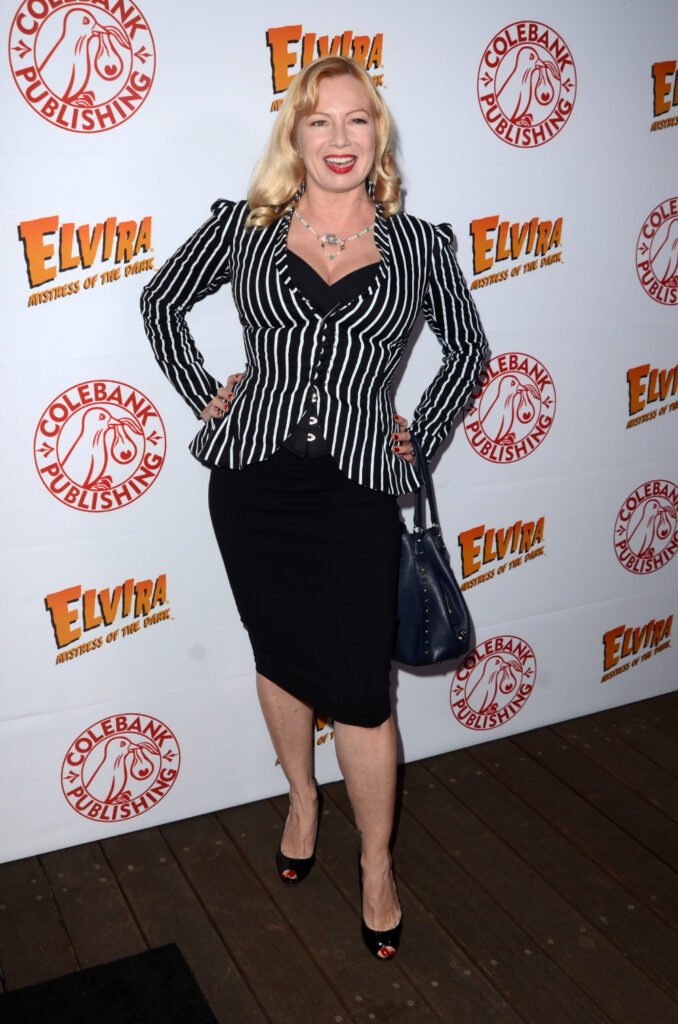 Traci Lords' Dating History
Traci Lords had her first boyfriend before she was 15 years old. She got pregnant with him, and Roger Hayes helped her with the abortion. She was too petrified even to mention her pregnancy to her mom.
At 16, Traci Lords started dating Stuart Dell, whom she met at a birthday party. Stuart Dell worked as her manager and business partner. The pair created the Traci Lords Company and made three porn films. Only two of them were released.
Traci Lords married Brook Yeaton in 1990 after meeting him while filming Cry Baby. Directed by John Waters, the movie featured famous stars like Johnny Depp. Brook Yeaton worked as a property master at the sets. The couple divorced in 1995.
Then, in June 1999, Traci Lords tied the knot to Ryan Granger. However, the marriage lasted for less than a year, with the couple divorcing in February 2000.
Currently, Traci Lords is married to Jeff Gruenewald, whom she wedded in 2002. The couple has a son together whose name is Joseph Gunnar Lee.
Although Traci Lords had hoped to have a child with her husband, Jeff Gruenewald, she was always busy and did not make plans to have children. That is why Traci was surprised when she learned she was expecting. Even when her son was five, she was in disbelief. But, despite it being unplanned, Traci enjoys motherhood.
Full Born Name: Nora Louise Kuzma
Nickname: Traci Lords
Religion: Judaism
Date of Birth: 7 May 1968
Birthplace: Steubenville, Ohio, United States
Zodiac Sign: Taurus
Father Name: Louis Kuzma
Mother Name: Patricia Kuzma
Siblings Names: Lorraine Kuzma, Rachel Kuzma, and Grace Kuzma
Spouse: Jeff Gruenewald (m.2002), Ryan Granger (m.1999-2000), and Brook Yeaton (m. 1990-1995)
Children: Joseph Gunnar Lee
Traci Lords' Body Measurements
Traci Lords has one of the most glamorous figures in Hollywood. Her Instagram posts are enough to prove it. Her body measurements are 38-23-34 in or 96.5-58-86 cm.
Traci Lords stays fit by going on long runs every day. She runs 3 to 5 miles every day. This allows her to stay slim and rock a beautiful waistline.
Traci Lords' Ample Bosom
Traci Lords has a breast size of 38 inches, and her bra size is 34D with cup size D. Combining her ample busts and her comparatively tiny waistline, she can easily pull off sexy looks.
Traci Lords posted a photo of herself wearing a top made completely out of tiny red and gold embellishments. The bejeweled top showed off her ample and beautifully shaped busts.
| | |
| --- | --- |
| Height | 5 feet and 7 inches or 170 cm (1.70 m) |
| Weight | 54 kg or 119 pounds |
| Breast Size | 38 inches |
| Bra Size | 34D |
| Cup Size | D |
| Body Measurements | 38-23-34 in or 96.5-58-86 cm |
| Figure | Slim |
| Chest Size | 38 inches or 96.5 cm |
| Waist Size | 23 inches or 58 cm |
| Hips Size | 34 inches or 86 cm |
| Shoe Size | 7 (US) or 37.5 (EU) or 4.5 (UK) |
| Dress Size | 6 (US) or 38 (EU) or 10 (UK) |
| Eyes Color | Light Brown |
| Hair Color | Blonde |
| Natural breasts or implants | Natural |
Did Traci Lords Have Any Plastic Surgeries?
Most celebrities do not mention plastic surgery unless they had it or are alleged to have some work done. That is not the case with Traci Lords, who likes to update fans about the important things in her life. Traci Lords even wrote the book Traci Lord: Underneath It All, detailing her life.
Traci Lords has confirmed that she has not had any cosmetic procedures done on herself on two different occasions.
Traci Lords revealed that her ample bosom resulted from her pregnancy, and she did not have breast augmentation surgery. Later, when Traci Lords was asked about her good looks, she said she does not have botox.
Traci Lords is not against plastic surgery. She has seen many people whose faces looked weird after a cosmetic procedure. Thus, she wants to avoid going under the knife.
Traci Lords' Net Worth
Traci Lords has probably done it all: acting, writing, composing music, directing, designing, and modeling. Having taken so many responsibilities under her belt, she has accumulated an estimated net worth of $4 million as of 2022.
Traci Lords' Most Loved Things
Favorite Actress: Marilyn Monroe
Favorite Shoes: Christian Louboutin and Gucci High Heels
Favorite Topic: Healthy Sex
Favorite Designer: Versace
Favorite Skincare Product: Dermalogica Facial Cleanser
Favorite Foods: French Bread, Red Wine, and Brie
Favorite Activities: Clubbing
Traci Lords' Most Notable Awards And Nominations
CinEuphoria Awards: Best Supporting Actress – International Competition, Excision, 2013
Fangoria Chainsaw Awards: Best Supporting Actress, Excision, 2013
Fright Meter Awards: Best Supporting Actress, Excision, 2012
Film Discovery Jury Award: Best Actress, Chump Change, 2001
Indie Series Awards: Best Guest Star – Drama, Eastsiders, 2014 – Nominated
X-Rated Critics' Organization: Starlet of the Year, Video Vixen, 1985 – Nominated
Interesting Facts About Traci Lords
After all porn movies featuring Traci Lords were removed from the market, Traci: I Love You was the only movie left on the shelves as it was shot two days after she turned 18.
Traci Lords auditioned for Dick Tracy in the hopes of landing the role of Breathless Mahoney. However, she did not get the role. Madonna got it instead.
Following her mother's separation from Roger Hayes, Traci Lords stayed with her elder sister instead of moving with her mother and younger sisters who went to live with her mother's new boyfriend.
Traci Lords is close friends with director John Waters.
What face shape does Traci Lords have?
Traci Lords has a square-shaped face. Her slicked-back hairstyles show off her beautiful face shape and features.
What is Traci Lords' hair color?
Traci Lords has blonde hair that is long, silky, and luscious with her side-partition hairstyle.
What color eyes does Traci Lords have?
Traci Lords has light brown eyes that look attractive under her beautifully shaped blonde eyebrows.
Does Traci Lords have tattoos?
Traci Lords has one tattoo, as far as we know. It is a cross and flowers design on her ankle.
Did Traci Lords win an Oscar?
Traci Lords has not won an Oscar yet.
What is Traci Lords' real name?
Traci Lords' real name is Nora Louise Kuzma. She uses the screen name Traci Lords and occasionally uses Traci Elizabeth Lords. Her porn name is Kristie Elizabeth Nussman.
Was Traci Lords in the Blade?
Traci Lords was in the film Blade, in which she played Racquel.
Where does Traci Lords live?
Traci Lords lives in Los Angeles, California, with her family.
Traci Lords is a talented actress who has voiced video game characters. Another skillful American actress who has garnered recognition with her acting and lent her voice talents is Veronica Dunne.