With a ritzy, perplexing, and highly glamorous fashion statement, Taylor Swift has won many red carpets with her heavenly outfits and chic footwear displaying her shapely feet!
But if you noticed her music videos and social media, you'd see she's also very comfortable showing herself barefoot! If you haven't yet, here are some pictures of Taylor Swift's feet you must check out!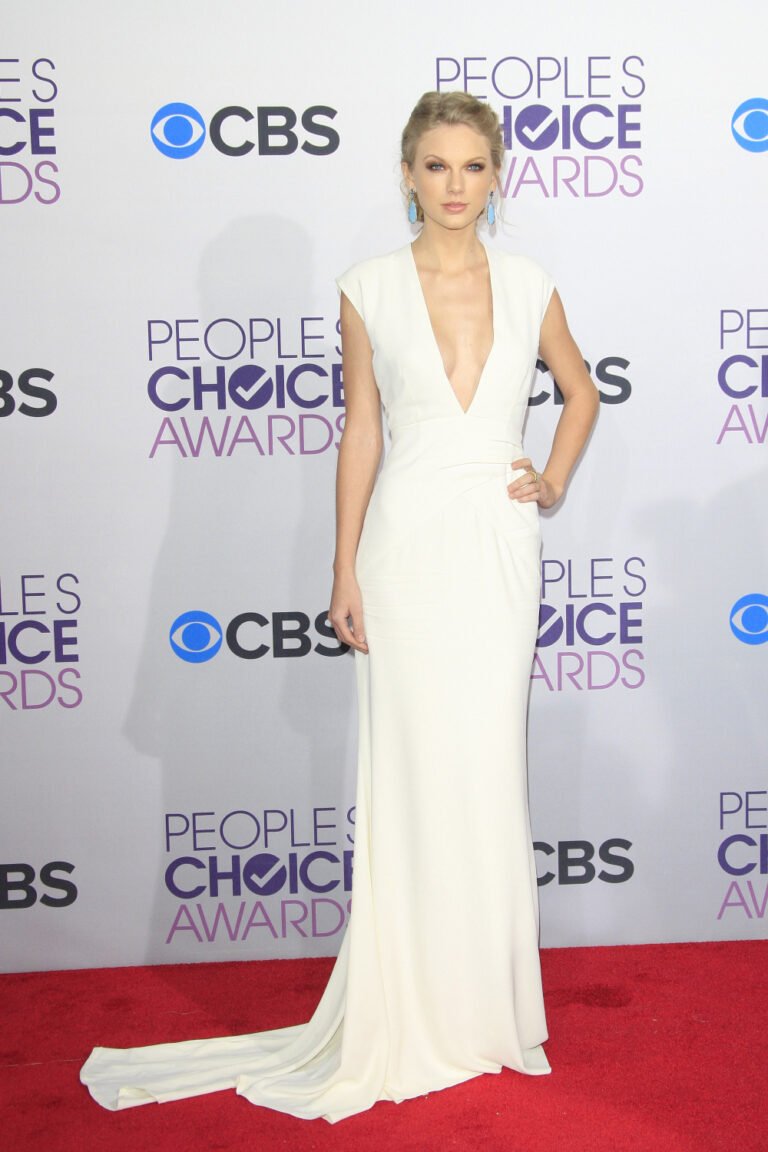 What is Taylor Swift's Shoe Size?
Taylor Swift rocks heels as well as boots and platforms, thanks to her shoe size of 8.5 (US) or 39 (EU) or 6.5 (UK)! With a stunning height, Swift already stands taller than average American women. So imagine the view when the singer steps out in sky-high heels!
Taylor Swift's Stats
| | |
| --- | --- |
| Age | 33 |
| Birth Date | December 13, 1989 |
| Height | 5 ft 11 inches or 1.8 m |
| Shoe Size | 8.5 (US) or 39 (EU) or 6.5 (UK) |
| Weight | 58 kg or 128 pounds |
17 Fascinating Pictures of Taylor Swift's Feet & Stylish Footwear
1. Taylor's Shiny Look at the AMAs
The All Too Well singer arrived at the 40th AMAs wearing a long sleeve mini dress by Zuhair Murad. Swift flaunted her shapely feet in matching golden Jimmy Choo heeled sandals, giving us all a sneak peek at her painted toenails!
Shoe Brand: Jimmy Choo
Shoe Style: Strap Sandals
Estimated Price: $500 – $700
Outfit: Zuhair Murad's Pre-Fall 2012 Collection
2. Swift Flashing Her Heels at the BMAs
Taylor Swift was seen in sleek ankle strap Stiletto sandals, flashing every inch of her gorgeous feet and soles, when she walked in a tousled long-sleeve mini-dress in lavender at the 2019 BMAs in Las Vegas. The Me! Singer looked just like a blooming lilac!
Shoe Brand: Casadei
Shoe Style: Ankle Strap Stiletto Heeled Sandals
Estimated Price: $800 – $950
Outfit Designers: Raisa & Vanessa
3. Taylor Swift's Radiating Colors
Taylor Swift braced the semblance of a butterfly at the 2019 iHeartRadio Music Awards with her vibrant Rosa Bloom Mella Cape mini-playsuit!
What justified Swift's merry butterfly look was her high Sophia Webster stilettos with butterfly ornaments at the back! You could see her sexy feet and ankles in those sandals!
Shoe Brand: Sophia Webster
Shoe Style: Stiletto Heels
Estimated Price: $600 – $980
Outfit Brand: Rosa Bloom
Accessories: Acapella Earrings, Aurora Pyramid Rings
4. Taylor Dressed in Versace & Casadei
Decked in a light, blush pink Versace gown with feather decoration and silver work, Taylor Swift stomped on her hearts in those Casadei platform sandals on the 2018 BMAs red carpet! Taking advantage of the thigh-high slit in her dress, Swift flaunted her toned legs, feet, and glam heels!
Fun Fact: The Versace gown Taylor donned to the BMAs took over 800 hours to finish!
Shoe Brand: Casadei
Shoe Style: Platform Stiletto Sandals
Estimated Price: $700 – $950
Outfit Brand: Versace
5. Swift's Sparkly, Vibrant Look at Grammys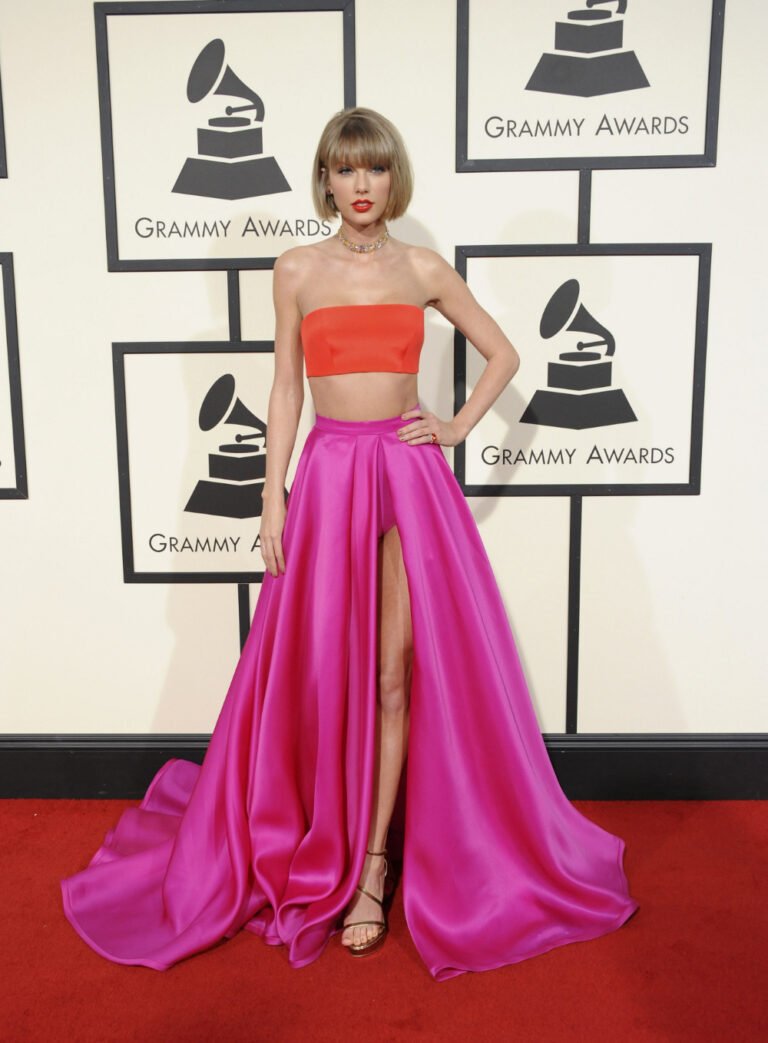 Bracing one of the most gorgeous outfits of all time, the Blank Space singer entered the room in a two-piece Versace dress featuring a bright orange bandeau bra and a pool-length pink slit skirt!
Showing off her metallic gold pedicured and painted toenails, Taylor opted for golden metallic strappy platform sandals, adding more glamor to her appearance!
Shoe Style: Platform Heeled Sandals
Outfit Brand: Versace
Accessories: Statement Cocktail Ring
6. Funky Swift in her "Robot With a Sword Look"
Swift turned heads in her sparkling Louis Vuitton silver snakeskin mini-dress at the 2016 Met Gala! To add contrast, Taylor flashed her black-painted toenails in black knee-high gladiator heels. A full-on funky look!
Shoe Style: Knee-High Gladiator Heels
Outfit Brand: Louis Vuitton
7. Taylor Swift's Disco Ball Look
Taking a break from strappy footwear and colorful, feminine attire, Taylor went for a completely badass Disco Ball look for the 2018 AMAs! She donned a Balmain high-neck mini-dress with full sleeves featuring tiny platinum, mirror-like tiles.
The singer adorned her beautiful feet in matching thigh-high stiletto boots with black pointy toe-caps!
Shoe Brand: Balmain
Shoe Style: Thigh-High Stiletto Boots
Estimated Price: $800 – $1,000
Outfit Brand: Balmain
8. Glitzy Look at the 2010 AMAs
The American pop singer was seen exhibiting her toned feet, pedicured toes, and soft soles in Jimmy Choo's bejeweled strappy heels on the 2010 AMA red carpet. Her heels perfectly complimented her stone-adorned Collette Dinnigan mini dress!
Shoe Brand: Jimmy Choo
Shoe Style: Strappy Heels
Estimated Cost: $380 – $800
Outfit Brand: Collette Dinnigan
9. Swift's Shoeless Feet & Painted Toenails
Taylor is one of those people who love the whole of themselves! This pretty picture of Taylor's sexy feet and those multicolored (painted) toenails says a lot about the same love!
10. Barefoot Dance in Delicate
If you want to enjoy the visuals of Taylor Swift's bare feet, go and watch the MV of her single Delicate! What an astonishingly perfect piece of art it is! Seeing Taylor dancing barefoot is one of the best things!
11. The Cozy Feels of The Lavender Haze
Taylor Swift's recent song, The Lavender Haze, will have you grooving and dancing to its melodies! Swift is seen laying barefoot in her bed and also wearing skin-colored socks in some of the scenes; it'll satisfy all your foot fetishism!
12. Taylor Swift Enjoying Life!
This picture literally speaks volumes about Taylor's joy! Roaming around barefoot, the singer enjoys every moment the most. But this was also her way of announcing the release of the Anti Hero's acoustic version!
13. Dancing Like a Breeze in Blue
Swift flows like a cool breeze in this floral-printed Givenchy dress! Posing for Vogue's 2019 cover, Swift made the most of the photoshoot by showcasing her feet and lean legs' flexibility!
14. Taylor in Comfortable Sneakers
Well, of course, Swift doesn't always wear heels! This adorable picture of the Gorgeous singer flashing her toned calves and slim ankles wearing plain white sneakers! But heels or not, she always looks perfect!
15. The Intimate Vogue Photoshoot
In another Vogue photoshoot, Taylor Swift posed in a pale blue mini-dress and white stockings, giving a hint of her beautiful, shapely feet and heels!
16. The Ever-Colorful Taylor Swift
The twelve-time Grammy-winning singer has a special love for vibrant and feminine mini-dresses! Here is another high-spirited picture of Taylor flaunting her legs in a checkered multicolor dress and exhibiting her feet and painted toenails in shiny pink & orange ankle straps!
17. Swift's Retro Look in the Bejeweled MV
Taylor looks no less like a queen in her new music video Bejeweled! Sitting in what resembles a huge wine glass, Taylor, along with Dita Von Teese, shows off every bit of her bewitching figure and those soft and beautiful bare feet!
While Taylor Swift always goes for high-end, glamorous shoes to display her fashion taste, she also doesn't shy away from showing her bare feet in photoshoots or music videos! This makes her a real treat to all foot fetishists and footwear fashionistas!