Whether blessing the red carpets with her out–of-the-world footwear or flaunting her beautiful feet in casual pictures, Amber Heard really wins the game! And if you've witnessed her red-carpet appearances, you must be in love with her footwear style statement!
So, to treat your excitement, we've compiled some fascinating pictures of Heard's feet and stylish shoes, which have often made her the star of the show!
What Is Amber Heard's Shoe Size?
Amber Heard's footwear fashion always sets a standard in the entertainment and fashion world whenever she walks the red carpet! And Heard's shoe size of 8 (US) or 39 (EU) or 6 (UK) lets her experiment with a variety of shoes and sandals to find the best complimenting accessory for her mind-blowing outfits!
Amber Heard's Stats
| | |
| --- | --- |
| Age | 37 |
| Birth Date | April 22, 1986 |
| Height | 5 ft 7 in or 1.7 m |
| Shoe Size | 8 (US) or 39 (EU) or 6 (UK) |
| Weight | 58 kg or 128 pounds |
20 Interesting Pictures of Amber Heard Flaunting Her Feet
1. Amber's Bold Look in Black at Justice League's Premiere
The American actress graced the Los Angeles premiere of Justice League, wearing a black Atelier Versace see-through cold-shoulder gown. Taking advantage of that high slit, Heard showed off her skinny leg and gorgeous feet in those pointed-toe Stiletto pumps!
Shoe Style: Pointed Toe Stiletto Pumps
Outfit Brand: Atelier Versace
2. Metallic Outfit for the 2018 Art of Elysium Heaven Gala
Heard walked down the red carpet at the 2018 Art of Elysium Heaven Gala in Santa Monica, donning a breathtaking silver-colored Georges Hobeika plunging dress with a thigh-high front slit. Amber's matching silver ankle strap heels revealed her shapely feet and ankles!
Shoe Style: Ankle Strap Heels
Outfit Brand: Georges Hobeika
Accessories: Anita Jo Jewelry
3. Heard's Mesh Gown & Metallic Heels at the Aquaman's Premiere
When Heard showed up at the Aquaman premiere in LA wearing a stellar Julien Macdonald mesh gown in dark green, the paparazzi couldn't stop their camera flashes!
And not to exaggerate, but Heard's Christian Louboutin pointed-toe Stiletto pumps stole the show for her, flashing off her slim feet.
Shoe Brand: Christian Louboutin
Shoe Style: Pointed Toe Stiletto Pumps
Estimated Price: $600 – $800
Outfit Label: Julien Macdonald
Accessories: Ana Khouri, AS29, Jacquie Aiche Jewelry
4. Amber Heard's Footwear at the AMAs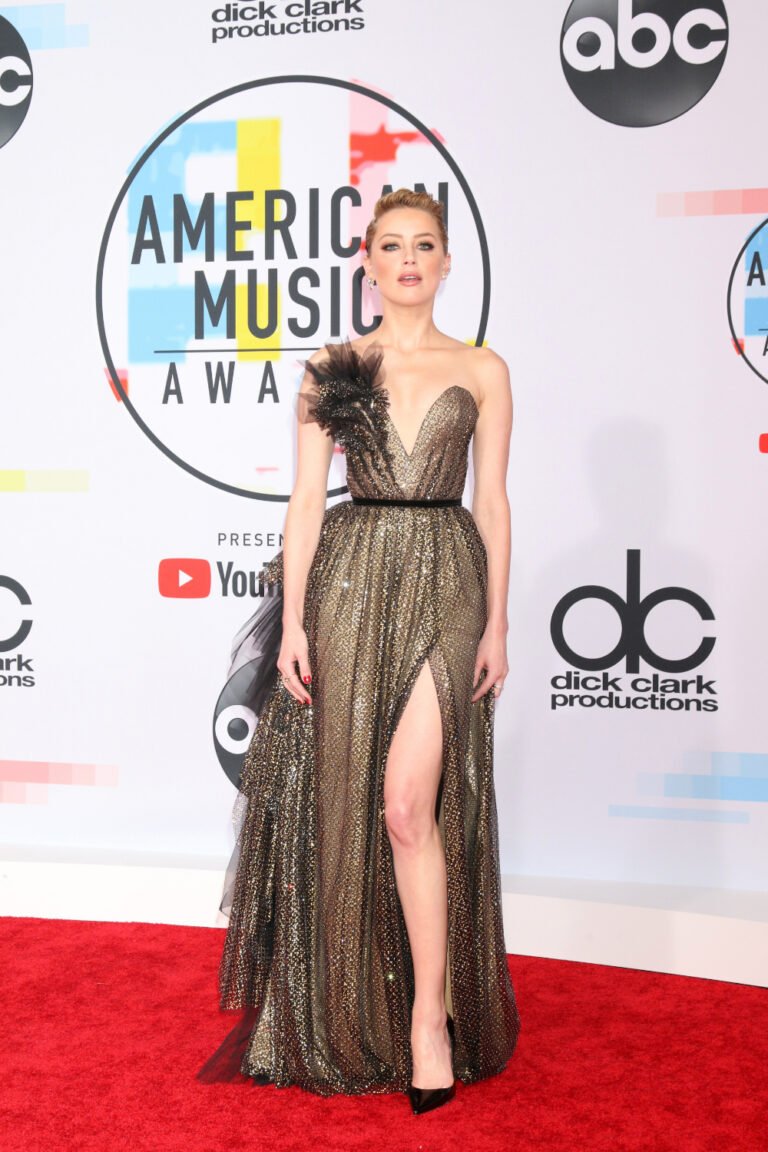 Well, we know for sure that Heard is in love with pointy heels and pumps! She arrived at the 2018 AMAs in black Christian Louboutin pointy Stiletto pumps, giving a better look at her left foot!
Her show-stopping Ralph & Russo one-shouldered gown in gold and black with netted bodice and a thigh-high slit made her look like a dressed-up doll!
Shoe Brand: Christian Louboutin
Shoe Style: Pointy Stiletto Pumps
Estimated Price: $600 – $900
Outfit Brand: Ralph & Russo
5. Amber Arriving at the Cannes' Chopard Party
Showcasing her pointy Elie Saab leather Stiletto boots through that one-side thigh-high slit in her dark red Mikado silk dress from Elie Saab Collection, the Gully actress turned all the cameras towards herself at the Chopard Party in Cannes, France, 2019.
Shoe Label: Elie Saab's Collection
Shoe Style: Pointy Stiletto Boots
Outfit Label: Elie Saab Fall/Winter 2019 Pret-A-Porter Collection
Accessories: Diamond and Ruby Chopard earrings
6. Heard Rocking a J Mendel Dress at the Elysium Gala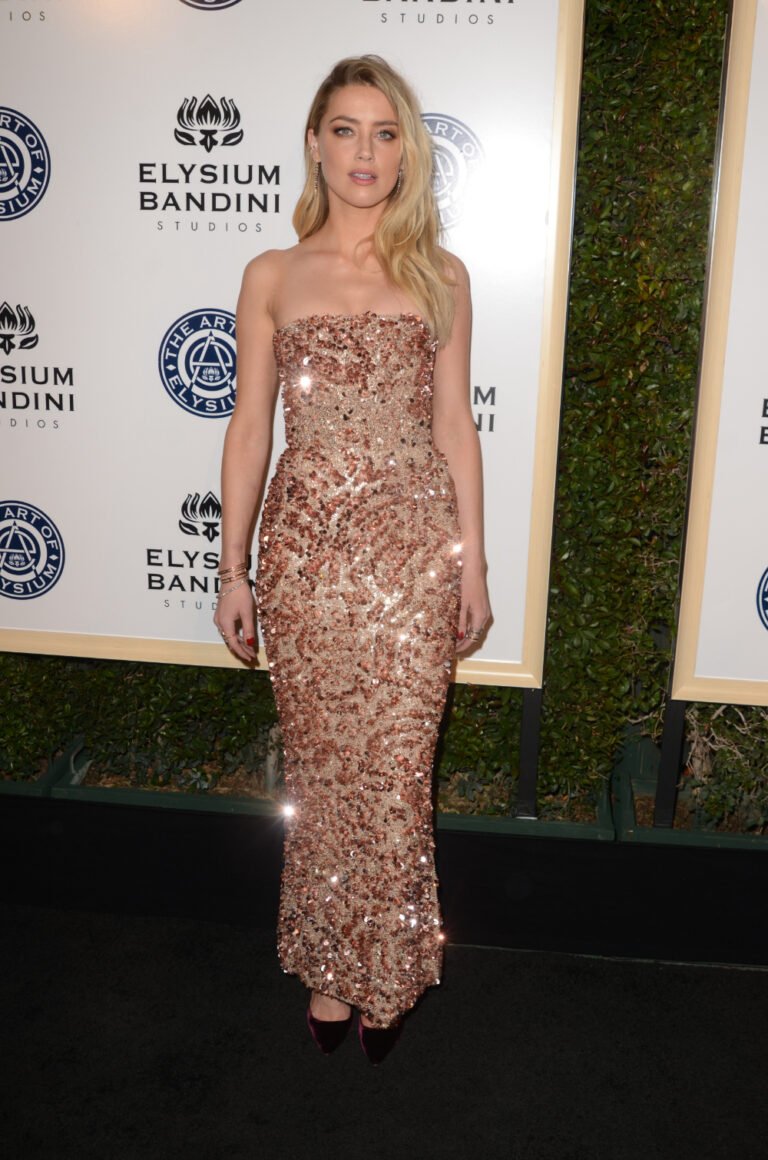 Looking like a bejeweled statue, Amber arrived at the 2017 Art Of Elysium Heaven Gala in a J Mendel floor-length strapless gown adorned with gold sequins! Her contrasting plum-colored pointy pumps elevated her soles, making her look incredibly tall!
Shoe Style: Pointy Pumps
Outfit Brand: J Mendel
7. The Gully Actress at the Glamour Magazine Awards
Heard's outfit for the Glamor Magazine Women of the Year Awards was really the talk of the town! She donned a gorgeous cream Alessandra Rich off-shoulder delicate lace gown with frills at the sleeves!
Although her footwear was all covered up by her dress, a sneak peek at her feet tells that she wore black pointed heels, her favorite!
Shoe Style: Pointed Heels
Outfit Brand: Alessandra Rich
Accessories: Kimberly McDonald earrings
8. Heard's Barefoot Workout Sesh
Heard makes sure to feel at ease while doing home workouts, which includes lifting her baby instead of dumbbells! So, a home workout means no fancy shoes!
9. Amber Heard Flaunting Her Bare Feet
One could easily learn the right way of showing off their feet from Amber Heard! I mean, look at those perfectly arched soles and alert toes while she adjusts her hair! She's a natural!
10. Hiking in Comfortable Pointy Shoes
You'd probably have figured out by now that pointy-toe shoes and heels are Heard's favorite! She prefers these even on a pleasant hike, making sure to flaunt her ankles!
11. Bare Feet at the Gym
Working out is surely more fun when you're barefoot, and Heard really feels so! She's totally enjoying this session, giving us a glimpse of her sexy feet and slim ankles!
12. Heard in Heels and Fishnet Stockings
Amber Heard never steps back from experimenting with quirky looks! She rocked this out-of-the-box look with a frill top, fishnet stockings, and Stiletto pumps, flaunting her toned legs and feet!
13. Yoga Sesh with Bare Feet
Be it yoga or an intense workout, Amber's fitness sessions are cozy and comfortable! She's mostly seen shoeless while doing any sort of fitness activity. It probably gives her feet and soles more stability and grip! Gotta try!
14. Amber's Shoeless Feet
Watching the award-winning actress simply chill on a boat without fancy shoes is a sight to behold! Looks like Heard doesn't really need fashionable accessories to project her style statement!
15. Enjoying the Sea Breeze
One thing is for sure; Amber Heard is totally confident about her feet and never steps back from showing her bare feet to her fans!
While she could touch up this breathtaking look in that red dress with some glamorous shoes, the actress stayed barefoot! And we can imagine the pleasurable feeling of the cold sea breeze bracing her feet!
16. Close Look at Heard's Sexy Feet
Back in 2021, the Aquaman actress gave us a closer look at her foot in pointy pumps! Look at all those veins, and that toned lower calf of Heard's! She probably spends a good time in leg workouts!
17. Amber Flashing Feet in Strappy Heels
Heard's sleek and shiny golden strappy heels flashed her shapely feet, her soft heels, and her perfectly aligned toes! While the actress often opts for pointed-toe shoes, she really rocked these strappy Stiletto sandals!
18. Sexy Stills from Gully
In one of the stills from Heard's film Gully, she's seen wearing a printed blue crop top and mini denim!
Confidently exhibiting her lean thighs and calves in those shorts, Heard definitely didn't miss the chance to flash her beautiful heels and feet in those dark beige-toned wedges! A perfect beach look!
19. Heard's "New Yark" Fashion
A casual t-shirt, a shiny slit skirt, and a pair of simple light-yellow ankle-strap sandals revealing her pedicured toenails, that's all the Justice League actress needs to show off her style statement!
20. Amber Roaming in Sneakers
Well, like most of us, Heard is a fan of walking around in comfortable footwear! She shared a picture on the Gram of herself strolling in London in white sneakers! Her brown jacket and black sunglasses display her versatile fashion choices!
When it comes to posing barefoot and flashing feet, Amber Heard's confidence is unmatched! She knows how to show off her ankles, soles, and toes gracefully without needing any showy shoes. Probably, we all gotta learn that from her!