Popstar Ariana Grande always brings her A-game to the front when it comes to fashionable footwear! From high heel platform shoes to high stiletto heels, Grande's gorgeous feet can carry every sort of shoe elegantly!
But have you ever seen her barefoot? Not often, right? Well, as high-end and sophisticated Grande's fashion statement is, she likes to keep her feet to herself! But we brought some interesting pictures of Ariana Grande's feet for you. Let's take a look!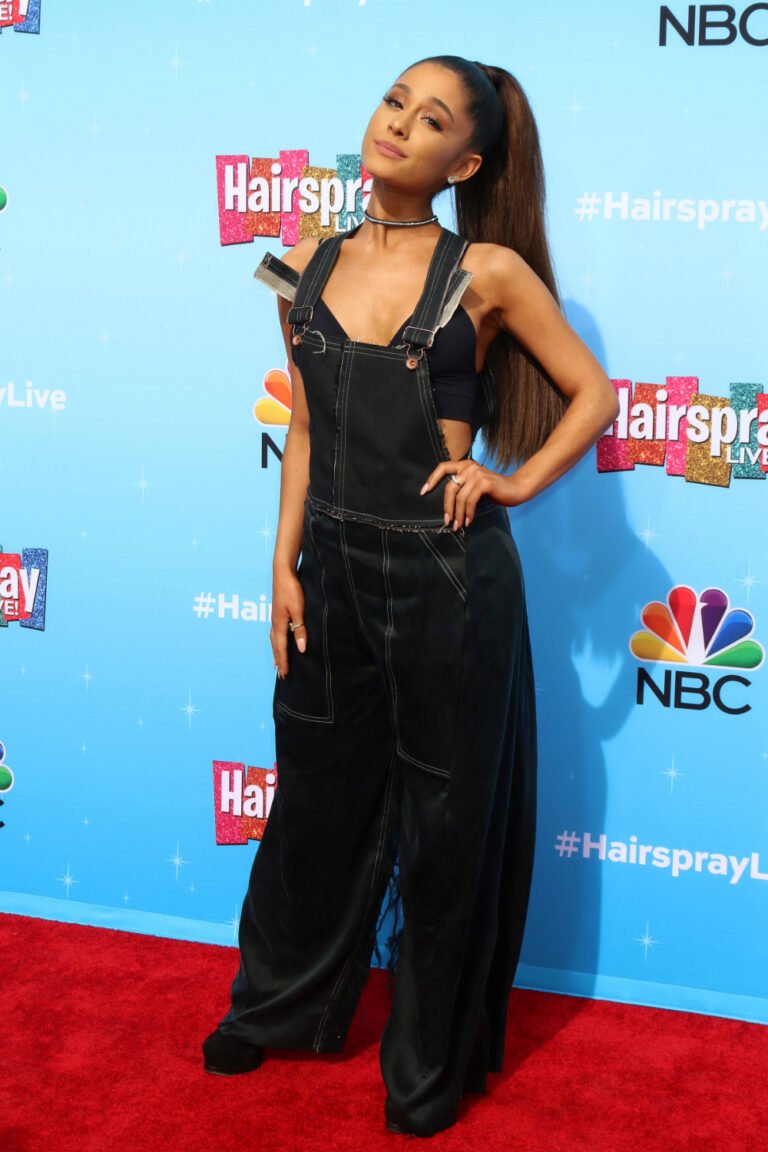 What Is Ariana Grande's Shoe Size?
Pop singer Ariana Grande's feet are small and shapely, with a shoe size of 6 (US) or 36 (EU) or 4 (UK). With her beautiful heels and perfectly aligned toes, Grande steals the shows when she walks in glamorous and chic high heels!
Ariana Grande's Stats
| | |
| --- | --- |
| Age | 30 |
| Birth Date | June 26, 1993 |
| Height | 5 ft 1 inches or (1.54 m) |
| Shoe Size | 6 (US) or 36 (EU) or 4 (UK) |
| Weight | 48 kg or 106 pounds |
A list of photos of Ariana Grande's Feet & Shoes
1. Grande Shining at the BMAs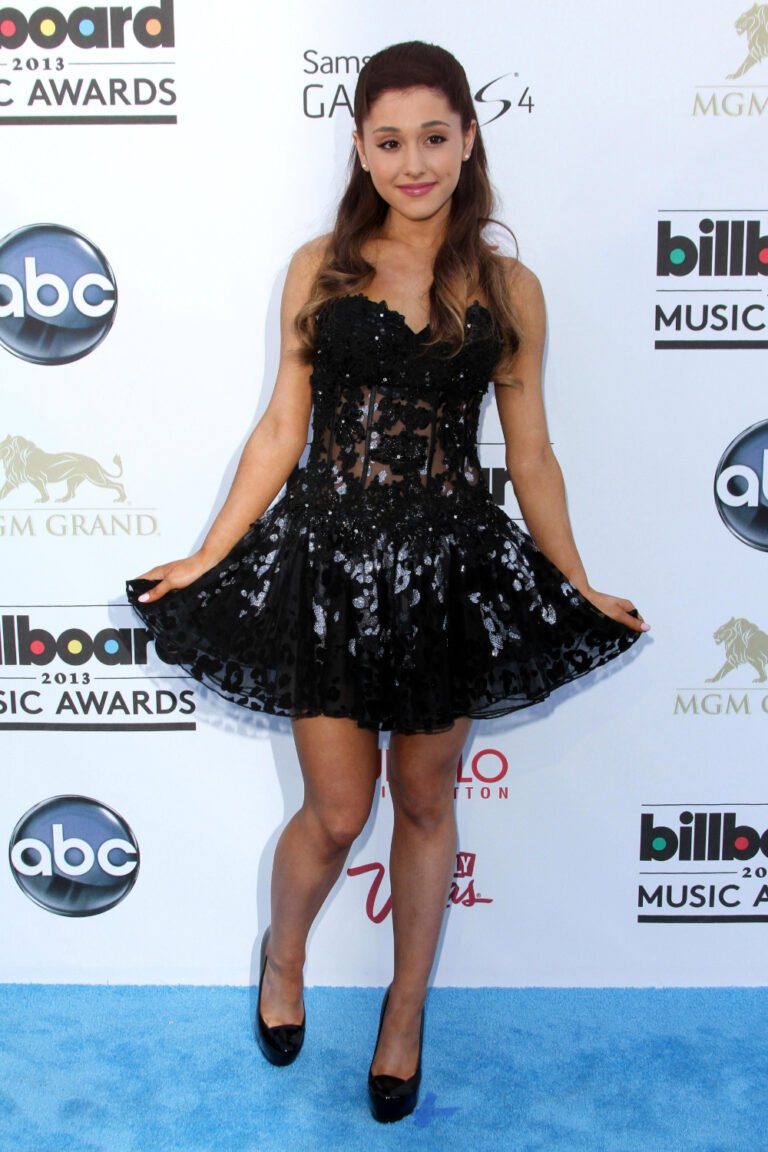 Flaunting her toned legs at the BMAs 2013, Grande walked the red carpet in a sheer-corset Jovani dress. And Ariana's black stiletto pumps did a fab job of highlighting her slim feet and heels!
Shoe Style: Pumps
Outfit: Jovani
2. The Variety Show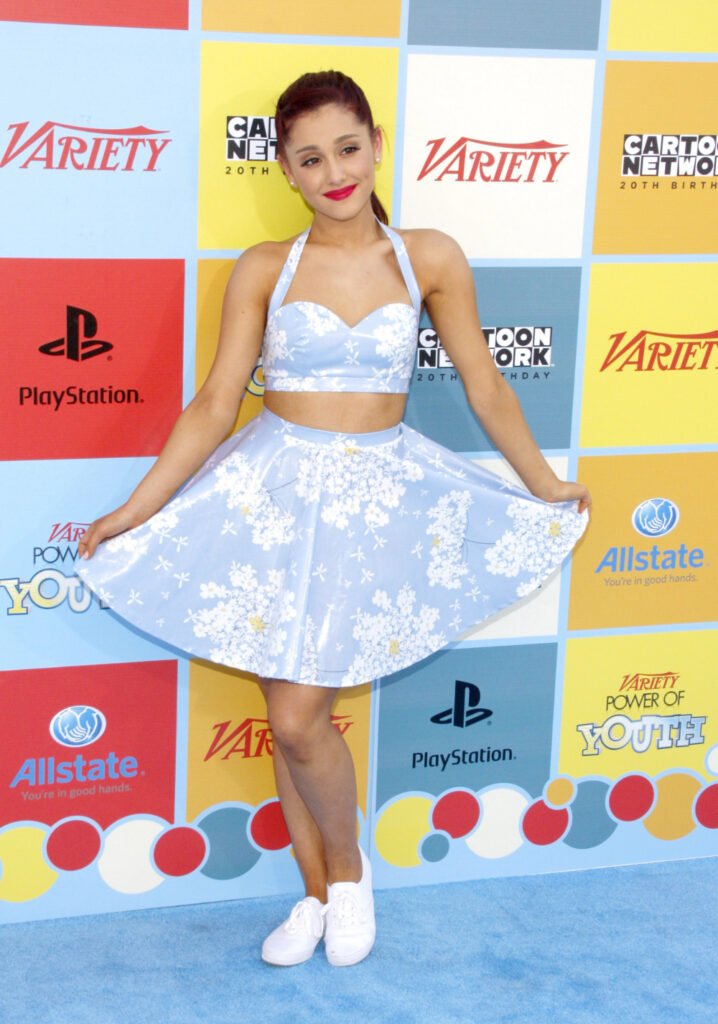 Going for an easy breezy, cool look for the red carpet of Variety's Power of Youth Event, Ariana raised the fashion bar even higher by walking in a pair of flashing white sneakers!
3. Ari Showing Off Her Toned Legs & Feet
Look at Grande flaunting her slim ankles in those black glossy ankle straps with wide heels. Paired with a short strapless tube dress, the No Tears Left to Cry singer looked absolutely ravishing!
4. Ariana's Barefoot Shoot
Bringing you the most-wanted picture of Ariana Grande flaunting her bare feet and white-painted toenails! Ariana posed before setting off for the Manchester Pride Event in 2019!
5. Casually Glamorous!
Ari may not show off her toes, heels, and soles a lot, but she leaves no chance to give us a glimpse of the instep of her feet in high-heeled belle pumps! And aren't we glad about it?
6. Ari In Flashing Bebe Platforms
Ready to rule the VMAs red carpet, the God Is a Woman singer flashed her toned limbs in Mugler's high-neck leather top and a matching mini skirt paired with white Giuseppe Zanotti Bebe platforms!
Shoe Brand: Giuseppe Zanotti
Shoe Style: Platforms
Estimated Price: $450 – $950
Outfit Brand: Mugler
7. Black Bunny Look with Butterfly Heels
Ariana, dressed in all black, wearing a bunny ears headband, and those fluffy butterfly kitten heels, is the best thing you'd see! The singer is always ready to show off her legs!
8. Exhibiting Sky-High Heels on Stairs
Known for rocking sky-high heels, Ariana is living up to her image in these cross-strap heels. If someone asks, "How to flaunt your feet?" show them this image of Ari's!
9. Quality Time with No Glam
It seems like the only place where Ariana is most comfortable being barefoot is around her dogs! Although cropped, this picture from Ari's Gram gives a glimpse of her small, shapely feet.
10. Black & Bold!
This is Ari's way of promoting her music tours! A simple tank top, ultra sheer black tights, and stiletto heels; a perfect choice of fashion to flaunt every inch of her body!
11. The Classy Black & White Duo
Ariana's The Voice outfits are really out of this world! Rocking a corset-style tube crop top and black low-slit pants, Grande adorned her feet with black heels!
12. Comfortable Heels in Thick Sole Shoes
Ariana shows off her funky side wearing heavy lace-up thick-sole shoes, adding a solid pump to her overall height while keeping her soles and feet comfortable!
Singing sensation Ariana Grande is so fond of her footwear collection that she's barely walking around barefoot! But watching her feet in heels and sandals is also a treat to her fans, is it? Well, we can agree, too!