To be blessed with beauty and brains is one thing, but Shannon Elizabeth's heart truly makes her invaluable. She's a commendable actress giving her best to make the world a better place.
The beautiful and shy Nadia from the American Pie franchise certainly deserves a standing ovation, not just for her captivating performances but for her philanthropic efforts to save animals and the planet. She is not just an artist but a real-life powerpuff girl!
IN A GIST
Shannon Elizabeth's height of 5 feet and 10 inches or 178 cm (1.78 m) is her most unique feature.
Actress Shannon Elizabeth is dedicated to maintaining her weight at around 57 kg or 126 pounds.
The 50-year-old Virgo celebrates her birthday on the 7th of September. Like her vibe? Continue reading to learn about her life, career, measurements, and more.
Shannon Elizabeth's Age and Birthday
Shannon Elizabeth, in true Virgo style, is always excited about her birthday, which falls on the 7th of September. The American Pie star is 50 years old, as she was born in 1973. Shannon is likely to donate to an animal shelter on her special day. A true animal lover!
Shannon Elizabeth's Education and Net Worth
Elizabeth was an active student and participated in several extracurricular activities, such as cheerleading, dancing, and sports, before graduating from Waco High School in 1991.
She also developed a profound interest in tennis and even considered a professional career in the sport. But she later moved to New York City to find modeling assignments, but deep down, wanted to try acting.
So, when the opportunity struck, she jumped on it and starred in some cult films, including American Pie, Scary Movie, and Love Actually, and also appeared in more than 30 TV shows. Today, Shannon Elizabeth has amassed an estimated net worth of $7 million in 2023 and is coming for more!
Shannon Elizabeth's Adorable Family
The kind and beautiful Shannon Elizabeth was born in Houston, Texas, to Gerard Edward Fadal and Patricia Diane Fadal, who loved and supported their daughter through it all.
Shannon lost her father a few years ago, and as much as she misses him, Elizabeth celebrates him for all the good he did. She wished to take him to South Africa to experience the culture, the animal shelters, etc., with her.
Thankfully, she has her mother as her adventure partner to do it all! She also shares a beautiful bond with her cousin, Tamsen Fadal, a news reporter in New York.
Moreover, Elizabeth married fellow actor Joseph David Reitman in 2002, but the couple divorced in 2005. She is currently married to Simon Borchert and doesn't have any children as yet.
Full born name: Shannon Elizabeth Fadal
Nicknames: Shannon
Date of birth: 7 September 1973
Birthplace: Houston, Texas
Education: Waco High School, Texas
Zodiac sign: Virgo
Father name: Gerard Edward Fadal
Mother name: Patricia Diane Fadal
Spouse: Joseph David Reitman (Div. 2005); Simon Borchert (Mar. 2021)
Shannon Elizabeth's Imposing Height and Weight
Shannon Elizabeth's height is 5 feet and 10 inches or 178 cm (1.78 m), which gives her natural confidence and a sense of authority, for all good reasons.
Besides, Shannon weighs around 57 kg or 126 pounds, which is pretty impressive for a woman who is about to enter her 50s. With a build like that, no wonder she aced the industry as a top model and actress.
Shannon Elizabeth's Spectacular Body Measurements and Physical Traits
Shannon Elizabeth has a one-of-a-kind slim figure with body measurements of 37-26-34 inches or 94-66-86 cm. Her long torso, lean frame, and glowing skin really add to her graceful yet strong build, and she must be so proud of it.
Shannon is too real to focus on the outer beauty but effortlessly turns heads with body-fitting dresses, colorful fits for shoots, and cool but casual attires on the road, all because of her alluring bosom with possible bra size 36C and cup size C.
Besides, who wouldn't go gaga over her breathtaking visuals with bright dark brown eyes and lustrous brown curls with natural shine and texture? She must really take good care of her gorgeous heart-shaped face and gleaming skin.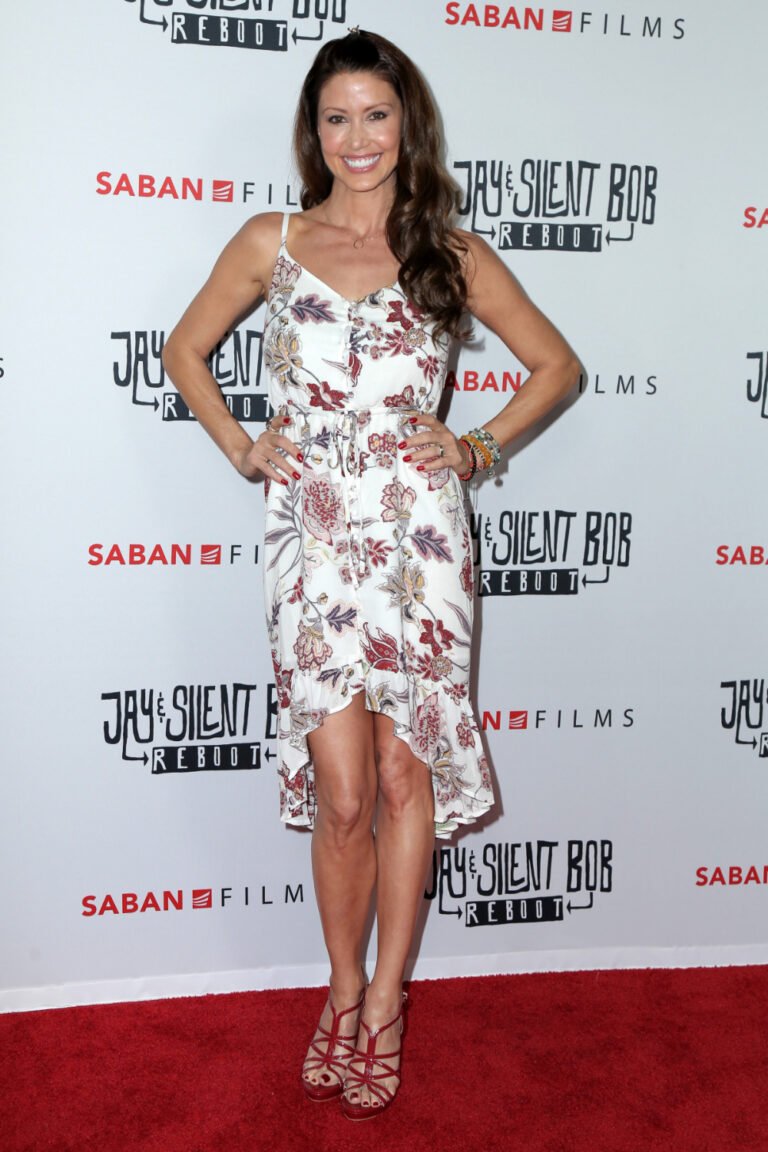 What Is Shannon Elizabeth's Fitness Mantra?
One cannot have a model-like figure without working for it, and Shannon Elizabeth is no different. She definitely takes time out to get into her fitness regime, yoga, boxing, squats, cardio, and more.
She carries the soul of an adventurer and cannot say no to pumping good adrenaline with activities like scuba diving, hiking, skiing, and camping. The woman is as perfect as it can get!
Elizabeth, being a vegan, is also quite open about sharing her diet plans with the world, as it gives her an opportunity to tell them why adopting a turkey is better than eating one. She loves salads, burgers, pizza, and smoothies, all free of animal meat.
| | |
| --- | --- |
| Height | 5 feet and 10 inches or 178 cm (1.78 m) |
| Weight | 57 kg or 126 pounds |
| Face Shape | Heart |
| Breast Size | 37 inches |
| Bra Size | 36C |
| Cup Size | C |
| Body Measurements | 37-26-34 inches or 94-66-86 cm |
| Figure | Slim |
| Dress Size | 6 (US) or 37 (EU) or 4 (UK) |
| Shoe Size | 7 (US) or 38 (EU) or 5 (UK) |
| Hair Color | Dark Brown |
| Eye Color | Dark Brown |
Disclaimer
Some Favorites of Shannon Elizabeth
Favorite Animal: Dogs, Rhinoceros
Favorite Flower: Red Rose
Favorite Place: India, Egypt
Favorite Hobbies: Wildlife Photography, Traveling, Hiking, Cooking
Shannon Elizabeth's Career Summary
Shannon worked as a model for several years before transitioning into an actress. Her most popular film role to date has to be in the hit comedy American Pie and its sequel. She portrayed a foreign exchange student, Nadia, in the instant box-office success.
Her first ever acting role, however, came in the 1997 film Jack Frost, which was a small appearance. In a span of three decades, she has appeared in more than 30 Hollywood films, including Scary Movie, Love Actually, Thirteen Ghosts, Tomcats, and The Outsider.
Shannon also played memorable TV roles in That 70s Show, Cuts, Dancing with the Stars, and Celebrity Big Brother, which is also her last small screen appearance as of 2023.
In recent years, her attention has shifted to rescuing street animals and working as a conversationalist. She also runs her own NGO in South Africa for animal rescue, which currently focuses on taking care of Munu the Rhino.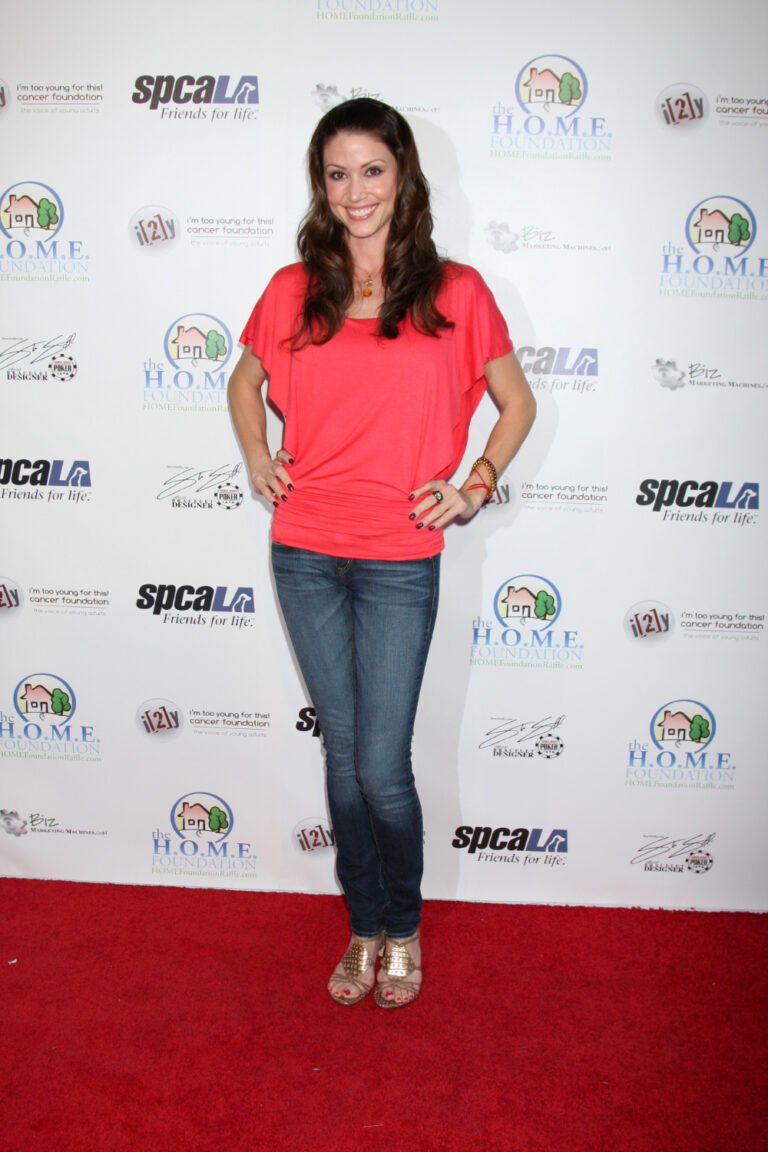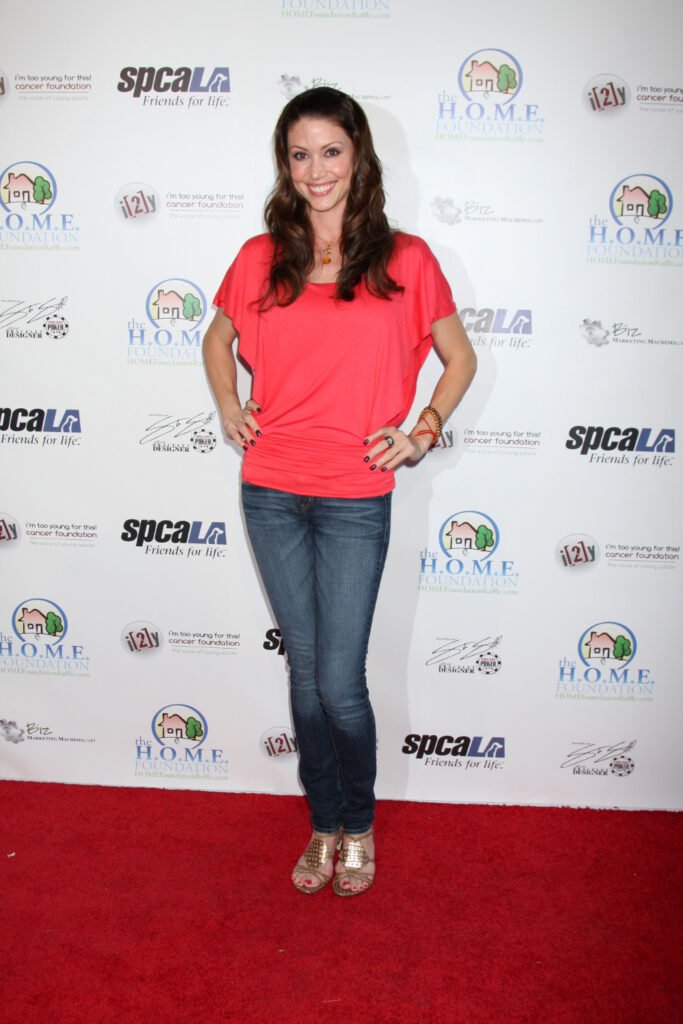 Some Exciting Facts About Shannon Elizabeth
Shannon was featured in the music video of a local band named Hi-5 when she was a senior in high school, which may have prompted her to try modeling.
She runs her own production company, Ganesha Productions, and loves to direct music videos and documentaries by herself.
Elizabeth comes from Lebanese (from her father), English, and Irish (from her mother's side) ancestry. Exotic, isn't she?
What face shape does Shannon Elizabeth have?  
Shannon Elizabeth has a lovely heart-shaped face with a chiseled jawline, high cheekbones, and attractive features.
What is Shannon Elizabeth's hair color?  
Shannon has naturally dark brown hair descending below her shoulders which really suits her feminine personality.
What color eyes does Shannon Elizabeth have? 
Elizabeth has beautiful almond-shaped dark brown eyes, and they are really captivating. 
Does Shannon Elizabeth have tattoos? 
Shannon Elizabeth had a tattoo before, but she got rid of it. So, as of 2023, she has none. 
Does Shannon Elizabeth sing in a hallmark movie?
Yes, Shannon actually sang in the Hallmark flick; the movie's name is Catch a Christmas Star. 
Did Shannon Elizabeth go to college?   
Shannon attended Waco High School in Texas before working as a model. 
Where does Shannon Elizabeth live?  
Shannon Elizabeth divides her time between Cape Town, South Africa, and Los Angeles, and the USA. 
Shannon Elizabeth has grown into this wonderful human being who now takes up projects that are not only unique to her but also add to the betterment of the world, just like American actress Rebecca Romijn, who is not just beautiful but also kind.