With her unparalleled strength and determination, Ronda Rousey has made a name for herself in combat sports and beyond. Ronda Rousey has made it big in life and has helped abolish women's MMA and judo stereotypes.
From rocking the UFC and breaking records in the WWE to gracing the silver screen, Ronda's inspiring journey is something that many aspiring martial artists look up to!
IN A GIST
UFC fame Ronda Rousey boasts an exceptional height of 5 feet 6 inches or 168 cm (1.68 m).
Rousey has a strong athletic figure weighing around 61 kg or 135 pounds.
Celebrating her birthday on February 1, Ronda looks timeless at 36. Let's find out more fun facts about her career, personal life, net worth, measurements, fitness routine, and more! 
Ronda Rousey's Family Life
Born to parents AnnMaria De Mars Waddell and Ronald John Rousey, Ronda is the youngest among her two other siblings. Her interest and success in martial arts are not surprising, considering that Ronda's mother was a decorated judoka herself.
In fact, her mother was the first American to win a World Judo Championship. So, definitely, Ronda must've learned quite a lot from her mother.
Ronda Rousey's Dating History
Ronda Rousey is the most successful UFC and WWE star of the present times, who has ruled everyone's heart with her charming personality and vivid aura. Here are some quirky insights into her love life!
Ronda Rousey's first relationship was in 2012 when she met fellow martial artist Timothy DiGorrio in California. The duo dated until they realized they wanted different things in life and decided to separate by 2013.
After separating from Timothy, Ronda dated American standup comedian and professional mixed martial artist Brendan Schaub from 2013 to 2014.
In 2015, Ronda Rousey fell in love with the professional martial artist Travis Browne who competes in the UFC league. Travis proposed to her in 2017, and the duo got married in Hawaii.
In 2021, she and Ronda's husband Travis welcomed their first child, daughter La'akea Makalapuaokalanipo Browne.
Full Born Name: Ronda Jean Rousey
Nicknames: Rowdy, The Rowdy One, Rowdy Ronda, The Arm Collector
Occupation: Retired Mixed Martial Artist, Judoka, Actress, Professional Wrestler, Producer, Writer, Voice Artist
Date of Birth: February 1, 1987
Birthplace: Riverside County, California, United States
Zodiac Sign: Aquarius
Father Name: Ron Rousey
Mother Name: AnnMaria DeMars
Siblings' Names: Julia DeMars, Maria Burns-Ortiz, Jennifer Rousey 
Spouse: Travis Browne
Children: La'akea Makalapuaokalanipo Browne
Ronda Rousey's Height
Ronda Rousey is a sensational diva with a competitive edge over others as she stands tall at a great height of 5 feet 6 inches or 168 cm (1.68 m). When she steps into the ring, Ronda's stunning figure and dominant aura quickly grab the attention of her audience!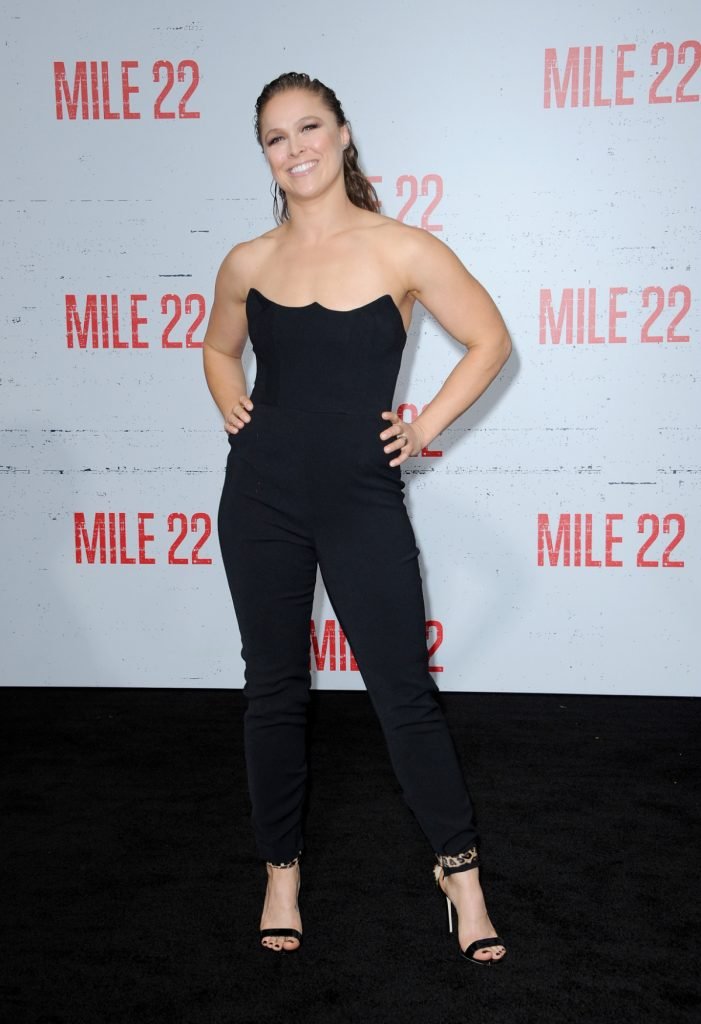 Ronda Rousey's Weight
As a former mixed martial artist, the talented woman always ensured to possess a strong and toned figure. Ronda weighs around 61 kg or 135 pounds, all thanks to her undeterred commitment to fitness over the years. 
Rousey has competed for decades, and to maintain her stellar physique, she has to follow a perfect diet plan that helps her stay in shape throughout the year.
Ronda Rousey's diet plan is a combination of the warrior and paleo diet plans in which she eats only one meal in a day when she is preparing for the fight. On regular days, Ronda's diet consists of scrambled eggs, hemp seeds, turkey chili, beans, oats, chia seeds, cayenne pepper, and almond butter.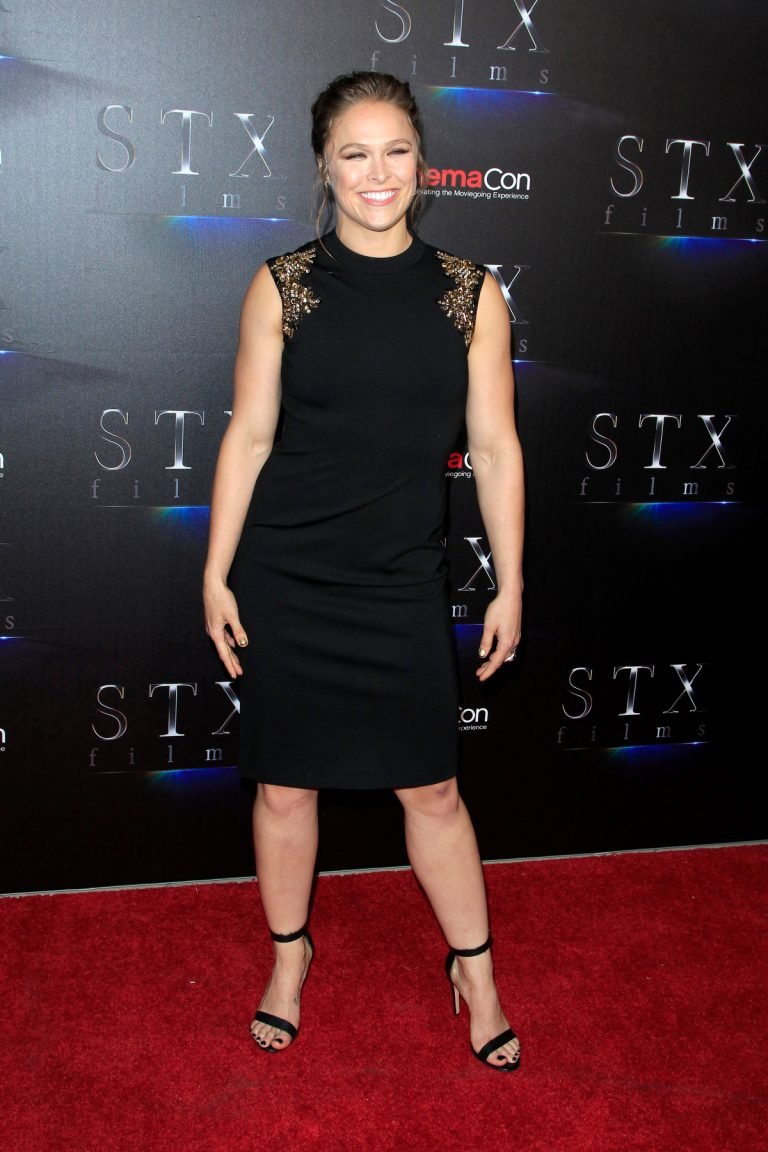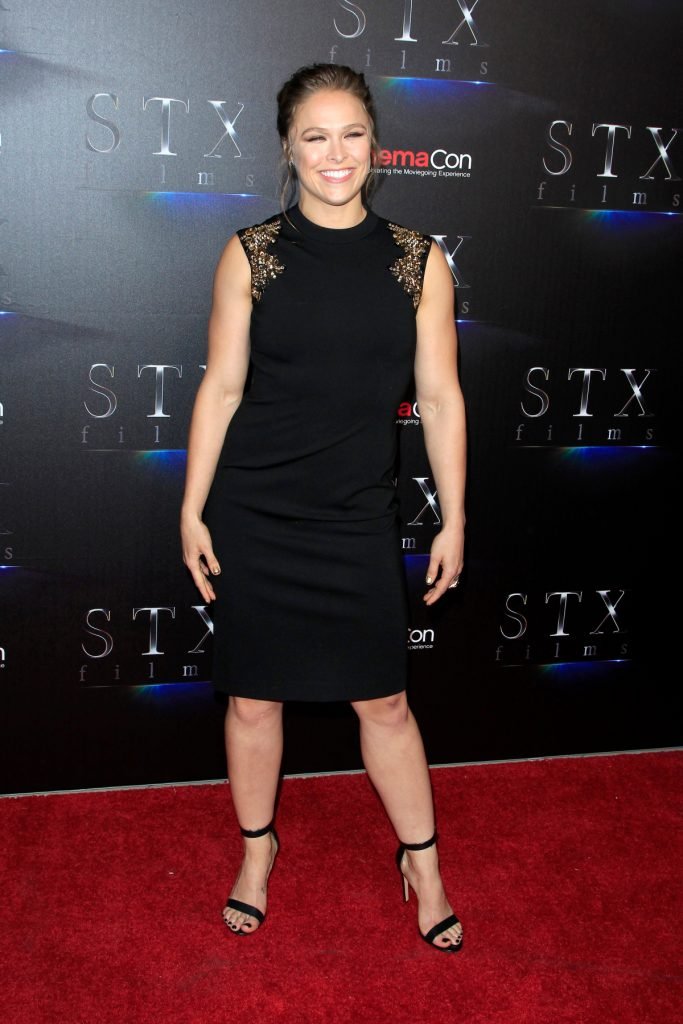 Ronda Rousey's Body Measurements
UFC star Ronda Rousey has a perfect hourglass figure possessing body measurements of 35-25-34 inches or 89-63-87 cm, are fancied by a majority worldwide, as she is seen carrying herself gracefully. 
Ronda has carved out an astonishing figure and slim waist thanks to her sheer dedication to a strict workout routine. She trains hard to be among the greatest fighters and be flexible to face her opponents.
Ronda Rousey's strict workout regime includes cardio, strength training, and circuit training cycles which help her stay lean and active. Her Workouts are about six to twelve hours per week. She also indulges in swimming, yoga, judo, and wrestling, which keeps her in good shape.
Ronda Rousey's Ample Bosom
Ronda Rousey has an astonishing figure coupled with her amazing assets of 35 inches, which she flaunts in a possible bra size 34B with a cup size B. Her perfect physique makes her look stunning on every appearance on the red carpet and in the ring.
Ronda Rousey has bagged several significant opportunities to showcase her curvy physique, which has landed her on prominent fashion magazine covers. Ronda looks dazzling in the Reebok tv commercial and while posing for major brands.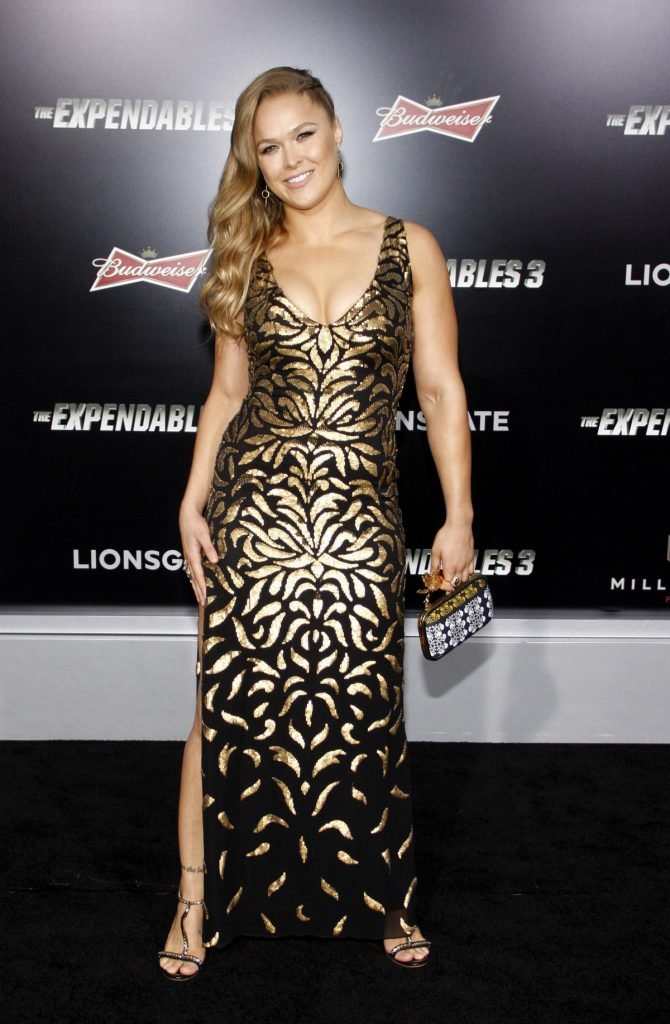 | | |
| --- | --- |
| Height | 5 feet 6 inches or 168 cm (1.68 m) |
| Weight | 61 kg or 135 pounds |
| Face Shape | Oval |
| Figure | Athletic |
| Body Measurements | 35-25-34 inches or 89-63-87 cm |
| Breast Size | 35 inches |
| Bra Size | 34B |
| Cup Size | B |
| Dress Size | 6 (US) or 38 (EU) or 10 (UK) |
| Shoe Size | 9 (US) or 40 (EU) or 7 (UK) |
| Eyes Color | Gray |
| Hair Color | Blonde |
Disclaimer
Ronda Rousey's Most Loved Things:
Favorite Animal: Dog, Cow
Favorite Place: Rochester
Favorite Food: Omelette, French Toast, Burger, Tomahawk Steak
Favorite Sports: Professional Wrestling
Favorite Activities: Cooking, Traveling, Swimming
Favorite Anime: Dragon Ball Z
Ronda Rousey's Net Worth
As of 2023, Ronda Rousey's net worth is estimated at $14 million as she has established her name as the highest-paying WWE superstar with an annual salary of $1 million. Ronda Rousey is one of the fiercest fighters in the UFC who is a mixed martial art champion, and she is the highest-paid MMA fighter in the world.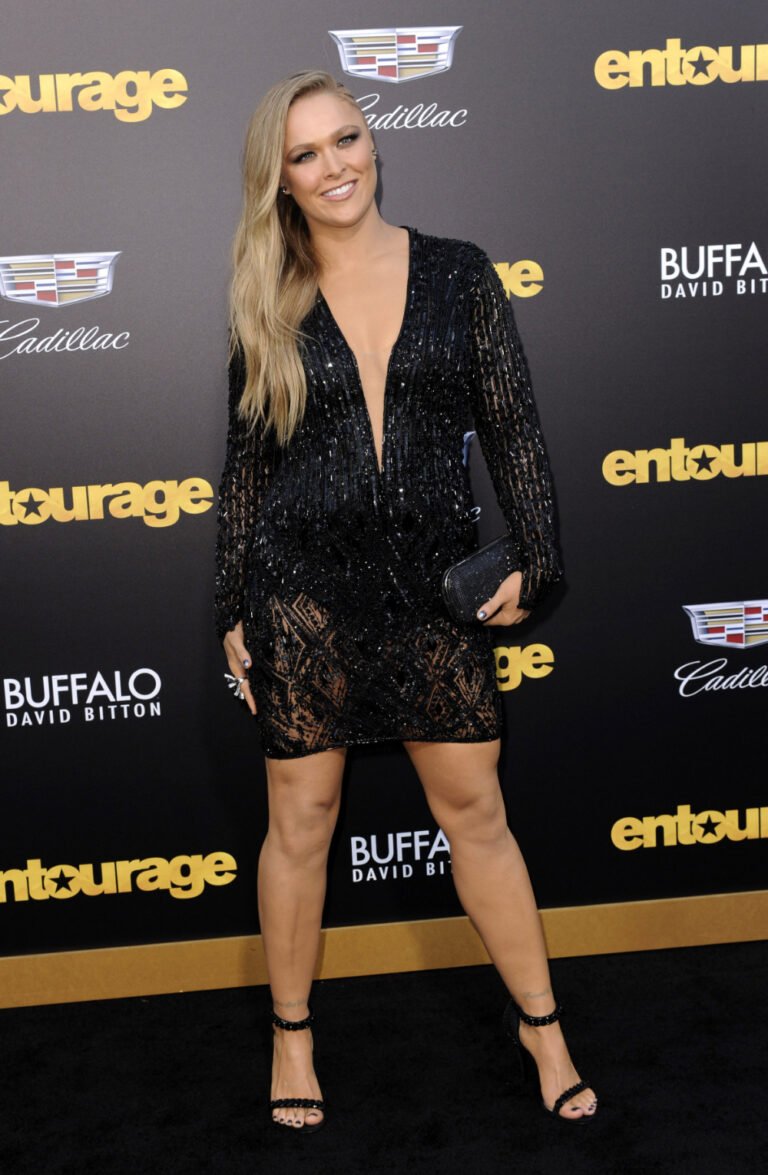 Ronda's Rise through the UFC Hall Of Fame
Ronda Rousey has been athletic since her youth. She was a self-claimed tomboy who competed in Olympic swimming, middleweight, and judo championships.
At fifteen, Ronda Rousey joined the United States Olympic Team and competed to win a gold medal in the 2004 judo championship. Later, Ronda Rousey received worldwide recognition for being the judo bronze medalist in the 2008 Olympics in Beijing, China.
Ronda Rousey also became famous for her vivid beauty, which landed her significant roles on the big screen. In 2014, Ronda appeared in the movie 'The Expendables 3', which was a turning point in her career. After that, she bagged a TV commercial with Reebok, and by 2015 she appeared in movies like Fast & Furious 7 and Entourage.
Ronda Rousey won the fans' favorite female athlete in 2015, and by 2018, Ronda became the first female fighter to sign the UFC league as a trained professional. She is the highest-paid MMA fighter in the world, who has won both UFC and WWE championships.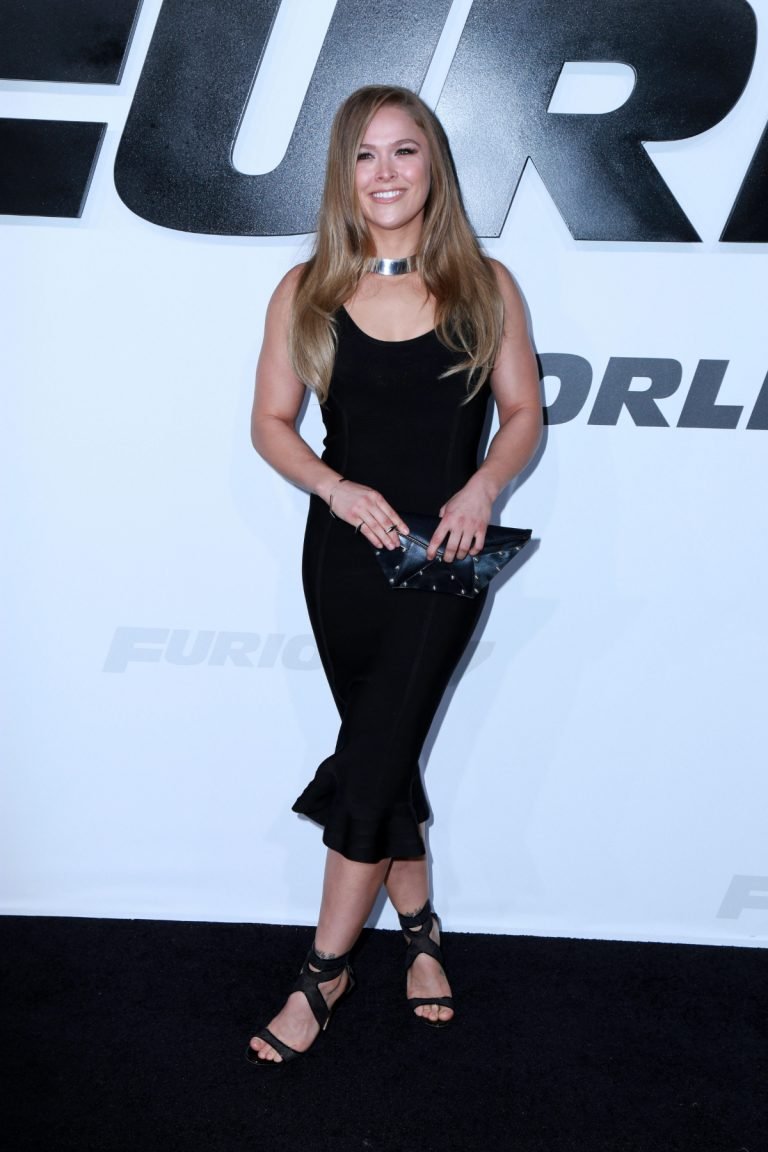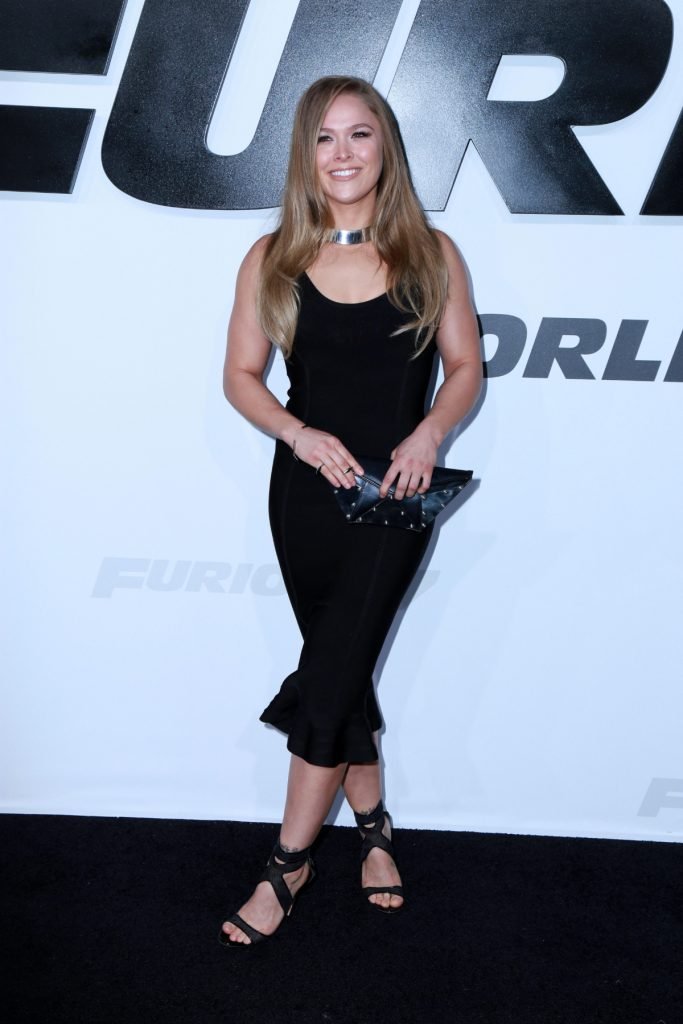 Exciting Facts About Ronda Rousey
Ronda Rousey has a fourth-degree black belt in Judo, and she became the youngest judo player to compete at the 2004 Olympics in Athens, Greece.
Ronda Rousey is a mixed martial art champion who has a total of 14 black belt records.
What is Ronda Rousey's face shape?
Ronda Rousey has an oval face shape that goes well with her personality and complements her looks.
What color eyes does Ronda Rousey have?
Ronda Rousey's natural eye color is Gray.
What is under Ronda Rousey's eye? 
On several occasions, Rousey has shown up with a red shadow under her eyes. People have speculated that she wears makeup to intimidate her opponents; although WWE let it slide the first time, they won't allow her to do so anymore.
Ronda Rousey is a victorious woman in the professional wrestling and entertainment industry. She reminds us of trending star Gina Carano who broke the world's stereotypes by pursuing her dream of becoming the successful star of today. So do check out her life's success story and measurements that might interest you.