Chloë Grace Moretz, the famous face of youth, is one of the most talented and skilled female actors in the entertainment industry. Her dedication and passion are reflected in her roles, whether a simple guest-starring episode or a lead character in a movie.
Starting her journey as a child actor, Chloë has taken several accolades under her belt at the mere age of 25. Her charming smile, effortless acting, and startling beauty have made her incredibly popular at such a young age. Keep reading to learn more about her life, achievements, awards, and beauty reasons.
Chloë Grace Moretz's Success Story
Moretz started her career in the entertainment industry around 2004 when she featured in the CBS series "The Guardian." She also played a brief role in the "Heart of the Beholder." However, these roles were overlooked since she was just a kid.
Later on, in 2005, Chloë was cast in the "The Amityville Horror (remake)," where she got nominated for the Young Artist Award.
However, it wasn't until 2010 that she received proper recognition when she played the notable role of the Hit-Girl in the "Kick-Ass" movie. Moretz was only thirteen years old when she was popularly known as "Hollywood's busiest actress."
Chloë's career soared high with the character of Isabelle she played in "Hugo." This film was nominated for eleven Oscars. After this, the actress continued to entertain the world with her brilliant acting skills in popular movies like "Hick," "Dark Shadows," and "Kick-Ass 2".
Later on, in 2016, she was approached to become a jury member of the Narrative Short Film Competition at the Tribeca Film Festival. However, towards the end of the same year, Moretz announced in the media that she would be dropping out of multiple projects she had in hand.
Her decision shook her fans, but when she explained that it was time she needed to find her purpose in coming into this industry once again, everyone supported her decision.
Soon Moretz made a come back in 2017 with the "November Criminals." A year later, she appeared in "The Miseducation of Cameron Post" and bagged positive reviews for her outstanding performance. Since then, Chloë has done various average movies like "Suspiria," "Greta," and "Shadow in the Cloud."
Chloë is currently busy with voice acting for the upcoming Netflix film "Nimona," and her fans are excited to hear her lovely voice once again.
Chloë Grace Moretz's Height and Weight
Chloë always had a great figure with subtle curves in just the right places. She loves to flaunt her adorable height of 5 feet 4 inches or 163 cm (1.63 m) and body weight of 58 kg or 128 pounds.
She has always followed a healthy routine, be it in her diet or exercise regime. Her petite figure and natural beauty are the two main reasons she has gained such appraisals and love from the industry. Hence, Moretz knows how to keep herself fit and healthy to meet the expectations of her fans.
After struggling with her mental peace and health in 2016, Moretz started to pay special attention to her mind's state. From meditation to proper sleep, it is believed that she follows a dedicated routine to make sure that she never suffers and succumbs to a hollow mental space once again.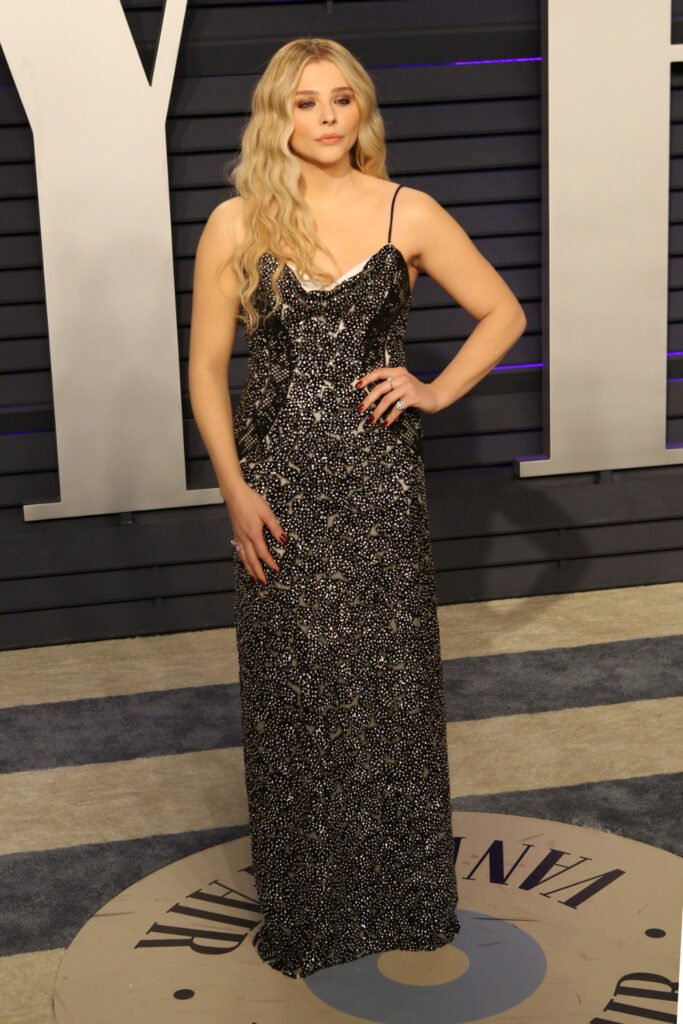 Chloë Grace Moretz's Dating History
Moretz has quite a mysterious dating history, owing to several rumors that have been entertained about her and her co-stars. However, the actress herself hasn't confirmed the stories to be accurate, which is why her love life has been under the limelight for a long time.
In early 2014, Moretz was seen together with Brooklyn Beckham, son of David and Victoria Beckham. They were seen going out after attending Teen Choice Awards together as each other's dates. Cameras even captured them showing affection towards each other out in public. On being asked, Moretz confirmed their dating status.
However, in April 2018, Brooklyn and Moretz broke up, after which there wasn't any news for a few months. But towards the end of the year, she was seen with Dylan O'Brien, one of the star casts of all-time favorite "Teen Wolf." They appeared at an event together, and seeing the way the two behaved, many believed they were dating.
Moretz's name was also associated with Neymar in 2016 when there were speculations about her and Brooklyn Beckham's love life. But no such proof or official statement has been there from the actress's side.
Recently, in 2020, Chloë was spotted with the playboy model Kate Harrison. They were captured kissing on camera and later posted the picture, which sparked some confusion and rumors.
Since then, there has been no official confirmation about Moretz's love life, seeming that she might be laying low for a couple of months. However, everyone hopes to see her back with someone she likes once again.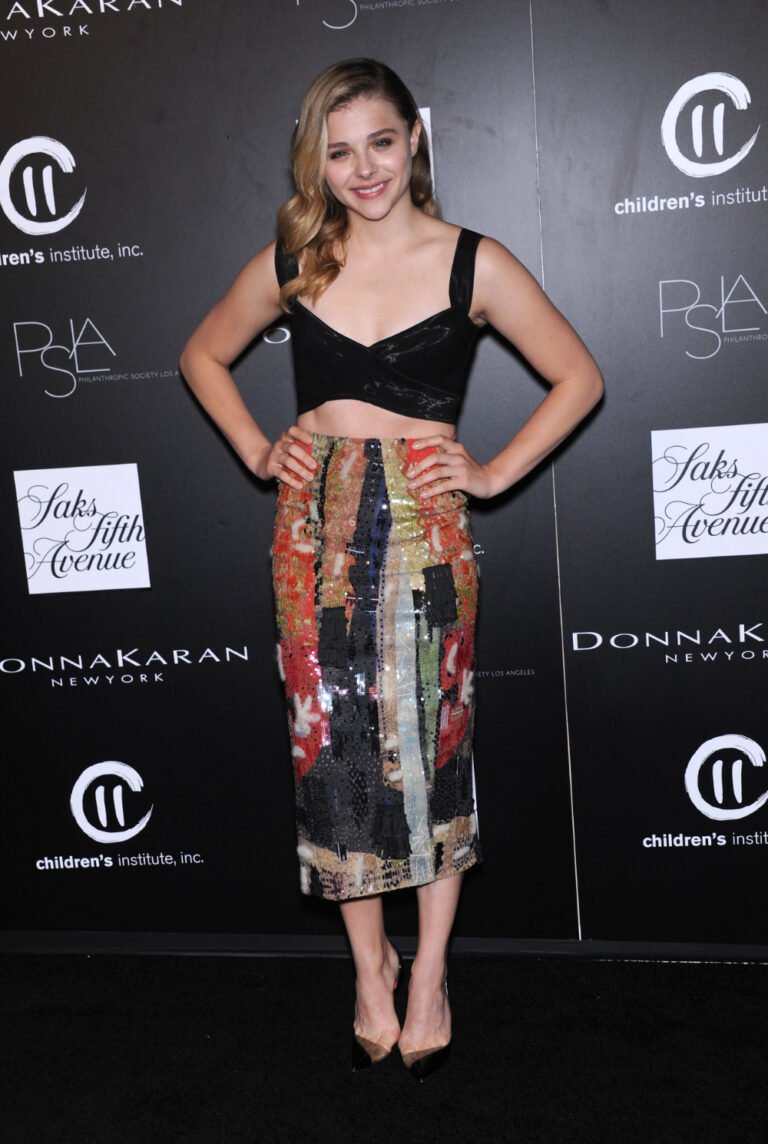 Full born name: Chloë Grace Moretz
Nicknames: Moretz, Chloe The Brainiac
Religion: Christianity
Date of birth: February 10, 1997
Birthplace: Atlanta, Georgia
Zodiac sign: Aquarius
Father name: Dr. McCoy "Mac" Moretz
Mother name: Teri Duke
Sibling names: Brandon, Trevor, Ethan, Colin (brothers)
Spouse: None
Children: None
Chloë Grace Moretz's Body Measurements
With a body of 35-27-35 inches or 89-68.6-89 cm, Moretz is undoubtedly an inspiration for several other aspiring actresses. Her perfect body shape, combined with her perfect height and weight, allows her to always look amazing in every dress.
Moretz has never been strict with her diet plan. She eats what she craves because, according to her, food is something that one shouldn't shy away from. Be it fried chicken, cheesy pasta, or steak and fries; she has never stopped herself from relishing delicious food.
However, to maintain her body and keep the calories off, Chloë does follow a healthy diet and balances it with an intense workout routine.
Chloë Grace Moretz's Ample Bosom
Not only is Chloë famous for acting, but she has also graced the cover pages of several magazines as a model. Perhaps that's why she maintains her perfect figure with a breast size of 35 inches which she flaunts in a bra size of 34B with a cup size of 'B'.
Moretz looks stunning and mesmerizing because of her regular workout routine consisting of yoga, Pilates, jogging, core workout, Brazilian butt-lift exercises, swimming, and more. Besides, Chloë's diet plan is also thoroughly planned to enjoy food just as she wants without excess weight.
| | |
| --- | --- |
| Height | 5 feet 4 inches or 163 cm (1.63 m) |
| Weight | 58 kg or 128 pounds |
| Breast Size | 35 inches |
| Bra Size | 34B |
| Cup Size | B |
| Body Measurements | 35-27-35 inches or 89-68.6-89 cm |
| Figure | Slim |
| Chest Size | 35 inches or 89 cm |
| Waist Size | 27 inches or 68.6 cm |
| Hips Size | 35 inches or 89 cm |
| Shoe Size | 8 (US) or 41 (EU) or 7.5 (UK) |
| Dress Size | 6 (US) or 38 (EU) or 10 (UK) |
| Eyes Color | Green |
| Hair Color | Blonde |
| Natural breasts or implants | Natural |
Did Chloë Grace Moretz Pay Special Attention Towards Plastic Surgeries?
For a long time, there have been several rumors about Chloë's beauty and looks. With changes in her body shape and enhanced beauty, speculations have been made that this young actress has had plastic surgery or other cosmetic treatment.
But there has been no official statement from the actress's end. In fact, on being asked, Moretz has denied the claims. Post that, several pictures have been posted online proving her intense workout regime every day. Hence, it's safe to say that whatever beauty and elegance Moretz has, they are her natural god-gifted assets.
Chloë Grace Moretz's Net Worth
Chloë has been in the industry since 2004. Over the years, Moretz has been involved with several popular films and brand endorsements, which has contributed to her stunning net worth of approximately $12 million as of 2022.
Chloë Grace Moretz's Most Loved Things
Favorite Hobbies: Playing Games, Music, Swimming, Pilates, and Running
Favorite Sports: Ice Hockey, Gymnastics, Football, Ballet, and Basketball
Awards Won By Chloë Grace Moretz
Scream Awards: Best Breakthrough Performance – Female, Kick-Ass (2010); Best Horror Actress Let Me In (2011)
Empire Awards: Best Newcomer, Kick-Ass (2011)
Young Artist Awards: Best Performance in a Feature Film, Diary of a Wimpy Kid (2011); Best Leading Young Actress in a Feature Film, Hugo (2012)
MTV Movies & TV Awards: Best Breakthrough Performace (2011), Best Hero (2011), Biggest Badass Star, Kick-Ass (2011); Biggest Teen Bad Kicking Ass, Kick-Ass 2 (2013)
Saturn Awards: Best Performance by a Younger Actor, Let Me In (2011); Best Performance by a Younger Actor, Carrie (2014)
People Magazine Awards: Next Generation Star (2014)
People's Choice Awards: Favorite Movie Star under 25, Hugo (2012); Favorite Dramatic Movie Actress (2015)
Teen Choice Awards: Best Movie Actress: Drama, If I Stay (2015); Best Movie Actress: Comedy, Neighbors 2: Sorority Rising (2016)
Fun Facts About Chloë Grace Moretz's
Chloë Grace Moretz is an outspoken supporter of the LGBTQ+ community. Moreover, two of her brothers are gay.
Chloë has a cat named Zoe which she rhymed after her own name.
Moretz once spent time in a rehab center with Sheryl Lee for a drug addict role in Texas Killing Fields (2011).
Moretz was titled one of the 25 Most Influential Teens of the Year by Time magazine in 2018.
"Oh, Dios Mio" is Chloë Moretz's favorite Spanish phrase.
Chloë descends from the Scottish Peerage in a distant line.
What's Chloë Grace Moretz's face shape?
Chloë Grace Moretz has an oval face with sharp features.
What Is Chloë Grace Moretz's Natural Hair Color?
Chloë Moretz has blond hair color.
What is Chloë Grace Moretz's eye color?
Chloë Grace Moretz's eye color is green.
Does Chloë Grace Moretz play the cello?
No, Chloë Grace Moretz doesn't play the cello.
Where does Chloë Grace Moretz live?
Presently, Chloë Grace Moretz lives in West Hollywood, LA, California.
Chloë Moretz is an inspirational figure for many people. Her charisma, enthusiasm, and positive attitude towards her life have taken her career to a new height. Another great actress who has made a place in the Hollywood industry early is Joey King. Her charm, beauty, and funny nature allowed her to impress fans worldwide.