The trailblazing UFC champion turned WWE superstar Ronda Rousey ensures to pack her personal life with lots of joy, gratitude, and happiness. She shares a powerful bond with her husband which is built on mutual passion for their sport, and together they're raising their bundle of cuteness with great care and love that stands undefeated!
A Quick Gist
American wrestler Ronda Rousey is happily married to retired UFC wrestler Travis Browne.
The couple met at Glendale Fighting Club back in 2015 and has been together ever since.
Rousey and Browne are parents to a pretty baby girl, born in 2021.
Is Ronda Rousey Leading a Happily Married Life?
The pride of WWE, Ronda Rousey is enjoying her gratifying marriage with former martial artist Travis Browne. Rousey posted heartwarming nostalgic black and white pictures on their 5th anniversary, in which the two can be seen kissing on their wedding day and having a good time together.
Bless the pair!
Who Is Ronda Rousey's Husband, Travis Browne?
Travis Browne is a multitalented American mixed martial artist and a proud Hawaiian who's always up for showing off his roots and heritage and hyping up fellow Hawaiians!
Browne has always been into sports. He started his athletic journey with basketball and won the 2000 Coastal North League Player of the Year. Browne is a graduate of a high school in San Diego and Palomar College.
What Is Travis Browne's Age?
Travis Kuualiialoha Browne, aka just Travis Browne, was born on the 17th of July, 1982, which makes her 40 years old as of now. But looking at his healthy physique and energy, Travis still looks like a 30-something.
What Does Travis Browne Do?
The now-retired mixed martial artist once won many matches in the ring! That's right, Travis Browne has won many titles under his name. He kickstarted his MMA career in 2009 and showed off his moves in many championships.
Then finally, Browne signed with the Ultimate Fighting Championship (UFC) as a Heavyweight. He defeated many talented opponents like Andrei Arlovski, Stefan Struve, Gabriel Gonzaga, and more!
Browne retired at the age of 35. After that, he explored other career interests, and finally started co-hosting Podcast Tough Business with fellow entrepreneur John Fosco. He also runs a chicken meat product service called Browsey Acres alongside his wifey, Rousey.
Full Name: Ronda Jean Rousey
Age: 36
Profession: Wrestler, Actress, (former) Judoka, Mixed Martial Artist
Birth Date: February 1, 1987
Birthplace: Riverside, California, U.S.
Mother's Name: AnnMaria De Mars
Father's Name: Ronald John Rousey
Siblings: Maria Burns-Ortiz, Jennifer Rousey, Julia DeMars
Husband's Name: Travis Browne (m. 2017)
Husband's Profession: Co-host, Retired Mixed Martial Artist
Kids: La'akea Makalapuaokalanipō Browne
Net Worth: $14 Million
How Did Ronda & Travis Meet?
Let's go back to the time when this puissant love story started! Both Ronda Rousey and Travis trained at the Glendale Fighting Club for MMA. And both fighters were being trained by the same trainer. Now talk about coincidence!
While working out and training together, the two developed feelings for each other. But Browne was already married to Jenna Renee Webb at the time.
Nonetheless, the pair confirmed that they were together in October 2015.
Ronda Rousey & Travis Browne's Dreamy Marriage
There was no doubt that Ronda and Travis have been deeply in love ever since they met. So once Browne's divorce from Jenna Webb was finalized, the couple took their thriving relationship to the next level!
The proposal came to Ronda with a dazzling diamond ring during their vacation in New Zealand. Describing it, Rousey said, "We were under a waterfall in New Zealand, and it felt like the right place to do it."
Ronda said YES! and the couple finally got engaged somewhere in the middle of April 2017 in New Zealand.
Four months later, the MMA fighter walked down the Aisle in a gorgeous white wedding gown, and the couple tied the knot on August 28, 2017, in Browne's home state, the utterly beautiful Hawaii!
Do Ronda & Travis Have Kids?
It was April 21, 2021, when Rousey announced her first pregnancy with her husband, Travis, on her official YouTube channel.
On September 27, 2021, Rousey and Travis were blessed with a beautiful girl, who they named La'akea Makalapuaokalanipō Browne. The baby girl completes Ronda's family!
WWE' recently shared an incredibly adorable video on its official Instagram handle, wherein Ronda can be seen with her precious little girl during her WWE photoshoot. Now, you're crying!
Travis also has two sons, Kaleo and Keawe, from her first wife, Erin Browne. He loves both of them to the bottom of his heart, as seen in his Gram posts.
Ronda Rousey's Past Relationships & More
Before meeting the love of her life, Ronda Rousey's name had been entangled with a few men. One of these people was her fellow UFC fighter, Brendan Schaub.
Reflecting on her early love life in her autobiography, My Fight, Your Fight, Rousey revealed a traumatic incident from her life. She wrote that one of her previous boyfriends, who she referred to as "Snappers McCreepy" in her memoir, snapped her unclad photos without consent.
Fearless Ronda met him and served him with many slaps, punches, and trashing, and finally deleted the pictures. But she still had an unconscious fear of those pictures having been leaked already.
Rousey overcame this fear by doing a bold photoshoot for ESPN magazine's Body Issue, and we salute her for her guts and confidence!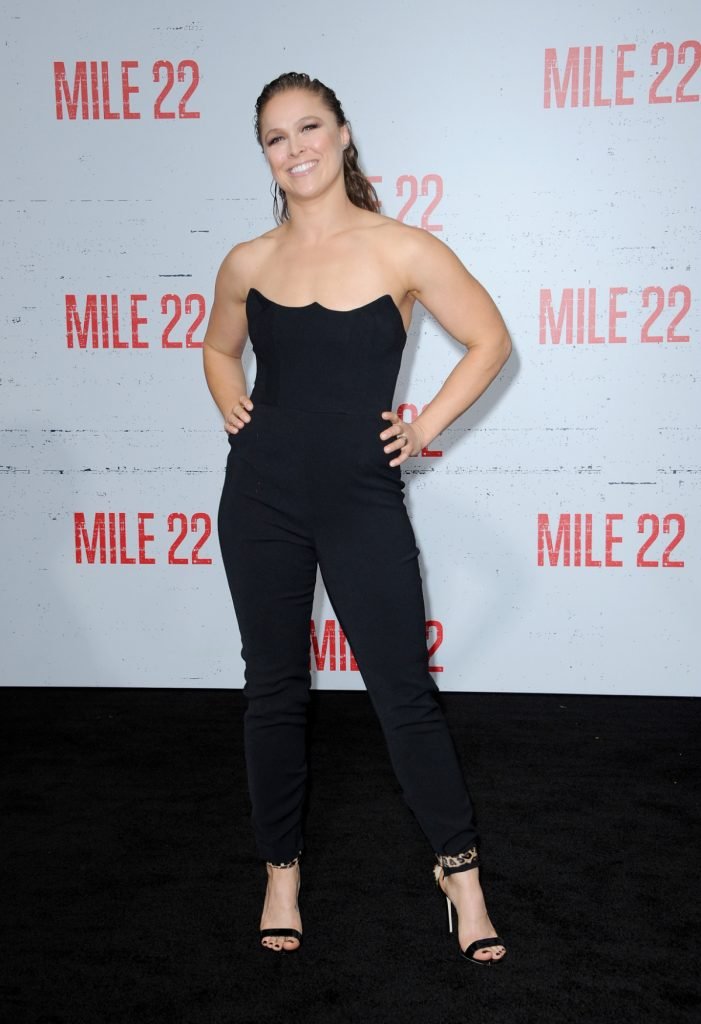 After giving birth to her little pumpkin baby doll, Ronda Rousey and her husband's life is complete. Though she has to juggle her career and responsibilities as a mom, we bet Ronda is loving it all!