Maria Sharapova is an amazing tennis player and athlete who has won millions of hearts across the world with her fabulous moves in every championship. She started at a young age and has shown the world that nothing can hold a girl back from achieving her dreams.
Maria is also a gorgeous woman, and If you're curious to learn more about her, follow along as we go over her body measurements, dating history, fitness routine, and more.
Maria Sharapova's Story of Success
Maria Sharapova was born on 19 April 1987 in Nyagan, Russia, and was raised by Yuri and Yelena Sharapova in Sochi. There, Maria started playing Tennis at the early age of four, and her true potential in the sport was clear from when she turned six.
As a result of her skills, Maria's instructor suggested that she move to the US to practice at the IMG Academy in Florida. While Maria's father wasn't exactly wealthy, he was able to gather the funds to move the family to the US.
Maria enrolled in official tennis training from the age of 9 and participated in her first championship by the time she was 13. It was the Eddie Herr International Junior Tennis Championship, and Maria won it.
This got Maria quite a bit of fame in the tennis world, and she even started winning WTA matches. However, after encountering limits on the number of professional tennis matches she could play, Maria moved back to junior tournaments.
Within two years of participating in matches, Maria was already ranked 6th in the world of junior tennis and had already won three tournaments. By the age of 16, she was able to play full tournaments and won two tournaments in her first year.
In 2004, Maria played a career-defining match against Serena Williams in the DFS Classic. She won the match, and it was considered one of the most stunning victories at the time, which defined Maria as a force to be reckoned with.
After winning straight up for several years, Maria encountered a shoulder injury that caused her to undergo surgery, and it ended up impacting her career in a big way. Eventually, Maria was able to re-establish herself in the mainstream tennis world, but not for long as an ankle injury soon followed.
Unfortunately, she was also suspended for doping around this time, and after returning, Maria won another WTA title. However, by 2020, she decided to retire from the sport as she had completed her 800th match.
Maria Sharapova's Height and Weight
Maria Sharapova has an incredible height, and she has always towered over her competition in Tennis. She stands 6 ft 2 inches or 188 cm (1.88 m) tall, and her weight is only 59 kg or 130 pounds.
Maria maintains her perfect height to weight ratio by keeping her diet in check. She enjoys a healthy meal of Rye toast, goat cheese, fruits, and ham for breakfast and follows it up with some soup and a chicken breast for lunch and fish, veggies, and rice for dinner.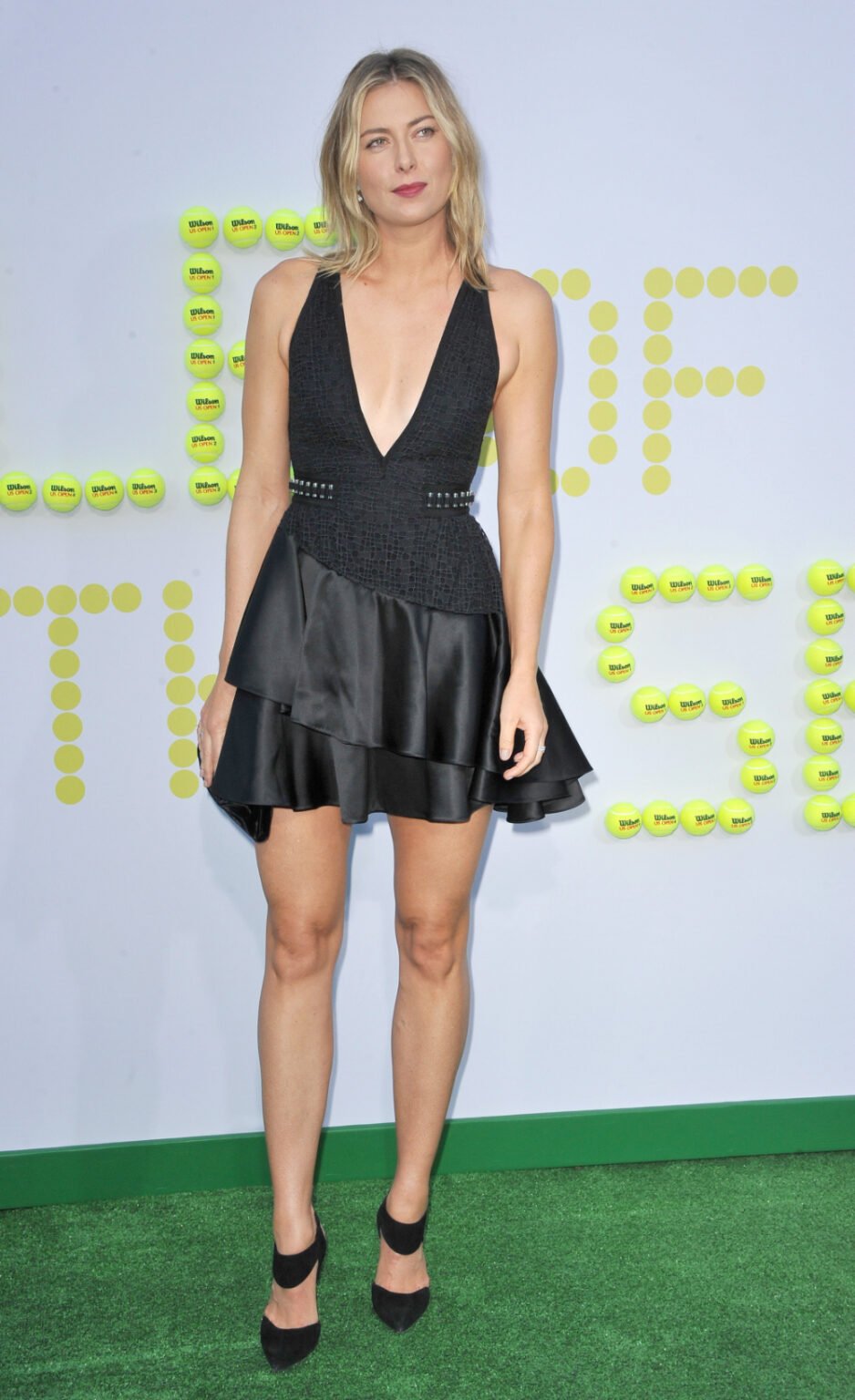 Maria Sharapova's Dating History
Maria Sharapova has lived a prolific career, and throughout her journey, she has encountered several eminent personalities who have been awestruck by her charm. Her insightful dating history ranges from eminent personalities from different fields.
Maria Sharapova's earliest known relationship was with the famous singer Adam Levine. It is believed that the duo started dating back in 2005 for a short time, but as they were at the growing stage of their careers, they decided to separate on mutual terms.
After her separation from Adam Levine, Maria Sharapova started dating American Tennis player Andy Roddick. The duo was spotted together on several red carpet occasions, which initiated the dating rumors, and their relationship was the buzz of the town as they enjoyed quality time together during the 2006 US Open.
Maria's association with Andy Roddick ended after their professional careers in Tennis took a different high. In 2008, Maria Sharapova started dating TV producer Charlie Ebersol, but their relationship was short-lived as Charlie went on to date Britney Spears.
In 2009, Maria met another superstar player from a different field – Basketball. She started dating Slovenian pro basketball player Sasha Vujacic after they first met in Los Angeles.
Maria and Sasha were an adorable couple as they stood to support each other on every occasion. In 2010, the duo got engaged, and fans shipped for their marriage, but unfortunately, their relationship couldn't withstand time's adversity for more than two years.
In 2013, Maria Sharapova and fellow tennis player Grigor Dimitrov's relationship was in the media's limelight. After their relationship became public, they were the most shipped couple in the tennis sphere.
Maria was initially confused whether Grigor had attained the legal age for dating or not. However, Maria's autobiography revealed that Grigor had emailed her right away after he saw her playing in 2013. They separated in 2015, which was heartbreaking for Maria as she also lost against her competitor Serena Williams.
Presently, Maria Sharapova is engaged to British businessman and art dealer Alexander Gilkes who she started dating in 2018. They were first spotted together on a date to an art gallery in Beverly Hills.
In 2020, Maria Sharapova retired from Tennis, and after a few months, the couple announced their engagement news on social media. Fans have been waiting to see them read the wedding vows and finally settle for each other.
Full Born Name: Maria Yuryevna Sharapova
Nickname: Sibirskaya Sirena, The Siberian Siren, Masha
Occupation: Tennis Player, Model, Diplomat
Religion: Russian Orthodox
Date of Birth: 19 April 1987
Birthplace: Nyagan, Russia
Zodiac Sign: Aries
Father Name: Yuri Sharapova
Mother Name: Yelena Sharapova
Siblings Names: None
Spouse: Alexander Gilkes (m. 2018 – present)
Children: None
Maria Sharapova's Body Measurements
Maria Sharapova has an attractive body that makes even some of the youngest celebs of today jealous. Her body measurements are 34-24-36 in or 86.36-60.96-91.44 cm.
Maria is keen on her workouts, and while she was still a tennis player, she would train for six hours a day for five to six days a week. She believes that taking more than three days off from working out causes a loss of lean muscle mass.
Maria's exercise routine began with stretching and involved two hours of tennis, followed by core exercises, Pilates, and even biking. She also got weekly sports massages and used various oils to help with her tired muscles.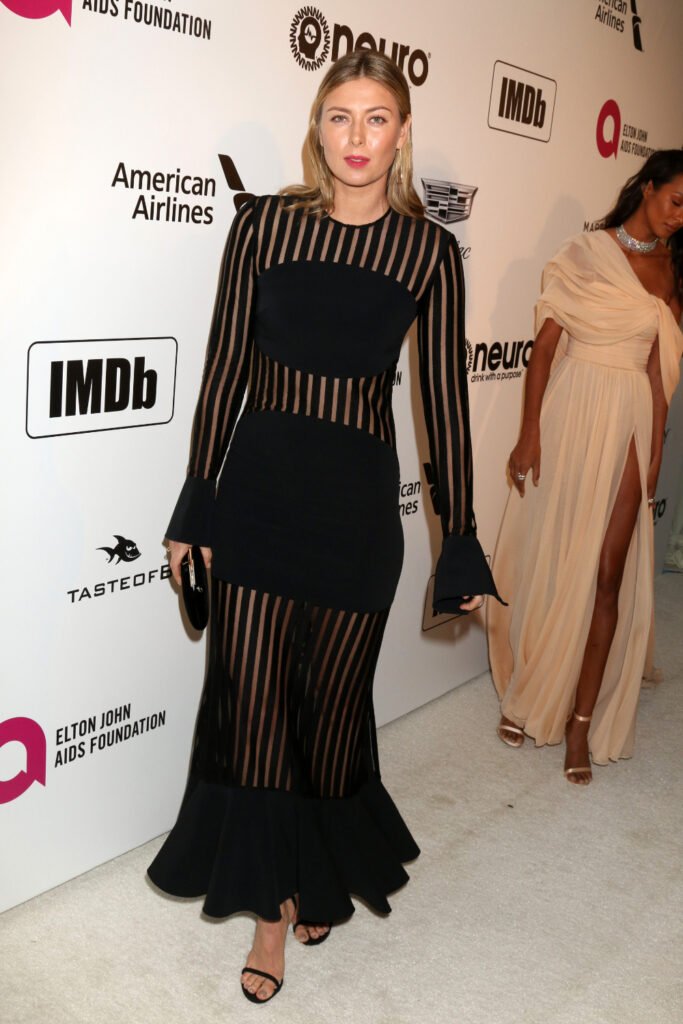 Maria Sharapova's Ample Bosom
Maria Sharapova has attractive assets, and this makes her even hotter. Her breast size is 34 inches, and her bra size is 32B with cup size B.
It seems Maria's fans aren't the only ones who fancy her perfect assets, as seen with the time when a koala grabbed onto her breasts in Australia. This indeed makes her one of the kindest athletes of today.
| | |
| --- | --- |
| Height | 6 ft 2 inches or 188 cm (1.88 m) |
| Weight | 59 kg or 130 pounds |
| Breast Size | 34 inches |
| Bra Size | 32B |
| Cup Size | B |
| Body Measurements | 34-24-36 in or 86.36-60.96-91.44 cm |
| Figure | Athletic |
| Chest Size | 34 inches or 86.36 cm |
| Waist Size | 24 inches or 60.96 cm |
| Hips Size | 36 inches or 91.44 cm |
| Shoe Size | 11 (US) or 42.5 (EU) or 9 (UK) |
| Dress Size | 4 (US) or 36 (EU) or 8 (UK) |
| Eyes Color | Green |
| Hair Color | Blonde |
| Natural breasts or implants | Natural |
Did Maria Sharapova Undergo Plastic Surgery?
Various celebrities today encounter rumors about them undergoing plastic surgery. These rumors often arise from jealous haters who aren't satisfied with their own lives and aim to bring down others.
In Maria's case, some haters claim that she's undergone breast augmentation, and they do so by comparing her pictures from over the years. However, Maria is an athlete, and as such, her body proportions are expected to change with her fitness and training.
As a result, we can simply ignore these baseless claims and accept the fact that Maria Sharapova is a natural beauty who has never needed an artificial touch to help her feel more confident about herself.
Maria Sharapova's Net Worth
Maria Sharapova has worked very hard over her tennis career and has made several fans proud of her performances. She is a real athlete who has shown the spirit of sportsmanship in both victory and defeat. As of 2022, she has an estimated net worth of $180 million.
Maria Sharapova's Most Loved Things:
Favorite Brands: Stella McCartney, Ralph Lauren, Valentino, Chloe, Cole Haan, Zac Posen
Favorite Food: Avocado, Croissant, Spicy Chicken Sandwich
Favorite Novelist: Arthur Conan Doyle
Favorite Colors: White, Teal
Notable Awards Won by Maria Sharapova
ESPY Awards: Best Tennis Player – Female, 2005, 2007, 2008, 2014
A Few Fun Facts About Maria Sharapova
In 2004, Maria Sharapova held the title of Women's Wimbledon Champion after winning the WTA Championship against Serena Williams. Maria Sharapova won $1 million and a new Porsche Cayenne.
Monica Seles has held the record of the loudest grunt at 93.2 decibels in the Wimbledon center court. In 2005, Maria Sharapova broke her record with the loudest grunt measured at 101.2 decibels, even louder than a motorcycle.
In 2006, Maria Sharapova was reported to be the highest-paid female athlete and was featured on Forbes's Richest Young Celebrities List for earning $18.2 million in 2005.
What face shape does Maria Sharapova have?
Maria Sharapova has an oval-shaped face with a fair complexion and subtle facial features giving her a glamorous appearance.
What is Maria Sharapova's hair color?
Maria Sharapova is a natural Blonde who has rocked side-swept shoulder-length hairstyles for years.
What color eyes does Maria Sharapova have?
Maria Sharapova has rare Green colored eyes, which embellish her overall appearance.
Does Maria Sharapova speak Russian?
Maria Sharapova is a native of Sochi, Russian Federation, and thus a fluent Russian speaker.
Did Maria Sharapova retire?
Maria Sharapova retired from her professional tennis career on 28 February 2020.
Did Maria Sharapova play in the Olympics?
Maria Sharapova was an integral part of the NBC Olympics as she was a silver medalist in 2012 and acted as one of the torchbearers in the relay to the 2014 Olympics opening ceremony.
Did Maria Sharapova go to college?
No, Maria Sharapova never went to college as she pursued her dream of becoming a professional tennis player since her childhood by joining the IMG Academy in Bradenton, Florida.
Where does Maria Sharapova live?
Presently, Maria Sharapova lives in Bradenton, Florida, the United States.
Maria Sharapova's incredible success has proved that one can achieve world-class status by showing exemplary hard work. She has been in the media's limelight along with star Danica Patrick, who has made a fortune for herself. Do check out Danica's success story and gain major insights from her dating and fitness life.