Everyone knows Oprah Winfrey. This incredible woman has inspired generations of young people to pursue the best in life, make better social decisions, and express more kindness and love.
She is a woman with a heart of gold, and she has definitely had a bigger fan following than most other celebrities. If you're curious to know more about how this incredible woman achieved miraculous success, then follow along as we go over her story of success, fitness routine, dating history, and more.
Oprah Winfrey's Story of Success
Oprah Winfrey was born on 29 January 1954 in Kosciusko, Mississippi. She was raised by Vernita Lee, an unmarried teen mother who worked as a housemaid. Oprah's father, Vernon Winfrey, was in the US Armed Forces but later worked as a city councilman.
Oprah grew up in intense poverty and often had to wear potato rags for school dresses. At the age of 12, she was sent to live with her father, but she was abused there and had to escape within a year.
Things started changing for Oprah in high school when she excelled in a special program that allowed her to transfer to Nicolet High School. Soon after, she won the Miss Black Beauty Tennessee pageant, which allowed her to get a bit of fame in the area.
After that, Oprah started working at a local black radio station as a news anchor. This gave her a taste of a media career and inspired her to pursue it full time by dropping out of university at 19.
Oprah eventually became the first female news anchor at WLAC-TV. This led to immense fame, and Oprah switched stations quite a bit during this time. Soon after, she started co-hosting People Are Talking, which was a top-rated talk show.
In 1984, Oprah finally got her own talk show. The 30-minute long morning talk show was produced by King World Productions and was named AM Chicago. However, it was soon renamed The Oprah Winfrey Show.
The show was soon one of the most famous shows in America, and Oprah and her agent Jeffrey Jacobs were able to start HARPO Productions. They soon took over the show and paid King World Productions a set fee for its syndication.
As a result, Oprah became one of the most talked-about people in the world. In addition, her show inspired several social causes and helped talk about health, charity, and spirituality issues.
Since then, Oprah has been extremely successful in establishing her empire. She has literally risen from rags to riches and made a fortuitous career out of the determination she got from her pain.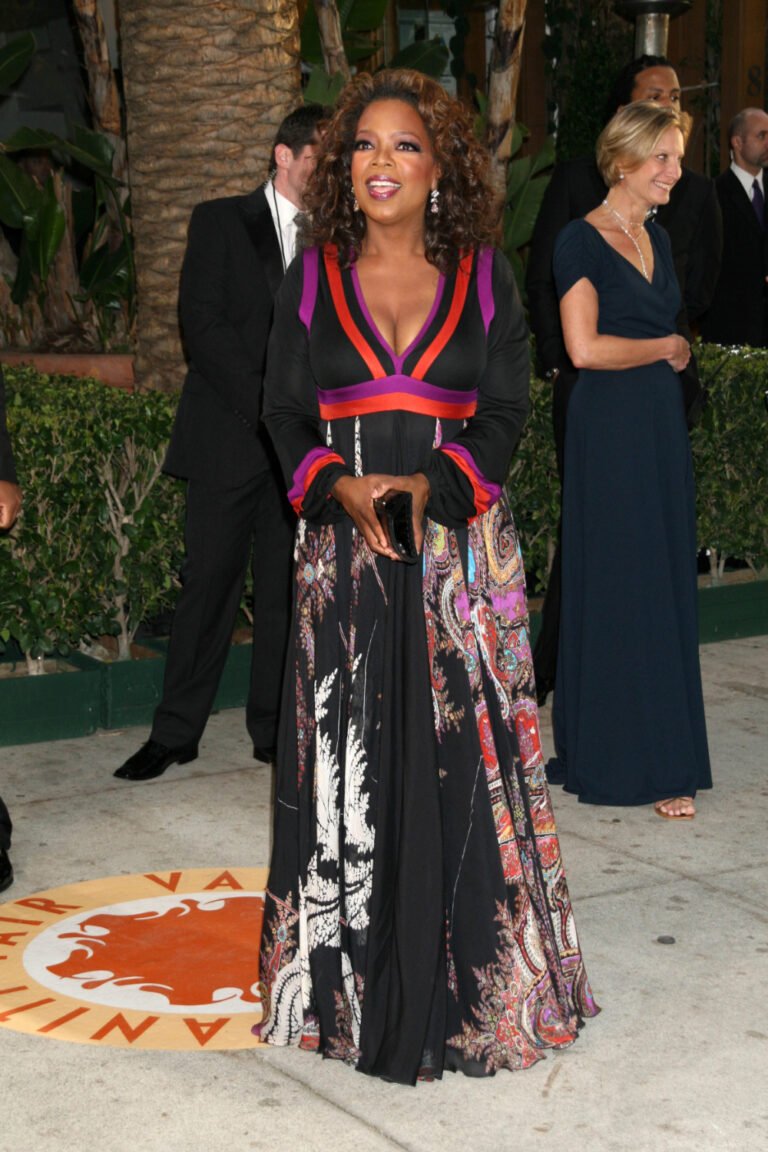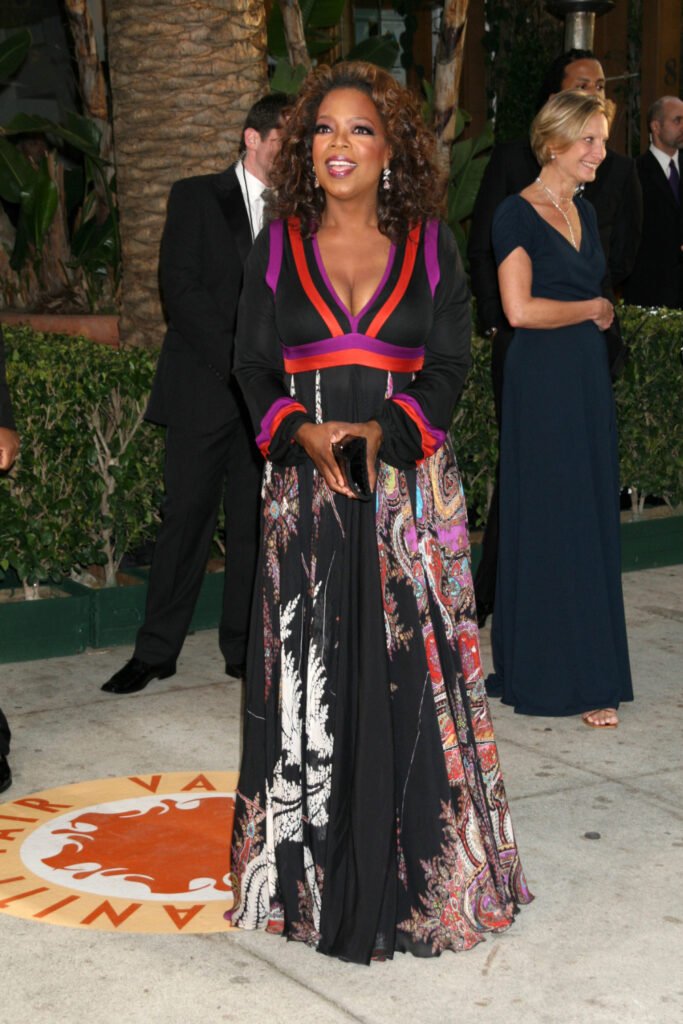 Oprah Winfrey's Height and Weight
Oprah Winfrey has an impressive height, and she cares well for her figure. She stands 5 ft 6 inches or 169 cm (1.69 m) tall, and her weight is only 77 kg or 170 pounds.
When reading about Oprah's diet, you'll see that she eats a healthy and balanced diet that includes various nutrients to prevent her meals from feeling dull in any way. Her daily calorie count averages around 1700 calories, which come from multiple sources.
Her diet includes 20% protein from lean sources such as chicken or turkey, about 30% healthy fats from almonds and avocado, and 50% carbs from various grains, fruits, vegetables, and sugars.
Oprah Winfrey's Dating History
Oprah Winfrey has held the reputation as the most influential woman in the world who has lived a prolific career and the most colorful life both in reel and real-life. Her name is linked with several high-profile celebrities, which led to insightful dating history.
Oprah Winfrey's earliest known relationship started with her high school sweetheart Anthony Otey who was her first love, and they started dating in the second year. Oprah Winfrey still has all the love notes she got from him, but when Anthony had asked for marriage, Oprah ended their relationship.
Oprah Winfrey attended former education from the Tennessee State University where she met William 'Bubba' Taylor, who helped her get her first job at the WVOL Radio Station.
The couple had a 'Do or Die' relationship, but after dating for five years, they still parted ways in 1976 because William could not move to Baltimore with Oprah.
In the 70s, Oprah Winfrey was in a relationship with John Tesh, and they dated briefly for a few years until the duo was pressured to have an interracial marriage. So, the duo called it quits to carry on with their ever-growing career.
Oprah Winfrey became a popular television personality within a short period, during which she was introduced to WJZ-TV reporter Lloyd Kramer. The duo had the most fun romance but separated because Oprah was unwilling to move to New York with Lloyd.
In 1985, Oprah Winfrey was linked with Randolph Cook, and they shared a great time together. However, Randolph Cook alleged that the couple did drugs together, making Oprah Winfrey a drug addict in the 80s.
In 1997, Randolph Cook sued Oprah Winfrey for $20 million for blocking a tell-all book that explained their relationship in detail and shared all the personal information from their private matters in public.
In the 80s, Oprah Winfrey was also linked to the movie critic Roger Ebert and dated him briefly. The duo co-hosted the Chicago Emmy Awards together in 1986, and she credits Roger for advising her to take her show into syndication.
The Haitian filmmaker Reginald Chevalier met Oprah Winfrey as a guest on her show – 'The Oprah Winfrey Show,' and they started dating and grew close. They were romantically associated as they shared dinner dates and candlelight baths, but Oprah ended this relationship as she fell for Stedman Graham.
Oprah Winfrey has been dating author and Businessman Stedman Graham for more than thirty years. Surprisingly, the duo is still not married because they have kept their relationship low-key after meeting at a charity event in 1986. However, in 1992, the duo got engaged, and Stedman has been her main man for years.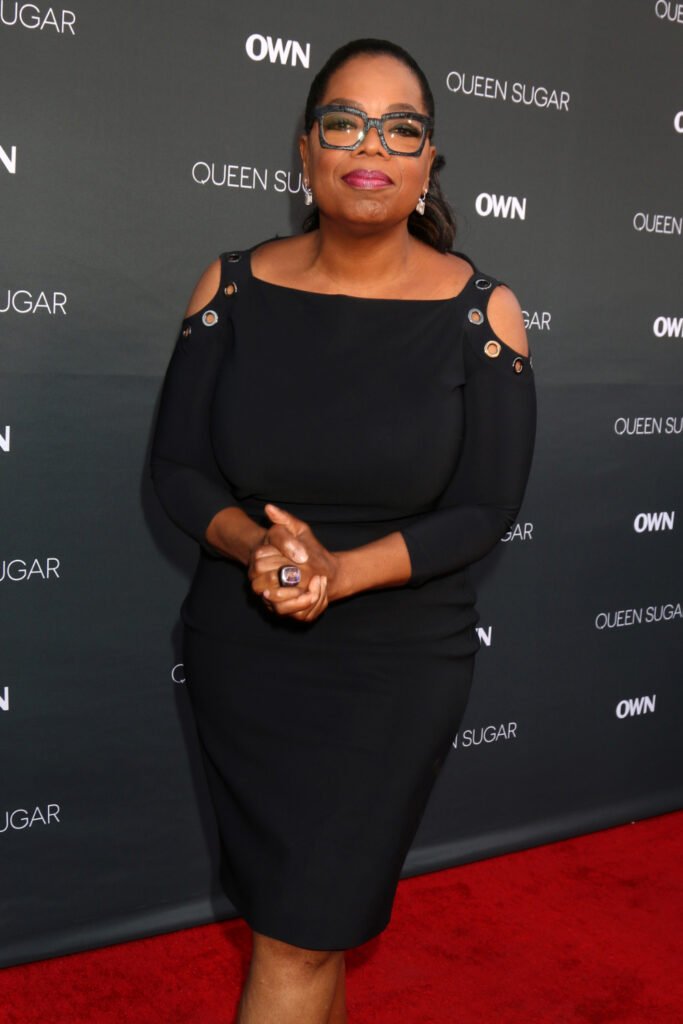 Full Born Name: Oprah Gail Winfrey
Nickname: Lady O, Oprah, O, The Preacher
Occupation: Actress, Television Presenter, Television Producer, Film Producer, Businessperson, Philanthropist, Media Proprietor, Voice Actress, Motivational Speaker, Podcaster
Religion: Christian
Date of Birth: 29 January 1954
Birthplace: Kosciusko, Mississippi, United States
Zodiac Sign: Aquarius
Father Name: Vernon Winfrey
Mother Name: Vernita Lee
Siblings Names: Patricia Lofton, Jeffrey Lee, Patricia Lee Lloyd
Spouse: Stedman Graham ( 1986 – present)
Children: None
Oprah Winfrey's Body Measurements
Oprah Winfrey has a well-maintained body, and she keeps herself toned and fit. Her body measurements are 41-32-40 in or 104.14-81.28-101.6 cm.
Oprah isn't the kind of woman who sits in front of the couch all day. Instead, you'd find her enjoying 45 minutes of cardio every morning for six days a week. She also does 20 more minutes of cardio before her dinner five days a week.
Oprah doesn't just enjoy cardio but is also a strength training enthusiast. She prefers training for 30 to 40 minutes four or five days a week, two days in a row before taking a break.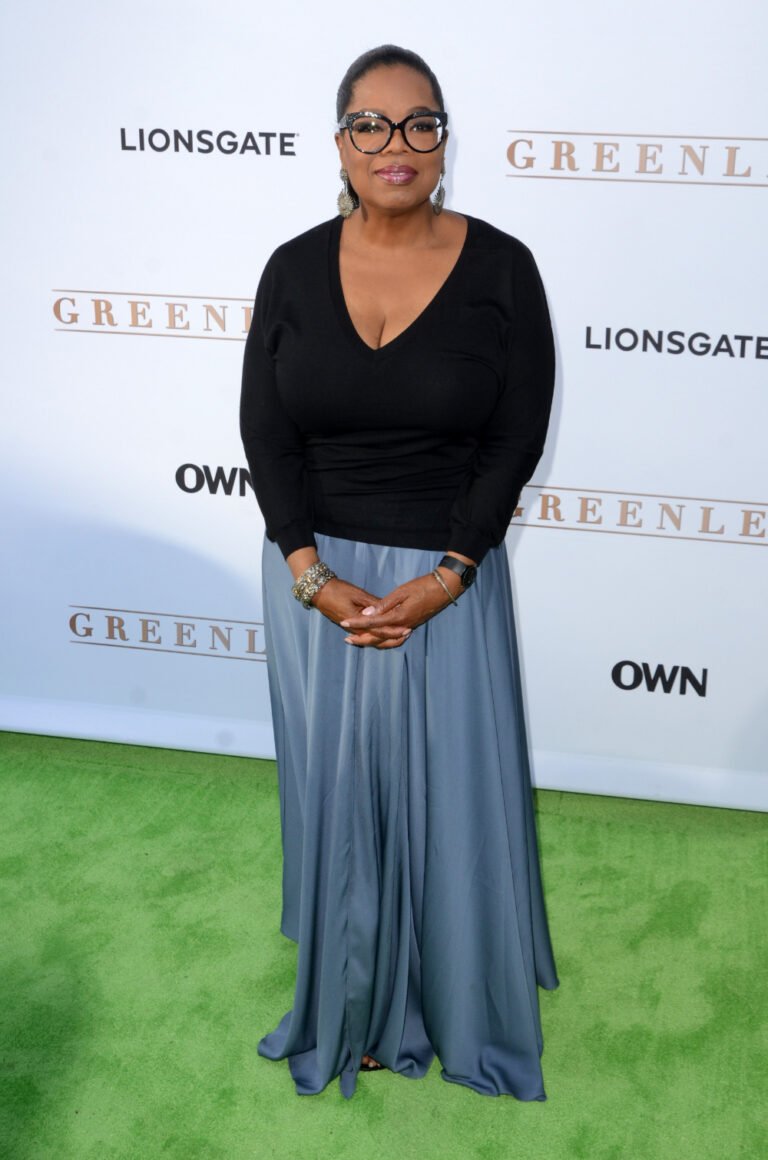 | | |
| --- | --- |
| Height | 5 ft 6 inches or 169 cm (1.69 m) |
| Weight | 77 kg or 170 pounds |
| Breast Size | 41 inches |
| Bra Size | 38C |
| Cup Size | C |
| Body Measurements | 41-32-40 in or 104.14-81.28-101.6 cm |
| Figure | Average |
| Chest Size | 41 inches or 104.14 cm |
| Waist Size | 32 inches or 81.28 cm |
| Hips Size | 40 inches or 101.6 cm |
| Shoe Size | 10.5 (US) or 41.5 (EU) or 8.5 (UK) |
| Dress Size | 14 (US) or 46 (EU) or 18 (UK) |
| Eyes Color | Dark Brown |
| Hair Color | Dark Brown |
| Natural breasts or implants | Natural |
Has Oprah Winfrey Considered Plastic Surgery?
Oprah Winfrey is a beauty that has inspired millions of people to embrace the ideals of love and tolerance. As such, many of her fans have wondered if the mogul has ever considered going under the knife or has she also embraced her natural beauty.
In an episode of Oprah Daily on YouTube, Oprah Winfrey, Gayle King, and Ashley Graham played a game of Never Have I Ever. During the game, Oprah actually admitted to having thought about plastic surgery.
However, she is a natural beauty and certainly hasn't needed any surgeries in any way. But, despite this, we're glad to have Oprah feel comfortable about talking about such a sensitive topic with her fans.
Oprah Winfrey's Net Worth
Oprah Winfrey is an American mogul and TV host who has risen up from the bottom and become one of the most influential people in the world. As of 2022, she has an estimated net worth of $3.5 Billion with a $300 Million per year salary.
Oprah Winfrey's Most Loved Things:
Favorite Food: Lemony Pasta, Corn Fritters, Risotto, Turkey Sandwich, Chicken Pot Pie, Pecan Turtles, Cornbread, Caramel Corn, Blueberry Pancakes, Chicken with Fresh Herbs, Catfish, Raspberry Sorbet, Kale Chips
Favorite Products: The Crayon Case Notepad iShadow Eyeshadow Palette, Mischo Beauty Nail Lacquer Gift Set, Bossy Cosmetic Power Woman Essentials Lipsticks, Beekman 1802 Three-Piece Hand Cream Sampler, Mented Cosmetics Gloss for Grownups Collection
Favorite Hobby: Reading, Photo Shoots
Favorite Colors: Green
Notable Awards Won by Oprah Winfrey
Golden Apple Awards: Female Star of the Year, 1987
Aftonbladet TV Prize, Sweden: Best Foreign TV Personality – Female, 1994
Daytime Emmy Awards: Outstanding Talk/Service Show, 1989, 1991-1992, 1994-1998
Primetime Emmy Awards: Outstanding Made for Television Movie, 2000
Primetime Emmy Awards: Bob Hope Humanitarian Award, 2002
Christopher Awards: Feature Films, 2008
Academy Awards, USA: Jean Hersholt Humanitarian Award, 2012
African-American Film Critics Association (AAFCA): Best Supporting Actress, 2013
Yoga Awards: Worst Foreign Actress, 2014
AARP Movies for Grownups Awards: Best Supporting Actress, 2014
Black Reel Awards: Ruby Dee Life Achievement, 2018
A Few Fun Facts About Oprah Winfrey
Oprah Winfrey was highly influenced by American poetess Maya Angelou and American author Marianne Williamson. The two women were her mentor and spiritual advisor, and Oprah has generously credited both of them for her successful career as a television personality.
Oprah feels affectionate towards animals and has had five dogs named 'Luke,' 'Layla,' 'Sadie,' 'Sunny,' and 'Lauren.'
Oprah Winfrey is also popular for her activism and charity work as she donated about $58.3 million to the Oprah Winfrey Leadership Academy and Oprah's Angel Network.
What face shape does Oprah Winfrey have?
Oprah Winfrey has a round-shaped face with a broad smile and forehead with cute dimples, making her look like a magnificent diva.
What is Oprah Winfrey's hair color?
Oprah Winfrey's natural hair color is Dark Brown, and she has the most amazing curls that are appreciated by the majority worldwide.
What color eyes does Oprah Winfrey have?
Oprah Winfrey's natural eye color is Dark Brown, and she looks ravishing in smoky eye makeup.
Does Oprah Winfrey have tattoos?
No, Oprah Winfrey does not have any visible tattoos on her body.
Does Oprah Winfrey have a college degree?
Yes, Oprah Winfrey has attended former education from Tennessee State University from 1971 to 1987, where she was a scholar student after winning an oratory contest.
Does Oprah Winfrey have a publishing company?
Yes, Oprah Winfrey owns a publishing company with the official publisher page, Simon & Schuster.
Where does Oprah Winfrey live?
Presently, Oprah Winfrey lives in Montecito, California, the United States. She lives on her 42-acre estate, 'The Promised Land,' with ocean and mountain views.
Oprah Winfrey is an iconic personality who has lived an incredible career and has delineated magnificent performances, which have proved that she is truly a legend of the entertainment industry. Lily James has followed in her footsteps and has marked a remarkable career by charming everyone with her wit and beauty. So check out Lily's career growth throughout the years.