Josephine Skriver is a well-known name among fashion enthusiasts, designers, and big labels of the fashion industry. She is a Danish model known for her best works in Victoria's secret.
Fans, as well as fashion critics, have applauded her over the years. If she is your fashion icon, then you are at the right place to know more about her life details like her workout and diet plans, her story of success, and past relationships.
Josephine Skriver's Story of Success
Josephine Skriver was born on 14 April 1993 and raised in Copenhagen, Denmark. Her mother is an IT analyst, and her father is a marine biologist. Josephine and her younger brother were conceived through IVF.
At the age of 15, she was discovered by Unique Models when she was on a trip with her soccer team in New York. Josephine began to pursue modeling as a full-time career in 2011 and has never looked back since.
Josephine Skriver has worked for several big agencies like Elite Model Management based in Milan. In addition, she has walked the ramp with fashion lineups by prominent brands like Christian Dior, Valentino, Gucci, and more.
Josephine has endorsed many world-renowned brands like Tommy Hilfiger and has been featured in magazines like Vogue and Harper's Bazaar.
Josephine won Rookie of the Year in 2021 for the Sports Illustrated swimsuit issue of 2020. In addition, she has appeared in catalogs and advertisements for Victoria's Secret and has walked the ramp consecutively since 2013.
Since then, Josephine has worked with various brands, and her career seems to be as flourishing as ever. She is a true diva and is known as one of the most contracted Angels in the industry.
Josephine Skriver's Height and Weight
Josephine is well adored and complimented for her stature. She stands 5 ft 11 inches or 180 cm (1.80 m) tall, and her weight is only 54 kg or 119 pounds.
In an interview, Josephine Skriver revealed that she follows the 80/20 diet rule in which she likes to eat healthy food 80% of the time and eat whatever she wants the other 20% of the time to satisfy her cravings.
According to Josephine, dieting is not a healthy way to live. Instead, she prefers a protein-rich lifestyle with many fruits and vegetables. She promotes healthy eating with her meals mostly consisting of chicken, broccoli, nuts, toast, eggs, and spinach.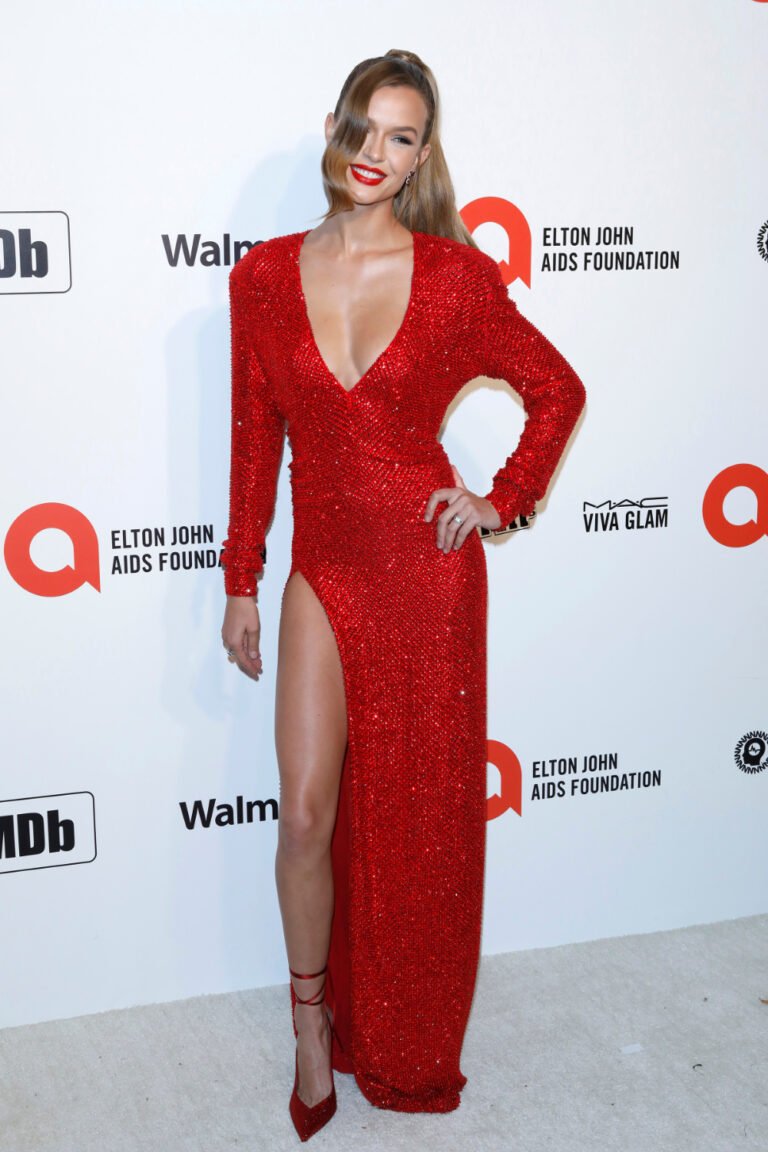 Josephine Skriver's Dating History
Josephine Skriver is a gorgeous woman who has all the beauty and talents to charm anyone. However, she has maintained a few private relationships as she believes in keeping personal matters away from the media.
Josephine Skriver's only known relationship in the media is with Singer Alexander DeLeon, with whom she is engaged. The duo has been dating since early 2013, and Josephine promotes her fiance's music with millions of followers on Instagram. We wish them the best for their future together.
Full Born Name: Josephine Skriver Karlsen
Nickname: Josephine Skriver, Josephine
Occupation: YouTuber, Fashion Model
Religion: Christianity
Date of Birth: 14 April 1993
Birthplace: Copenhagen, Denmark
Zodiac Sign: Aries
Father Name: None
Mother Name: Mette Skriver
Siblings Names: Oliver Skriver
Spouse: Alexander DeLeon
Children: None
Josephine Skriver's Body Measurements
Josephine Skriver's beautiful and healthy body makes her a fitness goal for young women worldwide. Her body measurements are 30-22-34 in or 76.2-55.88-86.36 cm.
In the same interview, Josephine Skriver revealed that as a model, it's not only her job to keep herself in shape, but she also loves to train as a hobby. She is an avid fitness enthusiast who also loves playing soccer.
Josephine Skriver lifts weights 3 to 5 days a week as she finds it to be a great stress buster. She also likes to run and does boxing sessions too. Josephine has absolutely no trouble burning those calories from her junk food meals with her fun workouts.
Josephine Skriver's Ample Bosom
Josephine Skriver has perfect assets that have made her a fashion icon over the years. Her breast size is 30 inches, and she wears a bra of size 30A with cup size A.
Josephine, as a model, is well known for her perfect figure and envied by many who want to look like her. But, she's also a very naughty angel! Recently, She whipped her bra for a topless shot in a lingerie shoot.
| | |
| --- | --- |
| Height | 5 ft 11 inches or 180 cm (1.80 m) |
| Weight | 54 kg or 119 pounds |
| Breast Size | 30 inches |
| Bra Size | 30A |
| Cup Size | A |
| Body Measurements | 30-22-34 in or 76.2-55.88-86.36 cm |
| Figure | Slim |
| Chest Size | 30 inches or 76.2 cm |
| Waist Size | 22 inches or 55.88 cm |
| Hips Size | 34 inches or 86.36 cm |
| Shoe Size | 10 (US) or 41.5 (EU) or 8 (UK) |
| Dress Size | 2 (US) or 34 (EU) or 6 (UK) |
| Eyes Color | Green |
| Hair Color | Blonde |
| Natural breasts or implants | Natural |
Did Josephine Skriver Undergo Plastic Surgery?
Josephine is a beautiful model. She has a charm that attracts many fans. However, her well-maintained appearance has always been a question to many since the natural beauty of this level feels almost unreal.
Some accusations have been spreading among netizens that she had breast augmentation and lip fillers. While not all her fans buy into the rumors, many have started believing them as well.
The truth of the matter is that Josephine is a natural beauty. The rumors compare her pictures from years apart, but there's no noticeable difference. We know that this amazing model has never needed surgery to feel confident, and hence we can discard these false rumors.
Josephine Skriver's Net Worth
Josephine Skriver is an amazing model who has worked hard to rise to her current level of fame. As of 2022, she has an estimated net worth of $12 million.
Josephine Skriver has appeared in several commercials that have paid her millions of dollars to endorse brands such as Pampers, Gemfields, Tasaki, Gucci, and Victoria's Secret.
Josephine Skriver's Most Loved Things:
Favorite Food: Steak, Chocolate Ice Cream, Spinach, Toast, Nuts, Rice, Yogurt with Granola and Fresh Fruit
Favorite Perfume: Manifesto by YSL
Favorite Hobby: Reading, Cooking
Favorite Color: Blue
A Few Fun Facts About Josephine Skriver
Josephine Skriver is the biggest supporter of the LGBTQ+ community as she was born to a lesbian mother and gay father. Josephine Skriver was conceived through the In Vitro Fertilisation process.
While in school, Josephine Skriver was on the soccer team and was the tallest member there. She had a prolific career in soccer, and when she visited New York with her soccer team, she was approached by an agent who recognized her talent and advised her to pursue modeling.
What face shape does Josephine Skriver have?
Josephine Skriver has an oblong-shaped face with sharp facial features and an innocent glamour making her look alluring.
What is Josephine Skriver's hair color?
Josephine Skriver's natural hair color is Blonde, but she appears in long layers of Blonde locks with a bounce and shiny look.
What color eyes does Josephine Skriver have?
Josephine Skriver's natural eye color is green, and she has small eyes that make her stares captivating.
Does Josephine Skriver have tattoos?
Josephine Skriver has an 'O' tattoo on the back of her ear, which she dedicated to her younger brother Oliver.
Does Josephine Skriver have an Oscar?
No, Josephine Skriver has never won an Oscar.
Did Josephine Skriver attend Cannes?
Yes, Josephine Skriver has attended the Cannes Film Festival as she appeared on the red carpet before the screening of the film Sorry Angel in France, 2018.
Where does Josephine Skriver live?
Presently, Josephine Skriver has lived in Nashville, Tennessee, with her fiancé Alexander DeLeon since 2018.
Josephine Skriver is world-renowned for her petite figure, who rose to fame in her youth for possessing a stellar appearance and exquisite beauty. She has walked in the footsteps of Supermodel Charlotte McKinney, who has inspired several aspirants of the entertainment industry who want to pursue a professional career in modeling. So check out Charlotte's beautiful figure, which is breathtaking.