Holly Madison's path to the limelight came when she moved into the Playboy mansion, gaining headlines as Playboy owner Hugh Hefner's number one girlfriend. Years after leaving the house, Holly Madison is still popular, and her days in the mansion are still talked about.
From her relationship with Hugh Hefner to her plastic surgery and body measurements, here are all the things you need to know about Holly Madison.
Holly Madison's Journey From The Start
Born in Oregon in 1979, Holly Madison was only two when she and her family moved to Prince of Wales island. They returned to Oregon while she was in middle school.
After completing her schooling, she was a student at Portland State University for two years. She later joined Loyola Marymount University and studied psychology and theater arts.
Unable to pay her tuition fees, Holly Madison worked as a waitress in Hooters. It was during a shift there when she got an invite to visit the Playboy mansion. Then in 2001, she moved into the mansion to live there.
From there, Holly Madison entered the world of reality shows with her role in MTV's Cribs in 2002. Since then, she has appeared in several reality shows such as Keeping up with the Kardashians, The Surreal Life, Doggy Fizzle Televizzle, The Apprentice USA, and more.
Madison established her stardom in the documentary series, The Girls Next Door. Running from 2005 to 2009, the show took its audience into Hugh Hefner's Playboy Mansion and showed the lives of his girlfriends Holly Madison, Bridget Marquardt, and Kendra Wilkinson at that time.
Her other notable docuseries, Holly's World, gave the viewers an insight into her burlesque performance titled Peepshow and her days in Planet Hollywood in Las Vegas. The spin-off show had two seasons from 2009 to 2011.
She has also taken up acting roles in movies and series, including The Bernie Mac Show, Entourage, Scary Movie 4, and others.
On top of that, she was named New York's best-selling author for both her books: Down the Rabbit Hole: Curious Adventures and Cautionary Tales of a Former Playboy Bunny (2015), and The Vegas Diaries: Romance, Rolling the Dice, and the Road to Reinvention (2016).
Down the Rabbit Hole, her autobiography ranked number one in the New York Times Bestseller list for three weeks. The Vegas Diaries is another biography that focuses mainly on Madison's life in Las Vegas.
Madison returned to acting in 2021 with a guest role as herself in the TV series Ghost Adventures and also appeared in the documentary Secrets of Playboy.
Holly Madison's Height and Weight
Whether wearing an extravagant dress or something casual like t-shirts and jeans, Holly Madison's height makes any attire look gorgeous. She is 5 feet 7 inches or 170 cm (1.70 m) tall and weighs only 56 kg or 123 Pounds.
Like many other celebrities, Holly Madison's weight fluctuated throughout her career. Her perspective about her weight also changed over the years. She seems to prioritize her health over her looks.
Holly Madison opened up about having body dysmorphia in a Tik Tok video. She showed a picture of herself wearing a Playboy bunny costume and recalled how she wanted to lose at least five pounds at that time. Commenting on the situation, she said it was "not worth it."
After giving birth to her daughter in 2013, Holly Madison lost 30 pounds by following an 1100 calories diet and wearing corsets. In 2016, she welcomed her second child and reached her desired weight after four years. For this postpartum weight loss, she followed a nutritious diet and exercised regularly.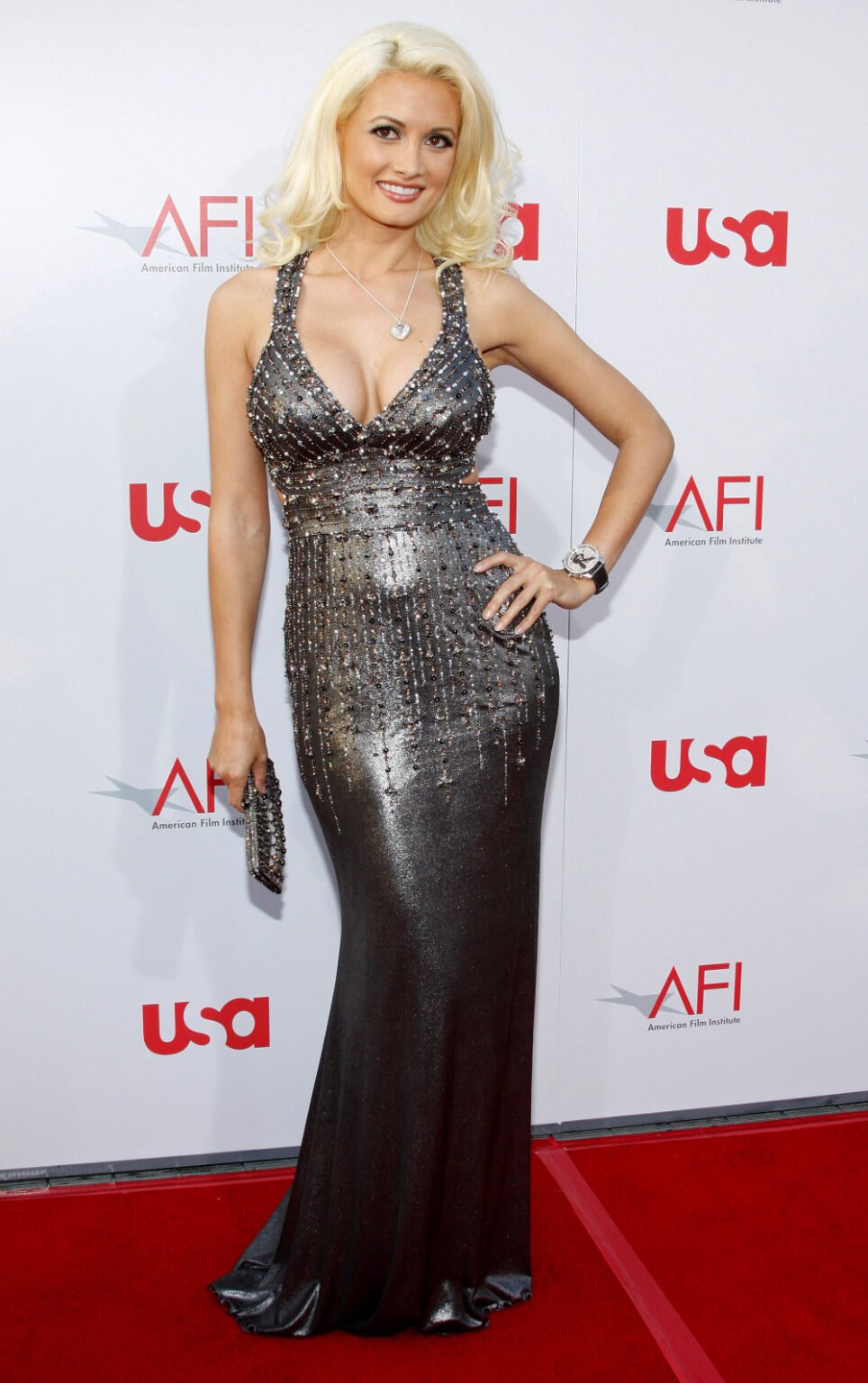 Holly Madison's Dating History
Holly Madison's first relationship was with Playboy's Hugh Hefner, whom she dated from 2001 to 2008, who was 54 years older than her. Their relationship gained momentum when she appeared in E!'s The Girls of the Playboy Mansion. However, according to the actress, it was not as nice as it looked.
In 2022, Madison claimed that Hugh-Hefner had naked pictures of her and other women and used them to blackmail her. Hugh's wife, Crystal Hefner, also took to social media and revealed that Madison's claims were true.
However, in some people's eyes, Madison is not a victim but a gold digger. They commented that she chose to date an older man and stayed in the show for the money and other free perks despite the controversies. But according to Madison, it was a situation that worked for everybody.
Since breaking up with the late Hugh Hefner, the cupid has shot its arrow on Holly Madison quite a few times. After leaving the Playboy mansion, she dated the American magician, Criss Angel. However, the couple soon parted ways.
Following her breakup with Criss Angel, she dated guitarist Jack Barakat for ten months in 2010. Then, she dated nightclub owner Jesse Waits in 2011.
Later, Holly Madison married Pasquale Rotella in Disneyland. They had two children: Rainbow Aurora Rotella and Forest Leonardo Antonio. However, Pasquale filed for divorce in August 2018, and the couple ended their five years of marriage.
Holly Madison's most recent romance was with Zak Bagans, whom she dated for about two years before splitting up in February 2021.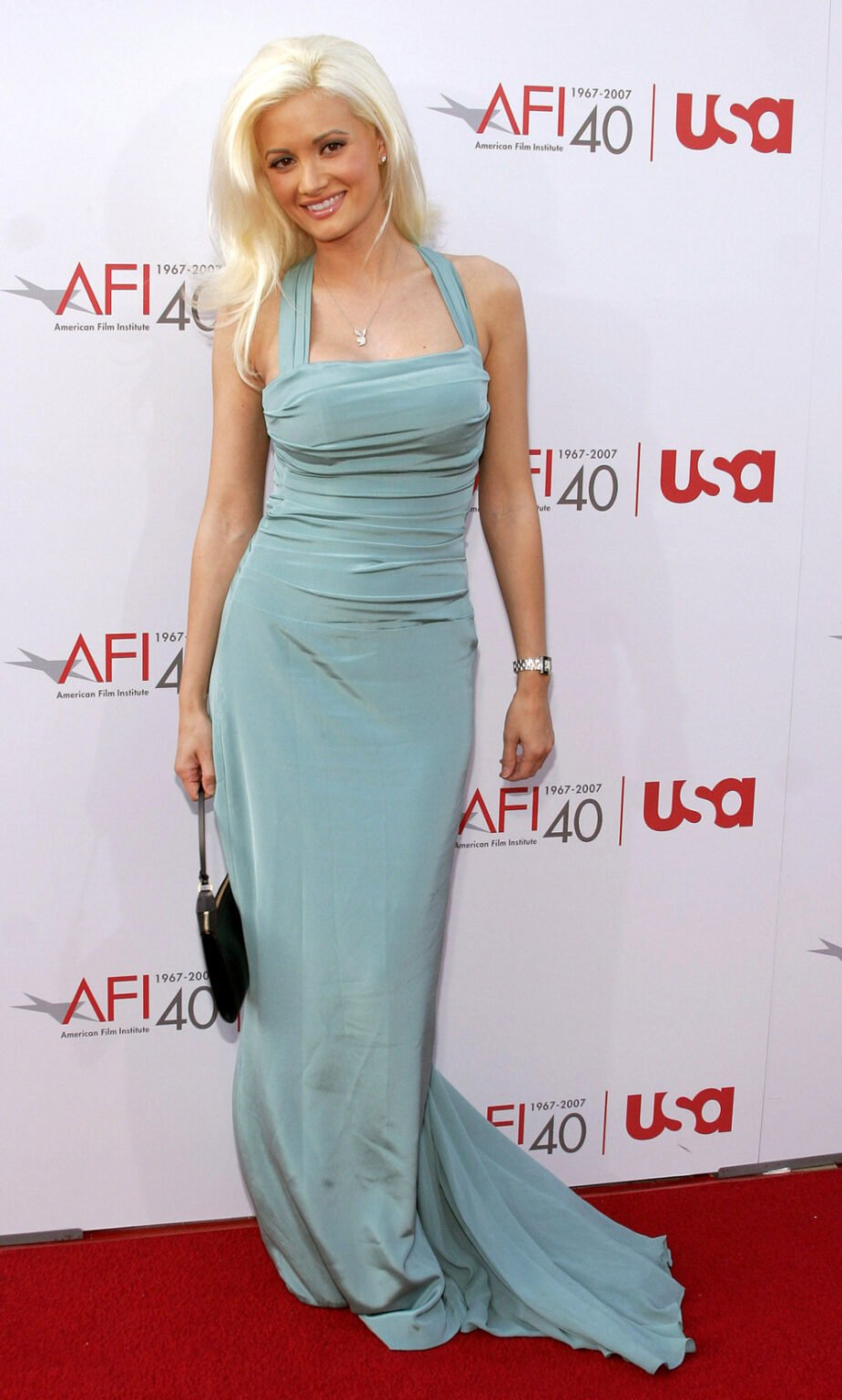 Full Born Name: Holly Sue Cullen
Nickname: Muffin
Religion: Not Found
Date of Birth: 23 December 1979
Birthplace: Astoria, Oregon, US
Zodiac Sign: Capricorn
Father Name: Steve Cullen
Mother Name: Patsy Cullen
Siblings Names: Stephanie Cullen and Joe Cullen
Spouse: Pasquale Rotella (divorced in 2019)
Children: Rainbow Aurora Rotella and Forest Leonardo Antonio
Holly Madison's Body Measurements
The Girls Next Door's Holly Madison has graced the front pages of Playboy magazines with her hourglass figure. The body measurements of this former Playboy model are 36-26-36 in or 91-66-91 cm.
Although Madison takes pride in her figure, she still feels insecure on stage. As a former Playboy model, she had the pressure to maintain her figure and look like the other Playboy models. It took an emotional toll on her mental health.
Fortunately, there came a time in her life when she decided to prioritize her health. Even while losing those extra pounds from pregnancy, she did it healthily by following a nutritious diet and regular workouts.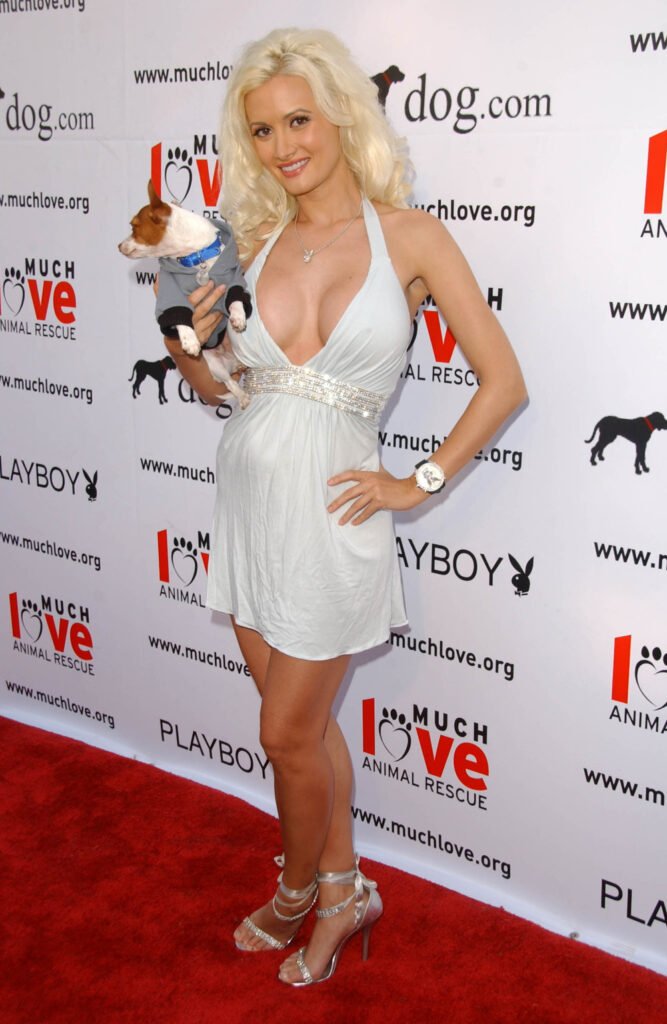 Holly Madison's Ample Bosom
Like any other Playboy bunny, Holly Madison has an ample bosom. Her breast size is 36 inches. Her bra size is 32D with cup size D.
Up until today, Holly Madison has flaunted her bodacious D cup breasts in several photoshoots. The one she did for Life and Style magazine was quite special as the photos were untouched and showed off her attractive curves. Having augmented breasts, she never fails to embody sexiness in the red carpets.
| | |
| --- | --- |
| Height | 5 ft 7 inches or 170 cm (1.70 m) |
| Weight | 56 kg or 123 pounds |
| Breast Size | 36 inches |
| Bra Size | 32D |
| Cup Size | D |
| Body Measurements | 36-26-36 in or 91-66-91 cm |
| Figure | Slim |
| Chest Size | 36 inches or 91 cm |
| Waist Size | 26 inches or 66 cm |
| Hips Size | 36 inches or 91 cm |
| Shoe Size | 8 (US) or 39 (EU) or 6 (UK) |
| Dress Size | 4 (US) or 36 (EU) or 8 (UK) |
| Eyes Color | Dark Brown |
| Hair Color | Dark Brown |
| Natural breasts or implants | Implants |
Has Holly Madison Been Under The Knife?
It is common for celebrities to go under the knife to achieve the ideal look they desire. In Holly Madison's case, she wanted to look like a Playboy Playmate, so she got breast implants when she was in college. She spent more than $7,000 for the surgery and ended up being in debt.
That is not the only cosmetic procedure she has had done to herself. During her years in the Playboy mansion, she got surgery to make her nose look smaller as she thought it looked big on photos.
Madison has always been open about her surgeries. She stated that she opted for the artificial enhancement because she used to have low self-esteem.
Holly Madison's Net Worth
Madison has seen some rough phases in her life, which highly influenced her decision to move into the Playboy mansion. Since then, she has modeled, performed in Las Vegas, written best-selling books, and never looked back. As of 2022, her net worth is $16 Million.
Holly Madison's Most Loved Things
Favorite activities: Traveling and cosplay
Favorite fictional character: Yoda
Favorite place: Disneyland
Quick Facts About Holly Madison
Holly Madison was partnered with Dmitry Chaplin to replace Jewel in Dancing With The Stars. However, Madison hurt herself during practice and was voted off alongside Chaplin.
She conducted the "largest bikini parade ever" along with the Las Vegas Mayor Oscar Goodman. The event was a Guinness World Record.
What face shape does Holly Madison have?
Holly Madison has a square-shaped face. With her long luscious blonde hair styled away from her face, her facial features are exhibited perfectly.
What is Holly Madison's hair color?
Holly Madison's natural hair color is dark brown. However, she colored it platinum blonde to look like the other girls in the Playboy mansion.
Does Holly Madison wear hair extensions?
Holly Madison does wear extensions. Hidden Crown Hair Extensions posted pictures of her wearing their extensions.
What color eyes does Holly Madison have?
Holly Madison has dark brown eyes that look alluring with her platinum blonde hair.
Does Holly Madison have tattoos?
Holly Madison used to have two tattoos. One is the infamous Playboy bunny symbol tattoo on her hips, and the other is a circle with tiny geometric figures inside, on her left forearm. She got the rabbit-head tattoo removed with laser treatments.
Did Holly Madison write a book?
Holly Madison wrote two books: The Vegas Diaries: Romance, Rolling the Dice, and the Road to Reinvention and Down the Rabbit Hole: Curious Adventures and Cautionary Tales of a Former Playboy Bunny. Both were New York's bestsellers.
Does Holly Madison have a degree?
Holly Madison does not have a degree. She studied at Portland State University for two years. She then studied at Loyola Marymount University, majoring in psychology and theater arts. Later, Madison discontinued her studies to start acting.
Does Holly Madison live in Las Vegas?
Yes, Holly Madison currently lives in Las Vegas, Nevada.
Holly Madison is a sensational celebrity who modeled for several magazines. With a desirable figure, she has been the epitome of boldness. Similar to the way MTV started Madison's career, Ruby Rose is another model whose career got a kickstart from MTV.