Vin Diesel's acting career may have started unintentionally, but he surely has a record of critically-acclaimed and audience-loved movies that prove he is meant to be an actor. To add to it, his unique voice has allowed him to do voice-overs for many movies.
Ever wondered about the man behind the famous line "I am Groot?" If yes, let's explore Diesel's career, life, height, diet, workout routine, net worth, favorite things, and more.
Vin Diesel's Career
Vin Diesel, whose birth name is Mark Sinclair, was born in California's Alameda County and grew up in New York City.
At 7, Vin, his brother, and friends went to the Theater for the New City with plans to destroy the place. They were caught by the theater's artistic director, who cast them in the play Dinosaur Door. This marked his acting debut and changed his life forever.
Vin took an interest in stage plays and joined Hunter College, where he was educated in creative writing.
Diesel's first on-screen appearance came in the 1990 film Awakenings, but it did not essentially help him gain more roles.
Therefore, he used his creative writing skills to write, produce, direct, and act in the short film Multi-facial which was played at the Cannes Film Festival in 1995.
Simultaneously, he was working in telemarketing and as a bouncer to save money for his next project, a feature film, Strays. It was nominated for the Best Picture award at the Sundance film festival in 1997.
The next year, Diesel landed his first prominent Hollywood role in Saving Private Ryan. His appearance as Riddick in the 2000 movie, Pitch Black, marked his first time portraying a villain.
Though Diesel had already established himself as a phenomenal actor by then, it was through his involvement in the Fast & Furious franchise as Dominic Toretto that he became an international name.
In 2002, he started his company Tigon Studios which connected the gaming and movie industries. He also played Xander Cage in XXX, another important action film for the actor.
Despite The Fast and the Furious's success, Diesel decided not to take part in the series' second installment, 2 Fast 2 Furious. He rejected the project as he hated the script, but it was a decision he regretted later.
Instead, he acted in Pitch Black's spin-off, The Chronicles of Riddick, which turned out to be an utter flop. The film took nearly $120 million to make, but it only grossed about $115 million. Yet, he reprised his character once again in Riddick in 2013.
Critics appreciated his performance as Jack DiNorscio in the 2006 biopic Find Me Guilty. His other critically acclaimed yet box office disaster was Babylon A.D. in 2008.
In 2006, Diesel also returned to playing Dominic Toretto which he went on to portray in all the Fast & Furious movies through the years.
Another significant work of Diesel is his voiceover for Groot. He voiced the Marvel character in Guardians of the Galaxy, Avengers: Infinity War, Avengers: Endgame, and other MCU movies.
Later, in 2019, he made his television debut with his voice role in the animated series Fast & Furious Spy Racers. In the subsequent year, he released his singles Feel Like I Do and Days Are Gone.
2022 is a busy year for Diesel, who voices for different projects, including I Am Groot, Thor: Love and Thunder, and others. He is also occupied working on his upcoming projects like Fast X.
Though Diesel requested Dwayne Johnson to return to play Luke Hobbs through a social media post, The Rock dismissed it and called it manipulative.
For those who did not know, Diesel and Dwayne were feuding for many years mainly due to their creative differences, and the former wrestler left the franchise for good in 2021.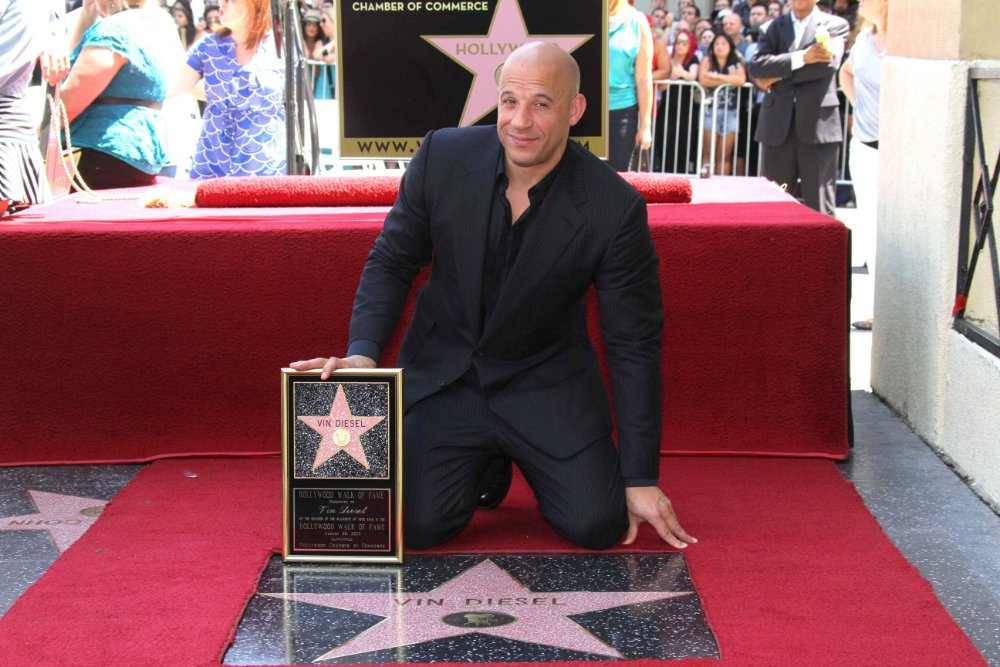 Vin Diesel's Height and Weight
Vin Diesel never fails to impress his audiences with his stunning looks at the red carpet events as he attends them in his dapper fits. His height is 5 feet and 11 inches or 180 cm (1.80 m), and he weighs 102 kg or 225 pounds.
He maintains his healthy physique by consuming a diet rich in nutrients such as carbohydrates, fibers, proteins, and more.
Vin Diesel's Dating History
Vin Diesel has always been determined to keep his love life private, even telling in an interview that he is not going to talk about his personal life for it to be published in magazines. He added that he follows a code of silence.
His relationship with screen partner Michelle Rodriguez in the early 2000s probably influenced this decision. He believes that two famous personalities dating each other are a bad idea.
Diesel's perceptions have surely been beneficial in his life. He has been married to Paloma Jiménez since 2007, whom he describes as the right person.
He recalled wanting to start a family after starring in The Pacifier. Now, in 2022, Diesel and Jiménez are happily married, and they have three children together.
Moreover, the Fast 9 actor is also the godfather of Meadow Walker, the daughter of the late star Paul Walker. Diesel walked her down the aisle during her wedding in 2021.
Full Born Name: Mark Sinclair
Nickname: Vin Diesel and Groot
Occupation: Actor
Religion: Unknown
Date of Birth: 18 July 1967
Birthplace: Alameda County, California, United States
Zodiac Sign: Cancer
Father Name: Irving Vincent
Mother Name: Delora Vincent
Siblings' Names: Paul Vincent, Samantha Vincent, and Tim Vincent
Spouse: Paloma Jiménez (m. 2007)
Children: Pauline Sinclair, Hania Riley Sinclair, and Vincent Sinclair
Vin Diesel's Physical Stats
Fast & Furious fans swoon over Diesel's muscular biceps, which he refers to as his Kryptonics, and well-built body visible through his casual clothes in movies. His chest size is 52 inches, waist size 34 inches, and arms/ biceps size 18 inches.
Diesel gets his ripped body through his dedicated workouts at the gym. The star focuses on enjoying his fitness regime and not getting vexed for not completing a workout session as planned.
| | |
| --- | --- |
| Height | 5 feet 11 inches or 180 cm (1.80 m) |
| Weight | 102 kg or 225 pounds |
| Body Measurements | 52-34-18 in or 132-86-46 cm |
| Figure | Mesomorph |
| Chest Size | 52 inches or 132 cm |
| Waist Size | 34 inches or 86 cm |
| Bicep Size | 18 inches or 46 cm |
| Shoe Size | 12 (US) or 46 (EU) or 11.5 (UK) |
| Eyes Color | Dark Brown |
| Hair Color | Black |
Vin Diesel's Net Worth
Vin Diesel has had a lucrative career in the entertainment industry. From acting to producing, he has participated in various projects establishing his name in Hollywood.
Additionally, he owns the video gaming company Tigon Studios. As a result, Vin Diesel has a net worth of approximately $225 million as of 2022.
Vin Diesel's Most Loved Things
Favorite Game: Dungeons and Dragons
Favorite Activity: Playing video games
Favorite Band: The Jackson 5
Favorite Song: What a Wonderful World by Louis Armstrong
Vin Diesel's Most Notable Awards And Nominations
Online Film Critics Society Award: Best Cast, Saving Private Ryan, 1999
MTV Movie Award: Best On-Screen Team, The Fast and the Furious, 2002
MTV Movie Award: Best Male Performance, xXx, 2003 – Nominated
Teen Choice Award: Choice Movie Actor: Drama/Action Adventure, xXx, A Man Apart, 2003 – Nominated
Teen Choice Award: Choice Movie Actor: Comedy, The Pacifier, 2005 – Nominated
Video Software Dealers Association Award: Male Star of the Year, The Chronicles of Riddick, 2005
People's Choice Award: Favorite Action Star, Fast & Furious, 2010, 2012 – Nominated
CinemaCon Award: Action Star of the Year, Fast Five, 2011
MTV Movie Award: Best On-Screen Duo, Fast & Furious 6, 2014
People's Choice Award: Favorite Movie, Favorite Action Movie, Furious 7, 2016
Nickelodeon Kids' Choice Award: Favorite Movie Actor, F9: The Fast Saga, 2022 – Nominated
Fun Facts About Vin Diesel
Vin Diesel has played Dungeons and Dragons for nearly 40 years.
Diesel kept his house at stake for completing his film, Riddick.
Diesel used to break dance in the streets of New York City.
What face shape does Vin Diesel have?
Vin Diesel has an oval-shaped face that is very evident due to his cleanly-shaved head.
What color eyes does Vin Diesel have?
Vin Diesel has dark brown eyes that add to his charm.
What is Vin Diesel's natural hair?
Vin Diesel's natural hair color is black. Currently, he is well-recognized for his bald look.
Does Vin Diesel wear shoe lifts?
Yes, Vin Diesel wears shoe lifts. It adds an extra half inch to his height.
Does Vin Diesel speak Spanish?
Yes, Vin Diesel can speak Spanish, but he is not fluent in it.
Does Vin Diesel have tattoos?
No, Vin Diesel does not have any visible tattoos.
Can Vin Diesel dance?
Yes, Vin Diesel can dance. He is a very skilled break dancer.
Does Vin Diesel have a twin?
Yes, Vin Diesel has a fraternal twin brother named Paul Vincent.
Is Vin Diesel Dominican?
No, Diesel is not a Dominican. He just likes the country a lot.
What kind of car does Vin Diesel drive?
Vin Diesel is a car fanatic with an impressive automobile collection, including a 1969 Dodge Charger Daytona, 2014 Lykan Hypersport, and more.
Does Vin Diesel own a Supra?
Yes, Vin Diesel owns a 1994 Toyota Supra.
Where does Vin Diesel live?
Diesel lives in Beverly Hills with his family.
Vin Diesel is a dedicated celebrity with amazing entrepreneurial skills and an artistic passion. Speaking about his love for art, Johnny Depp is another actor who cherishes art. He is a brilliant actor known for his work in the Pirates of the Caribbean movies.