Starting from a local TV channel to becoming a renowned news host in a global news channel, Tamron Hall has had a lucrative journalism career. She even has her self-titled talk show. It is no doubt that Tamron Hall has had a thriving career and will continue to do so.
For anyone wondering about this on-screen media personality's career, body measurements, net worth, favorite things, and more, you'll find it all right here.
Tamron Hall's Journalism Career
Tamron Hall grew up in Luling, Texas. She graduated from Temple University, where she received a Bachelor of Arts degree in Broadcast Journalism in 1992, setting a strong base for her career.
After graduation, Tamron Hall got a job in KBTX as its general reporter. She joined KTVT, another television channel owned by CBS, in 1994 and worked there for four years.
In 1997, Tamron Hall started working in the Fox-owned channel, WFLD-TV, where her job responsibilities included reporting and hosting Fox News in the Morning. Working in Chicago, she usually covered politics and other important events happening in the city.
Tamron Hall left the Fox-owned channel to join MSNBC and NBC News in 2007. That was the time she interviewed Barack Obama before he stood for the presidential elections.
During her time at MSNBC, she started as a reporter and a temporary anchor of Countdown with Keith Olbermann. She hosted the commentary program instead of Keith Olbermann for a while. She also co-hosted The Big Picture with David Shuster, which aired for about eight months.
After the show ended in January 2010, she went on to host her talk show, NewsNation with Tamron Hall. In this program, which aired in the afternoons, Tamron Hall discussed international and entertainment news. Some of the prominent stories she covered include Osama Bin Laden's death, Hurricane Isaac, etc.
Tamron Hall was given the new program, Deadline: Crime with Tamron Hall, in 2013. It was an investigative journalism series that unraveled the events that led to a particular crime.
The next year, Tamron Hall became a co-host of the long-running morning show, Today's Take, making her the first African-American woman to do so. She left MSNBC in 2017.
Tamron Hall's major work, Tamron Hall (Talk Show), started airing in 2019. The talk show received numerous awards and nominations. In addition, she published her book, As the Wicked Watch: The First Jordan Manning Novel, in October 2021.
Currently, in 2022, Tamron Hall was posted as the co-anchor of the Court TV show, Someone They Knew. This true-crime series began to broadcast on March 6, 2022.
Tamron Hall's Height and Weight
Tamron Hall has a versatile style. She can wear dresses, skirts, suits, or any garment and look amazing, and her athletic figure is surely a reason for it. Tamron stands 5 feet and 9 inches or 175 cm (1.75 m) tall, and she weighs only 58 kg or 128 pounds.
Tamron Hall works at a TV station where delicious foods by world-class chefs are in hand's reach every day. As it is not easy to say no to those delicacies, she eats a light breakfast like a green smoothie before going to work.
Tamron Hall's Dating History
It is believed that Tamron Hall dated her MSNBC co-worker, Lawrence O'Donnell, from 2012 to 2016. He was also an anchor for the TV station. The couple was seen engaging in PDA. They also went to the White House Correspondents' Dinner together in 2016. However, neither the pair nor the TV station has commented on the dating news.
Following her departure from NBC in 2017, Tamron Hall revealed, in an interview with Stevey Harvey, that she is dating someone who is in the entertainment business.
While she did not share much information at that time, fans came to know about her boyfriend, Steven Greener, in 2019. Tamron Hall posted a photo of herself when she was about seven months pregnant and shared the news about her pregnancy for the first time. She also shared pictures of her boyfriend.
Turns out, they were good friends for years before they went into a romantic relationship. The couple had their wedding ceremony at home and also welcomed their son Moses in 2019.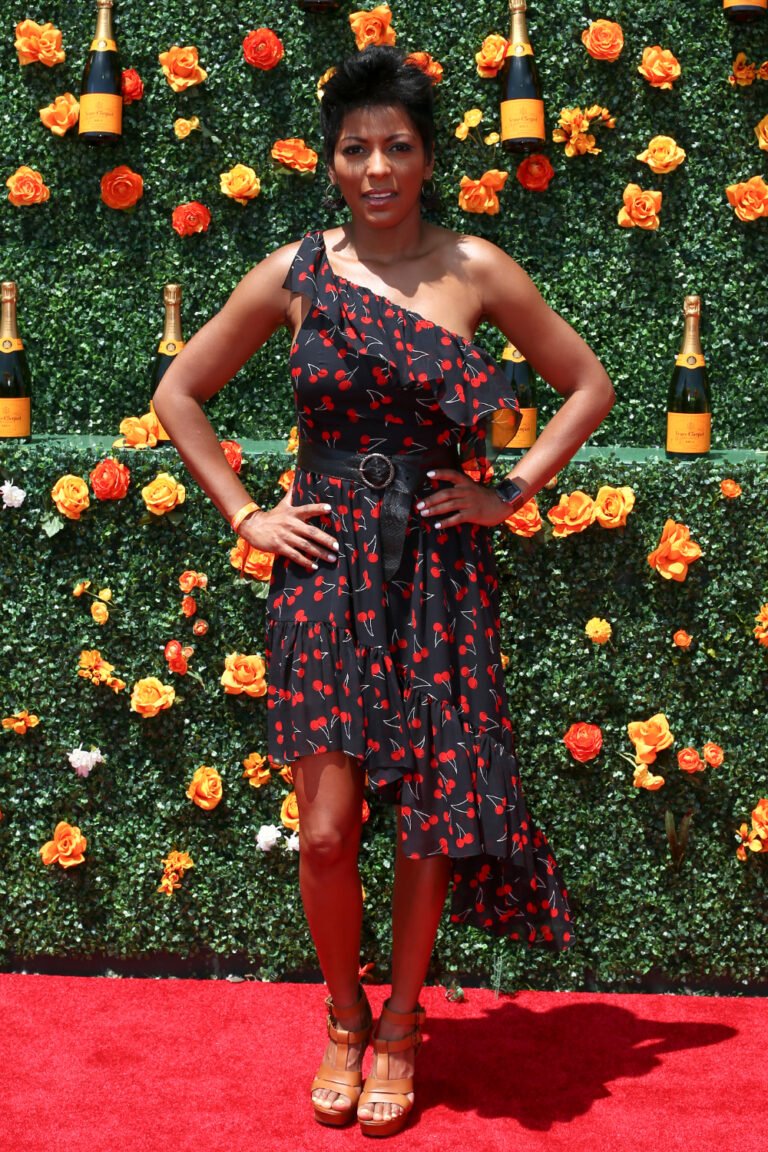 Full Born Name: Maggie Mae
Nickname: Tamron Hall
Occupation: Actress, Host and correspondent
Religion: Christian
Date of Birth: 16 September 1970
Birthplace: Luling, Texas, US
Zodiac Sign: Virgo
Father Name: Clarence Newton Sr (stepfather)
Mother Name: Mary Newton
Siblings Names: Renate (older sister)
Spouse: Steven Greener
Children: Moses
Tamron Hall's Body Measurements
Tamron Hall's body measurements are 38-27-37 in or 97-69-94 cm. She has a good hourglass figure that makes her look gorgeous in tightly-fitted clothes like catsuits.
Tamron Hall maintains her body by doing pilates once a week. She also cycles to commute between work and home. As someone who does not prefer going to the gym, Tamron Hall likes to exercise by following DVDs. Her workouts also include a resistant band and a fit ball.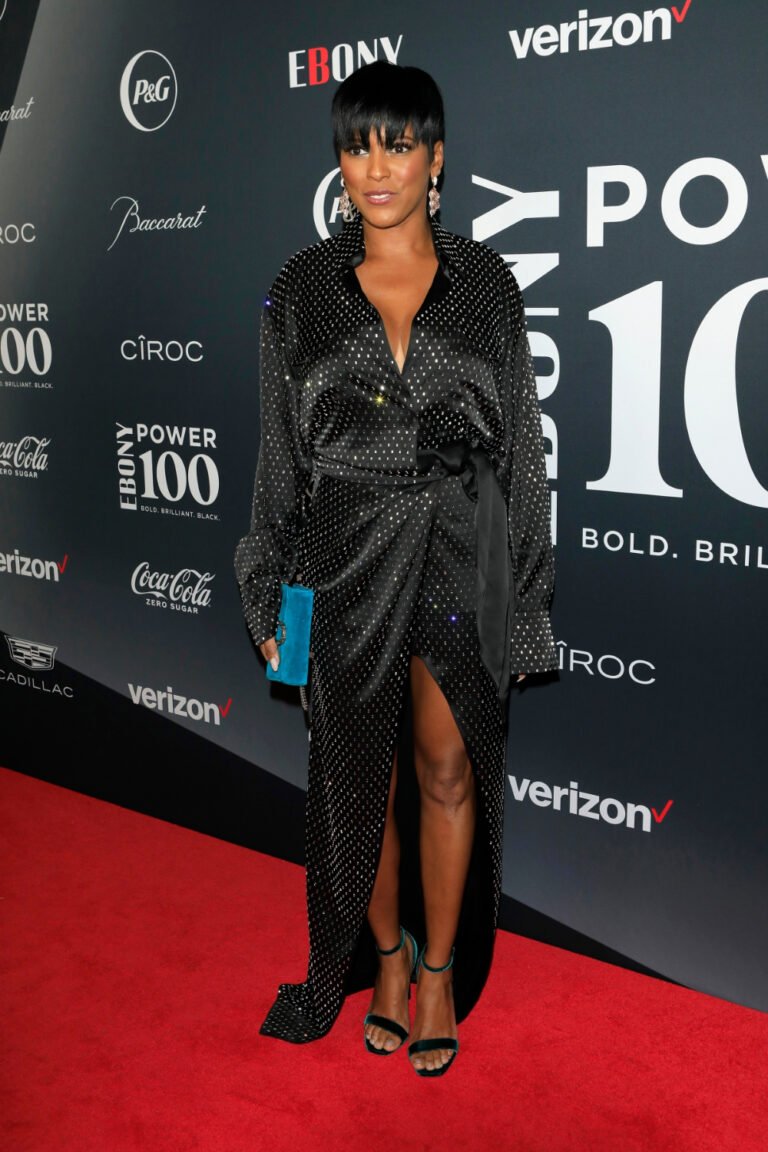 Tamron Hall's Ample Bosom
Tamron Hall has an extremely gorgeous and attractive figure. Her breast size is 38 inches, and her bra size is 34D with cup size D.
When news about Tamron Hall's new breast implants was revealed, it shocked many fans. People could not believe that someone with such a perfect body would need breast augmentation.
Nevertheless, when Tamron attended the pre-Grammys gala in 2017, she wore a white dress with black lace details around her chest area. The outfit showed off her perfectly shaped busts, and people couldn't help but drool.
| | |
| --- | --- |
| Height | 5 feet and 9 inches or 175 cm (1.75 m) |
| Weight | 58 kg or 128 pounds |
| Breast Size | 38 inches |
| Bra Size | 34D |
| Cup Size | D |
| Body Measurements | 38-27-37 in or 97-69-94 cm |
| Figure | Slim |
| Chest Size | 38 inches or 97 cm |
| Waist Size | 27 inches or 69 cm |
| Hips Size | 37 inches or 94 cm |
| Shoe Size | 9.5 (US) or 41 (EU) or 7 (UK) |
| Dress Size | 10 (US) or 42 (EU) or 14 (UK) |
| Eyes Color | Black |
| Hair Color | Black |
| Natural breasts or implants | Natural |
Did Tamron Hall Have Any Plastic Surgeries?
Tamron Hall is a gorgeous actress who has been in the limelight for years and yet shows no signs of aging. To retain her youthful looks and get her clothes fit better, Tamron Hall might have opted for breast augmentation.
However, when news about her breast augmentation came out, one journalist from the Chicago Sun-Times wrote an essay stating that her plastic surgery was not news. And perhaps Tamron Hall also believed that her choice of getting implants is not newsworthy, which is why she has never spoken publicly about it.
Tamron Hall's Net Worth
Throughout the years, Tamron Hall has been a reporter, an anchor, an author, and a correspondent. Combining it all, Tamron Hall has a net worth of around $7 million in 2022.
Tamron Hall's Most Loved Things
Favorite Food: Pancakes, Ice cream, and Chewing gum
Favorite Celebrity: Michelle Obama and Chris Evans
Favorite Books: All Boys Aren't Blue, The Push, and The Daughters of Kobani
Favorite Activities: DIY and Reading Magazines
Favorite Place: Garden
Tamron Hall's Most Notable Awards And Nominations
NAACP Image Awards: Outstanding Talk Series, Tamron Hall, 2020
Daytime Emmy Award: Outstanding Informative Talk Show Host, Tamron Hall, 2020
Gracie Awards: Outstanding Talk Show Host-Entertainment, 2020
NATPE Iris Award: Award for Excellence, Television Performer, 2022
Emmy Award: The Inauguration of Barack Obama, 2010 – Nominated
Emmy Award: Education Nation: Teacher Town Hall, 2011 – Nominated
Fun Facts About Tamron Hall
Tamron Hall's show, Deadline: Crime with Tamron Hall, was dedicated to her sister, Renate, whose murder case was never solved.
Tamron Hall got pregnant through IVF and decided to keep her pregnancy for 32 weeks because she had medical problems and was unsure if the baby would be born.
Tamron Hall prefers to wear shoes with heels that are more than 4 inches.
Tamron Hall loves ice cream. She eats one almost every night.
Tamron Hall's fans are called Tam Fam.
Tamron Hall raised $40,000 for Day One New York, which fights against dating abuse. It was part of Today's Shine A Light campaign, where each host had to pick a cause to support. Tamron Hall chose to stand against domestic violence.
What face shape does Tamron Hall have?
Tamron Hall has an oval-shaped face that makes her look beautiful with big-sized hoop earrings.
What is Tamron Hall's hair color?
Tamron Hall has black hair that is always cut short.
What color eyes does Tamron Hall have?
Tamron Hall has black-colored eyes. They look attractive under her long lashes.
Does Tamron Hall have tattoos?
Tamron Hall has tattoos. She has a blooming flower on the outer side of her thigh.
Does Tamron Hall have an Emmy?
Tamron Hall's self-titled show, Tamron Hall, won a Daytime Emmy Award as an Outstanding Informative Talk Show Host in 2020.
Is Tamron Hall Greek?
Tamron Hall is not Greek. She is an African American woman.
Does Tamron Hall have a twin sister?
Tamron Hall does not have a twin sister. She had an older sister who died in 2004.
Did the Tamron Hall show get canceled?
Tamron Hall did not get canceled. The show is confirmed to air till 2024 as of now.
Where did Tamron Hall go to college?
Tamron Hall attended Temple University, where her major was broadcast journalism.
Where does Tamron Hall live?
Tamron Hall lives in New York City with her husband and son.
In addition to having an incredible career, Tamron Hall also has an incredible heart. She has raised money to fight against domestic abuse. Another celebrity who did a fundraiser is Leila George. She raised money for the construction of places affected by the 2019–20 Australian bushfires.