Leila George has won many hearts after her outstanding performance in the Animal Kingdom. Owing to her background, Leila has managed to match everyone's expectations and turned out to be an exceptionally prolific actress.
From theatres to lead roles, this Australian actress has made quite a name for herself. If you wish to know more about this beauty, keep reading as we explore her life and find out everything, including but not limited to her success story, romantic life, body measurements, and more.
Leila George's Success Story
Leila George is an Australian-American budding actress who has gained considerable prominence in the industry in less than five years. She was born in Sydney, New South Wales, Australia, on 20th March 1992, into a family of actors.
It is no secret that Leila George's parents are eminent Hollywood celebrities. Her mother, Greta Scacchi, brought up young Leila in Brighton, situated in East Sussex, England. Leila was always passionate about acting and enrolled in acting classes while studying at Brighton College in 2008.
Upon finishing high school, Leila studied at the Crawley College and subsequently attended the Arts Educational School in London in 2010. The following year, Leila moved to Australia to hone her acting skills at the Sydney Film School. In 2012, Leila relocated to New York City to live with her father and study at Lee Strasberg Institute.
Leila followed in her parents' footsteps and entered the entertainment industry in 2013. She kick-started her career as a camera operator in a documentary movie, The Last Impresario, before bagging a role in the theatrical play, The Seagull.
This play was directed by the renowned Anton Chekhov and produced by The Black Swan Company in 2014 in Perth. Leila had the opportunity to perform on stage alongside her famous mother, helping to establish her as a household name and garner notoriety among the luminaries.
Leila George gained further eminence in 2016 after being cast in a television film called "Mother, May I Sleep With Danger?" This helped Leila gain a huge fan following and catch the attention of numerous Hollywood dignitaries.
As a result of her memorable performances, Leila landed notable roles in movies like Mortal Engine, based on a novel of the same name, released in 2018. She also appeared alongside celebrities such as Hera Hilmar, Robert Sheehan, and Hugo Weaving, which proved beneficial for her career.
Following the success of Mortal Engine, Leila starred in the semi-biographical movie The Kid, directed by her father, Vincent D'Onofrio. The film also starred Ethan Hawke, Chris Pratt, and Adam Baldwin, among other actors, and became a huge hit.
Leila George achieved worldwide fame with the television series Animal Kingdom. She plays the character Janine "Smurf" Cody and has gained an enormous fan following owing to it. The show was first broadcast in 2019 and ran through five seasons, with its fifth season premiering in June 2021.
Leila has also co-produced a celebrity fundraiser following the Australian bushfires in 2019-2020 to support the conservation of areas affected by the fire. This event was hosted by the Los Angeles Zoo and was a big success, helping Leila achieve newer heights.
Leila George's Height and Weight
Leila George has an incredibly impressive height-to-weight ratio due to her Australian ancestry. Leila stands exceptionally tall at 5 feet 9 inches, or 175 cm (1.75 m), and her weight is around 60 kg or 132 pounds, which gives her the quintessential slender figure.
The Aussie actress's outstanding physique results from the dedicated healthy eating habits that she has opted for. In her Instagram posts, Leila proudly displays what she puts in her meals in her Instagram posts. In one of her posts on her social media platform, Leila can be seen with a lot of green vegetables and meat.
Leila George's Love Life
Leila George's exquisite beauty is praised globally. Her phenomenal looks can make anyone drool and has led her to acquire a large fan base and great distinction in the media. This is exactly why Leila George's intimate photographs with the renowned Sean Penn caused quite a stir worldwide.
Leila George and Sean Penn were photographed sharing an intimate moment, amidst the waves in Hawaii, in 2016. Their romance was a bolt from the blue for everyone within and outside the industry. Hopper Jack Penn, Sean Penn's son from his ex-wife, Robin Wright, accompanied the duo.
Before their wedding, Leila George and Sean Penn appeared together at a benefit gala, thrown and hosted by Sean Penn himself in honor of his foundation, CORE.
Leila George and Sean Penn dated for a good four years before tying the knot on 30th July 2020 in a small home ceremony. Their covid wedding gave the couple ample time to spend together indoors, and they went through various ups and downs throughout their married life.
Their differences ultimately led Leila George to file for a divorce at the Los Angeles Superior Court. Their divorce documents were finalized and filed in October 2021, as reported by USA Today. This was Leila's first marriage and Sean Penn's third marriage, which ultimately ended.
Full Born Name: Leila George D'Onofrio
Nickname: Not revealed
Religion: Christian
Date of Birth: 20th March 1992
Birthplace: Sydney, New South Wales, Australia
Zodiac Sign: Pisces
Father Name: Vincent D'Onofrio
Mother Name: Greta Scacchi
Siblings Name: Matteo Mantegazza, Elias Gene D'Onofrio, Luka D'Onofrio
Spouse: Sean Penn (2020 – 2021)
Children: None
Leila George's Body Measurements
Leila George's lean and delicate figure is made for the screen. Her overall frame can turn heads, with her extraordinary body measurements being 34-24-34 inches or 86.36-60.96-83.36 cm.
Leila George's social media posts are highly acclaimed, especially those showing off her perfect midriff. Although Leila has not openly discussed her workout regimen openly, her ex-husband, Sean Penn, has talked about how Leila keeps him motivated to live a healthier lifestyle, including exercising and healthy eating.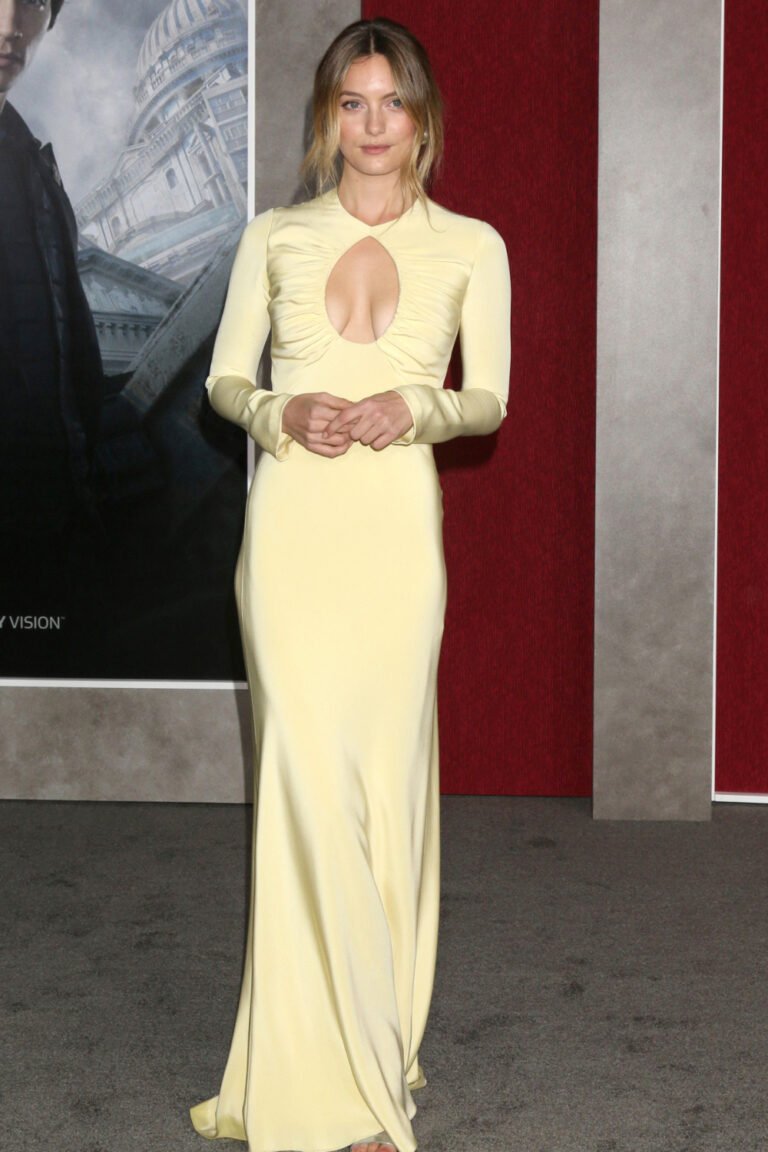 Leila George's Shapely Bosom
Leila George undoubtedly has an incredibly sexy and sensuous figure. Her flawlessly toned body has a breast size of 34 inches and a bra size of 34A with a cup size A.
Leila looks absolutely stunning in everything that she dawns upon her body. However, one of her best appearances that showed off her seductive bosomy figure is in her two-piece black bikini set in Hawaii. The bikini drew attention to all her curves, and she looked utterly ravishing.
| | |
| --- | --- |
| Height | 5 feet 9 inches or 175 cm (1.75 m) |
| Weight | 60 kg or 132 pounds |
| Breast Size | 34 inches |
| Bra Size | 34A |
| Cup Size | A |
| Body Measurements | 34-24-34 inches or 86.36-60.96-83.36 cm. |
| Figure | Slim |
| Chest Size | 34 inches or 86.36 cm |
| Waist Size | 24 inches or 60.96 cm |
| Hips Size | 34 inches or 86.36 cm |
| Shoe Size | 8.5 (US) or 42 (EU) or 8 (UK) |
| Dress Size | 6 (US) or 36 (EU) or 8 (UK) |
| Eyes Color | Blue |
| Hair Color | Blonde |
| Natural breasts or implants | Natural |
Did Leila George Get Plastic Surgery Done?
Leila George has posted pictures of her dietary habits and supplements on social media platforms like Instagram. Her ex-husband, Sean Penn, has also spoken about Leila living a healthy lifestyle and also helping him lead his way to it.
This proves that Leila George is quite dedicated and honest about her body and has not undergone any materialistic and artificial changes. Her body also does not display any serious changes throughout her career in the industry, demonstrating that she has not opted for plastic surgery.
Leila George's Net Worth
As of 2022, the Australian-American actress, Leila George, has an estimated net worth of $1 Million. The young star has earned an appreciable amount in a short period in the acting industry, in addition to a significant number of admirers.
Leila George's Most Loved Things
Favorite Place: Coogee Beach, New South Wales
Fun Facts About Leila George
Leila George and her ex-husband and Mystic Rivers star, Sean Penn, set up a free coronavirus testing drive all through Los Angeles. Sean Penn's non-profit organization called Community Organized Relief Effort, popularly known as CORE, set up the drive.
The duo organized the drive to help the frontline health workers during the peak of the pandemic.
What shape of face does Leila George have?
Leila George has a round face shape with a well-structured nose, jawline, and lifted cheekbones.
What is Leila George's hair color?
Leila George has gorgeous blonde tresses which look splendid in all hairstyles and at all lengths.
What color eyes does Leila George have?
Leila George has remarkable blue eyes, which greatly complement her fair skin tone.
Does Leila George have a tattoo?
There are no credible sources to confirm whether Leila George has any tattoos or not.
Is Leila George Australian?
Yes, Leila George is of Australian descent and was born in Sydney, New South Wales, Australia. Leila has dual Australian-American citizenship.
Where does Leila George live?
Leila George presently lives in Los Angeles, United States of America.
Leila George is a versatile and outstanding actress who has proven her skills to the world in a very short time. Her success story reminds us of the British beauty Alice Eve. So if you wish to know about this lovely celebrity's success story, love life, body measurements, and more, do look her up!