At 23, Sofia Richie is already an American socialite, influencer, model, and fashion designer. She has modeled for various brands and graced the glossy pages of several magazines. She has rock-hard abs that every girl dreams of having.
Without further delay, below are details about her career, workout regime, diet plan, body measurements, and more. So read along to know Sofia Richie in and out.
Sofia Richie's Career As A Model, Fashion Designer, And Instagram Influencer
Born to the 70s music legend Lionel Richie, music had an influence on Sofia Richie from birth. She started taking singing classes at five and piano classes at seven. She received vocal training from Tim Carter when she was 14 years old.
Good Charlotte's lead vocalist, Joel Madden, who is her brother-in-law, included Sofia in his studio sessions. Sofia Richie was considering a serious career in music. However, she decided not to pursue it as she was afraid of keeping up with her father's name.
Besides music, Sofia Richie was also passionate about soccer. She played the sport but quit after she fractured her hip at 16. She was part of an elite soccer team.
Sofia Richie took her first modeling gig when she was 14 years old. Teen Vogue did a feature on her in November 2012. The following year, she signed a contract with swimwear company Mary Grace Swim.
In 2014, Sofia worked with Select Model Management, a modeling agency in London until 2020. She was featured in many publications, including Dazed, Elle Girl, Nylon, Who What Wear, Love Culture, and more. She also participated in Olay's "Fresh to School" online campaign.
Sofia Richie made her first runway appearance in February 2016. She walked at New York Fashion Week for the American Heart Association's Go Red For Women Red Dress Collection.
Since then, she has walked for several fashion brands such as Chanel, Dolce Gabbana, Jeremy Scott, and Kanye West's Yeezy line. She did advertisements for fashion labels like Tommy Hilfiger, Adidas, and Michael Kors. Sofia also appeared in Ocean's Eight and Keeping Up With The Kardashians.
Sofia Richie not only models clothes but designs them too. She launched her first collection in collaboration with Frankie's Bikinis in 2019. The same year, she joined Missguided and designed the Sofia Richie x Missguided collection. Her latest design work was for 8 Other Reasons in July 2021.
These days Sofia Richie focuses on being a social media influencer. She has 7.1 million followers and works with fashion and skincare brands.
Sofia Richie's Height and Weight
Sofia Richie looks like she popped out of a fashion magazine even when she is dressed casually. That is partly because of her stunning height and her long legs. She is 5 feet and 6 inches or 168 cm (1.68 m) tall and weighs 58 kg or 128 pounds.
Sofia Richie's job requires her to maintain her weight. For this, she sticks to a healthy diet to get the nutrients her body needs. Her typical breakfast consists of toast, fruits, vegetables, bacon, and a cup of tea. For lunch, she has salads and sandwiches. As for dinner, she likes to eat carbs.
Sofia skips her diet plan when she is traveling as she likes to try new delicacies from different countries, making sure she's not missing out on anything.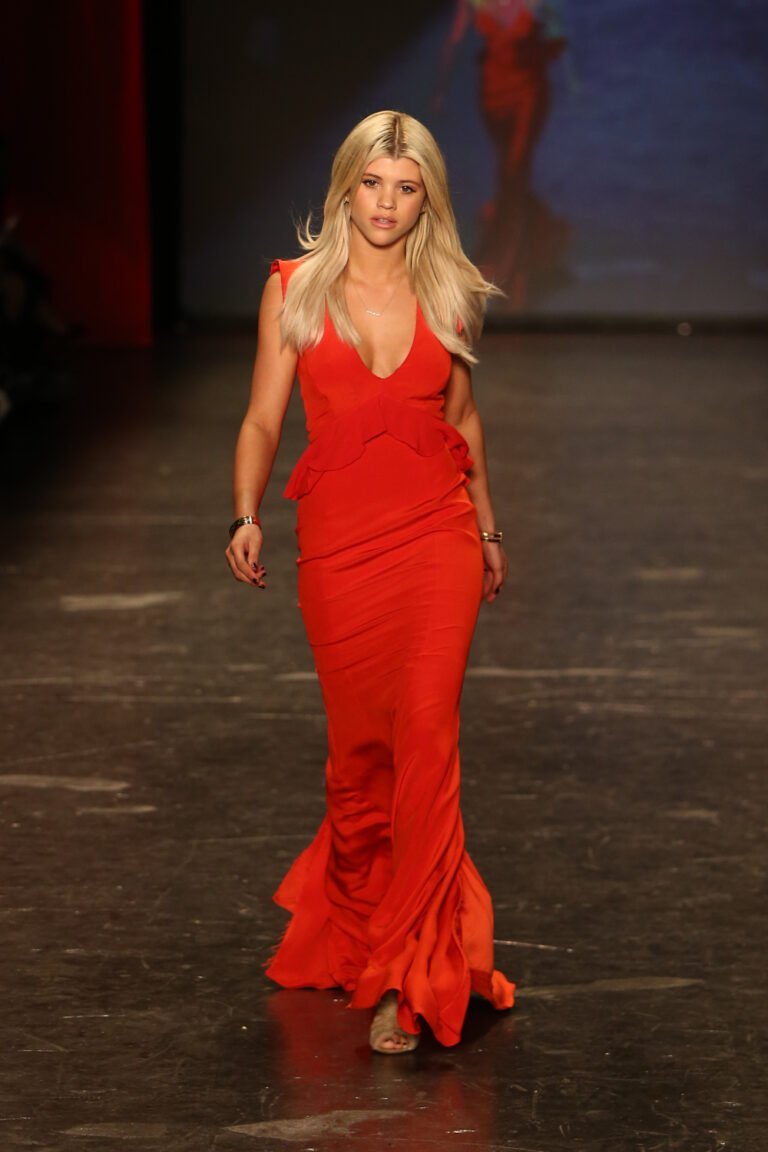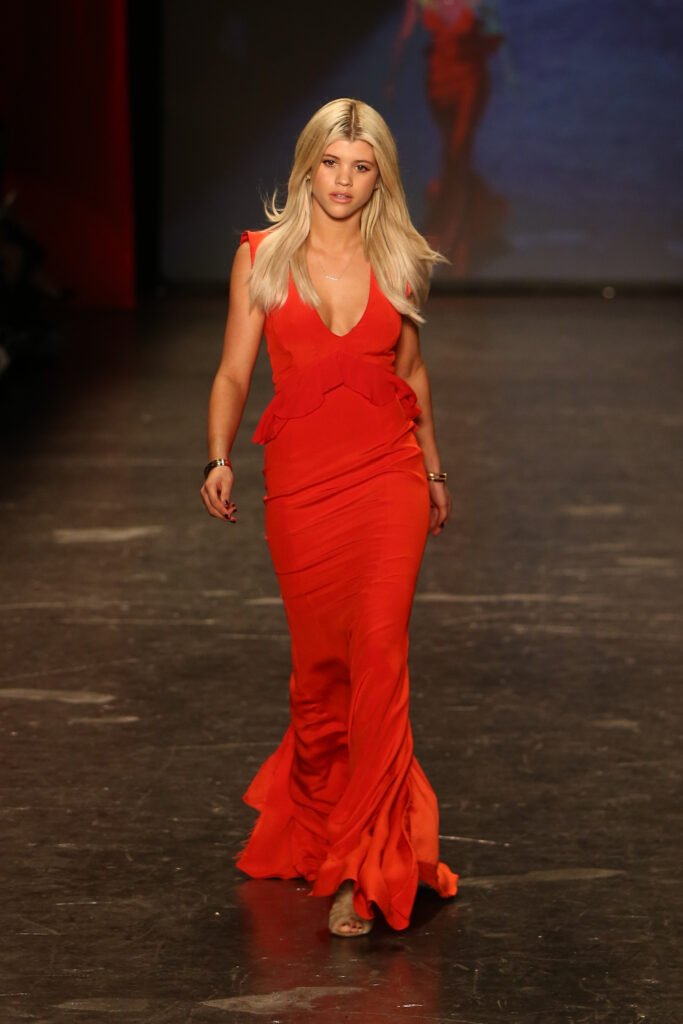 Sofia Richie's Dating History
Sofia Richie has had a romantic relationship with quite some popular celebrities. Her first relationship was with the American guitarist Jake Andrews from 2015 to 2016.
Following that, Sofia Richie dated Justin Bieber in 2016. They traveled to Mexico and Japan together and posted their memories on Instagram. However, their getaway photos sparked controversies as some people sent hate comments to Sofia Richie.
Justin Bieber asked them not to be rude to Sofia Richie. For which, Selena Gomez replied that he should not be posting photos with his girlfriend if he did not want that kind of reaction from the fans.
After Sofia Richie and Justin Bieber ended their relationship that lasted for six weeks, the American model went on to date Scott Disick in 2017. The couple was caught by paparazzi in Southern France.
People were skeptical of the relationship with the American socialite because he is known to have an on-and-off relationship with Kourtney Kardashian. But, it turned out the Kardashian-Jenner family was supportive of the relationship.
Sofia Richie and Scott Disick ended their relationship after two years. Their friends assume it could be because of their 15-year-age gap. Then in October 2020, Sofia Richie began a relationship with Matthew Morton, the owner of Cha Cha Matcha. Her family also liked Matthew Morton.
Her latest romantic partner is Elliot Grainge. The couple announced their relationship on Instagram in April 2021.
To date, Sofia Richie has also had rumors that she dated Jaden Smith. However, the Karate Kid actor let everyone know that they were long-term friends.
Full Born Name: Sofia Richie
Nickname: Bird and Beb
Occupation: Model, Fashion Designer, and Social Media Influencer
Religion: Christian
Date of Birth: 24 August 1998
Birthplace: Los Angeles, California, US
Zodiac Sign: Virgo
Father Name: Lionel Richie
Mother Name: Diane Alexander
Siblings Names: Nicole Richie and Miles Brockman Richie
Spouse: None
Children: None
Sofia Richie's Body Measurements
Fans have always admired Sofia Richie's well-proportioned body. Her body measurements are 34-25-35 in or 86-64-89 cm.
Sofia Richie's most appreciated body part is her 11 line abs, and she achieves it by exercising regularly. She works out in an LA-based gym called Dogpound with her trainer Kevin Mejia. She does reps of reverse lunges, squats, donkey kicks, sit-ups, and more to tone her body.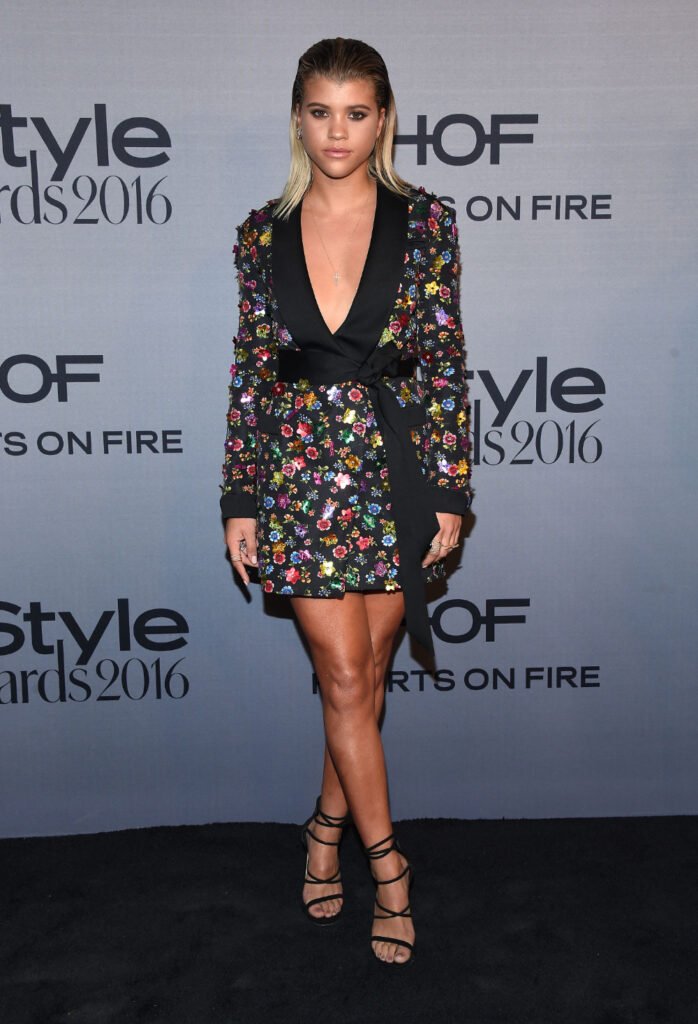 Sofia Richie's Ample Bosom
Sofia Richie's breast size is 34 inches. Her bra size is 32C with cup size C. She has well-shaped breasts that make her look sexy and classy in whatever she wears.
Occasionally, she wears bikinis or tops with plunging necklines showing her shapely bosom. One look to remember is her outfit to Coachella 2017.
She paired her bra top with a jacket and trousers. The attire not only elevated her chest but also brought attention to her sought-after abs.
| | |
| --- | --- |
| Height | 5 feet and 6 inches or 168 cm (1.68 m) |
| Weight | 58 kg or 128 pounds |
| Breast Size | 34 inches |
| Bra Size | 32C |
| Cup Size | C |
| Body Measurements | 34-25-35 in or 86-64-89 cm |
| Figure | Slim |
| Chest Size | 34 inches or 86 cm |
| Waist Size | 25 inches or 64 cm |
| Hips Size | 35 inches or 89 cm |
| Shoe Size | 7.5 (US) or 38 (EU) or 5 (UK) |
| Dress Size | 8 (US) or 40 (EU) or 12 (UK) |
| Eyes Color | Hazel |
| Hair Color | Brown |
| Natural breasts or implants | Natural |
Did Sofia Richie have any plastic surgery?
With Sofia Richie having a jaw-dropping figure, it is not unexpected that people think she got some work done. Rumors about her having breast augmentation came up when pictures of her in Malibu, around her 20th birthday, got published.
Dr. Daniel Barrett, who is a plastic surgeon certified by the board, said that there were high chances she had breast augmentation surgery. According to him, it could be a rounded silicone implant.
Another cosmetic surgeon, Dr. Leslie Gerstman, said that Sofia Richie might have gotten a nose job, lip filling, and work done to her jaws. Many lifestyle publications have compared before and after pictures of her face. There seem to be some differences, as the experts suggest.
Although Sofia Richie has not spoken about any procedure, in particular, she did post a photo of herself with Dr. Jason Diamond. In the post, she thanked the celebrity plastic surgeon for taking care of her. At this moment, we cannot confirm or deny that Sofia Richie went under the knife.
Sofia Richie's Net Worth
With Sofia Richie having 7.1 million followers on Instagram, she surely makes tens of thousands for a single post. As of 2022, summing all that up with her photoshoots for magazines and social media collaborations, Sofia Richie's estimated net worth is $8 million.
Sofia has modeled for some big fashion houses like Chanel who would have paid her well. Moreover, she was paid around $500 thousand for her appearance in Keeping Up With The Kardashians.
Sofia Richie's Most Loved Things
Favorite Cuisine: Italian
Favorite Animals: Dogs and horses
Favorite Activities: Traveling, long rides, playing tennis, and reading books
Favorite Place: Beaches
Fun Facts About Sofia Richie
Sofia Richie is Michael Jackson's goddaughter, and she is also best friends with his daughter Paris Jackson.
Sofia Richie used to be friends with Kylie Jenner. However, their friendship ended following Sofia Richie's breakup with Scott Disick.
Sofia Richie's father, Lionel Richie, taught her to play the piano with his songs. Her favorite is Ballerina Girl.
Did you know that even at 23, Sofia Richie's phone is tracked by her dad, Lionel Richie? Well, yes. He keeps tabs on Sofia's location most of the time.
What face shape does Sofia Richie have?
Sofia Richie has a heart-shaped face due to her wide forehead and pointy chin that suits her well.
What is Sofia Richie's hair color?
Sofia Richie is often seen sporting blonde or brunette hair. However, her natural hair color is brown.
What color eyes does Sofia Richie have?
Sofia Richie has hazel-colored eyes that pop out with her simple makeup.
Does Sofia Richie have tattoos?
Sofia Richie has 12 tattoos: the words "Bird" and "13:4" on her nape, a crescent moon on her pinky finger, a cross on her middle finger, a gratitude symbol on her forearm, the letter "L" on her ankle, the words "loyalty" and "never let go" on her wrists and more.
Does Sofia Richie sing?
Like her father, Lionel Richie, a soul singer, Sofia Richie is a talented singer. She took classes as a kid.
Where did Sofia Richie go to College?
Sofia Richie attended Oaks Christian School. But she dropped out and got homeschooled later.
Where does Sofia Richie live?
Sofia Richie lives in Beverly Hills with her boyfriend, Elliot Grainge. The couple bought the house for $17 million and renovated it for three years before finally moving to the mansion in 2021.
Sofia Richie might have gotten her entry to fame because of her father, Lionel Richie. But her successful career as a model and influencer is mostly through her hard work. Another model who has a famous father is Samara Weaving. So check out her inspiring story, gorgeous figure, workout plans, and more.