Addressing Simone Biles as the queen of gymnastics won't be an exaggeration; after all, she owns the most medals in the American gymnastics realm. But more than her medals, Biles' fans are crazy about her moves!
Simone performs at uneven bars, floor routines, and vaults as if her body doesn't weigh at all. Her magical physique is a goal for many female gymnasts. So, we'll discuss the Olympic gold medalist's weight, height, body stats, fitness routine, and much more!
Quick Answers
Artistic gymnast Simone Biles is 4 feet 8 inches or 142 cm tall.
Simone Biles weighs around 47 kg or 104 pounds and maintains her athletic figure with intense training sessions.
Biles has a gorgeous round-shaped face, highlighted by her big dark brown eyes.
In her mid-20s, Simone Biles' has amassed a startling net worth of approximately $16 million as of 2023, all thanks to her commendable Olympic wins!
How Old Is Simone Biles?
Born on March 14, 1997, Simone Biles is a 26-year-old American artistic gymnast known for her record of seven Olympic medals! With her birthday falling in mid-March, Biles is a Pisces.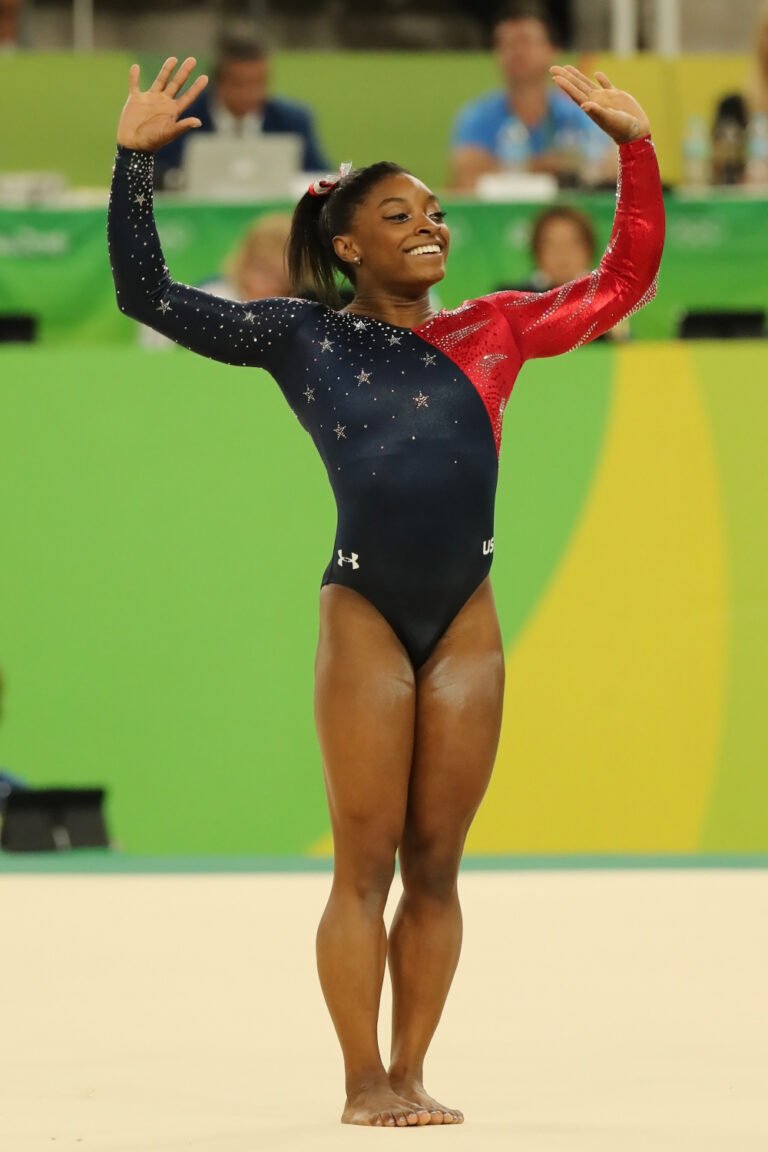 Full Born Name: Simone Arianne Biles Owens
Nickname: Simone Biles
Occupation: Gymnast
Date of Birth: March 14, 1997
Birthplace: Columbus, Ohio, U.S.
Education: Benfer Elementary School in Harris County
Zodiac Sign: Pisces
Mother Name: Shanon Biles (birth mother), Nellie Cayetano Biles (adoptive)
Father Name: Kelvin Clemons (birth father), Ronald Biles (adoptive)
Siblings: Adria, Ron Biles Jr., Ashley Biles Thomas, Adam Biles
Spouse: Jonathan Owens (2023 – present)
What is Simone Biles' Height?
Gym star Simone Biles' height is only 4 feet 8 inches or 142 cm (1.42 m) tall. Biles' sky-high success as an artistic gymnast is a solid answer to the misconception that you need a towering height to be successful in sports; you don't!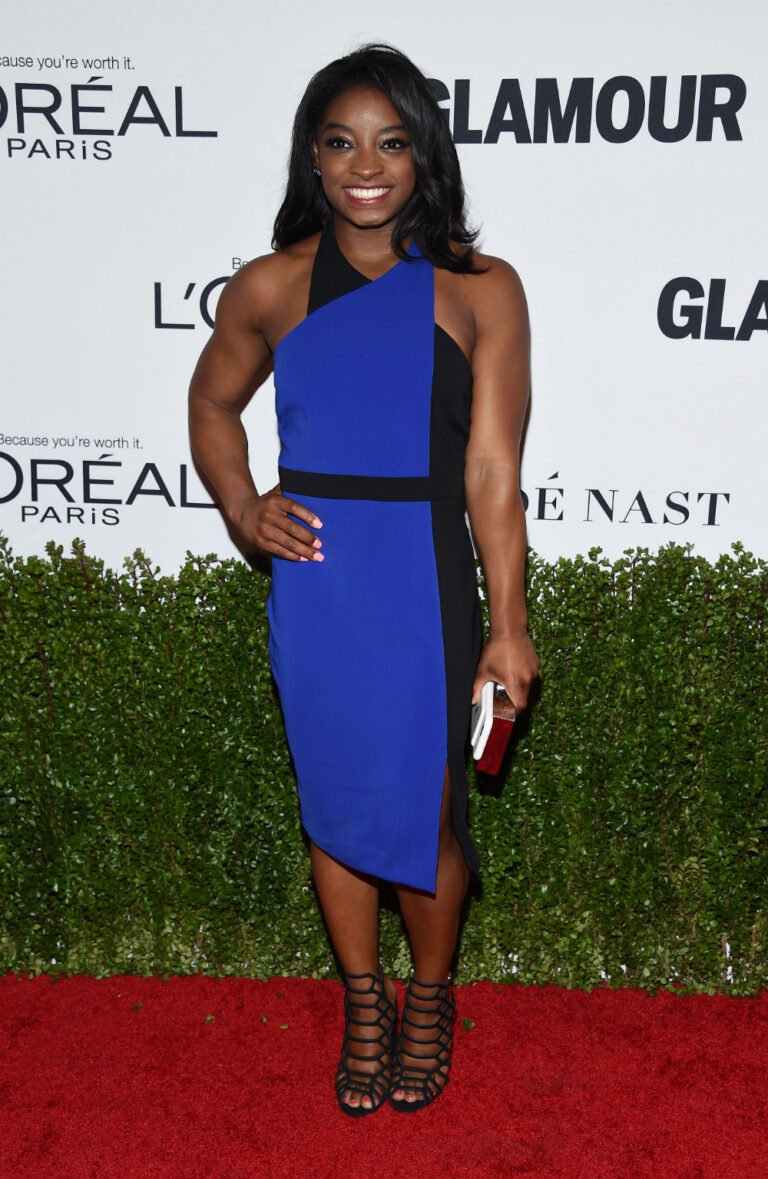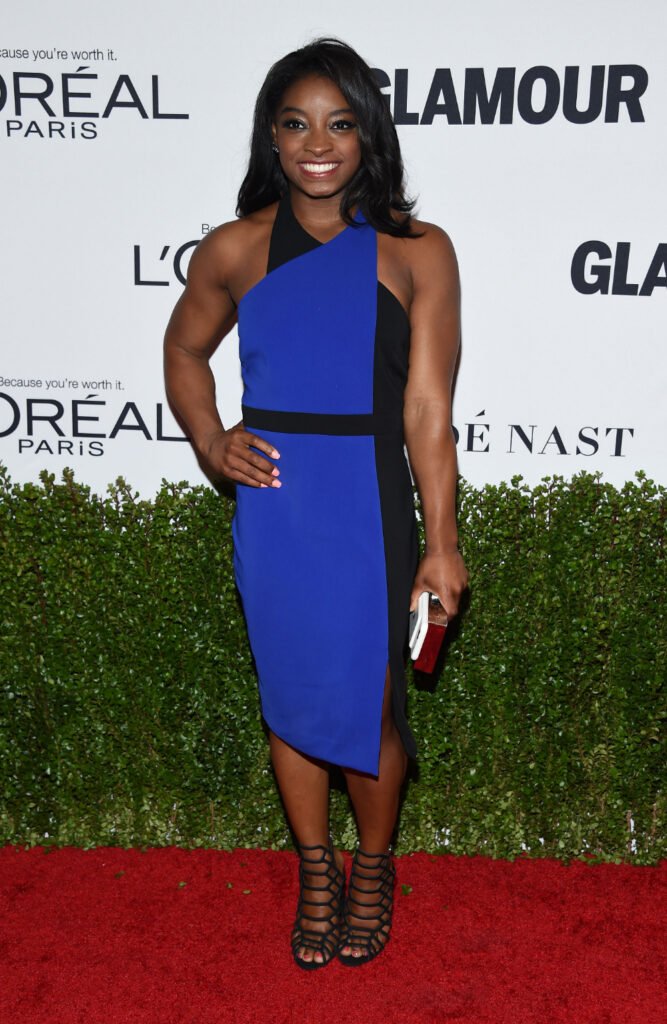 How Much Does Simone Biles Weigh?
Simone Biles weighs only 47 kg or 104 pounds, which is why she floats like a feather in the wind while performing her graceful gymnastic moves.
The secret behind the gym star's lightweight athletic body is her regular training at the gym and the gymnasium. But when she's preparing for the Olympics, the bar is set higher.
Simone reportedly trains 6 days a week and seven hours a day, and her practice always shows the results! In the 2023 World Artistic Gymnastics Championships, she secured a gold medal for her team with her tremendous floor routine!
Simone Biles' Triumphant Measurements & Real Size
Simone Biles' light athletic figure measures around 36-25-34 inches or 91-63-87 cm. Her body size and vital stats have become fitness goals for many aspiring gymnasts.
Biles' body measurements hint that she wears a dress size 8 (US) or 12 (UK) or 40 (EU). Be it her fitted leotard or fancy gowns, the star graciously flaunts her inverted-triangle-shaped body in all outfits.
Simone's shoe size is 7 (US) or 5 (UK) or 38 (EU), as estimated from her sports shoes as well as the showy heels and sandals she boasts on her social media!
But she doesn't really need expensive accessories and garments to show off her real beauty. On her wedding with Owens, Simone donned a wedding dress from Selfie Leslie worth around $119 and shoes worth only $35. That's how down-to-earth she is!
Simone's Athletic Curves (All About Her Bosom & Bra Size)
The Olympic star's figure is all about those ripped muscles, and she doesn't shy away from showing off her athletic curves. Simone's bosom measures around 36 inches, which means she wears a bra size 34B.
Simone Biles' Physical Attributes, Hair, & Her Charm
Simone Biles is blessed with a beautiful round face adorned with her shining almond-shaped dark brown eyes.
The 26-year-old gymnast has naturally thick and glossy dark brown hair, which she loves to style from time to time. In January, she sported her dark hair with light brown highlights, which looked just fabulous!
| | |
| --- | --- |
| Height | 4 feet 8 inches or 142 cm (1.42 m) |
| Weight | 47 kg or 104 pounds |
| Face Shape | Round |
| Figure | Athletic |
| Body Measurements | 36-25-34 inches or 91-63-87 cm |
| Breast Size | 36 inches |
| Bra Size | 34B |
| Cup Size | B |
| Shoe Size | 7 (US) or 5 (UK) or 38 (EU) |
| Dress Size | 8 (US) or 12 (UK) or 40 (EU) |
| Eyes Color | Dark Brown |
| Hair Color | Dark Brown |
Disclaimer
Simone Biles' Favorites
Favorite Animals: Dogs
Favorite Drinks (Cocktails): Mimosa, Margarita
Favorite Activities: Swimming
Favorite Places: Beaches
Favorite Flower: Sunflower
Simone Biles' Family: From Foster Care to Adoption
Simone was born to Shanon Biles and Kelvin Clemons in Columbus, Ohio, U.S., as one of her five siblings. But, due to financial difficulties, Simone's mother gave her children into foster care.
After spending 2-3 years with foster families, Biles' maternal grandparents, Ron Biles and Nellie Cayetano, brought her and her younger sister home and later adopted them. Simone's other siblings were also adopted by Ron's sister.
As of 2023, Simone Biles has been happily married to professional American footballer Jonathan Owens since April 22, after dating him since mid-2020.
Simone Biles' Career Highlights
Biles was built for gymnastics. She was only eight when she started training professionally for the sport, and at 14, she kickstarted her elite career at the 2011 U.S. Classic in Chicago.
In 2013, Biles was selected for the 2013 World Artistic Gymnastics Championships, and she ended up becoming the first American gymnast to qualify all rounds and the first African American to win the world all-around title!
In 2016, Biles participated in the Summer Olympics and Pacific Rim Championships. Then, after a one-year hiatus, Simone returned at the 2018 National as well as World Championships showing her skills at floor routine, vault, and uneven bars.
Currently, Biles has won 35+ World Championship medals, including her recent win of fourth gold at the 2023 World Championships, including over 23 golds and 6 World all-around titles!
Where does Simone Biles live?
Simone Biles currently resides in Houston, Texas, with her husband.
Is Simone Biles retired?
Simone Biles isn't retired yet. She took a break to take care of her health and family. Besides, she hasn't shared any information regarding retiring anytime soon.
Did Simone Biles have a baby?
No, Biles and her husband, Jonathan Owens, do not have a baby yet.
Simone Biles' career is decorated with medals! In her 20s, she's become the most celebrated artistic gymnast in the world. Her triumphant journey reminds us of Paige VanZant, whose victories and physique speak for themselves!