Sigourney Weaver is one of the most famous actresses of today with her amazing looks and impressive roles over the years in films like the Alien Franchise. Her acting skills are simply top-notch and have impressed audiences and critics alike.
Sigourney is also one of the most beautiful actresses of all time, with a smile that is more valuable than diamonds. If you're also one of her biggest fans, then follow along as we go over her dating history, body measurements, fitness routine, and more.
Sigourney Weaver's Story of Success
Sigourney Weaver was born on 8 October 1949 in Manhattan, New York City. She was raised by English Actress Elizabeth Inglis and NBC President Pat Weaver, and as such, she was destined to be famous.
Sigourney attended a private school in Manhattan and even traveled for volunteer work to Israel. However, it was in her college years that Sigourney discovered her love for acting as she attended the Yale School of Drama. There, she graduated with an MFA and even appeared in various plays alongside Meryl Streep.
Sigourney's career began in 1977 when she played a non-speaking role in the film Annie Hall. The film introduced her as an emerging actress to producers across Hollywood and even brought her some fame.
However, it wasn't until 1979 that Sigourney truly broke into fame. A last-minute change in the casting for Alien gave Sigourney the opportunity to rise to fame. The film was a blockbuster hit that has been spawning sequels even today, and as such, it was a massive boost for Weaver's career since she appeared in three of those sequels.
Apart from playing Ripley in the Alien franchise, Sigourney has also played roles in various other films such as Ghostbusters and Ghostbusters II, in which she worked hard to defy expectations. She has also played the role of the real-life primatologist Dian Fossey in Gorillas in the Mist.
Soon after, Sigourney worked on another hit film titled 1492: Conquest of Paradise. The film was followed by several other successful roles, but Sigourney eventually started taking up more supporting roles than lead ones.
This was best seen in James Cameron's Avatar, which was one of the highest-grossing films at its time. Since then, Sigourney has worked in several other films and TV shows, including the new Ghostbusters film in 2021, which was released as a sequel to the original films.
Sigourney Weaver's Height and Weight
Sigourney Weaver is an attractive woman and inspires people with her impressive height. She stands 5 ft 11 inches or 182 cm (1.82 m) tall, and her weight is only 62 kg or 137 pounds.
Sigourney has often credited her vegan diet for her amazing health, despite her age. She looks just as young and beautiful as ever, and while she may at times fail to be strictly vegan, she does try hard to stick to being vegetarian along with her family.
Fortunately for her, director James Cameron is also vegan, and he ensures that there's always vegan food available on the set of the Avatar Sequels. As a result of her diet, Sigourney is able to stay fit and maintain her stamina throughout the day.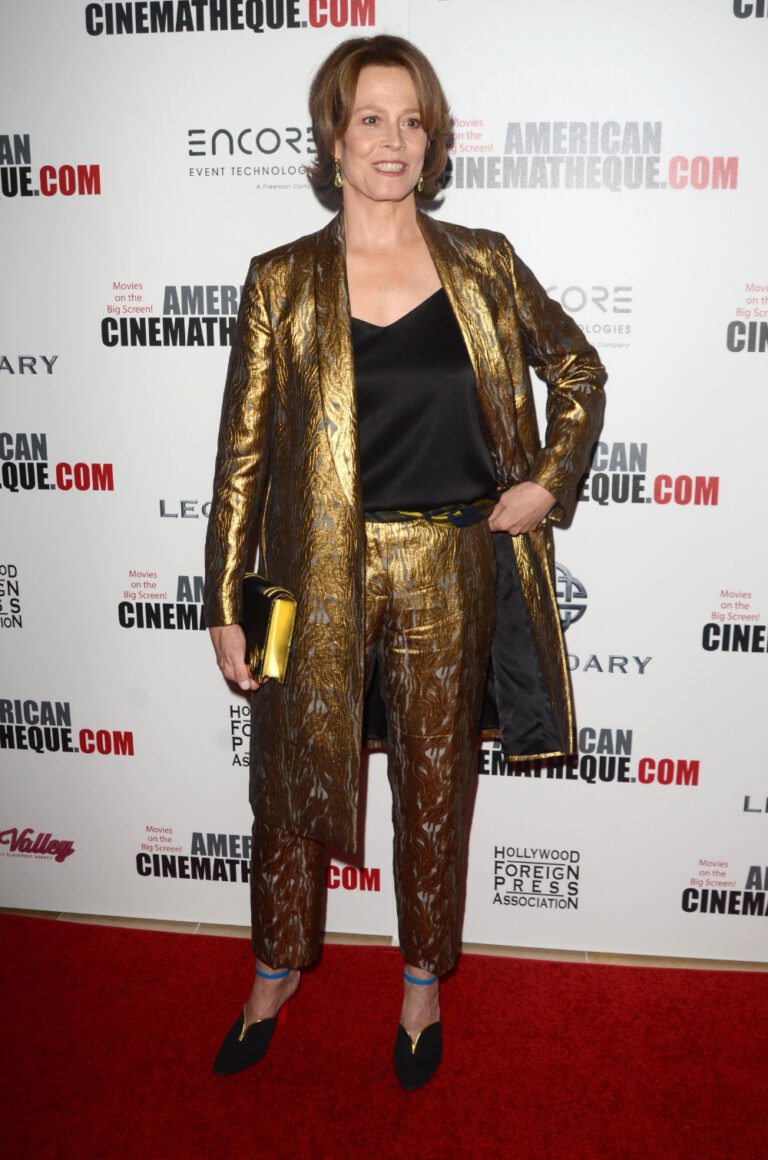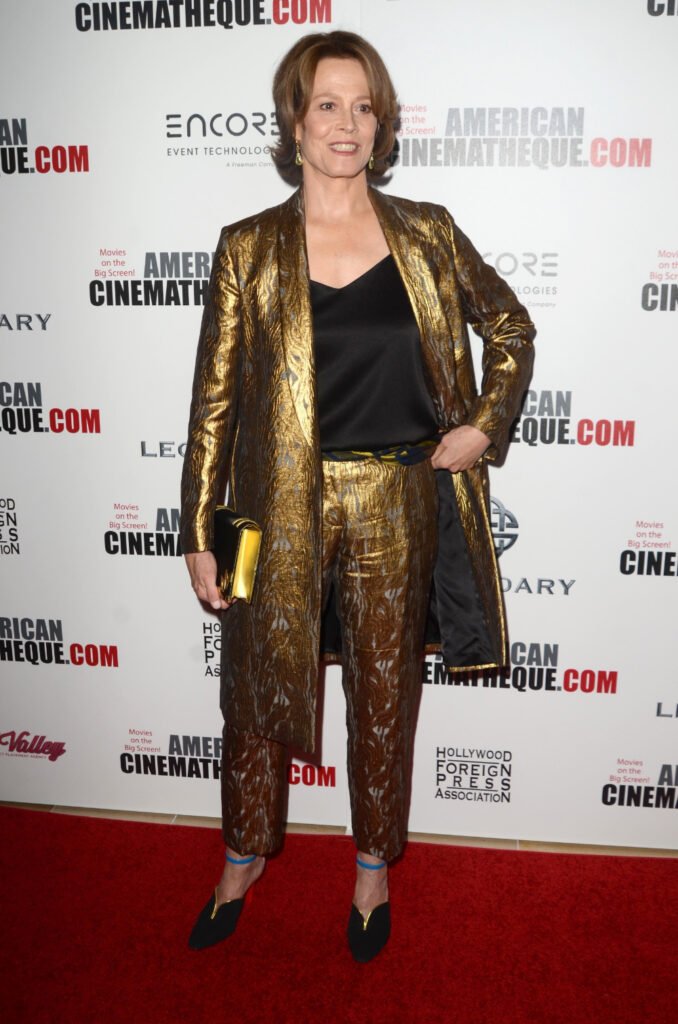 Sigourney Weaver's Dating History
Sigourney Weaver has been in the headlines for the romantic relationships she has built in the past while she was in her prime. While she does not have a long list of boyfriends, she has an insightful dating history that we would like to cover briefly.
Sigourney Weaver graduated in 1967 and spent some time in a kibbutz in Israel, where she started dating reporter Aaron Latham and got engaged to him within the same year. The duo's relationship was short-lived as they broke up soon after facing some conflicts.
In 1978, Sigourney Weaver had dated American playwright James McClure for some months, but due to differences in opinions and career choices, the duo separated within the same year.
Presently, Sigourney Weaver has been married to theatre director Jim Simpson since 1984. The duo had started dating in 1983 and was blessed with a child named Charlotte Simpson in 1990. Their relationship has stood the test of time, and they have even welcomed grandchildren into their lives.
Full Born Name: Susan Alexandra Weaver
Nickname: Sigourney, Susie, Siggy, The Sci-Fi Queen, The Actress's Actress
Occupation: Actress, Voice Actress, Stage Actress, Film Producer
Religion: Judaism
Date of Birth: 8 October 1949
Birthplace: Manhattan, New York, United States
Zodiac Sign: Libra
Father Name: Sylvester Weaver
Mother Name: Elizabeth Inglis
Siblings Names: Trajan Weaver
Spouse: Jim Simpson (m. 1984 – present)
Children: Charlotte Simpson
Sigourney Weaver's Body Measurements
Sigourney Weaver is one of the hottest actresses in the industry. Her body measurements are 35-26-36 in or 88.9-66.04-91.44 cm.
Over the course of her career, Sigourney has played several strong roles in films that even involved getting muscles. As a result, she's always been committed to her fitness.
Sigourney has made her commitment to Pilates quite clear in the past and has also been a spokesperson for the American Heart Association. This makes Sigourney a real fitness inspiration to young people worldwide.
Sigourney Weaver's Ample Bosom
Sigourney Weaver is an attractive actress with perfect assets. Her breast size is 35 inches, and her bra size is 34A with cup size A.
Sigourney has, in fact, noticed the power of sexuality in even things like the Oscars, and when talking about director James Cameron's loss at the Academy Awards, she said it was because he didn't have breasts; thereby accusing the Association of having a breast fetish.
| | |
| --- | --- |
| Height | 5 ft 11 inches or 182 cm (1.82 m) |
| Weight | 62 kg or 137 pounds |
| Breast Size | 35 inches |
| Bra Size | 34A |
| Cup Size | A |
| Body Measurements | 35-26-36 in or 88.9-66.04-91.44 cm |
| Figure | Hourglass |
| Chest Size | 35 inches or 88.9 cm |
| Waist Size | 26 inches or 66.04 cm |
| Hips Size | 36 inches or 91.44 cm |
| Shoe Size | 10 (US) or 41.5 (EU) or 8 (UK) |
| Dress Size | 6 (US) or 38 (EU) or 10 (UK) |
| Eyes Color | Light Brown |
| Hair Color | Light Brown |
| Natural breasts or implants | Natural |
What Does Sigourney Weaver Feel About Plastic Surgery?
Sigourney Weaver is one of the few celebrities out there who aren't afraid of sharing their opinion, and we love her for that. When talking about what she feels about plastic surgery, Sigourney finds it scarier than staring at a Xenomorph in her Alien movies.
Sigourney appreciates the beauty of getting older and finds it inspiring to find someone her age who is full of life. She doesn't care about outward appearances and instead values the soul and energy of a person more than an aesthetically pleasing face.
Sigourney Weaver's Net Worth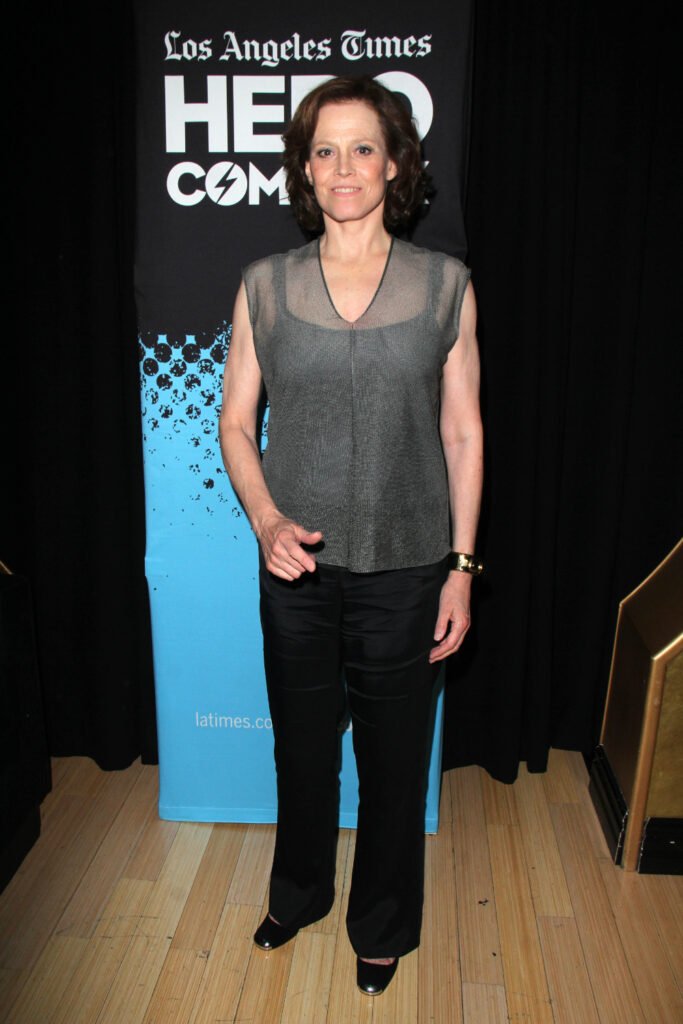 Sigourney Weaver has worked hard as an actress over the course of her career and has earned the love of millions of fans worldwide. As of 2022, she has an estimated net worth of $60 million.
Sigourney Weaver's Most Loved Things:
Favorite Movie: A Map of the World (1999), The Great Gatsby
Favorite Books: Robinson Crusoe by N.C. Wyeth, Pippi by Astrid Lindgren
Favorite Food: Icelandic Lobster Soup
Favorite Sports: Tennis
Favorite Color: Red
Notable Awards Won by Sigourney Weaver
Academy of Science Fiction, Fantasy & Horror Films, USA: Best Actress, 1987
Golden Apple Awards: Female Star of the Year, 1988
Golden Globes, USA: Best Performance by an Actress in a Motion Picture – Drama, 1989
Cognac festival du Film Policier: Copycat, Special Mention, 1996
BAFTA Awards: Best Performance by an Actress in a Supporting Role, The Ice Storm, 1998
Walk of Fame: Star on the Walk of Fame, Motion Picture, 1999
Chicago International Film Festival: Lifetime Achievement Award, 2001
DVD Exclusive Awards: Best Audio Commentary, Alien, 2003
Elle Women in Hollywood Awards: Icon Award, 2008
Grammy Awards: Best spoken Word Album (Includes Poetry, Audio Books & Storytelling), 2011
CinEuphoria Awards: Best Supporting Actress – Audience Award, A Monster Calls, 2017
A Few Fun Facts About Sigourney Weaver
Sigourney Weaver has supported several fundraising events and has acted as a chairperson for Dian Fossey Gorilla Fund.
In 1998, she acted as a jury member at the Cannes Film Festival, and in her honor, she has a song entitled by her name, written by Singer-Songwriter Mike Garrigan.
Sigourney Weaver has worked in several action movies but is still afraid of guns and traveling in elevators.
Sigourney Weaver has held the status of playing characters of women of enormous strength and stature. She has appeared in shows and movies like Galaxy Quest, Futurama, and Wall-E, where she has dealt with technologically advanced machinery and artificially intelligent spaceships.
What face shape does Sigourney Weaver have?
Sigourney Weaver has a heart-shaped face that is quite long and narrow. She has a fair complexion and evenly distributed facial beauty making her look screen perfect.
What is Sigourney Weaver's hair color?
Sigourney Weaver's natural hair color is Light Brown, but she has appeared in different shades of Blonde, Brown, and Black throughout her career to suit her on-screen roles.
Does Sigourney Weaver have naturally curly hair?
Sigourney Weaver has naturally curly hair, as seen in her pictures from the initial days of her career. However, to suit her on-screen roles, she has straightened her hair at times.
What color eyes does Sigourney Weaver have?
Sigourney Weaver's natural eye color is Light Brown which is appealing and draws everyone's attention towards her.
Did Sigourney Weaver win an Oscar?
Despite being a successful celebrity in Hollywood and winning several awards, Sigourney Weaver has not yet got fortunate enough to win an Oscar award.
Does Sigourney Weaver speak German?
Sigourney Weaver speaks fluent German as she is a talented linguist who is proficient in more than one language.
Did Sigourney Weaver play basketball?
Though Sigourney Weaver does not play basketball professionally for her role in the 1997 movie Alien Resurrection, she learned to play basketball and made a great shot after some tries.
Where does Sigourney Weaver live?
Presently, Sigourney Weaver lives in Manhattan, New York, the United States, with her family.
Sigourney Weaver has lived a remarkable career influencing millions worldwide with her astounding performances and stellar appearance. Sigourney reminds us of trending star Jenny McCarthy, as Jenny has also won the hearts of many with her prolific career and worldwide fancied amazing assets. Do check out her life story, which we have covered in detail.