We all can agree that Selena Gomez is an absolute beauty! From her adorable round face and her vibrant eyes to her breathtaking curves, everything about her is just perfect, including her feet!
That's right! It might seem strange, but netizens are so crazy about Gomez's feet that there are dedicated social media platforms and forums for her feet! And we can understand why! So, let's take a look at some interesting pictures of Selena Gomez's feet!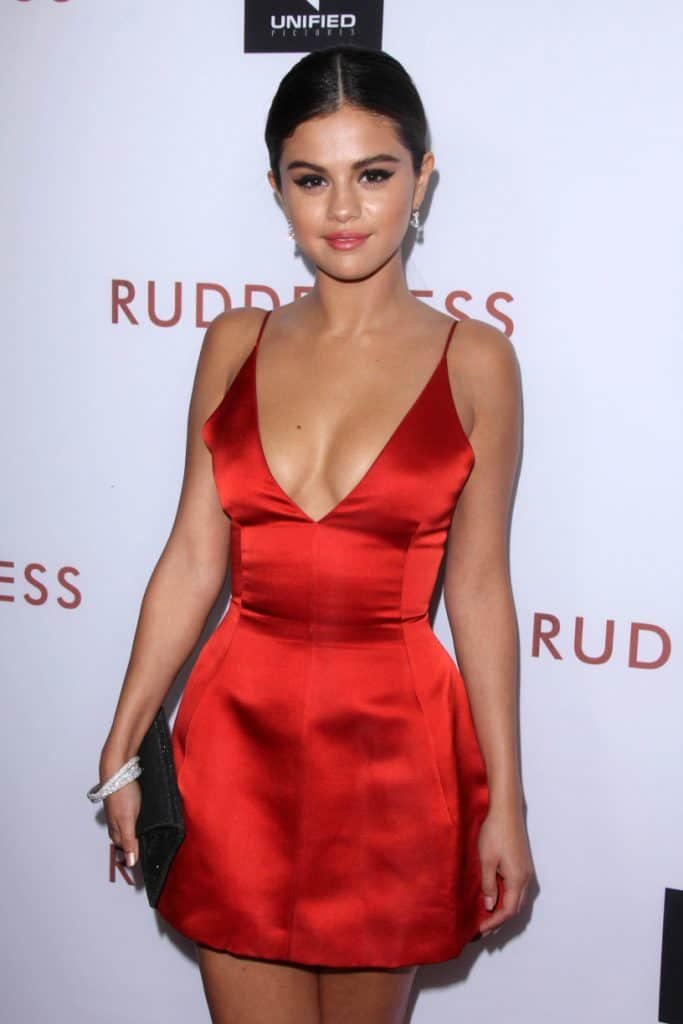 What Is Selena Gomez's Shoe Size?
Did you know that most people claim that Selena Gomez's toes are the world's most symmetrical toes?
Well, while it's yet to be proven, Selena has really got perfect – soft and beautiful feet. And Gomez, knowingly or unknowingly, robs our hearts by flaunting those gorgeous toes and ankles with a shoe size 7 (US) or 5 (UK) or 37.5 (EU) in classy footwear.
Selena Gomez's Stats
| | |
| --- | --- |
| Age | 31 |
| Birth Date | July 22, 1992 |
| Height | 5 ft 5 inches (1.65 m) |
| Shoe Size | 7 (US) or 5 (UK) or 37.5 (EU) |
| Weight | 58 kg or 128 pounds |
Top 20 Photos of Selena Gomez's Glamorous Feet
1. Flashy Gomez at the 2015 AMAs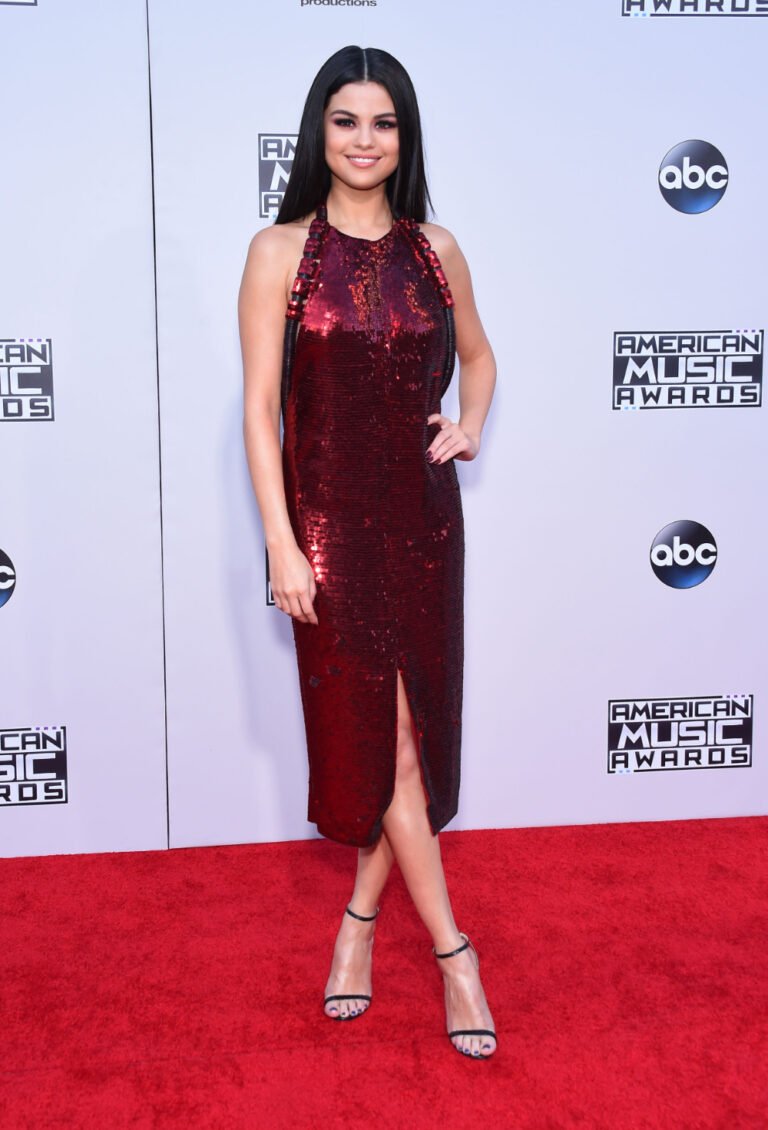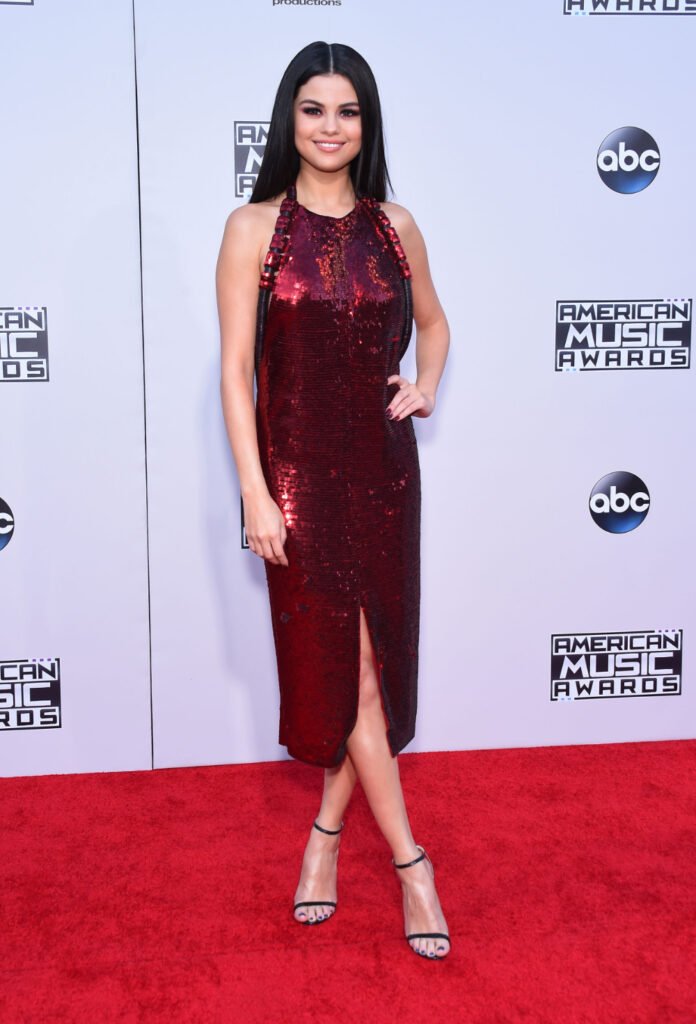 Gomez was seen confidently flashing her shapely ankles and lean feet, wearing sleek, shiny Jimmy Choo Minny Sandals on the 2015 AMAs red carpet. Her sandals accentuated her glittery dark red Givenchy Spring dress, totally raising the temperature high!
Shoe Brand: Jimmy Choo
Shoe Style: Minny Sandals
Estimated Price: $250 – $500
Outfit Brand: Givenchy
2. Gomez's Bikers Look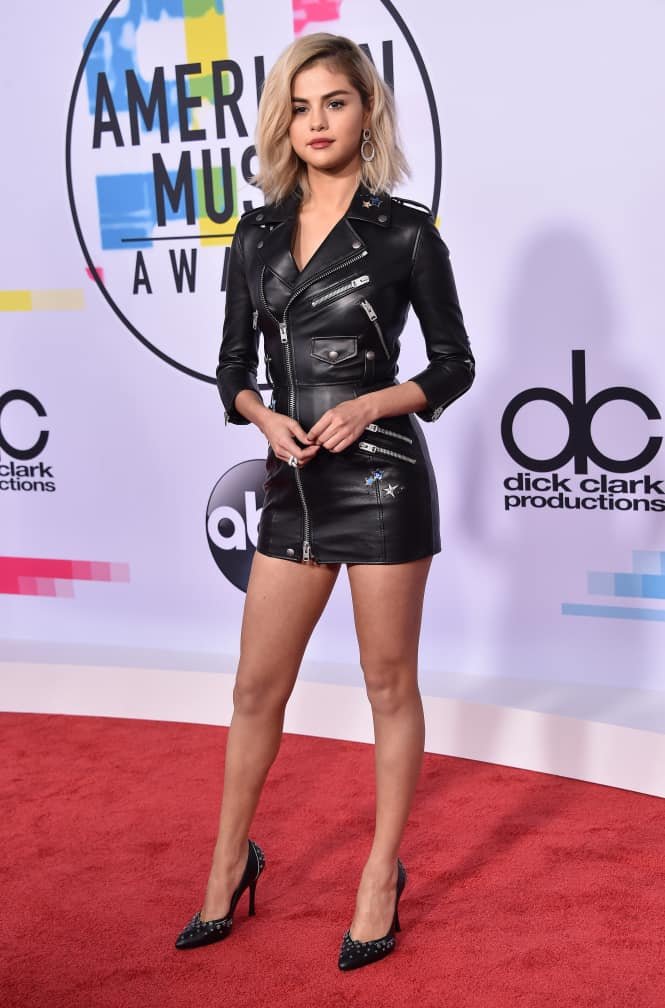 Sporting a completely chic, all-black look on the 2017 American Music Awards red carpet, Gomez really turned heads! While her toned figure rocked her Coach leather Biker's jacket outfit, her feet stole the show in those black pumps!
Shoe Brand: Coach
Shoe Style: Pumps
Estimated Price: $120 – $250
Outfit Brand: Coach
Accessories: Roberto Coin Earrings
3. Flashing Heels in Black Pumps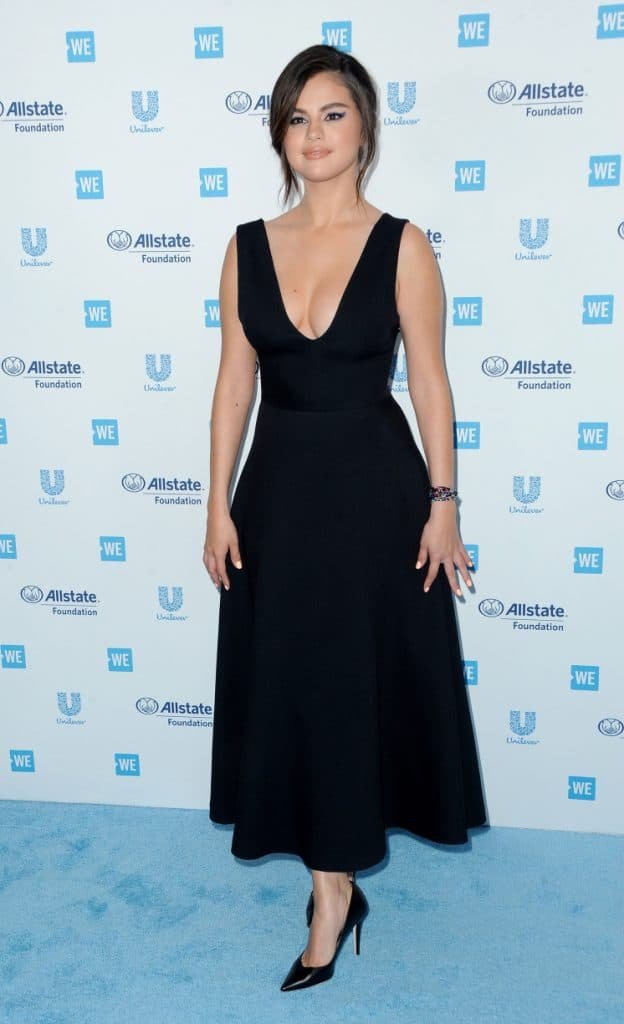 The Wolves singer showcased her soft and gorgeous feet in Tamara Mellon's black pumps, throbbing our hearts in Dior's classy wool & silk dress. Another all-black look Selena slayed!
Shoe Brand: Tamara Mellon
Shoe Style: Pumps
Estimated Price: $400 – $450
Outfit Brand: Dior
4. Happy New Year, 2023
Giving friendship goals, Gomez joined her close friend Nicola Peltz Beckham on New Year's Eve 2023 in matching outfits. She showed off her toned legs in a high-length Valentino silver sequinned number, completed with matching shiny Valentino platforms!
Shoe Brand: Valentino
Shoe Style: Platforms
Estimated Price: $900 – $1,700
5. Beach Body with Painted Toenails
Look at those adorable toes with painted black nails and that lean sole; no wonder Selena's feet look stunning in all sorts of shoes and sandals. She rightly has a separate fanbase dedicated to her feet!
6. A Bare Foot Walk at SAG Awards
What happened to Selena Gomez's shoes? #SAGAwards pic.twitter.com/Hxv5nrsYqE

— Dave Quinn (@NineDaves) February 28, 2022
Fun fact about Selena? She can take off her footwear even in the middle of an award ceremony to avoid mishaps! Well, after tripping on the 2022 SAG Awards red carpet, Gomez decided to walk without shoes on the stage to present an award.
And people like People's editor Dave Quinn and many others were left wondering, "What happened to Selena Gomez's shoes!" But, honestly, it just doubled her irresistible glamor!
7. Ritzy Gomez at Her Cannes Debut
Gomez really killed us with kindness with her first Cannes red carpet look! From that corset-style crop top and matching high-thigh slit floor-length skirt to her high-heeled ankle-strap silver sandals, every bit of her appearance left us in awe of her beauty!
Shoe Style: Ankle-Strap Sandals
Outfit Brand: Louis Vuitton
Accessories: Bulgari Collar Necklace
8. A Walk to Jimmy Kimmel Live Show
The gorgeous singer was seen donning an absolutely breathtaking navy blue dress from Chanel, hugging her perfect figure. But what we can't take our eyes off of are those black Tom Ford heels draping her feet on her way to the Jimmy Kimmel Live Show in 2014!
Shoe Brand: Tom Ford
Shoe Style: Heels
Estimated Price: $1,200 – $2,800
Outfit Brand: Chanel
9. Hotel Transylvania 3 Premiere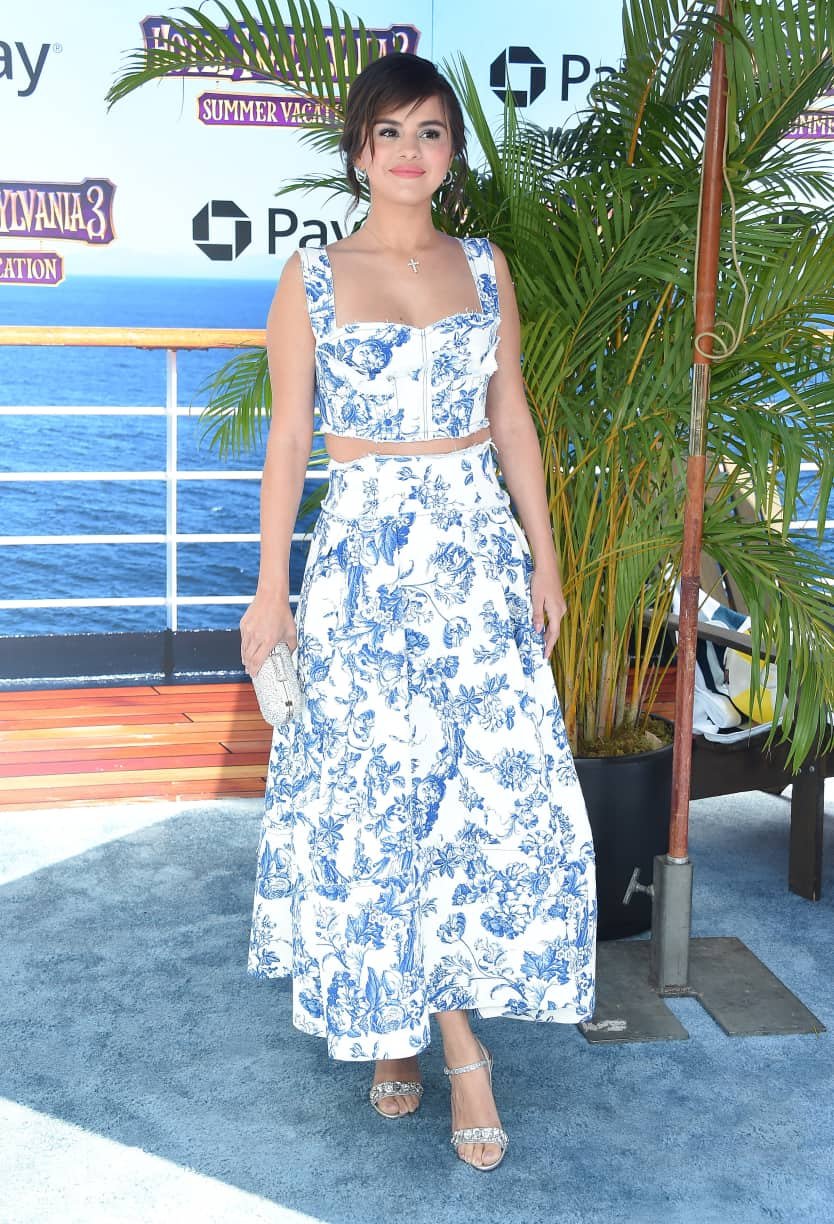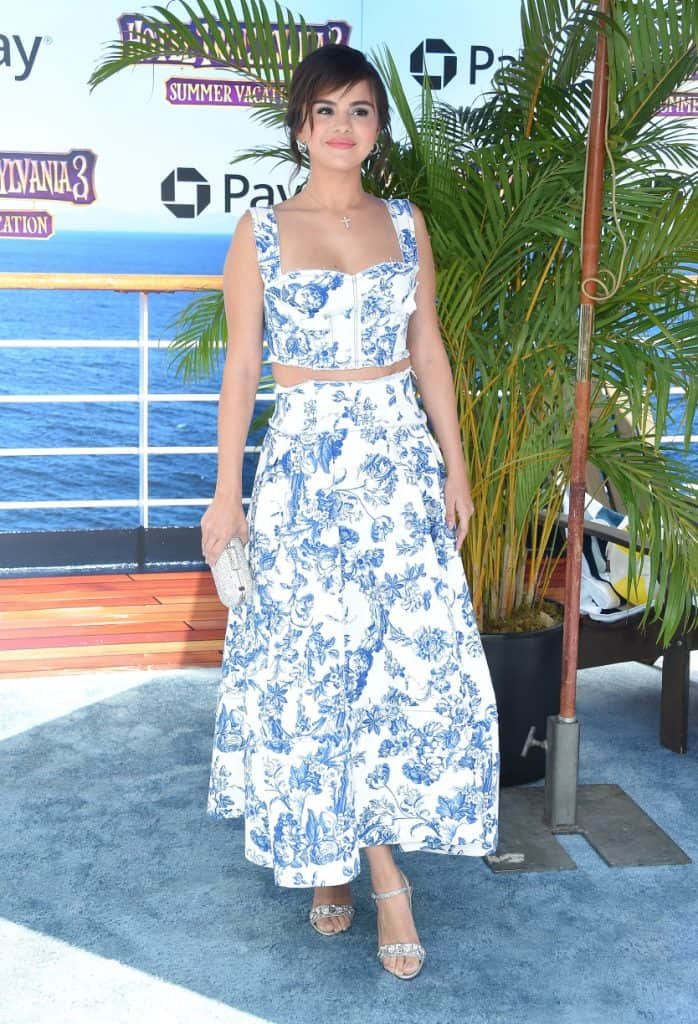 Selena adopted a breezy, summer-friendly look at her film, Hotel Transylvania 3's premiere, looking adorably cool!
She showed off her curves in a blue & white floral crop top and matching full-length floral skirt and adorned her feet with silver and blue ankle-strapped sandals.
Shoe Style: Ankle-strap Sandals
Outfit Brand: Oscar de la Renta
Accessories: Tiffany & Co. necklace
10. Living Undocumented Premiere
Selena and her love for black are both irresistible! Look at how effortlessly she flaunts those feet in black vamp pumps! Can you take your eyes off it? Cuz' we can't!
11. Barefoot for Rolling Stone Photoshoot
To be honest, Selena Gomez doesn't even need those ritzy high heels and sandals to rock a particular look! Don't believe us?
Look at this bold pose of hers for an intimate photoshoot for Rollingstone, which clearly shows her shapely feet, justifying her shoe size!
12. The 2020 People Photoshoot
Gomez is as confident shooting barefoot as she is walking in show-stopping footwear. She served her fans' foot fetishism by sharing such a personal picture from her photoshoot for People Magazine in 2020!
13. Selena's Relaxed Feet
Just watching the Kill Em With Kindness singer relaxing on the floor is soothing to our eyes. This casual picture of Gomez sitting on the floor with her record-breaking albums spread around reflects her simple, down-to-earth personality!
14. Celebrating the Revival Tour in Vegas
Selena never misses a chance to flash out those ankles, does she? And we're glad that she doesn't! Here is the Bad Liar singer exhibiting her curves in a high-slit Galvan satin dress and her feet in sleek Stiletto sandals embellished with fluffy fur.
That's how she celebrated the opening night of her Revival Tour in Las Vegas!
Shoe Style: Fluffy Stiletto Sandals
Outfit Brand: Galvan
15. NYFW Look at The Polo Bar
Yet another vibrant snap of the talented singer rocking black ankle straps with Stiletto heels while wearing a body-hugging high-neck leather playsuit! Her confidence is always up to the mark, whether walking gracefully in high heels or wearing bold attire!
16. The Same Old Love Cover
Selena and her ankle straps are a different love story! She probably loves the comfort of flashing off her heels without worrying about sandals slipping off!
Revealing her toned limbs in a high-slit black dress, Gomez kept it minimal for the Same Old Love release!
17. Gomez's Killer Look with Platforms
The AMA winner has always known how to rock high heels! Just look at young Gomez casually sitting wearing those dazzling platforms while showing off the Coach bag she designed! A complete package of talents!
18. The Intimate Revival Cover
Adorned with nothing except painted toenails, Gomez redefined boldness with her topless cover for her album Revival!
19. Chilling on the Sofa
Look how perfectly her toes are aligned! I'm sure we're never getting bored of watching Ms. Gomez showing off her bare feet!
20. Barefoot on a Picnic
Like many of us, even this world-famous singer doesn't like to put on any lustrous footwear for a picnic! We feel you, Gomez!
We hope you enjoyed these interesting pictures of your favorite singer, Selena Gomez's feet! If you want to check out more personal details about her, hop on to our blog filled with all the juicy details about Selena Gomez's vital stats, life, and more!