Today anchor Savannah Guthrie is an award-winning journalist who was described as the best-ever candidate to join NBC News because of her credentials. With the passing years, she has only improved significantly and has become a role model to aspiring broadcast journalists.
IN A GIST
Anchor Savannah Guthrie has a tall stature, standing at the height of 5 feet 10 inches or 178 cm (1.78 m).
Savannah has a perfect height-to-weight ratio, as she appears to weigh around 59 kg or 130 pounds. 
Guthrie is a 51-year-old Capricorn born on December 27. Read along for more personal information about Guthrie's career, family, measurements, etc.
Savannah Guthrie's Age and Birthday
Outstanding journalist Savannah Guthrie enjoys her thriving and happy life at the age of 51. Born on the 27 of December 1971, Guthrie is known for her charm, passion, and wit, just like her zodiac sign, Capricorn.
Savannah Guthrie's Shining Career
Savannah Guthrie started working in the ABC-owned channel KMIZ as soon as she received her journalism degree in 1993. Two years later, she took a job at NBC's KVOA and then at WRC-TV.
Then Guthrie took a break from journalism and attended Georgetown University Law Center, getting a Juris Doctor degree in 2002. Soon she was appointed as CourtTV's national trial correspondent, covering important cases like the Michael Jackson case.
In 2007, Guthrie joined NBC News as its correspondent. Two months into her new role, she was appointed as the White House correspondent. She also worked as a host for NBC Nightly News.
Savannah Guthrie co-hosted The Daily Rundown for two months as Ann Curry's replacement. During this time, she interviewed President Trump on multiple occasions, including during the 2020 re-election campaign.
Apart from Journalism, Guthrie was involved in other ventures like acting, narration, and writing. She has published hit books, Princesses Wear Pants and Princesses Save the World.
Savannah also worked as NBC's chief legal analyst. In 2012, she began co-anchoring The Today Show alongside Matt Lauer. As of 2022, Guthrie continues to thrive as a host and legal analyst.
Savannah Guthrie's Education
When living in Tucson, Guthrie studied at Amphitheater High School. Then, she joined the University of Arizona and graduated with a Bachelor of Arts Degree in Journalism in 1993.
During her working years, Savannah took some time to attend Georgetown University Law Center, earning a Juris Doctor degree in 2002. She also cleared her Arizona Bar Exam by scoring the highest marks.
Savannah Guthrie's Family
Savannah Guthrie was born in Melbourne when her father, Charles Guthrie, was working there. Her family moved back to the United States when she was two. Guthrie also has two siblings, Camron and Annie.
Talking about Savannah Guthrie's life, she was first married to Mark Orchard from 2005 to 2009. The year Savannah and Mark divorced, she met Michael Feldman at his 40th birthday event. The two soon got engaged in May 2013 and married the next year.
Savannah Guthrie and Michael Feldman have two children, Vale Guthrie Feldman and Charles Max Feldman.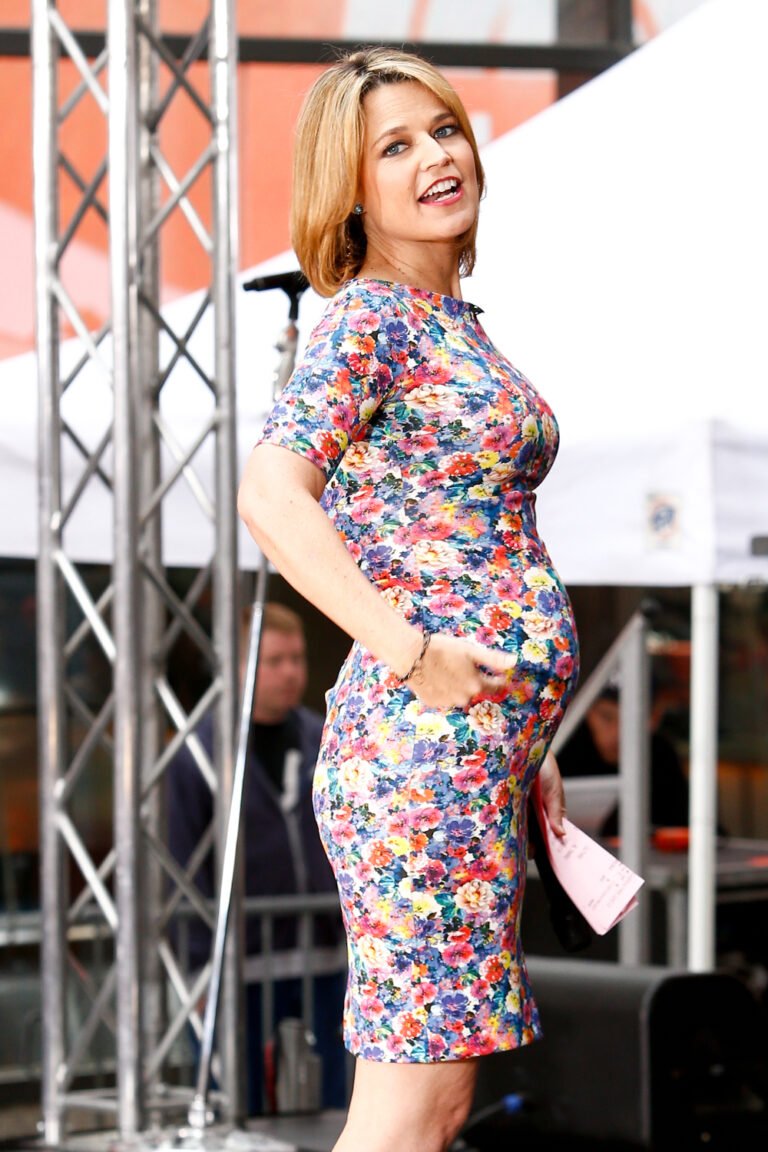 Full Born Name: Savannah Clark Guthrie
Nickname: Savvy
Occupation: Author, Lawyer, Actress, Broadcast journalist
Religion: Christian
Date of Birth: 27 December 1971
Birthplace: Melbourne, Australia
Zodiac Sign: Capricorn
Father Name: Charles Guthrie
Mother Name: Nancy Guthrie
Siblings' Names: Camron Guthrie and Annie Guthrie
Spouse: Michael Feldman (m. 2014) and Mark Orchard (m. 2005–2009)
Children: Vale Guthrie Feldman and Charles Max Feldman
Savannah Guthrie's Height and Weight
Savannah Guthrie's exceptional height of 5 feet and 10 inches or 178 cm (1.78 m) helps her steal the spotlight while hosting the show or updating her viewers with the latest news! 
Besides, Savannah Guthrie appears to weigh approximately 59 kg or 130 pounds, maintaining an ideal height-to-weight ratio to look as stellar as she does! 
The host rocks high-waisted pants and skirts as if the outfits were patented for her, thanks to her slim, long legs.
Savannah Guthrie's Body Measurements & Physical Appearance
Savannah Guthrie has a gorgeous figure that always looks slender and healthy. Her body measurements can be estimated at 34-26-35 in or 86-66-89 cm, thanks to which the woman looks stellar in body-hugging dresses! 
Moreover, based on her stature, we can estimate Savannah Guthrie's bra size to be 32B with a cup size B. The star journalist surely knows how to carry her curves gracefully while on screen!
Guthrie's facial features also give her the perfect on-screen look to grace the camera and TV screens. She has a square-shaped face with a sharp jawline, giving her a bold yet adorable look.
And her gorgeous blue eyes give her an enchanting aura! With her perfectly styled, luscious dark brown hair, Savannah rocks various formal as well as informal outfits effortlessly.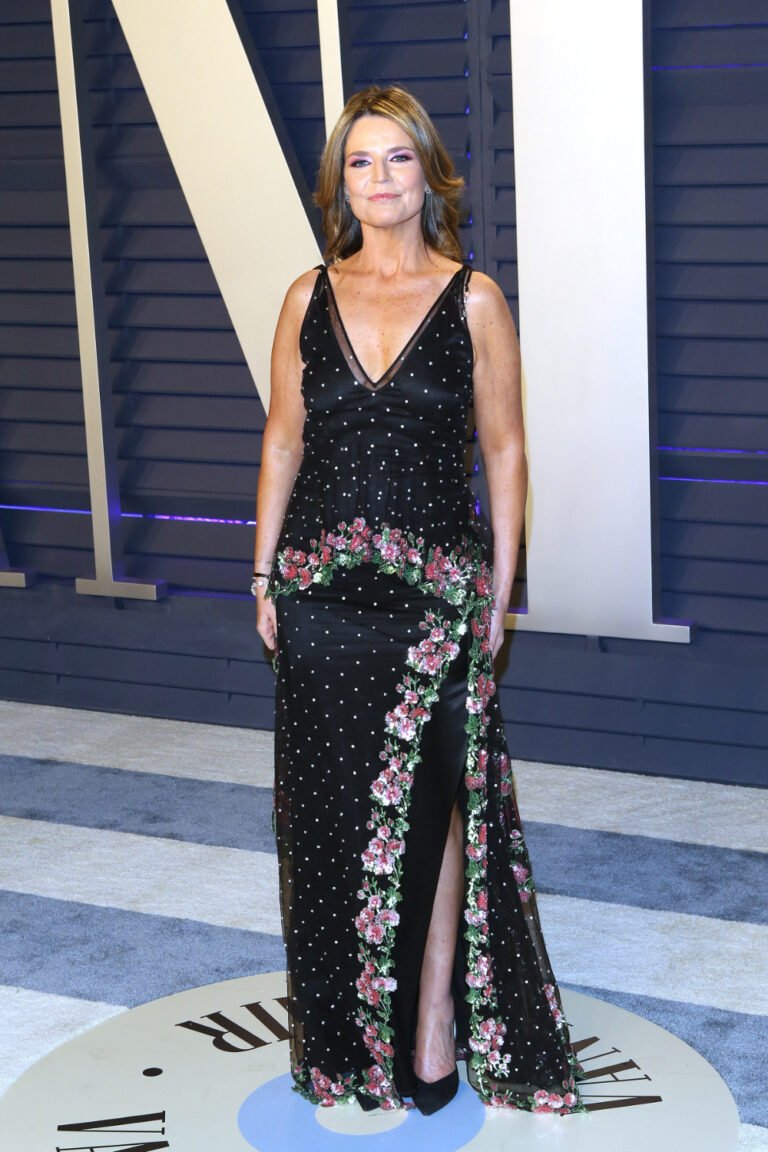 What Does Savannah Do to Stay Healthy and Fit?
Today anchor Savannah Guthrie's rules to stay in shape include eating fresh and healthy. She even uses fresh vegetables from her own garden to cook delicious meals.
The host's perfect figure at 50 proves that she follows a proper diet full of carbs, proteins, and all other nutrients. But Guthrie won't resist burgers and puddings to satisfy her cravings.
But it's not just the diet; Savannah also ensures to do activities like aerobics and strength training to stay fit. Additionally, Yoga is also vital for her to keep her body and mind in good shape.
| | |
| --- | --- |
| Height | 5 feet and 10 inches or 178 cm (1.78 m) |
| Weight | 59 kg or 130 pounds |
| Face Shape | Square |
| Breast Size | 34 inches |
| Bra Size | 32B |
| Cup Size | B |
| Body Measurements | 34-26-35 in or 86-66-89 cm |
| Figure | Slim |
| Shoe Size | 9 (US) or 40 (EU) or 6.5 (UK) |
| Dress Size | 4 (US) or 36 (EU) or 8 (UK) |
| Eyes Color | Blue |
| Hair Color | Dark Brown |
Disclaimer
Savannah Guthrie's Most Loved Things
Favorite Activity: Cooking
Favorite Flower: Roses
Favorite Book: Everything Beautiful in Its Time
Favorite Singers: Dolly Parton and Hoda Kotb
Favorite Drinks: Coffee and Wine
Favorite Hangout Spot: Local nail salon
Savannah Guthrie's Social Media Presence
Those who have scrolled through Guthrie's social media pages would know how cheerful she is. The anchor loves to share the moments from her life, shoots, and other important occasions with her fans.
And so she has an excellent social media reach as follows:
What face shape does Savannah Guthrie have?
Savannah Guthrie has a square-shaped face. She usually goes for side partition hairstyles that suit her face frame.
What is Savannah Guthrie's hair color?
Savannah Guthrie has naturally dark brown hair. However, she occasionally colors her hair blonde and looks great in it too.
Does Savannah Guthrie have hair extensions?
Savannah Guthrie once sported pink hair, which she later revealed were hair extensions.
What color eyes does Savannah Guthrie have?
Guthrie has blue eyes that add to her beauty.
Does Savannah Guthrie have a cosmetic company?
Guthrie does not have a cosmetics company. She was the victim of an internet scam that started rumors that she owned a skincare line.
Is Savannah Guthrie an Attorney?
Savannah is an attorney in the District of Columbia and Arizona.
Does Savannah Guthrie have a law degree?
Savannah has a Juris Doctor degree, also known as the Doctor of Law degree.
Where does Savannah Guthrie live?
Savannah Guthrie lives in New York with her husband and two kids.
Today anchor Savannah Guthrie has earned herself a reputation as one of the greatest NBC News anchors. She appeared on the network's top show, 30 Rock. Aubrey Plaza is another prominent celebrity who made a cameo on 30 Rock. Don't forget to check out more details about her.