Lori Loughlin has taken everyone by the storm after her outstanding performance in the two famous series, Full House and Beverly Hills, 90210. Her performances make us believe that she is an excellent artist who can outdo anyone on screen.
From the Edge of Night to Fuller House, Lori Loughlin has come a long way and made a mark for herself in the industry. Her beauty and talent are unprecedented.
So if you wish to know more about this diva, keep reading as we take you through various aspects of her life and explore her success story, romantic life, body measurements, and more.
Lori Loughlin's Road to Success
Lori Loughlin's acting career began as a matter of pure coincidence and luck. Lori was born on 28th July 1964, in Queens, New York, to Joseph Roy Loughlin and Lorellee Loughlin. Her family moved to Hauppauge, New York, when Lori turned one, and she attended the Oaks School in Oceanside and graduated from Hauppauge High School.
Lori's career began at the young age of 11, as a print model. It so happened that Lori's mother's friend was to take her children to Manhattan for some modeling business, and Lori tagged along. Lori's mother was not very fond of the idea, but little did she know that Lori would end up winning their hearts and bagging herself a contract.
Lori's talent led her to further get a role as Jody Travis in the soap opera called Edge of the Night, which aired on ABC channel from 1980 to 1983. Subsequently, for the next five years, Lori appeared in various feature films and television shows, including the BMX classic Rad, in 1986.
Lori Loughlin rose to prominence after she was cast in the sitcom Full House, next to Danny Tanner and Jesse katsopolis. She was initially signed up only for six episodes; however, the crew saw her popularity and decided to keep her through the entire show, which lasted seven whole years.
Lori became exceedingly famous post her role in Full House, and innumerable offers began to pour in for Lori. She starred in various movies and television series, including A Stranger in the Mirror, In the Line of Duty- Blaze of Glory, Critical Mass, Spin City, Seinfeld, etc.
Lori Loughlin's unlimited talent led her to get a role in the series, Birds of Prey, as the superhero Black Canary, in 2002. She further went on to act, produce, and create the famous drama series Summerland from 2004 to 2005. Following this, she appeared in Moondance Alexander, The Roast of Bob Saget, When Calls the Heart, Garage Sale Mystery, and more.
Lori Loughlin is best known for her appearance on the show Beverly Hills, 90210, which helped her gain a massive fan following. She starred on the show from its first to the third season from 2008 to 2011 and reappeared in the fifth season in 2012.
Lori Loughlin's prolific acting skills have led her a long way in the industry and earned her a prominent place in it. One of her last appearances has been on the Netflix show Fuller House, a sequel of Full House that she initially starred in during the beginning stage of her career.
Lori is ready for her next appearance in the second season of When Hope Calls, which will be aired on the GNC Family Network. This role is Lori's first appearance on screen, after her college admissions scandal in the year 2019.
Lori Loughlin's Height and Weight
Lori Loughlin is an exceptionally gorgeous woman who is blessed with the perfect height and weight ratio. Lori stands tall at 5 feet 5 inches, or 165 cm (1.65 m), and her weight is around 57 kgs or 126 lbs, giving her an accurately proportionate figure.
Lori Loughlin's outstanding physique and the cinched waist do not need fad diets to follow. Instead, Lori practices and preaches eating in moderation and believes that one can achieve anything if one consumes in the right proportions.
Lori Loughlin also attempts to mostly stay away from alcohol, which is a big contributor to weight gain. She claims to love champagne, but she likes to consume it in moderation like anything else. She also claims that her biggest vice is caffeine in the form of tea and coffee.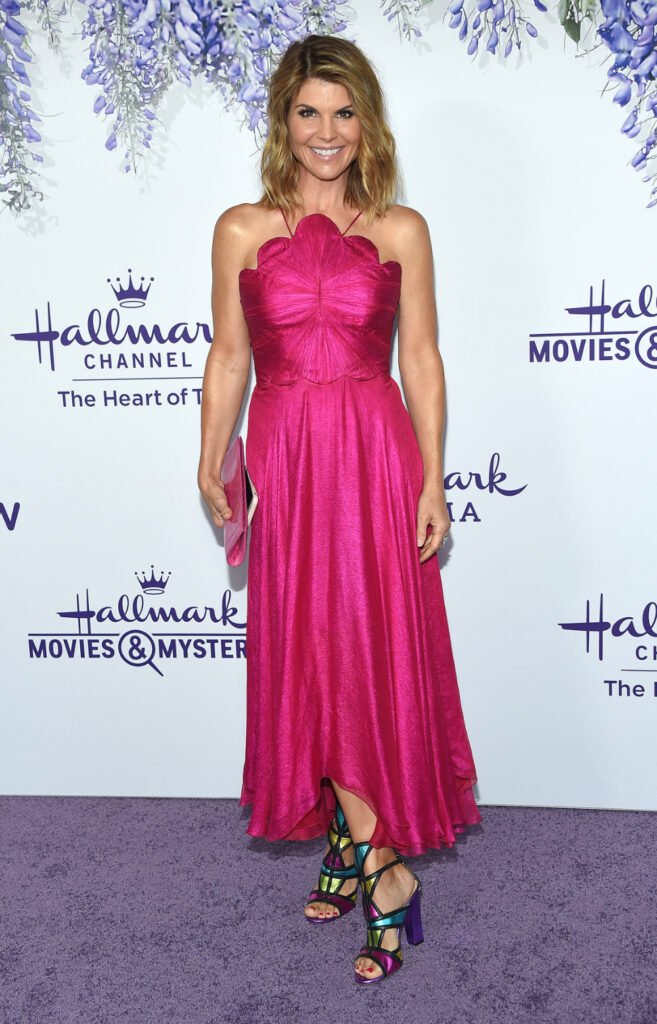 Lori Loughlin's Love Life
Lori Loughlin is an exquisite beauty, and that goes undisputed. Her unbelievable looks and lively personality has earned her many admirers, including some intimate relationships that bloomed happily ever after.
Lori Loughlin has been married two times until now, the first marriage being with an investment banker, Michael R. Burns. The duo exchanged rings in 1989. However, the couple soon called it quits, and Lori divorced Mich in 1996.
Before her divorce from Michael Burns, Lori met her second husband, Mossimo Giannulli, in 1995. One year after her divorce with Burns, Lori eloped with Mossimo on the day of Thanksgiving in 1997, and the two tied the knot soon after. Mossimo Giannulli is the creator of the renowned clothing brand Mossimo.
After their wedding, Lori and Giannulli had two daughters, Isabella Rose and Olivia Jade. Lori is also the stepmother to Mossimo's son from his previous relationship, Gianni. Until 2020, Lori and Mossimo were residing in a plush bungalow in Bel-Air, after which they sold it for a hefty amount.
Full Born Name: Lori Anne Loughlin
Nickname: Not revealed
Occupation: Actress, Producer
Religion: Roman Catholic, Christian
Date of Birth: 28th July 1964
Birthplace: Queens, New York City, United States of America
Zodiac Sign: Leo
Father Name: Joseph Roy Loughlin
Mother Name: Lorellee Loughlin
Siblings Name: Roy Loughlin
Spouse: Michael R. Burns (1989 – 1996), Mossimo Giannulli (1997 – present)
Children: Isabella Rose Giannulli, Olivia Jade Giannulli
Lori Loughlin's Body Measurements
Lori Loughlin's frame is the quintessential figure that people crave. Her slim waist, strong abs, and toned arms and legs are worth taking a second glance at. Her extraordinary body measurements are 36-25-36 inches or 91.44-63.5-91.44 cm.
Lori Loughlin is one of the fittest actresses in the Hollywood industry, who pays utmost attention to her physique. Lori Loughlin took to Instagram to show off her abs in a back crop top and teal blue tights, while at the gym. Lori's incredible figure is the consequence of her dedication to workouts.
In one of her interviews, Lori revealed that she has found her ideal workout and likes to stick to it. Her workout regime mostly includes yoga, dance cardio classes, leg lifts, and some weight training to tone her arms.
Lori Loughlin's Voluptuous Bosom
Lori Loughlin has an exceptionally seductive and sexy figure, we all agree. She proudly shows off her well-toned body on screen with her breast size of 36 inches and her bra size of 34B with a cup size B, which makes her fans drool over her beauty.
Owing to her rigorous workout sessions, Lori Loughlin has a voluptuous bosomy figure, phenomenal in any and everything that she wears. And even though Lori looks excellent all the time, one of her best appearances where she flaunted her noteworthy frame was her plunging neck, bottle-green jumpsuit, which she wore to the Emmys awards show.
| | |
| --- | --- |
| Height | 5 feet 5 inches or 165 cm (1.65 m) |
| Weight | 57 kgs or 126 pounds |
| Breast Size | 36 inches |
| Bra Size | 34B |
| Cup Size | B |
| Body Measurements | 36-25-36 inches or 91.44-63.5-91.44 cm |
| Figure | Hourglass |
| Chest Size | 36 inches or 91.44 cm |
| Waist Size | 25 inches or 63.5 cm |
| Hips Size | 36 inches or 91.44 cm |
| Shoe Size | 8 (US) or 41 (EU) or 7.5 (UK) |
| Dress Size | 6 (US) or 36 (EU) or 8 (UK) |
| Eyes Color | Dark Brown |
| Hair Color | Blonde |
| Natural breasts or implants | Natural |
Did Lori Loughlin Get Plastic Surgery Done?
Lori Loughlin has shared her workout regime and daily diet plans on public platforms multiple times. And in spite of many rumors about Lori undergoing plastic surgery, Lori Loughlin has never explicitly claimed or agreed to such gossip.
Lori's physique surely looks like something that one can achieve by dedicating themselves to the gym. And irrespective of all such rumors, everyone can determine the genuineness of Lori's body simply by looking at it.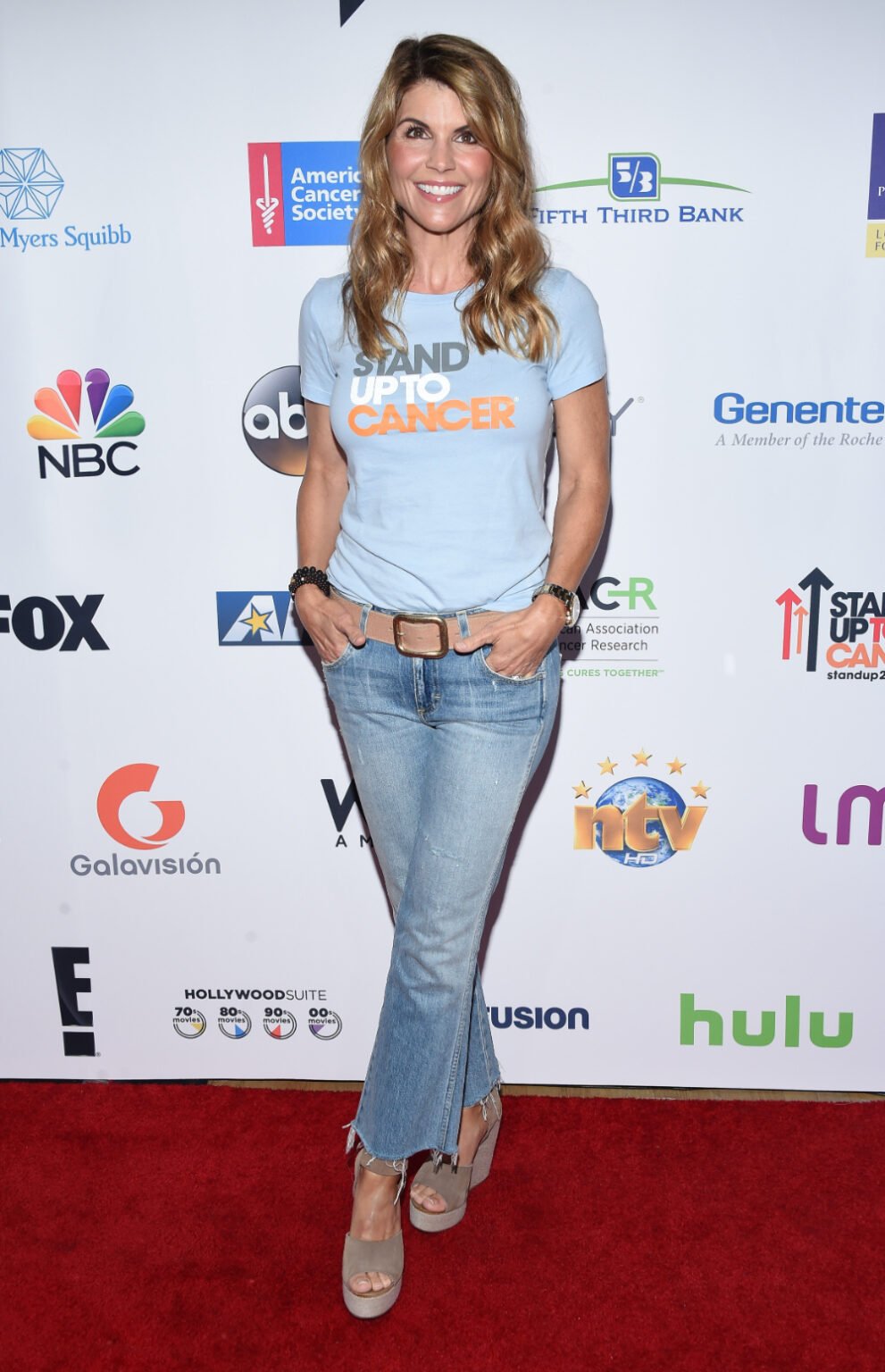 Lori Loughlin's Net Worth
As of 2021, Lori Loughlin has a notable net worth of $70 million. The actress, model, and producer has risen to great eminence in the Hollywood industry and earned substantial fame and money throughout her career.
Lori Loughlin and her husband, Mossimo Giannulli, recently sold their Bel Air house to the Tinder co-founder, Justin Mateen, for about $18.75 million, in 2020.
Lori Loughlin's Most Loved Things
Favorite Food: Mac and Cheese
Favorite Sport: Golf
Favorite Movie : Tootsie, 1982
Favorite Reality Show: The Bachelor
Lori Loughlin's Awards and Nominations
Young Artists Award: Michael Landon Award – CBS Schoolbreak Special, 1987
Daytime Emmy Awards: Outstanding Performer in a Children's Special – CBS Schoolbreak Special, 1989
PRISM Awards: Best Performance in a Drama Series Storyline – Summerland, 2006
Teen Choice Awards: Choice TV Parental Unit – 90210, 2009
Fun Facts About Lori Loughlin
Lori Loughlin was initially approached for the role of Emmeline in the 1980 movie, The Blue Lagoon. However, Lori turned it down, and it eventually went to Brooke Shields.
Lori Loughlin has a dog named Bianca, with who she loves to have her cuddle sessions with, after a long day at work.
Lori Loughlin loves to look up homes online and is known to go over to the property and snoop if it is empty. Lori says that her family makes fun of her over it.
What shape of face does Lori Loughlin have?
Lori Loughlin has an oval face shape which helps lift her cheekbones and gives her a structured jawline with a pointed chin.
What is Lori Loughlin's hair color?
Lori Loughlin has naturally blonde hair, which she has not changed much on screen. Her hair looks great at all lengths, straight as well as wavy.
What color eyes does Lori Loughlin have?
Lori Loughlin has naturally dark brown eyes that highly complement her blonde hair and fair skin tone.
Does Lori Loughlin go to dancing with the stars?
Lori Loughlin has not yet appeared on the show Dancing with the Stars and nor has confirmed the same. However, her daughter, Olivia Jade, has been on the show in the previous season.
Lori Loughlin is an exceptionally versatile actress who can ace any role that comes her way. Her road to success and life story reminds us of the outstanding American actress Shailene Woodley. If you wish to know about this gorgeous luminary's success story, love life, body measurements, and more, do look her up!