Brooke Shields is an outstanding actress who has won millions of hearts all across the world ever since her introduction to the entertainment industry at the age of 11. She has wowed audiences and critics with her charismatic personality and keeps her fans wanting more.
Brooke is a gorgeous woman who has broken hearts left and right. If you can't stop thinking about her, then follow along as we go over her body measurements, dating history, fitness routine, and more.
Brooke Shields' Story of Success
Brooke Shields was born on 31 May 1965 in Manhattan, New York City. She was raised by Teri Shields and Frank Shields until the age of five months when her parents divorced, and she was raised by her mother thereafter.
Brooke was encouraged to take up a career in acting by her mother while she was still young. As a result, she took piano and ballet lessons during her childhood and started modeling while she was only 11 months old.
Brooke made her film debut as a child in the controversial film Pretty Baby in which she played the role of a child prostitute. Brooke still received critical acclaim for her performance despite the film's controversial nature.
When Brooke turned 14, she was the youngest model to ever appear on the cover of Vogue, and as a result, her fame kept growing. She also appeared in the controversial advertisement for Calvin Klein jeans in both TV and print format and involved her saying, "You want to know what comes between me and my Calvins? Nothing."
After starring in a few more films like the original Blue Lagoon film and Endless Love, Brooke became incredibly famous across the country as she managed her acting and modeling careers quite successfully.
Brooke also appeared as a guest star on The Muppet Show back in the 1980s, leading to her becoming the youngest person to host ABC Fridays, which was heavily inspired by Saturday Night Live.
Soon after, Brooke decided to quit her acting and modeling career to attend Princeton University, where she studied French Literature. After graduating, she resumed acting and did work in several popular films and TV shows, including a recurring role in Jane the Virgin.
Brooke Shields' Height and Weight
Brooke Shields has an impressive height that makes her look simply amazing when she stands on stage. She stands 6 ft 0 inches or 183 cm (1.83 m) tall, and her weight is only 70 kg or 154 pounds.
Brooke doesn't maintain that perfect height to weight ratio by starving herself and restrictive diet plans. Instead, she believes in moderation and even considers it harder since it is a commitment to balance.
Brooke doesn't stop her cravings since it becomes a psychological battle. Instead, she goes for what she wants while aiming to burn it off in the future. Hydration is also crucial for the actress as it helps her stay energetic despite her busy schedule.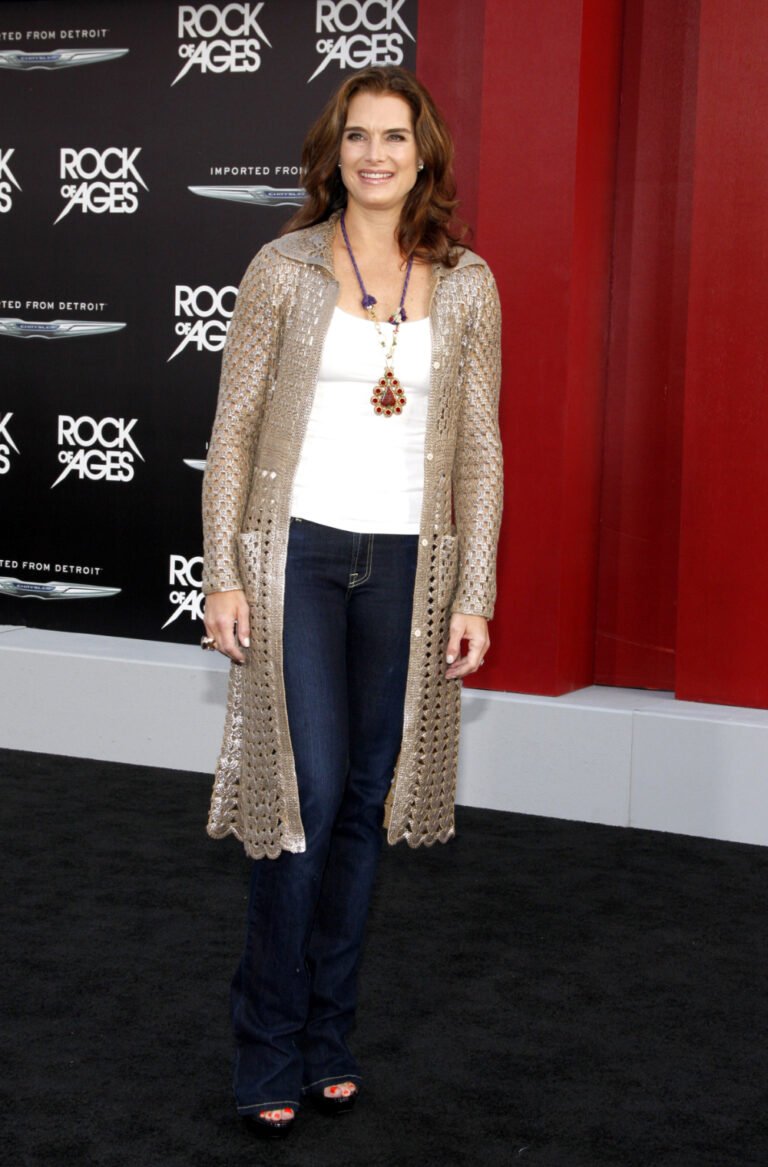 Brooke Shields' Dating History
After living an incredible career in her prime, Brooke Shields has become a prominent figure in the entertainment industry. Over the years, she has encountered various eligible bachelors and had discerning relationships, which we briefly discussed.
Brooke Shields' earliest known relationship was with American actor Scott Baio during 1978-1981. The duo looked picture-perfect together and was praised by their fans for their great chemistry.
Soon after, Brooke Shields met John Travolta in 1981. Brooke and John were filming 'Endless Love' and 'Blow Out' respectively and met during the promotion of their films.
Brooke's mother played matchmaker between the two, which led to their strong bond. Despite the eleven years of an age difference, the couple developed feelings for each other.
In the 80s, Brooke Shields was in the media's limelight for dating the legendary artist Michael Jackson who was six years older than her. The duo shared a special connection and felt safe in each other's companionship.
In 1984, Brooke Shields was pictured with a ring gifted to her by Michael. Even though Michale Jackson was keen on marrying her, Brooke Shields found the relationship quite platonic, so they finally separated because of their differences.
Brooke Shields is a graduate of Princeton University, where she met a present actor and then football player Dean Cain. Brooke Shields had admitted losing her virginity to Dean Cain and has expressed that he was extremely patient with her.
Brooke Shields' relationship with Dean Cain ended within two years because she felt discomforted continuing with the relationship during her academic pursuit. After graduating from the University, Brooke Shields was associated with actor Liam Neeson.
In 1992, Brooke Shields and Liam Neeson were in the headlines for sharing a special connection as they were pictured together at the OX screening. Liam charmed her with his poetry and wine and asked her to marry him.
Unfortunately, Brooke's relationship with Liam fizzled out very soon due to personal issues, and they called it quits. Soon after, Brooke Shields was linked with former Tennis player Andre Agassi in 1993, with whom she bonded for sharing the same perspective about fame.
The duo got married in 1997, but after Brooke appeared on the show Friends, and acted as a fan of Joey – the character played by Matt LeBlanc, Andre's affection turned into jealousy. As a result, the couple got divorced after two years of marriage.
Brooke is presently married to the Spin-City supervising producer, Chris Henchy. The duo became friends in 1998 after they met on the NBC special 'Christmas in Washington.'
Three years later, the couple tied the knot in a surprise ceremony in Marina Del Rey and are blessed with two children named Rowan Francis Henchy and Grier Hammond Henchy.
Full Born Name: Brooke Christa Shields
Nickname: Beautiful Woman
Occupation: Spokesperson, Actress, Model, Children's Book Author, Stage Actor, Voice Actress, Stage Actor, Fashion Model, Television Producer
Religion: Roman Catholic
Date of Birth: 31 May 1965
Birthplace: Manhattan, New York, United States
Zodiac Sign: Gemini
Father Name: Francis Alexander Shields
Mother Name: Teri Shields
Siblings Names: Marina Shields, Olympia Shields, Christina Shields, Thomas Gore Auchincloss Jr.
Spouse: Andre Agassi (m. 1997 – div. 1999), Chris Henchy (m. 2001 – present)
Children: Grier Hammond Henchy, Rowan Francis Henchy
Brooke Shields' Body Measurements
Brooke Shields is an amazing actress who is a major inspiration for various young actresses to achieve their fitness goals. Her body measurements are 36-27-35 in or 91.44-68.58-88.9 cm.
For her workouts, Brooke focuses on various exercises that target different muscle groups and keep things interesting enough, so she doesn't get bored. Brooke has even used the pandemic time to release her home workout videos to her Instagram account to motivate her fans and give them a reason to work out.
Brooke Shields' Ample Bosom
Brooke Shields looks hot as ever with her perfect-looking assets. Her breast size is 36 inches, and her bra size is 34B with cup size B.
Brooke is a woman who is confident in her skin, and this makes her even more attractive. She has inspired several women to pursue higher beauty standards, and her perfection is simply incomparable.
| | |
| --- | --- |
| Height | 6 ft 0 inches or 183 cm (1.83 m) |
| Weight | 70 kg or 154 pounds |
| Breast Size | 36 inches |
| Bra Size | 34B |
| Cup Size | B |
| Body Measurements | 36-27-35 in or 91.44-68.58-88.9 cm |
| Figure | Average |
| Chest Size | 36 inches or 91.44 cm |
| Waist Size | 27 inches or 68.58 cm |
| Hips Size | 35 inches or 88.9 cm |
| Shoe Size | 10 (US) or 41.5 (EU) or 8 (UK) |
| Dress Size | 4 (US) or 36 (EU) or 8 (UK) |
| Eyes Color | Blue |
| Hair Color | Light Brown |
| Natural breasts or implants | Natural |
Did Brooke Shields Undergo Plastic Surgery?
Brooke Shields has always been one of the most beautiful actresses globally. Moreover, her incredible fame has made her one of the most popular celebs to talk about. But this has also made her a target for plastic surgery rumors.
As her haters have been seeing Brooke over the years, they noticed a few changes in her appearance and that she's still retained her youthful charm. As a result, they claim that this is the result of plastic surgery.
However, Brooke has claimed that she's always been too afraid of undergoing plastic surgery. While she has admitted wanting to undergo surgery or injections, she hasn't done it as of now, and it is likely to stay that way.
Brooke Shields' Net Worth
Brooke Shields is an extremely talented actress who has worked hard to improve her career and earn the love of her fans. She has also accumulated quite a bit of wealth over the years. As of 2022, she has an estimated net worth of $40 million.
Brooke Shields' Most Loved Things:
Favorite Food: Ice Breakers Sours Candy
Favorite Products: True Botanicals resurrection Radiance Eye Cream
Favorite Celebrities: John Wayne, Marilyn Monroe, Tom Cruise, Rita Hayworth, Tom Hanks
Favorite Color: Blue
Notable Awards Won by Brooke Shields
Jupiter Award: Best International Actress, 1980-1981
People's Choice Awards, USA: Favorite Young Motion Picture Performer, 1981-1984, 1997
Razzie Awards: Worst Supporting Actress, 1981, 1985, 1990
The Stinkers Bad Movie Awards: Worst Actress, 1980
Seattle International Film Festival: Citation of Excellence for Ensemble Cast Performance, 2000
GLAAD Media Awards: Golden Gate Award, 2002
Young Artist Awards: Legend Award, 2020
A Few Fun Facts About Brooke Shields
Brooke Shields is a trained professional in ballet, piano, and horse riding. She has taken jazz classes for years, and fortunately, she delineated her skills in the opening credits of the movie 'Suddenly Susan' released in 1996.
Brooke Shields is a renowned activist famous for her charitable works. Brooke Shields is the official spokesperson for 'Tupperware's Chain of Confidence SMART Girls campaign' – a program that teaches girls to nurture their mental and physical well-being.
What face shape does Brooke Shields have?
Brooke Shield has a rectangle-shaped face with a sharp face cut and chiseled jawline, which perfectly complements her facial features.
What is Brooke Shields' hair color?
Brooke Shield's natural hair color is Light Brown, and she has appeared in long layered golden locks and wavy pattern hairstyles throughout her career.
What color eyes does Brooke Shields have?
Brooke Shield's natural eye color is Blue which is tempting and has captivated the hearts of millions.
Does Brooke Shields have tattoos?
Brooke Shields got a ladybug matching tattoo with her daughter Rowan to celebrate the high school graduation of the latter.
Did Brooke Shields win an Oscar?
No, Brooke Shields has not yet won an Oscar.
Is Brooke Shields riding horses?
Brooke Shields took horse-riding lessons in her childhood as she was a beautiful child who showed great potential at being active in show business.
Can Brooke Shields knit?
Brooke Shields worked on the film 'Furry Vengeance' where she used to knit blankets for her kids between takes on the sets.
Can Brooke Shields Sing?
Yes, Brooke Shields can sing professionally, and she left the audience astonished with her sensational performance when she sang 'Endless Love.'
Did Brooke Shields play Wonder Woman?
In 1986, Brooke Shields played the character of Wonder Woman when she was at Princeton's McCarter Theatre Center.
Did Brooke Shields go to college?
From 1983 to 1987, Brooke Shields pursued a Bachelor's degree in French Literature from Princeton University.
Brooke Shields is an iconic celebrity who has lived a remarkable career in Hollywood as she possesses immense talents, which she has depicted in her roles. Another trending celebrity in the present is Kristin Chenoweth, a marvelous diva who looks stunning and is fancied for her perfect body measurements. So check out her insightful dating history and life's story, which might excite you.