Alaska Daily actress Hilary Swank has taken Hollywood by storm with her sheer brilliance in acting and producing. The actress uses her celebrity status to raise a voice for things that matter to her, like animal welfare and philanthropy.
The two-time Oscar winner might not live in LA like other celebrities, but Hollywood just can't get enough of her!
IN A GIST
Wide-smiled actress Hilary Swank has a great height of 5 feet 6 inches or 170 cm.
She's an outdoorsy girl, which shows in her healthy weight of 55 kg or 121 pounds.
Looking younger than ever even at 48 years of age, Swank's birthday falls on July 30. She's way more than just an actress! Read on to know more about this Oscar-winning actress!
Hilary Swank's Age and Birthday
Producer and actress Hilary Swank is now 48 years old, though her extremely fit physique doesn't match that number. Her birthday falls on July 30, 1974, which makes her a Leo.
Hilary Swank's Education Background
Hilary joined Happy Valley Elementary School at age six. Then she attended Fairhaven Middle School and Sehome High School in Bellingham. She was a proficient swimmer and competed in the Junior Olympics and Washington state championships as well.
At fifteen, Swank's parents parted ways, and she moved to Los Angeles with her mother to pursue acting. She was enrolled at South Pasadena High School but dropped out because she didn't feel belonged.
Hilary Swank's Family Background
Hilary Swank and her older brother Daniel Swank were born to parents Judy Kay and Stephen M. Swank. Her mother may have passed down her performing skills to Swank because she herself was a dancer. She was always supportive of her dream of being an actress.
Swank's father was a Chief Master Sergeant in the Oregon Air National Guard and later worked as a salesman. They all lived together in Washington before the parents got separated when Hilary was fifteen.
Hilary's maternal grandmother was of Spanish and Native American descent, and her paternal grandmother was English, having mixed roots. This gives Swank her rich, mixed Descent.
Speaking of her married life, Hilary got married to her first husband, American actor Chad Lowe in 1997. The couple lasted ten years before parting ways. After another eleven years, Swank announced her wedding to entrepreneur beau Philip Schneider in 2018.
The couple announced in October 2022 that they were expecting twins. Hilary now flaunts her bump and happiness with her beau all over her social media.
Hilary Swank's Climb to Fame
Swank dropped out of school to pursue acting, and her first role was a supporting role in the film Buffy the Vampire Slayer in 1992. She landed her debut leading role two years later as Julie Pierce in The Next Karate Kid, 1994.
Since then, she has worked in famous hits like Kounterfeit, Terror in the Family, and sixteen episodes of the famous Beverly Hills, 90210. Her best performance of all time was in 1999's Boys Don't Cry, which got her an Oscar and a Golden Globe.
But those were not her only wins because she again won an Academy Award and a Golden Globe for her role as a boxer in 2004 hit Million Dollar Baby by Clint Eastwood. Making it to the list of two-time Oscar winners, she rightly got her star on the Hollywood Walk of Fame in 2007.
Later she worked on many more hit films like P.S. I Love You and Logan Lucky and also took on some production responsibilities in works like Amelia and What They Had.
As an active animal advocate, Swank founded a non-profit organization called Hilaroo Foundation. She also launched an eco-friendly clothing line in 2016 called Mission Statement, making her a businesswoman as well.
Full born name: Hilary Ann Swank
Nicknames: Hilary Swank
Occupation: Actress, Producer, Entrepreneur
Date of birth: July 30, 1974
Birthplace: Lincoln, Nebraska, U.S.
Zodiac sign: Leo
Father name: Stephen Michael Swank
Mother name: Frances Martha Clough
Siblings name: Daniel Swank
Spouse: Philip Schneider ​(2018- present); ​Chad Lowe (1997- 2007)
Children: None
Hilary Swank's Height and Weight
Million Dollar Baby star Hilary Swank walks proudly tall at 5 feet 6 inches or 170 cm (1.70 m). She is currently expecting twins with her husband, Philip, but in her pre-pregnancy health, she maintains a healthy weight of around 55 kg or 121 pounds.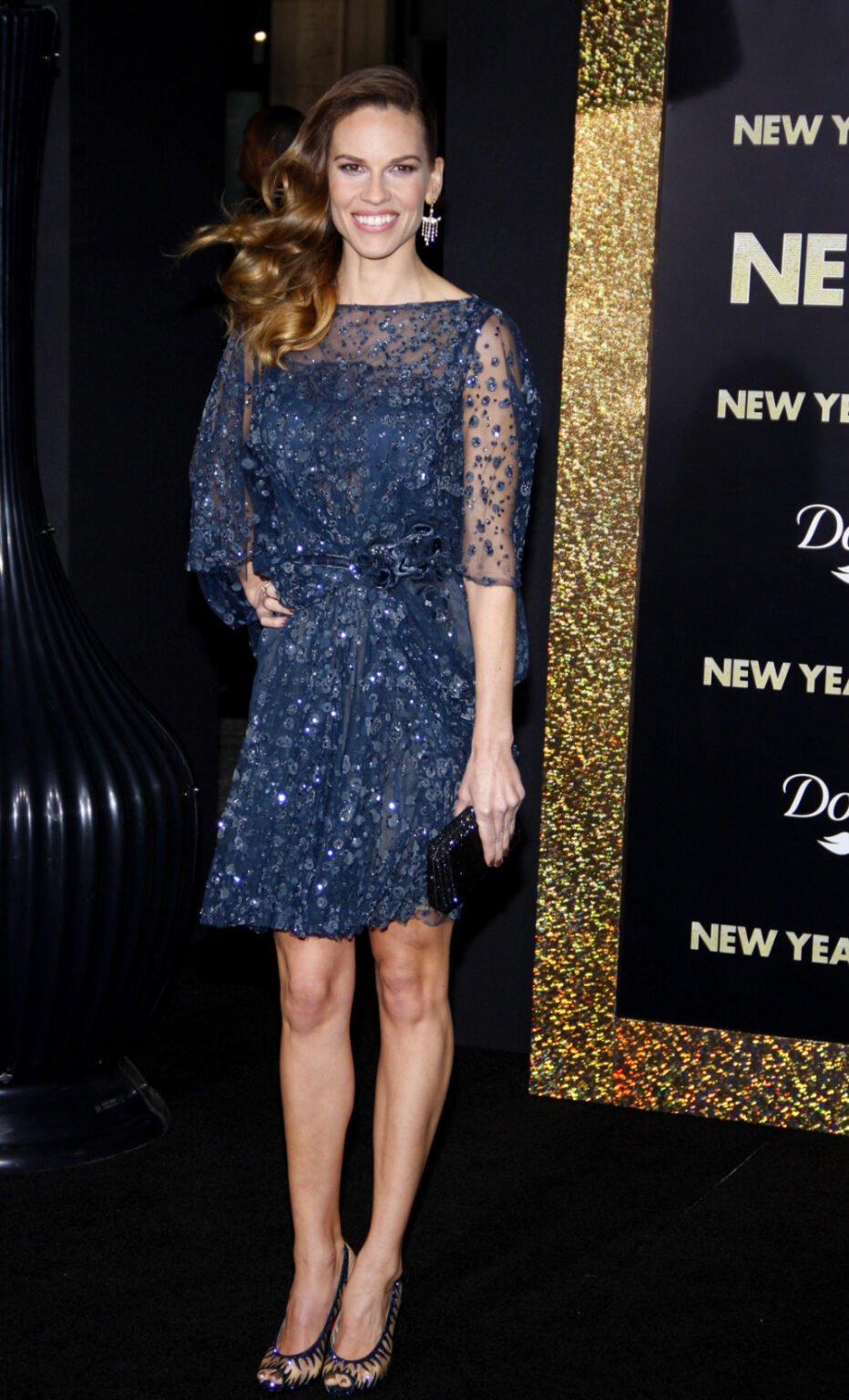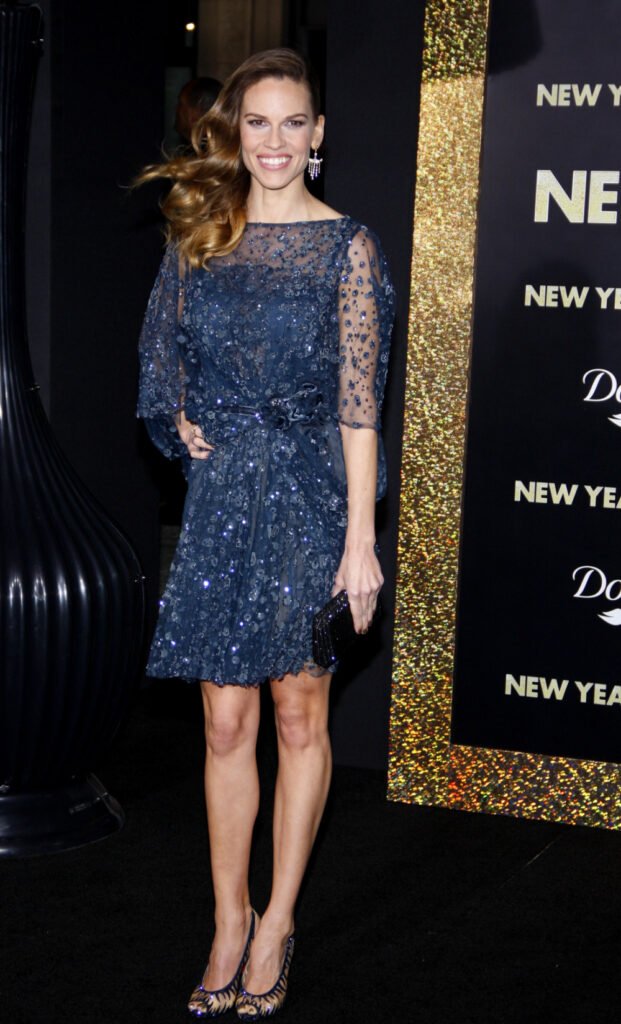 Hilary Swank's Body Measurements and Physical Traits
Hilary Swank is known for her fit body, especially in her role as a boxer in Million Dollar Baby. Her possible body measurements are 34-24-35 inches or 86-61-89 cm. Keeping in mind her body type, her bra size is about 32B with a cup size of B.
Swank has just the perfect face for the screen; it's a beautiful, square-shaped face that is always attractive with her wide smile.
Hilary Swank is blessed with great features, and that includes her dark brown eyes, which look best with a minimal look. In addition to that, she has lustrous brown hair that looks great even with highlights and different hairstyles.
Hilary Swank's Fitness Routine
Swank appreciates the results of treating her body well. She often hits the gym, lifts weights, gets a good ab workout, and also goes rock climbing for endurance. She works on her body while ensuring she has fun by trying new ways to exercise.
After a good hike on a Sunday, Swank enjoys a glass of bubbly with her furry friends. She also enjoys salty dark chocolate, organic popcorn, and healthy food options over junk food.
| | |
| --- | --- |
| Height | 5 feet 6 inches or 170 cm (1.70 m) |
| Weight | 55 kg or 121 pounds |
| Face Shape | long square shaped |
| Bra Size | 32B |
| Cup Size | B |
| Body Measurements | 34-24-35 inches or 86-61-89 cm |
| Shoe Size | 9 (US) or 40 (EU) or 7 (UK) |
| Dress Size | 2 (US) or 34 (EU) or 6 (UK) |
| Eyes Color | Dark Brown |
| Hair Color | Brown |
Disclaimer
Hilary Swank's Social Media Family
As an actress, animal activist, and now a mom-to-be, Hilary Swank has an awesome following on social media. Her fans love to stay updated about her life, which results in her huge fan following!
Hilary Swank's Stunning Net Worth
Having worked in more than thirty films, won more than fifty awards, and started her own clothing line and a non-profit organization for animals, Hilary Swank is one of the wealthiest celebrities. The figure that defines Hilary Swank's net worth is a whopping $ 70 million.
Hilary Swank's Favorite Things
Favorite Animals: Dogs
Favorite Color: Yellow
Favorite Adventure Activities: Hiking and Camping
Favorite Hobby: Knitting and crocheting
Interesting Facts about Hilary Swank
Swank got her inspiration to start her non-profit Hilaroo Foundation after she rescued a dog named Karoo in South Africa.
Actress Mariska Hargitay and Swank became great friends on the sets of ER, and Hargitay was the maid of honor at Swank's wedding.
When Hilary and her mother first moved to Los Angeles, they lived in their car till her mother could save money for rent.
Swank revealed that she wanted to be an actress because she found comfort in the characters of a book or film and not with her peers in school.
Hilary's original surname Swank is "Schwenk," of German origin.
What face shape does Hilary Swank have?
Hilary Swank always flaunts her amazing looks, and her long, square-shaped face attracts many eyeballs.
What is Hilary Swank's hair color?
Hilary Swank has brown hair, and she looks best with free and flowy hairstyles.
What color eyes does Hilary Swank have?
Hilary Swank has dark brown eyes, which look best with just a subtle eyeshadow.
Does Hilary Swank have tattoos?
Hilary Swank doesn't seem to have any visible tattoos and loves her natural self.
Did Hilary Swank win an Academy Award?
Hilary Swank has won the Academy Award twice for Best Leading Actress in Boys Don't Cry and Million Dollar Baby.
Is Hilary Swank left-handed?
Yes, Hilary Swank is left-handed, just like a lot of creative people in the entertainment industry.
Is Hilary Swank Vegan?
Hilary Swank enjoys eating vegan chocolates and other such dishes, probably because she follows a vegan diet.
Did Hilary Swank play in Law and Order? 
Hilary Swank did not play a role in the show Law and Order, but her close friend from the sets of ER, Mariska Hargitay, starred in the show.
Did Hilary Swank go to college?
Hilary Swank dropped out of South Pasadena High School in Los Angeles because she felt like she didn't fit in with the school.
Where does Hilary Swank live?
Hilary Swank currently lives with her husband, Philip Schneider, and their five dogs at their newly built Colorado mountain house.
Hilary Swank's performances have not only been awarded justly but appreciated the world over for the efforts she puts in behind each character. Actress Sharon Case is another award-winning actress who has been known to bring life to each of her characters. Read all about her here.