Brittany Snow is an amazing actress who has worked quite hard to reach the level she is at today. Her varying portfolio and outstanding talents speak enough about her skills and determination to rise to the top.
Brittany is a gorgeous woman and has the most mesmerizing eyes you'd ever see. If you find yourself unable to get her out of your head, then follow along as we go over her body measurements, dating history, fitness routine, and more.
Brittany Snow's Story of Success
Brittany Snow was born on 9 March 1986 in Tampa, Florida. She was raised by her father, John Snow, and mother, Cinda Snow, in Tampa, along with her brother and sister. The siblings attended Gaither High School while growing up.
Brittany was introduced to the camera early and started modeling when she was only three years old. She started modeling for print ads for Burdines stores.
Soon after, she got her acting debut in her teen years as Susan "Daisy" Lemay in the daily soap opera Guiding Light. She worked on the show for three years and was well-loved by the audience.
The fame from this show allowed her to get noticed by quite a few TV producers and helped her bag another prominent role in the show American Dreams, in which she played the role of Meg Pryor.
This show also helped Brittany start her musical career as she sang the backup vocals for the soundtrack of the show. The song she worked on was My Boyfriend's Back, and it helped her receive a ton of acclaim as a vocalist.
Soon after, Brittany got a prominent role in a teen rom-com film called John Tucker Must Die, in which she starred opposite Jesse Metcalfe. The film made $68 million in international sales and made Brittany a global sensation.
Her vocal skills came in handy soon after, when Brittany got the opportunity to voice Namine, a character in the video game Kingdom Hearts II. Then, her voice acting skill was taken to the big screen in Whisper of the Heart, in which she voiced Shizuku Tsukishima.
Brittany soon got one of her most prominent roles to date in the Pitch Perfect series of musical comedy films. She played the role of a cappella singer called Chloe. She reprised her role in all three films and got enormous success and fame.
Since then, Brittany has worked on several popular films and TV series, including Someone Great's rom-com film on Netflix. Her incredible success speaks volumes about the actress's amazing talents and determination to excel.
Brittany Snow's Height and Weight
Brittany Snow is one of the tallest girls in the Perfect Pitch crew, which has always helped her stand out. She stands 5 ft 4 inches or 163 cm (1.63 m) tall, and her weight is only 58 kg or 128 pounds.
After seeing Brittany's perfectly balanced height and weight ratio, even Thanos would feel envious. She swears by keeping a perpetual bowl of fruits in her fridge to help her maintain her weight even while on the road.
Brittany likes to begin her days with egg whites and fruits, followed by a salad with goat cheese and cranberries for lunch. She doesn't eat meat and instead goes for a nice grilled fish like salmon along with her salad. Snow also loves drinking coconut water as her beverage of choice.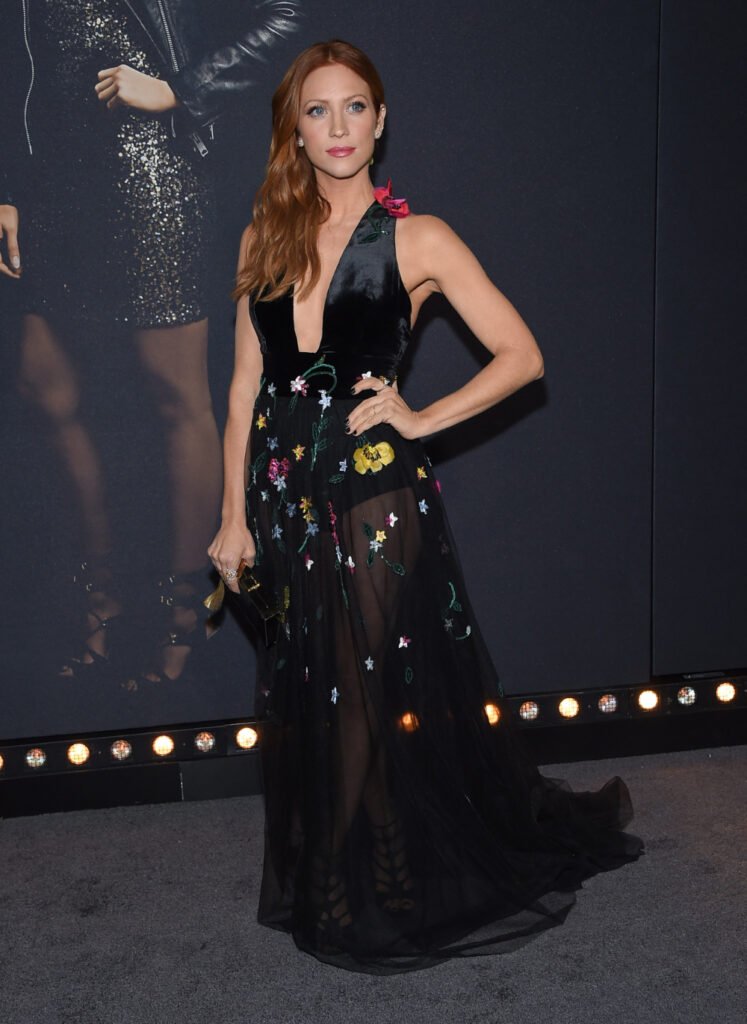 Brittany Snow's Dating History
Brittany Snow has a charming personality which has attracted several men in the industry. Brittany has lived an open life where the media knows all the whereabouts and personal information from her dating life, and we have covered all the major insights below.
Brittany Snow's first relationship started in 2004 with drummer Michael Johnson. The duo dated for almost three years and then decided to end their relationship in 2007 due to busy schedules.
Later, Brittany Snow revealed that she cares about him, but she could not focus on a relationship with her growing career. So on mutual terms, Michael Johnson and Brittany Snow had separated.
After their split, Brittany Snow even approved of Michael Johnson's relationship with her co-star Ann Camp. Anna made an Instagram post featuring Michael, which was captioned 'In the middle of nowhere with no one I'd rather be with,' Brittany had commented, 'Love you guys!'
In 2007, after separating from Michael Johnson, Brittany Snow had dated American actor Josh Henderson for a year. However, their relationship was short-lived as they both looked for a rebound, and things were not so serious between them.
So, in 2008 Brittany Snow started dating actor Lucas Grabeel when she searched for love. Before Brittany Snow started the Love is a Louder movement with The Jed Foundation, she participated in an 'It's On My Mind' campaign with Lucas Grabeel.
Brittany Snow and Lucas Grabeel even participated in the Pepsi Refresh Challenge. They tried to win $250K for their new campaign, an initiative to improve the emotional health of people struggling with depression.
After separating from Lucas Grabeel, Brittany Snow was in an on-and-off relationship with Ryan Rottman from 2008, which eventually ended in 2010 because of compatibility issues.
In 2011, Brittany Snow dated musician William Tell for a year as they were seen holding hands in public and spending quality time together. However, due to different choices in their career, they decided to part ways on mutual terms.
In 2012, Brittany Snow fell in love with actor Tyler Hoechlin, but she kept this one more private and away from the media's eyes due to past relationship failures.
They made a few appearances on the red carpet together and were romantically involved until 2015 when their relationship fell apart. So after separating from Tyler, Brittany Snow started dating award-winning filmmaker Andrew Jenks as a rebound relationship, which failed miserably.
Presently, Brittany Snow is married to realtor boyfriend Tyler Stanaland, who she started dating in 2019. Tyler Stanaland is a sixth-generation Stanaland who sells property in southern California.
In 2019, Brittany announced their engagement on Instagram after sharing their picture in 2018. Brittany finally decided to tie the knot and settle for Tyler as her beloved husband in 2020.
Full Born Name: Brittany Anne Snow
Nickname: Britt
Religion: Christianity
Date of Birth: 9 March 1986
Birthplace: Tampa, Florida, United States
Zodiac Sign: Pisces
Father Name: John Snow
Mother Name: Cinda Snow
Siblings Names: Holly Snow, John Snow Jr.
Spouse: Tyler Stanaland (m. 2020 – present)
Children: None
Brittany Snow's Body Measurements
Brittany's perfect measurements have made her a timeless fitness goal for young women in the entertainment industry. Her body measurements are 36-25-34 in or 91.44-63.5-86.36 cm.
Brittany maintains her impressive measurements by working out regularly. She literally grew up running, and it is her favorite workout while listening to music and she even finds new music while running.
Running also helps the young actress explore new places, but when it's time for a more serious workout, she switches to Pilates and Spinning. Spinning offers her the same level of cardio as running while also ensuring that her body isn't too sore for Pilates to work on toning her muscles.
Brittany Snow's Ample Bosom
Brittany Snow has amazing assets that her fans throughout the ages have fancied. Her breast size is 36 inches, and her bra size is 34B with cup size B.
While looking at Brittany, you may think that she isn't the kind of girl who understands the emotions of self-hate. However, she is a major inspiration for self-love and self-care and has helped millions of women overcome their self-doubts and learn to accept the beauty in their bodies.
| | |
| --- | --- |
| Height | 5 ft 4 inches or 163 cm (1.63 m) |
| Weight | 58 kg or 128 pounds |
| Breast Size | 36 inches |
| Bra Size | 34B |
| Cup Size | B |
| Body Measurements | 36-25-34 in or 91.44-63.5-86.36 cm |
| Figure | Slim |
| Chest Size | 36 inches or 91.44 cm |
| Waist Size | 25 inches or 63.5 cm |
| Hips Size | 34 inches or 86.36 cm |
| Shoe Size | 8 (US) or 39 (EU) or 6 (UK) |
| Dress Size | 6 (US) or 38 (EU) or 10 (UK) |
| Eyes Color | Blue |
| Hair Color | Blonde |
| Natural breasts or implants | Natural |
Did Brittany Snow Ever Consider Plastic Surgery?
Brittany Snow is one of the most perfect-looking stars of this day and age. Her appearance has made audiences lose their hearts to her each time this amazing celeb has come on stage.
However, Brittany has dealt with feelings of insecurity in the past. She fell on a brick when she was three years old, splitting her head open. The young actress had to get 14 stitches for the wound and fortunately didn't suffer any long-term injuries.
However, the fall did leave a scar on her forehead that Brittany has thought of removing via plastic surgery a few times. However, she later decided against the surgery and embraced her scar as it adds character.
Brittany Snow's Net Worth
Brittany Snow is one of the most amazing celebrities of today, and she has worked hard throughout her career to earn her fame and fortune. As of 2022, she has an estimated net worth of $9 million.
The actress has made a big name for herself over the years with her determination and hard work, and a large share of her net worth comes from her work in various popular films like the Pitch Perfect series.
Brittany Snow's Most Loved Things:
Favorite Food: French Fries
Favorite TV Show: Suits
Favorite Color: Silver
Favorite Products: Sunglass, Kerastase Deep Conditioner, Bumble for Styling, Pureology Shampoo
Notable Awards Won by Brittany Snow
Boston Film Festival: Best Actress, 2011
Hollywood Film Awards: Ensemble of the Year, 2007
MTV Movie + TV Awards: Best Musical Moment, 2013
Palm Springs International Film Festival: Ensemble Cast Award, 2008
Teen Choice Awards: Choice Movie: Chemistry, 2015
Young Artist Awards: Best Performance in a Daytime TV Series – Young Actress, 2001
A Few Fun Facts About Brittany Snow
Brittany Snow was just two years old when she tripped and fell on a brick wall and got a scar on her forehead. She lived in Tampa, Florida, where she got fourteen stitches to recover from this scar. Despite this incident, she began modeling at the age of three, which shows her spirit of being a star.
Brittany Snow is the co-owner of the organization LoveisLouder where suicide survivors help other people facing depression and trauma. She started the Love is Louder movement in 2010 with The Jed Foundation and MTV to support people who feel mistreated, alone, and misunderstood.
What face shape does Brittany Snow have?
Brittany Snow has an oval-shaped face with a wide forehead and sharp jawline making her look alluring because of her porcelain complexion.
What is Brittany Snow's real hair color?
Brittany Snow's natural hair color is Blonde, and she has appeared in wavy and straight plaid shoulder-length hairstyles, which suits her appearance well.
What color eyes does Brittany Snow have?
Brittany Snow has Blue-colored eyes, and people just love to drool in them as they are so captivating.
Does Brittany Snow have a tattoo?
Brittany Snow has two visible tattoos on her body: a ladybug on her wrist and Sanskrit on her ankle.
Does Brittany Snow sing?
Brittany Snow is not a professional singer, but she has immersed herself in rehearsals to perfect the Broadway-style choreography and elaborate vocal arrangements for her career roles.
Where does Brittany Snow live?
Presently, Brittany Snow lives in Los Angeles, California, the United States.
Brittany Snow is one of her kind, amongst the most versatile and skilled actresses of the present times. Her success in the industry due to her diverse talents like modeling and singing is phenomenal. She reminds us of the trending celebrity Meaghan Martin, who has taken the world by storm with her stellar appearance and performances.