The gorgeous young lady has kept her fans guessing what it means to be Amouranth. The widest guess is unfading love, and it makes sense because she's highly streamed, stalked, and paid, thanks to her grand social media fame!
From OF to Twitch to purchasing an inflatable pool toy company, Amouranth has risen to become a millennial social media star. And we're all here to watch her thrive!
IN A GIST
Amouranth stands at an average height of 5 feet 4 inches or 163 cm (1.63 m).
She has a gorgeous, pear-shaped figure weighing approximately 57 kg or 126 pounds. 
Amouranth is a 30-year-old Sagittarius and was born in 1993 in Houston, Texas. Let's discover more exciting facts about her career, family, education, and more!
How Old Is Amouranth?
Twitch streamer, Amouranth is thriving as a 30-year-old, and her birthdate is December 2, 1993. Born in Houston, Texas, Amouranth stands among the most popular social media celebrities, especially for her ASMR Twitch Livestreams today!
Amouranth's Real Name
Amouranth's real name is Kaitlyn Siragusa. The OnlyFans fame and popular Twitch streamer is always in discussion for her unique social media name and its meaning.
Though Amouranth hasn't revealed what her name really means, it is believed that it is connected to love in a way. Most people say it means Unfading Love, but the streamer hasn't confirmed that either.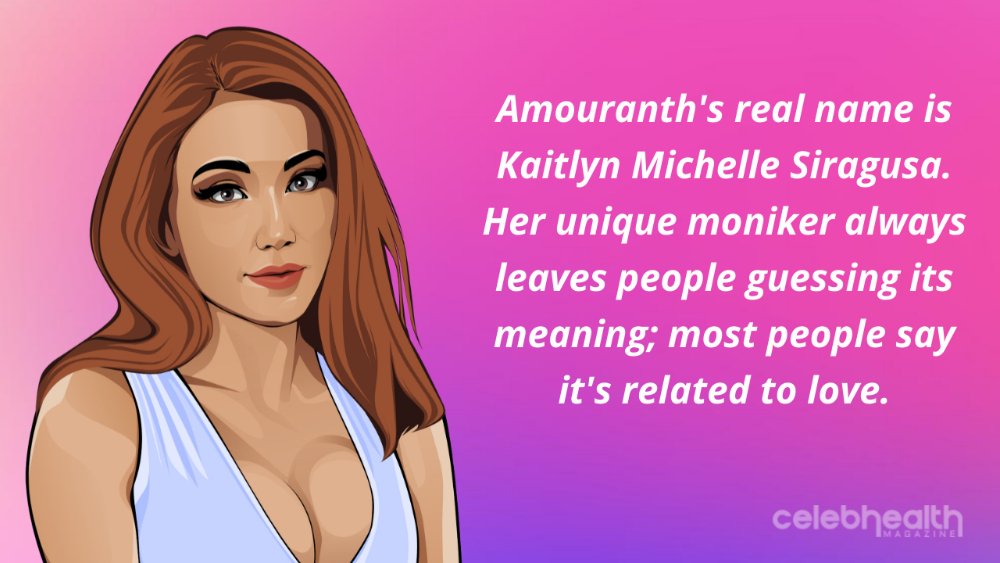 Amouranth's Journey to Fame
For Amouranth, it all began with costume design and cosplay when she was in high school. She started her character entertainment company for children in 2015. In 2016, Twitch approached her to do a live stream of her making costumes.
Since then, Amouranth hasn't looked back. With a quick and large following, she now has more than 6 million followers on Twitch. She began with costume design and dancing streams, but now her followers even like to watch her just sleep.
After taking Twitch by storm with her hot tub streams, she is now also one of the biggest content creators on OnlyFans. She gets her maximum revenue from OF with millions of fans on the platform.
Adding entrepreneur to her many hats, this year Amouranth announced that she will start a company that does the job of matching personal assistants with content creators.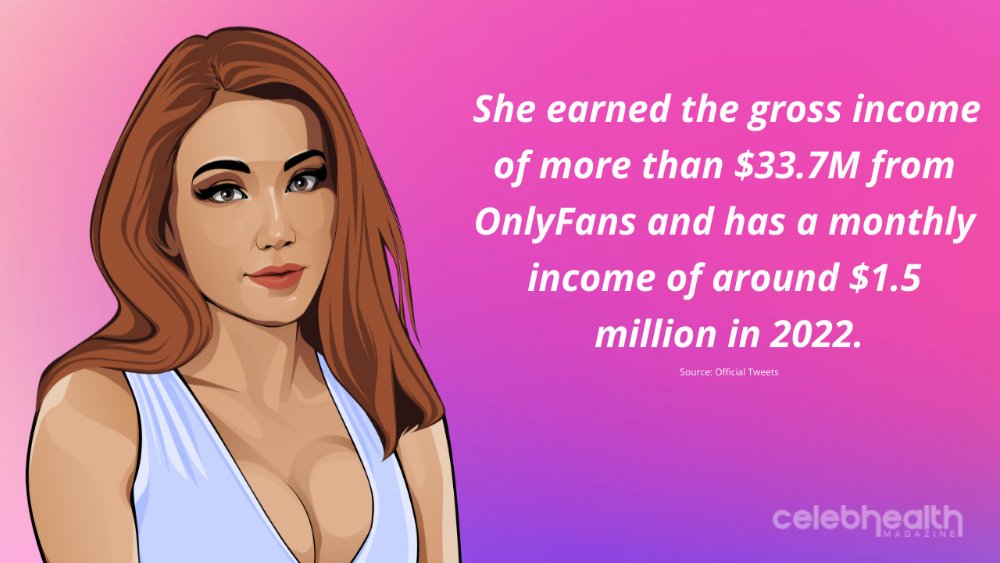 Amouranth's Education Background and Net Worth
Amouranth grew up in Houston and graduated high school. She studied theatrical Costume Design in college and was endorsed by her professor as the costume designer for the Houston Grand Opera and the Houston Ballet.
In 2015 she started her own children's character company that would provide fairytale characters for birthday parties and other such events.
Today, Amouranth is one of the most popular and controversial Twitch streamers and content creators on OnlyFans. Being one of the wealthiest internet celebrities in America, Amouranth's estimated net worth as of 2023 lies between $20 million to $25 million and is still growing. 
Amouranth's Family Background
Born in Houston, Texas, Amouranth is a single child. With working parents, Amouranth spent most of her time alone because both her parents were working.
Amouranth's aunt taught her to sew, and that's how she got inspired to do costume design. She said that her parents are very conservative and were not supportive of her career choices until they found out how much she earns with the content.
Full Born Name: Kaitlyn Michelle Siragusa
Nick Names: Amouranth
Occupation: Twitch streamer, YouTuber, Model, Cosplayer, and OnlyFans content creator
Date of Birth: December 2, 1993
Birthplace: Houston, Texas, U.S.
Education: High School Graduate
Zodiac Sign: Sagittarius
Spouse: Nick Lee (Separated)
Amouranth's Height and Weight
Famous American Twitch streamer Amouranth has an incredible body with a good height of 5 feet 4 inches or 163 cm (1.63 m). And the star surely knows how to display herself in the best way possible in her cosplays! 
Moreover, Amouranth maintains her glamorous figure that her fans absolutely adore, at a healthy body weight of around 57 kg or 126 pounds. The star takes total pride in her full curves, and her fans love her for that! 
Amouranth's Body Measurements and Appearance
Amouranth is known for her striking figure, and her body measurements are estimated at 38-26-41 inches or 96-66-104 cm. Her toned assets have always been the center of attention, which she appears to flaunt in a bra size 34D and a cup size D. 
Apart from her stunning physique, Amouranth's glowing oval-shaped face is yet another reason for her popular cosplaying. She's got the most beautiful green eyes giving her appearance a unique touch.
On top of that, Amouranth also seems to dye her hair in different colors for her cosplays, looking stunning in all of them. Her beauty can't be overlooked!
What Does Amouranth Do to Keep Her Curvacious?
Known for her curves and petite waist, Amouranth follows a healthy diet with strictly three meals a day. Her day starts with bananas every morning. Her meals are full of nutritious veggies like broccoli, rice, and protein-rich foods.
She likes to keep her skin glowing by consuming fresh fruits rich in minerals, sugarless lime water, and orange juice to get the Vitamin C she needs. Amouranth works out regularly and has a fixed set of routines that she swears by to keep herself toned and attractive.
Every day she does a hundred pushups, sit-ups, and squats each. The gamer follows it up with a ten-kilometer run for the cardio she needs and Yoga for stretching.
Besides, Amouranth likes to sweat out without air conditioning to maintain her body temperature and build strength. She believes pushing your body to sweat out more strengthens your mind as well.
| | |
| --- | --- |
| Height | 5 feet 4 inches or 163 cm (1.63 m) |
| Weight | 57 kg or 126 pounds |
| Face Shape | Oval |
| Breast Size | 38 inches |
| Bra Size | 34D |
| Cup Size | D |
| Body Measurements | 38-26-41 inches or 96-66-104 cm |
| Figure | Pear-shaped |
| Shoe Size | 6 (US) or 37 (EU) or 4.5 (UK) |
| Dress Size | 8 (US) or 40 (EU) or 12 (UK) |
| Eyes Color | Green |
| Hair Color | Brown |
Disclaimer
Amouranth's Favorites
Favorite Workout: Yoga Stretches
Favorite Animal: Dogs and Horses
Favorite Work and Hobby: Make Cosplay Costumes
Favorite Pizza: Breakfast Pizza from Jupiter's with sausage, bacon, and over-easy eggs
Fun Facts about Amouranth
Amouranth has two dogs named Nox and Bear and two horses named Spirit and Kyra.
Her first-ever costume was of Princess Zelda, which she designed for a convention in Houston and won. 
When she was a kid, Amouranth used to believe that broccoli was little trees, and she loved nibbling on them. 
Amouranth has been fighting her ban on Instagram because of other accounts in her name that have been posting the same content without any action being taken on them being fake. 
She won the Best ASMR Streamer award at The Streamer Awards for 2022. 
Amouranth's Fan Following
Starting her career as a costume designer, Amouranth is now ranked as one of the most popular Twitch streamers and OnlyFans fame. She has grown a huge fan base with millions of followers on her social media platforms.
What face shape does Amouranth have?
Amouranth has a beautiful oval-shaped face with a well-defined chin.
What is Amouranth hair color?
Amouranth's natural hair color is brown, but she likes to dye them different colors, especially red and orange.
What color eyes does Amouranth have?
Amouranth has beautiful green-colored eyes, and they complement her brown hair.
Does Amouranth have tattoos?
Amouranth does not have any tattoos and enjoys her attractive, natural self.
Did Amouranth quit Twitch?
Amouranth has not quit Twitch. She got back from her fifth Twitch ban in October 2021.
Where is Amouranth's gas station?
Amouranth bought two gas stations. The latest one is a Kum and Go chain which is popularly found in Iowa and Oklahoma.
Does Amouranth go to school?
Amouranth graduated from high school and focused on her career as a costume designer and cosplay. She does not go to school because she works as a streamer and content creator.
Where does Amouranth live?
Amouranth lives in Houston, Texas.
OnlyFans has become one of the most popular platforms for creators to create and monetize their content. Amouranth is one of the most popular creators on OF, and Lauren Alexis is not behind. Find out all about Lauren Alexis here.