The Barbados babe who made an enormous impact on both the music and fashion world with her inevitable charm and talents, this is the pop sensation Rihanna for you!
From her first recorded album, Music of the Sun, to her most recent Oscar-nominated soundtrack, Lift Me Up, this new mother has never failed to take the world by storm with her phenomenal skills and utmost confidence. A true icon for a reason!
IN A GIST
The queen of avant-garde fashion, Rihanna boasts a superb height of 5 feet 8 inches or 173 cm (1.73 m).
Rihanna weighs around 60 kg or 132 pounds and looks fabulous, flaunting her sensational physique!  
Rihanna was born on February 20, which makes her a shining Pisces lady. If you wish to know more about her, read along to explore Rihanna's measurements, life, dating history & much more!
How Old Is Rihanna?
Singing sensation and icon Rihanna is a 35 years old Barbadian singer who's been ruling the music and fashion industry for about two decades. A bold, kind, and creative individualist, Rihanna's personality, as a Pisces born on February 20, leaves her fans totally spellbound!
How Rihanna Rose to Fame
After Rihanna was brought to the US, she started making demo records with Syndicated Rhythm Productions. As soon as Jay-Z heard her demo record, he invited her to audition and signed her up for a six-record deal with Def Jam Records.
Soon, her records started gaining popularity, and Rihanna became a household name across the US with her back-to-back chartbusters albums like Music of the Sun, A Girl Like Me, Good Girl Gone Bad, Talk That Talk, Unapologetic, and Anti, among others.
Riri also started acting and has been in several famous movies such as Battleship, Valerian and the City of a Thousand Planets, Home, and Ocean's 8.
Rihanna's Dating History
Rihanna's personal life is covered in mysteries most of the time. However, some details do eventually slip by or are admitted by the singer herself.
In 2007, Rihanna was rumored to be dating Shia LaBeouf, but Shia admitted it didn't work out between the couple. A year later, Riri admitted to being in a relationship with Chris Brown. However, the couple broke up when Chris physically assaulted Riri.
Rihanna had a year of dating Dodgers player Matt Kemp in 2010. They broke up when Rihanna wanted space. After this, she kept herself out of the dating scene for a while until 2015, when the Barbados Babe went on dates with Travis Scott. After this, there are rumors of her having dated Leonardo DiCaprio and Drake.
Rihanna also dated Saudi Businessman Hassan Mohammed Abdul Latif Jameel from 2017 to 2020. Then, in 2021, it was reported that Riri and American rapper ASAP Rocky started dating, and the next year, we got the great news of Riri giving birth to her first child.
Recently, in February 2023, Rihanna revealed that she is pregnant with her second child. We wish her the best for her upcoming life adventures.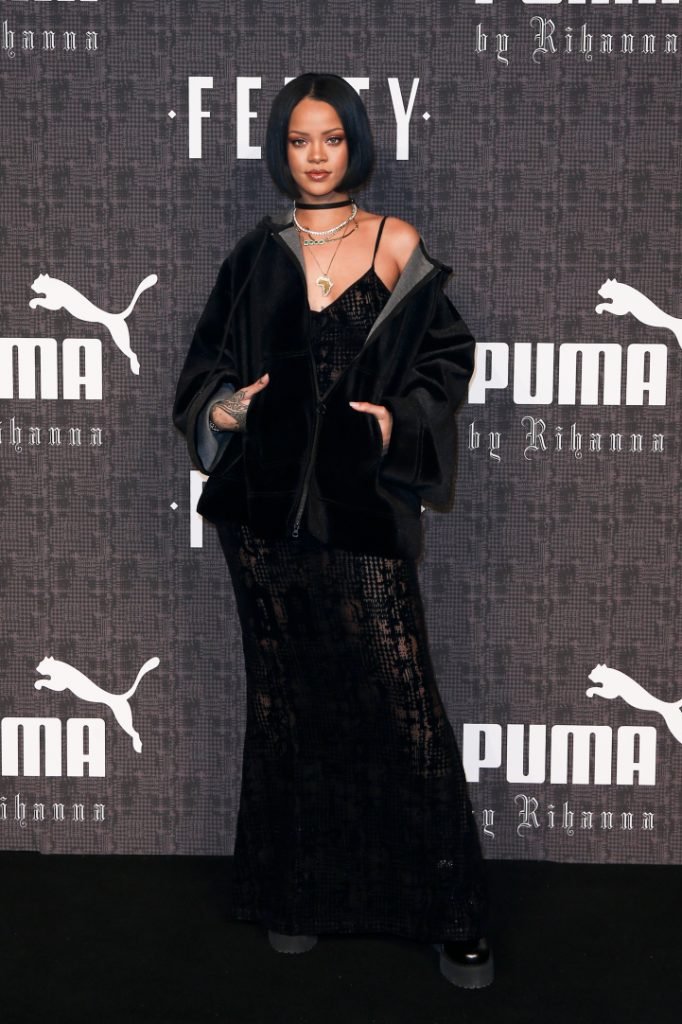 Full Born Name: Robyn Rihanna Fenty
Nicknames: Caribbean Queen, Rihanna, Riri, The Barbados Babe
Religion: Christian
Date of Birth: February 20, 1988
Birthplace: Saint Michael, Barbados
Zodiac Sign: Pisces
Father Name: Ronald Fenty
Mother Name: Monica Braithwaite
Siblings' Names: Rajad Fenty, Rorrey Fenty, Jamie Fenty, Samantha Fenty, Kandy Fenty
Rihanna's Height and Weight
There's no doubt that Rihanna's fantastic height of 5 feet 8 inches or 173 cm (1.73 m) helps her take center stage in all her music videos. With those long and shapely legs adorned by glam heels, she walks in full swag and confidence, crushing millions of hearts just like that!
Rihanna's voluptuous figure is a major highlight of all her on-screen and on-stage performances. Riri has maintained a healthy weight of around 60 kg or 132 pounds. But, considering her recently confirmed second pregnancy, it's likely that the singer may have put on some extra healthy pounds. Nonetheless, Rihanna looks stellar!
An interesting post by Women's Health describes Rihanna's fitness habits. For the singer, the most important meal of the day is breakfast, and she usually enjoys eggs and veggies for this.
Rihanna seems to have a naturally fit body, and her ability to eat what she wants while maintaining those amazing measurements is bound to leave several women jealous. It shows the effectiveness of her workout routine.
Rihanna's Body Measurements and Breathtaking Features
Rihanna has swooned many times with her erotic dance moves in her music videos, and she looks ever-so-hot doing so, thanks to her sultry figure with body measurements of 37-26-37 inches or 94-66-94 cm.
Besides, Rihanna's oval-faced shape and those illuminating hazel eyes ooze a lot of confidence and elegance that adorns her persona! Riri is popular for her eccentric hairstyles on naturally black hair. From wet hair to thick curls, she looks heavenly in each look!
Rihanna's Ample Bosom
Rihanna has all the right body proportions for posing in fashionable outfits; she literally owns the Met Gala! Seeing Rihanna in bodycon dresses with deep necklines, she seems to wear a bra size 36B with a cup size B flaunting her bosom of 37 inches.
A recent post by E-News describes just how much Rihanna hates bras. This has led to the pop star wearing bold outfits that leave her breasts partially exposed. And her confidence lets her kill it with all of her fashion choices, and we admire her for it.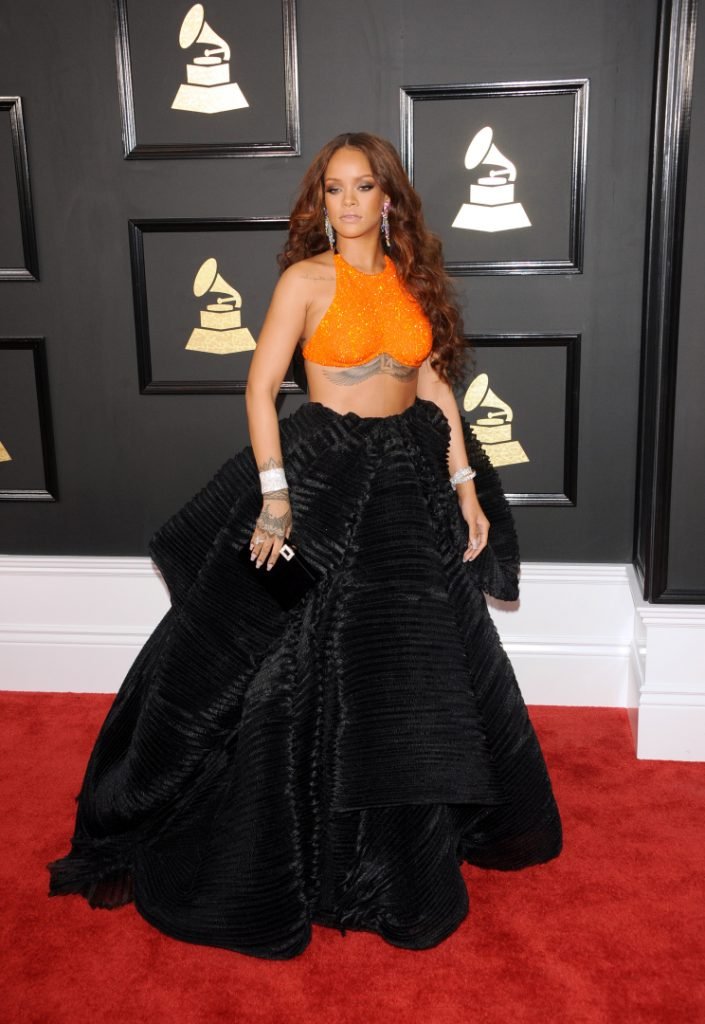 | | |
| --- | --- |
| Height | 5 feet 8 inches or 173 cm (1.73 m) |
| Weight | 60 kg or 132 pounds |
| Face Shape | Oval |
| Breast Size | 37 inches |
| Bra Size | 36B |
| Cup Size | B |
| Body Measurements | 37-26-37 inches or 94-66-94 cm |
| Figure | Hourglass |
| Dress Size | 4 (US) or 36 (EU) or 8 (UK) |
| Shoe Size | 9 (US) or 40 (EU) or 7 (UK) |
| Eyes Color | Hazel |
| Hair Color | Black |
Disclaimer
Rihanna's Net Worth
Rihanna is a genre and a trend herself in the music industry. But apart from being a wildly successful singer, she is also a skilled actress and an intelligent businesswoman with her own lines like Fenty Beauty, Savage X Fenty, and Fenty Skin.
Summing it all up, it's no surprise that Rihanna is a billionaire with an estimated net worth of $1.7 billion as of 2023. Her expanding business empire adds $40-80 million to it every year.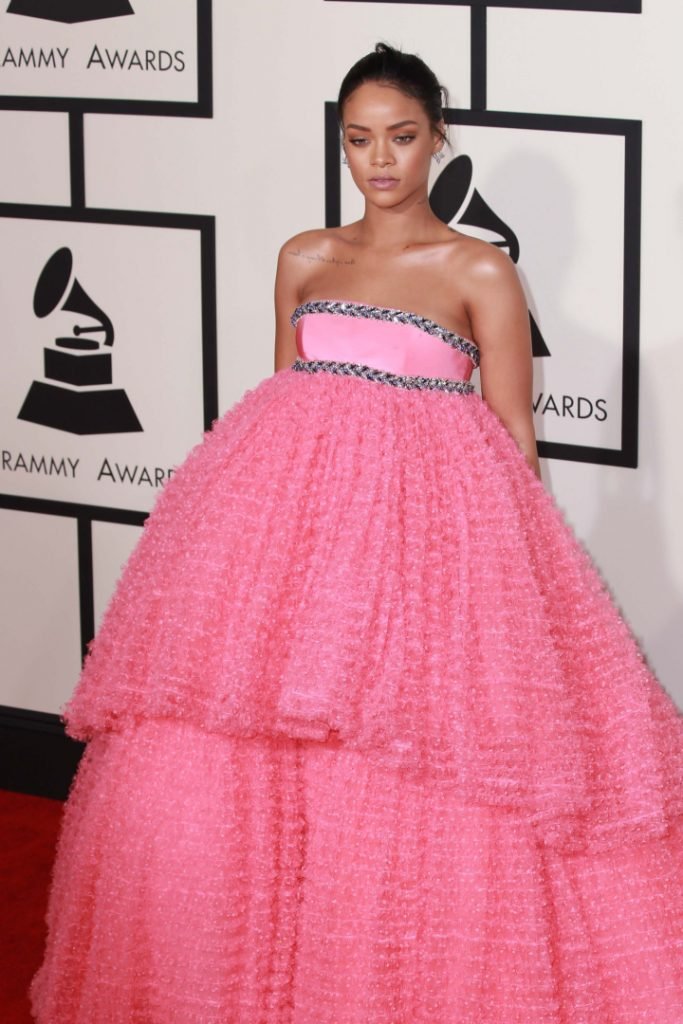 Rihanna's Favorites
Favorite Snack: Cheetos, Oreos
Favorite Song: Best on Earth by Russ and Bia
Favorite Cuisine: Chinese, Caribbean food
Favorite Hobbies: Swimming, Reading
Favorite Restaurant: Popeyes
What face shape does Rihanna have?
Rihanna has a beautiful oval-shaped face with a slimmer chin.
What is Rihanna's Real Hair Color?
Rihanna's natural hair color is black; however, she also looks fabulous with her burgundy red hair.
What is the Real Color of Rihanna's Eyes?
Rihanna's eyes are hazel in color.
Does Rihanna have tattoos?
Yes, Rihanna has many interesting tattoos on her body. Some of those are her Henna-inspired tattoo on her right hand, stars on her back, and a small gun tattoo on her right side, among many others.
Did Rihanna win an Oscar?
Rihanna hasn't won an Oscar yet, but she bagged an Oscar nomination for Best Original Song in 2023 for her single Lift Me Up for the 2022 superhero film Black Panther: Wakanda Forever.
Did Rihanna own Fenty?
Yes, Rihanna launched her own fashion line called Fenty with LVMH in 2019, but she decided to put it on hold to launch and expand her other lines like SavageXFenty, Fenty and Skin.
Is Rihanna in Black Panther?
Rihanna is not in Black Panther; she only recorded a soundtrack called Lift Me Up for the film.
Is Rihanna Vegan?
Rihanna eats meat as well as dairy products, which means she is not a vegan.
What is Rihanna's Nationality?
Rihanna is from Barbados.
Does Rihanna play the piano?
No, Rihanna doesn't play piano.
Did Rihanna still make music?
Rihanna may haven't released any new albums in the past few years, but she hasn't stopped making music.
Did Rihanna go to Harvard?
No, Rihanna didn't attend Harvard University. She was only awarded Humanitarian of the Year" by the Harvard Foundation.
Where did Rihanna live?
Rihanna currently resides in Beverly Hills with her partner and their kids.
Rihanna is an amazing singer and has used only her talent to get to where she is today. She is the ultimate example of a rags-to-riches story and has inspired many with her hard work! If you want to know about another singer who came from an ordinary background and broke the charts, check out Meghan Trainor's story!