This Grammy-winning singer showed that it is possible to revolutionize music with just one song. Meghan Trainor was born on December 22, 1993, to Gary and Kelli Trainor. Music was in her family as her father is a former organist, and he inspired Meghan to take up singing in their family's Methodist church choir at age 6.
She started a band with her family while she was only 12 and began her music career. If you love Meghan Trainor as much as we do, read along as we explore everything from Meghan Trainor's Measurements to her dating history.
How Meghan Trainor Rose to Fame
When she was 15, Meghan started to independently release her music. By the time she was 17, she had already released three albums, and these were – "Meghan Trainor", "I'll Sing with You", and "Only 17". In 2010, Meghan recorded a song titled "Take Care of Our Soldiers" and donated all of its proceeds to the United States Organizations and Cape Cod Cares for Our Troops.
Meghan got her real fame when she teamed up with Kevin Kadish to make the song "All About that Bass". This song was an instant hit when it got released in 2014, and since then it has sold over 11 million copies worldwide and was the No.1 in over 50 countries.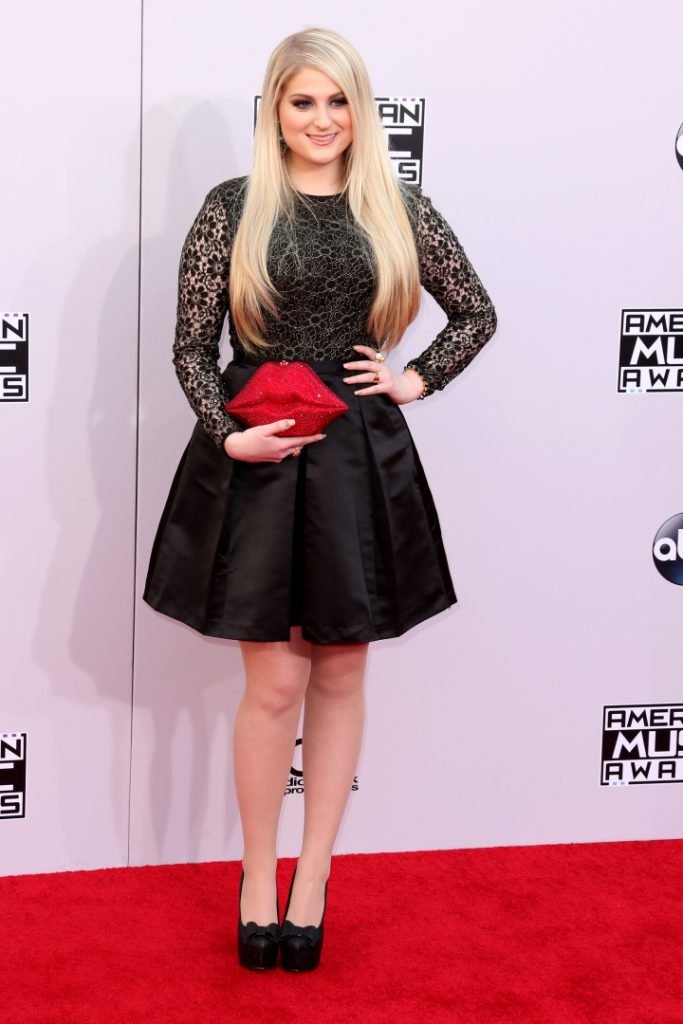 Meghan Trainor's Height and Weight
One of Meghan's most impressive qualities in her music videos is her height. She stands 5 feet 4.5 inches or 1.64 m (164 cm) tall, and her weight is 149.9 pounds or 68 kg.
Ever since Meghan began her fitness journey, she hasn't let anything hold her back. Meghan made large strides towards fitness to lose 20 pounds and inspired a lot of women globally to take better care of their health. As reported by DailyMail, she can be seen doing intensive weight-lifting workouts even during her pregnancy.
Meghan Trainor's Dating History
Not a lot is known about Meghan's dating history before she achieved global fame. However, her dedicated fans have been able to find out about two of her celebrity relationships.
In October 2015, Meghan was dating the singer Charlie Puth. However, this relationship was quite short-lived as they broke up after two months of being together.
The following year, Meghan met the love of her life – Daryl Sabara. She started dating the actor in July, and after a year and five months of their relationship, the couple decided to tie the knot. They have been married for over three years now and have a son together. We wish them the best for their future.
Full Born Name: Meghan Elizabeth Trainor
NickNames: MTrain
Occupation: Singer, Songwriter
Religion: Christian
Date of Birth: December 22, 1993
Birthplace: Nantucket, Massachusetts, USA
Zodiac Sign: Capricorn
Father Name: Gary Trainor
Mother Name: Kelli Trainor
Siblings Names: Ryan Trainor, Justin Trainor
Spouse: Daryl Sabara
Children: Riley Sabara
Meghan Trainor's Body Measurements
Meghan has an hourglass figure which meets the peak of attractiveness. Her body measurements are 39-29-39 inches or 99-73.6-99 cm.
In an interview with People, Meghan said about how insecure she used to feel because of her body image. She mentioned how she would hide behind sweatshirts even in summer to avoid showing her body. However, in recent years, she has made tremendous strides towards her health, and we are glad that she has regained her confidence in herself now.
Meghan Trainor's Ample Bosom
Meghan has the body that makes all the boys go crazy for her. Her breast size is 39 inches, and her bra size is 36C with a cup size of C.
While a lot of her fans have speculated that Meghan's song "All About that Bass" refers to the booty, she clarified in a recent interview with the Guardian that she doesn't have anything against people who prefer breasts instead by saying "but the treble isn't boobs". The singer loves unity and wants all her fans to attend her concerts together without any kind of division between them.
| | |
| --- | --- |
| Height | 5 feet 4.5 inches or 1.64 m |
| Weight | 149.9 pounds or 68 kg |
| Breast Size | 39 inches |
| Bra Size | 36C |
| Cup Size | C |
| Body Measurements | 39-29-39 inches or 99-73.6-99 cm. |
| Figure | Hourglass |
| Chest Size | 39 inches or 99 cm |
| Waist Size | 29 inches or 73.6 cm |
| Hips Size | 39 inches or 99 cm |
| Dress Size | 12 (US) or 44 (EU) or 16 (UK) |
| Shoe Size | 9 (US) or 40 (EU) or 7 (UK) |
| Eyes Color | Green |
| Hair Color | Red |
| Natural Breasts or Implants | Natural |
Has Meghan Trainor Gone Under the Knife?
Meghan Trainor did undergo surgery; however, it isn't for cosmetic enhancements. She suffered from vocal cord hemorrhages and needed surgery to fix it. According to E-News, the singer has reportedly undergone two vocal cord surgeries, and fortunately, both have been successful.
Meghan Trainor's Net Worth
Being a Grammy Award-winning singer, Meghan is especially known for her song "All About That Bass". Today, she has a net worth of $14 million, despite taking a four-year break from music.
Meghan's Favorites
Favorite Singer: Bruno Mars
Favorite Animal: Koala
Favorite Food: Turkey
Favorite Beverage: Water
Favorite Fruit: Lemons
Meghan Trainor showed us that anyone can revolutionize the world. Without coming from a family of rich and celebrities, she was able to impact the lives of millions with one song. Being an icon for the youth isn't easy, and we wish Meghan the best for her future. If you want to know about another singer who has impacted society with her voice, then don't forget to check Taylor Swift's measurements.
How Did Meghan Trainor Lose Weight?
Meghan Trainor credits her now-husband, Daryl Sabara in helping her make lifestyle changes such as cooking her meals and exercising. She says this helped her lose 20 pounds.
What Color is Meghan Trainor's Hair?
Meghan Trainor's natural hair color is red. However, she is more famous with blond hair.
Why Did Meghan Trainor Stop Singing?
Meghan Trainor took a four-year break from singing to let her vocal cords heal after two extensive surgeries due to vocal cord hemorrhages.