Tessa Thompson is one of the most incredible actresses of today who has established herself at a skyrocketing pace in the film industry. Her hard work has helped her shine time and again in front of audiences and critics alike.
Tessa's incredible looks and mesmerizing eyes have never had trouble breaking hearts. If you find yourself lost in thoughts of this beautiful actress, then follow along as we go over her body measurements, dating history, fitness routine, and more.
Tessa Thompson's Story of Success
Tessa Thompson was born on 3 October 1983 in Los Angeles, California. Tessa was then raised by her father, Marc Anthony Thompson, the founder of Chocolate Genius, Inc., a musical collective and a singer-songwriter.
While attending Santa Monica High School, Tessa played Hermia in a school theatre production of A Midsummer Night's Dream, which interested her in acting. She was very fond of theatre and kept at it over the years.
In 2002, Tessa got her stage debut in a professional production of Shakespeare's Tempest, in which she played the role of Ariel. After that, she continued acting in Shakespeare plays, with her next appearance being in Romeo and Juliet: Antebellum New Orleans.
The fame from her stage work eventually helped Tessa get her TV debut in the crime drama Cold Case on CBS. Tessa played the role of a homosexual smuggler from the 1930s in the tv show, and this role helped bring her quite a bit of fame over the years.
Soon after, she appeared as Jackie Cook on the noir drama show Veronica Mars. She joined the show during its second season and was made a regular cast member.
Her film debut came in a horror movie called When a Stranger Calls. In the film, Tessa plays the role of Scarlett. This film further increased her reputation as an actress who can perform complex roles with absolute grace.
As time went on, Tessa starred in a few more films and TV shows that further increased her fame throughout Hollywood. A few years later, she was selected to star in the Rocky sequel film called Creed as Bianca Taylor. The role became one of her most prominent ones to date, and she even reprised it for Creed II.
Around the same time, Tessa appeared as Valkyrie in Thor: Ragnarok. The audience loved her in the film, and her character became a fan favorite. She was asked to reprise her role for Avengers: Endgame and Thor: Love and Thunder, in which she would be declared the MCU's first major LGBT superhero character.
Since then, Tessa has worked on various shows and movies that have expanded her fame to new heights. She has earned the love of millions of fans across the world, and it's all thanks to her hard work.
Tessa Thompson's Height and Weight
Tessa Thompson has an impressive height that makes her perfect for playing roles in action movies. She stands 5 ft 4 inches or 162 cm (1.62 m) tall, and her weight is only 55 kg or 121 pounds.
The Tessa Thompson diet has helped her stay fit and active throughout her career while maintaining her perfectly balanced height and weight ratio. Since she has to train hard to meet the needs of her acting roles, Tessa enjoys a meal plan that includes a ton of different nutrients.
Her breakfast alone includes almonds, grapefruit, kombucha, and avocado. This meal includes various antioxidants, stress relievers, protein sources, and healthy fats that prevent hunger for a long time during the day.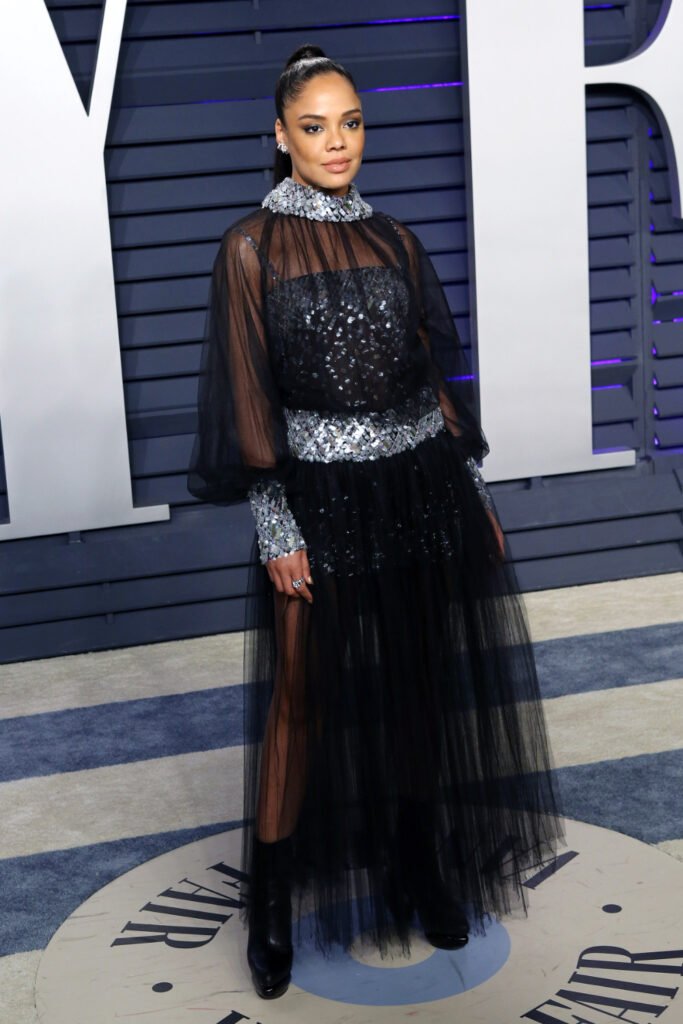 Tessa Thompson's Dating History
Tessa Thompson is attracted to both men and women but chose not to label herself bisexual. She is an incredible beauty with larger-than-life talents who has attracted a lot of crowds behind her for her gorgeous looks.
In 2002, Tessa Thompson and Ben Crowley were in a secret relationship kept away from the media's limelight. Tessa Thompson was on the rise to stardom, so they never confirmed their relationship in public.
Ben Crowley was also pursuing a career in acting when he fell in love with Tessa Thompson. Unfortunately, due to their career choices and hardships, they both could not keep the romance alive and decided to call it quits to focus on their lives.
In 2015, Tessa Thompson appeared as a background dancer in the music video 'Yoga' by artist Janelle Monáe. They made a public appearance together at the 2015 MOCA gala, which raised speculation that they were dating.
In 2018, their relationship was confirmed as they attended the movie premiere of 'Annihilation' in Los Angeles and even collaborated as star-crossed lovers in Janelle's Dirty Computer album.
In an interview with Porter Edit, Tessa Thompson confirmed her relationship with Janelle Monàe by stating that they are very close and vibrate on the same frequency. They were romantically involved and were quite comfortable with each other.
In 2019, Tessa Thompson was seen with Dev Hynes, aka Lightspeed Champion, a singer-songwriter, Director, and record producer. They attended Wimbledon in London and were spotted shopping together in New York.
In 2020, Tessa Thompson and Dev Hynes were very close at the Sundance premiere of Sylvie's Love at the Milan Fashion Week. However, they never confirmed their relationship in public and had separated when people started spreading rumors about them.
Presently, Tessa Thompson has been dating Australian model Zac Stenmark since 2021. The couple was spotted kissing in public at RuPaul's Drag Race Down Under premiere in Sydney.
They spent great quality time together and have been spotted hand in hand with each other enjoying exotic vacations. They are happy in their current relationship, taking things slowly as they do not intend to rush in life.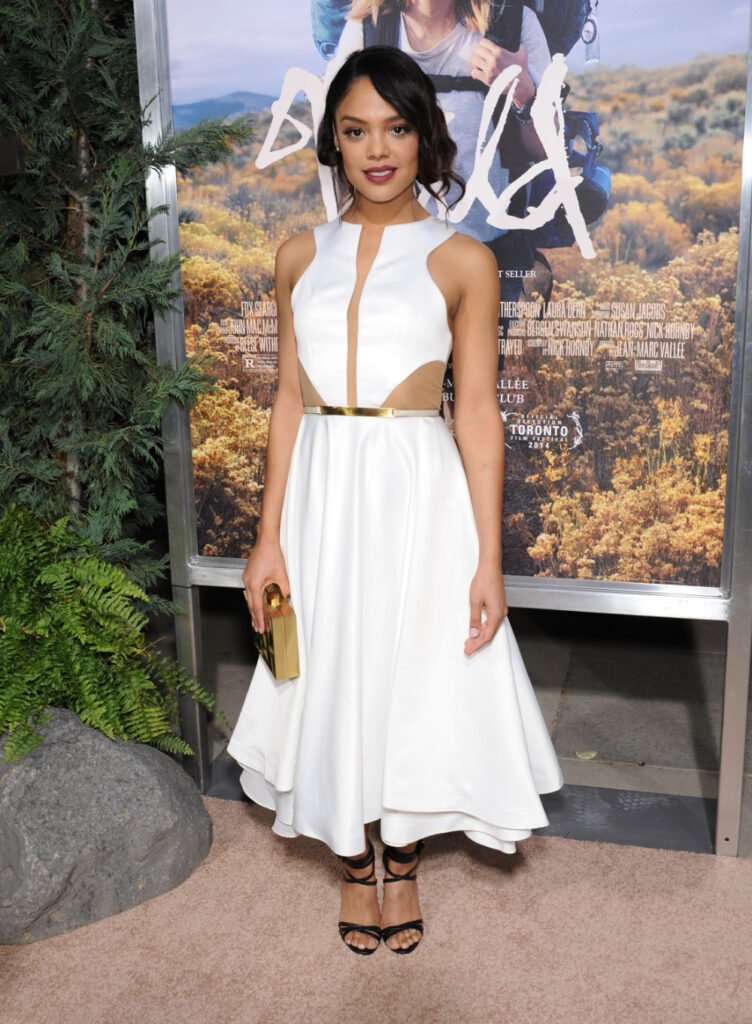 Full Born Name: Tessa Lynne Thompson
Nickname: Tessa Thompson
Religion: Christianity
Date of Birth: 3 October 1983
Birthplace: Los Angeles, California, United States
Zodiac Sign: Libra
Father Name: Marc Anthony Thompson
Mother Name: Not Disclosed
Siblings Names: Zsela
Spouse: None
Children: None
Tessa Thompson's Body Measurements
Tessa Thompson has an impressive body that makes her look like a superhero in real life. Her body measurements are 34-27-35 in or 86.36-68.58-88.9 cm.
Tessa Thompson's body measurements are a result of her incredible workout routine. She loves doing Pop Fitness classes and states that it is the reason behind dramatic changes in her fitness levels.
Her workout routine is practiced 3 to 5 days a week and includes a jog followed by circuit training. This is then switched up by visiting Pop Fitness for every alternate training day, and she also performs cardio exercises like biking, hiking, playing sports, etc.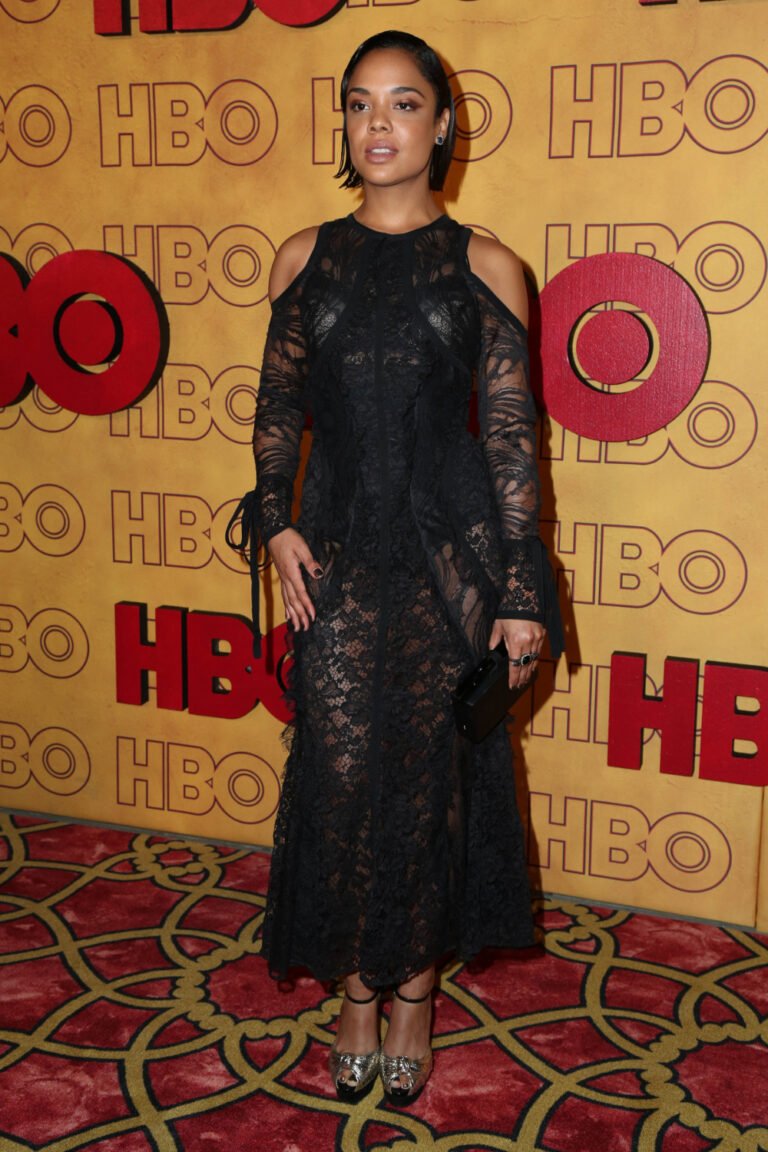 Tessa Thompson's Ample Bosom
Tessa Thompson has an attractive bosom that makes her one of the hottest actresses out there. Her breast size is 34 inches, and her bra size is 34A with cup size A.
Tessa Thompson is a bold woman who knows just how to carry herself to turn heads while she walks. Her fiery red coat in Good Morning America is just one of the many examples of the actress' incredible fashion sense.
| | |
| --- | --- |
| Height | 5 ft 4 inches or 162 cm (1.62 m) |
| Weight | 55 kg or 121 pounds |
| Breast Size | 34 inches |
| Bra Size | 34A |
| Cup Size | A |
| Body Measurements | 34-27-35 in or 86.36-68.58-88.9 cm |
| Figure | Athletic |
| Chest Size | 34 inches or 86.36 cm |
| Waist Size | 27 inches or 68.58 cm |
| Hips Size | 35 inches or 88.9 cm |
| Shoe Size | 7.5 (US) or 38 (EU) or 5.5 (UK) |
| Dress Size | 8 (US) or 40 (EU) or 12 (UK) |
| Eyes Color | Dark Brown |
| Hair Color | Black |
| Natural breasts or implants | Natural |
Did Tessa Thompson Undergo Plastic Surgery?
Tessa Thompson is one of the most beautiful actresses of today and has had no trouble turning heads wherever she walks. Unfortunately, however, this beauty has also attracted the attention of her haters, who've been spreading false rumors about her.
The haters claim that Tessa has undergone plastic surgery, and these rumors were spreading like wildfire when Tessa's new pictures came out recently, and she looked a little different in them.
The truth of the matter is that Tessa looks a little different in the pictures as a result of her make-up, posture, camera angles, and lighting. These things can make a huge difference to a celeb's looks, and a change in appearance doesn't always mean that the actress has gone under the knife.
Tessa Thompson's Net Worth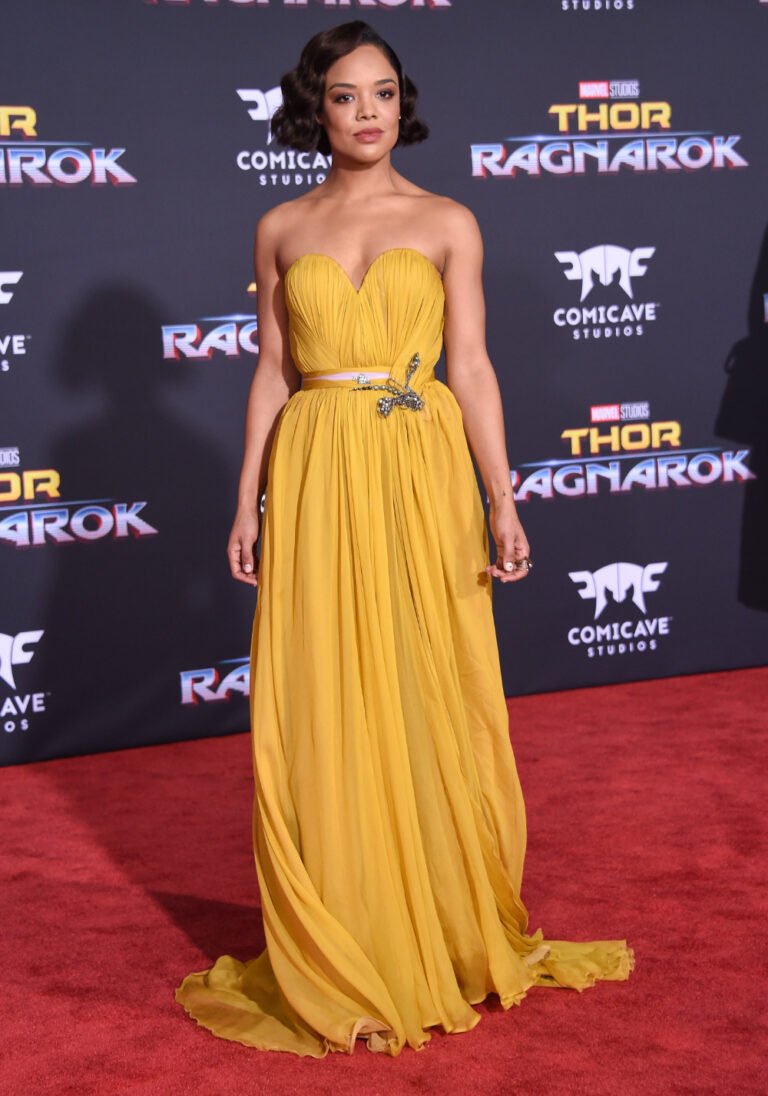 Tessa Thompson has worked in several popular films and shows throughout her career and has wowed audiences and critics alike. As of 2022, she has an estimated net worth of $4 million.
A large share of her net worth comes from her work in blockbuster films like the MCU's Thor: Ragnarok, Thor: Love and Thunder, and Avengers: Endgame. She has given her best to each performance and greatly deserves her success.
Tessa Thompson's Most Loved Things:
Favorite Food: Almonds, Yerba Mate Cranberry Synergy Kombucha
Favorite Book: My Brilliant Friend by Elena Ferrante
Favorite Designer: Rodarte
Favorite Music: Chocolate Genius Inc, Prince
Favorite Products: Eminence's Eight Greens Phyto Mask, Skyn's Hydro Cool Firming Eye Gels, Mifland Backpack
Notable Awards Won by Tessa Thompson
American Black Film Festival: Best Actor, 2009
Gotham Awards: Breakthrough Actor, 2014
African-American Film Critics Association (AAFCA): Best Supporting Actress, 2015
Image Awards (NAACP): Outstanding Supporting Actress in a Motion Picture, 2016
Black Reel Awards: Outstanding Supporting Actress, Motion Picture, 2016
Elle Women in Hollywood Awards: Woman of the Year, 2017
Essence Black Women in Hollywood: Honoree, 2018
Black Film Critics Circle Awards: Best Actress, 2021
The Ambies: Best Performer in Audio Fiction, 2021
Chicago Indie Critics Awards (CIC): Best Actress, 2022
A Few Fun Facts About Tessa Thompson
Tessa Thompson is a feminist and a big supporter of women's equality and rights. She has enacted roles that highlight racial problems and celebrate diversity. She even supported Bernie Sanders during the 2016 United States Presidential elections.
Tessa Thompson has attended the Santa Monica College in California, the United States, where she has pursued a degree in cultural anthropology.
Tessa Thompson's talent was discovered when she was just a child when people saw her walking down Hollywood Boulevard with her father. She is also a member of the Los Angeles indie electro-soul band 'Caught A Ghost' with Jesse Nolan.
What face shape does Tessa Thompson have?
Tessa Thompson has an oval-shaped face with animated facial features, making her look sensual and grabbing a lot of attention.
What is Tessa Thompson's hair color?
Tessa Thompson's natural hair color is Black, but she dyes Blonde and completely rocks the short-hairstyle look.
What color eyes does Tessa Thompson have?
Tessa Thompson's natural eye color is Dark Brown, and people love her expressions as she uses eye movements to convey her thoughts.
Is Tessa Thompson British?
No, Tessa Thompson is not British as she was born in Los Angeles, California, and has inherited Afro-Panamanian, Irish, German, Scottish, English, and Mexican ancestry.
Is Tessa Thompson in Black Widow?
Tessa Thompson plays the comic book character Valkyrie in the Marvel series. But Valkyrie is not a part of the Black Widow series.
What is Tessa Thompson's name in Thor?
Tessa Thompson plays the fictional superheroine named Valkyrie in Thor: Love and Thunder.
Does Tessa Thompson wear a hearing aid?
Tessa Thompson plays the character of Bianca in Creed, who suffers from a lifelong hearing loss, and so Tessa has worn the hearing aid in film.
Where does Tessa Thompson live?
Tessa Thompson has lived in Los Angeles, California, the United States, throughout her life.
Tessa Thompson is a trending star in today's world who has astonished the audience with her marvelous talents. She has walked in the footsteps of ambitious stars like Sofia Carson, who has shown profound acting temperament and dedication towards her work. So check out Sofia's pursuit of stardom and stellar ample bosom figure, making her look stellar.