Taking up acting after winning a modeling contest by Seventeen Magazine, Teri Polo is a talented actress who has had award-winning roles in Fourth Grade and The Ravine. She has also graced the covers of magazines like Cosmopolitan and Playboy.
If you want to know her inside out, read along to know about the American actress Teri Polo's career, body measurements, net worth, relationships, and more.
Teri Polo's Acting Career
Born in Dover, Delaware, in the United States, Teri Polo began learning ballet when she was only five years old. At 13, she joined the School of American Ballet in New York. Four years later, she won a modeling contest and decided to get into acting.
Teri Polo got her first role in the American daytime series, Loving in 1986, in which she played Kristin Larsen.
Since then, Teri Polo has worked in several other series, making guest or recurring appearances in them. Teri Polo's notable works include TV 101, The Phantom of the Opera, Due South, Chicago Hope, The West Wing, Frasier, Law & Order: Special Victims Unit, CSI: Miami, Castle, and more.
Teri Polo's most recent appearance in a television series was in The Big Leap, which is also her second time playing the lead role in a series. She portrays Julia Perkins in this comedy series. Her first main role in a series was in The Fosters, in which she is Stef Adams Foster.
Besides TV series, Teri Polo has many entertaining movies under her acting credits. She made her film debut in the NBC television movie People Like Us in 1990. The next year, she had her big-screen debut in Born to Ride.
Following that, Teri Polo has starred in movies of different genres, including the teen film Mystery Date, the horror film The Arrival, the thriller film Domestic Disturbance, the romantic film Straight from the Heart; and many more. Teri Polo's latest role in a film was in The Ravine in 2021.
Among all her movies, Teri Polo is best known for portraying Pam Byrnes Focker in the Meet the Parents film series alongside Ben Stiller. She was one of the main characters and appeared in all three films: Meet the Parents, Meet the Fockers, and Little Fockers.
Teri Polo's Height and Weight
Teri Polo has a very desirable figure. Her height is 5 feet and 5 inches or 165 cm (1.65 m) tall, and she weighs 55 kg or 121 pounds.
To always stay in great shape, Teri Polo makes a mindful decision to eat healthily. She even read the book, The Negative Calorie Diet: 10 All You Can Eat Foods to help her with her diet.
Teri Polo was conscious not to eat every food that tempted her during her second pregnancy. This resulted in her not gaining as many pounds as she did when she was pregnant for the first time.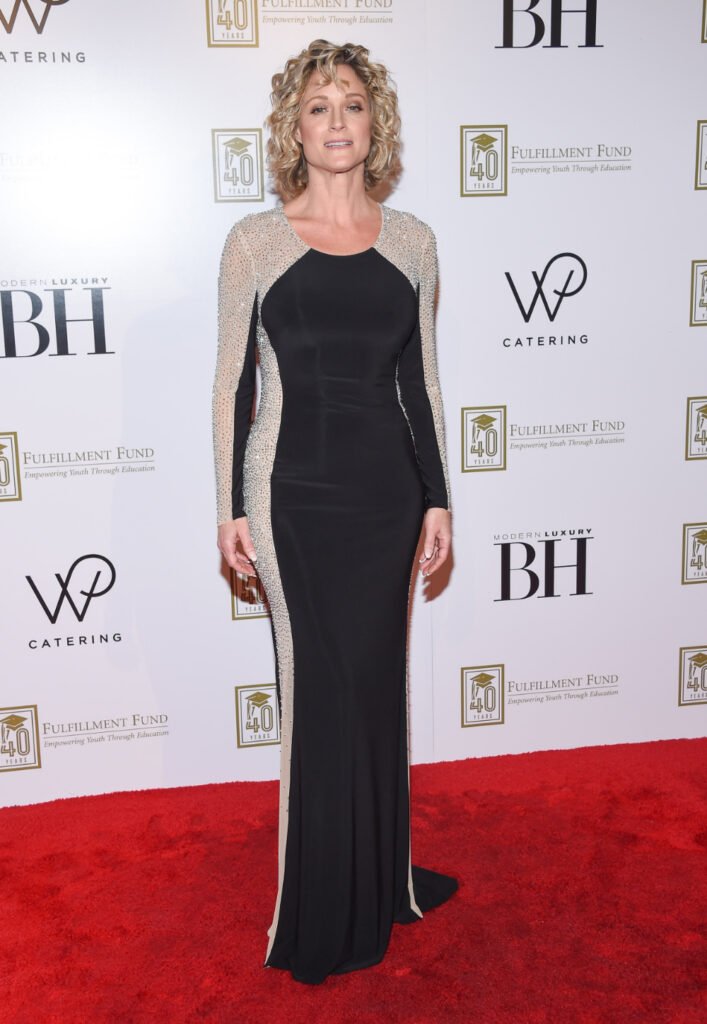 Teri Polo's Dating History
Looking at Teri Polo's love life, she has been in two serious relationships so far.
Back in 1997, Teri Polo flew to Las Vegas and got married to Anthony Moore. They had their son, Griffin Moore, in 2002, but the pair soon divorced in 2005. Speaking about her first marriage, Teri Polo has previously said that she would redo it as the marriage gave her the most amazing son.
A year after the divorce, Teri Polo began dating Jamie Wollam, whom she met on the sets of a video. The two were in a live-in relationship in Los Angeles and welcomed their daughter, Bayley Paige Wollam, in 2007. Although Teri Polo planned to marry the drummer, the couple never had a nuptial. They ended up splitting in 2012.
Teri Polo is currently engaged to someone she calls J. She has kept this relationship at a low profile and has not shared much information about her fiance.
Full Born Name: Theresa Elizabeth Polo
Nickname: Teri
Occupation: Actress
Religion: Christian
Date of Birth: 1 June 1969
Birthplace: Dover, Delaware, United States
Zodiac Sign: Gemini
Father Name: Vince Polo
Mother Name: Jane Polo
Siblings Names: Steve Polo and Mike Polo
Spouse: Anthony Moore (m. 1997–2005)
Children: Bayley Paige Wollam and Griffin Moore
Teri Polo's Body Measurements
Teri Polo has what is referred to as the ideal figure. Her body measurements are 36-24-36 in or 91-61-91 cm. Moreover, she has broad shoulders that make her look more attractive in strapless and sleeveless dresses. No wonder she has won a modeling contest, and Maxim has ranked her as one of the Hot 100 Women.
Teri Polo's gorgeous figure is surely a result of her dancing ballet for 13 years. In addition to that, she works out regularly and has a personal trainer to help her with it.
Teri Polo gained some inches in her waist during the quarantine. She may not have flat abs, but she is surely enjoying life eating and drinking what she loves. Of course, she was back in shape for her lead role in The Big Leap.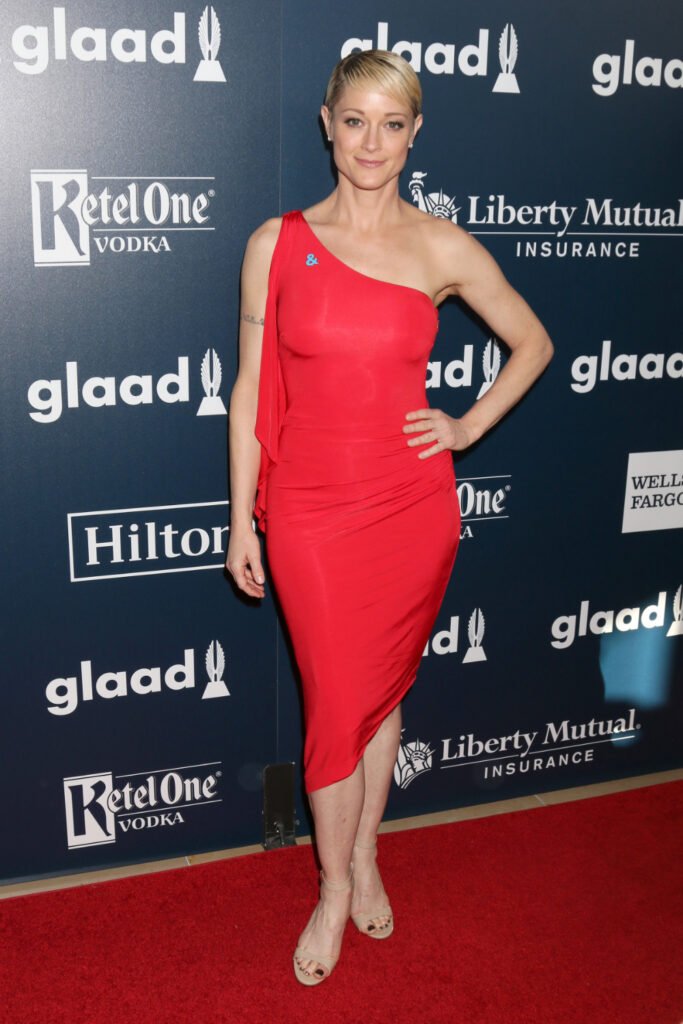 Teri Polo's Ample Bosom
Teri Polo has an ample bosom that adds to her enticing body shape. Her breast size is 36 inches, and her bra size is 34B with cup size B. When pictures of Teri Polo in bikinis are shared, it quickly grabs everyone's attention. Particularly, when she graced the cover of Playboy, she proved how proud she is of her gorgeous body.
| | |
| --- | --- |
| Height | 5 feet and 5 inches or 165 cm (1.65 m) |
| Weight | 55 kg or 121 pounds |
| Breast Size | 36 inches |
| Bra Size | 34B |
| Cup Size | B |
| Body Measurements | 36-24-36 in or 91-61-91 cm |
| Figure | Slim |
| Chest Size | 36 inches or 91 cm |
| Waist Size | 24 inches or 61 cm |
| Hips Size | 36 inches or 91 cm |
| Shoe Size | 8 (US) or 38.5 (EU) or 5.5 (UK) |
| Dress Size | 6 (US) or 38 (EU) or 10 (UK) |
| Eyes Color | Green |
| Hair Color | Blonde |
| Natural breasts or implants | Natural |
Did Teri Polo Have Any Plastic Surgeries?
When any celebrity reaches their 40s and shows no signs of aging, people are quick to allege that the celebrity has had cosmetic surgery. That was the case for Teri Polo too. According to a survey conducted by The Celebrity Post, 55 percent of the people who voted think that Teri Polo had plastic surgery.
However, Teri Polo has not opened up about going under the knife. Therefore, it is most likely that Teri Polo did not have any cosmetic procedures.
Besides, Teri Polo has always been confident about her body. When she had a bit of a rough patch in her acting career, netizens associated it with her decision to pose naked for Playboy. For this, she replied that she does not regret it and feels good about her body.
Teri Polo's Net Worth
Teri Polo is a great actress who has worked in many movies and series. However, she had a rough spot in her career. She has an estimated net worth of $200 thousand in 2022. However, Her fortune is usually not what one would expect for a celebrity with several acting credits under their belt.
Teri Polo filed for bankruptcy in 2014 as she had to pay back nearly $1 million in credit card debts and taxes. She lost a lot of money due to her divorce from photographer ex-husband Anthony Moore. Additionally, she chose limited acting projects to spend more time with her children.
Teri Polo's Most Loved Things
Favorite Holidays: Christmas
Favorite Animals: Dogs and Jenday Conures
Favorite Beverages: Coffee, Wine, and Tequila
Teri Polo's Most Notable Awards And Nominations
LA Femme Filmmaker Award: Innovative Award, 2013
Los Angeles Film Awards: Best Actress, The Ravine, 2021
Los Angeles Film Awards: Best Ensemble, The Ravine, 2021
Montreal Independent Film Festival: Best Actress, Fourth Grade, 2021
Independent Filmmakers Showcase IFS Film Festival: Best Actress, Fourth Grade, 2021
Blockbuster Entertainment Awards: Favorite Female – Newcomer, Meet the Parents, 2001, Nominated
Interesting Facts About Teri Polo
Teri Polo has ancestral roots from England, Germany, and Italy.
Teri Polo is a big fan of memes, and she usually shares them on her Instagram.
Teri Polo revealed that she had a paranormal encounter when she was eight years old.
Teri Polo was an academically talented student. She mostly got As and was an honors student when she was in high school.
What face shape does Teri Polo have?
Teri Polo has a square-shaped face that lets her rock both short and long haircuts.
What is Teri Polo's hair color?
Teri Polo's hair color is blonde. She usually adds brown highlights to achieve a more edgy look.
What color eyes does Teri Polo have?
Teri Polo has green eyes that compliment her luscious blonde hair.
Does Teri Polo have a tattoo?
Teri Polo has a tattoo of her daughter's name, Bayley Paige Wollam, written in cursive on her forearm.
Did Teri Polo win an Academy Award?
Teri Polo has not won an Academy Award yet.
Can Teri Polo ride a horse?
Teri Polo can ride horses. She had fun riding horses for her film, JL Ranch.
Did Teri Polo sing in The Phantom of the Opera?
Teri Polo did not sing in The Phantom of the Opera. Instead, her voice was dubbed by singer Michèle Lagrange.
Was Teri Polo in Criminal Minds?
Teri Polo was in Criminal Minds. She played Maggie Hallman in the episode; I Love You, Tommy Brown.
Where does Teri Polo live?
Teri Polo lives in Manhattan with her two children and pet animals, including doodlebugs, dogs, and a jenday conure.
As talented as an actress Teri Polo is, she is also extremely beautiful. Her gorgeous blonde hair is one of her attractive features. Another American actress who has gained immense popularity and love with her talents and stunning looks is Candice King. Do check out her inspirational journey, fitness routine, and more.