Teri Hatcher is a remarkable actress who has been in the entertainment industry since 1985. She has constantly proved her talents and even won awards for them. She is notably recognized for playing Susan Mayer Delfino in the Desperate Housewives.
For fans wishing to know more about Teri Hatcher, below is information about her acting career, dating history, diet plan, workout routine, and more.
Teri Hatcher's Career In The Entertainment Industry
Teri Hatcher is an actress who was born in Palo Alto, California, in the United States. She grew up learning ballet at the San Juan School of Dance. In addition, she studied at De Anza College, where she specialized in mathematics and engineering.
To develop her acting skills, Teri took classes at the American Conservatory Theater. Her efforts paid off as she landed her first acting role in 1985. She played Amy, a mermaid showgirl, in The Love Boat.
Since then, Teri Hatcher's schedule has been packed throughout the years. Her appearance in a few episodes of Seinfeld in 1993 was the beginning of fame for the actress. She has played a recurring character in other series, including Karen's Song, Capitol, Sunday Dinner, The Odd Couple, and Supergirl.
She was also a guest star in an episode in Star Trek: The Next Generation.
Teri Hatcher has acted in a couple of movies, with The Big Picture being her first one. Her other prominent films include the James Bond film Tomorrow Never Dies, Soapdish, Straight Talk, Fever, Spy Kids, and Madness in the Method.
Out of all her acting projects, her role in Desperate Housewives is a defining part of her career. She played Susan Mayer Delfino and got nominated for an Emmy for her part. She also got nominated for a People's Choice award and a Golden Globe.
Her other prominent role in a series was in Lois & Clark: The New Adventures of Superman from 1993 to 1997, where she played Lois Lane.
Besides acting, Teri Hatcher is also a phenomenal writer. She published her book, Burnt Toast: And Other Philosophies of Life, in 2006. The next year, she became a columnist for Glamour magazine and wrote about being single in Hollywood.
Teri's latest movie was for the Hallmark channel in 2021 when she portrayed Joyce in A Kiss Before Christmas.
Currently, Teri Hatcher is the host of her Youtube channel, Hatching Change, in which she shares recipes, travel vlogs, interviews, and more exciting content. In 2022, she has also been a guest host for Daily Pop on the E! Network.
Teri Hatcher's Height and Weight
Teri Hatcher looks so gorgeous that she appeared in FHM's list of the sexiest women a couple of times and even ranked in fifth place once. She is 5 feet and 6 inches or 168 cm (1.68 m) tall and weighs 55 kg or 121 pounds.
The Desperate Housewives star stays fit even in her 50s by doing the F45 challenge. Her goal was to improve her health, and looking good was only an added advantage. The challenge includes circuit training, high-intensity interval training, and functional training; Each session lasts 45 minutes.
Her desirable figure is one reason for her attractiveness to be recognized in America, Germany, Portugal, and other countries.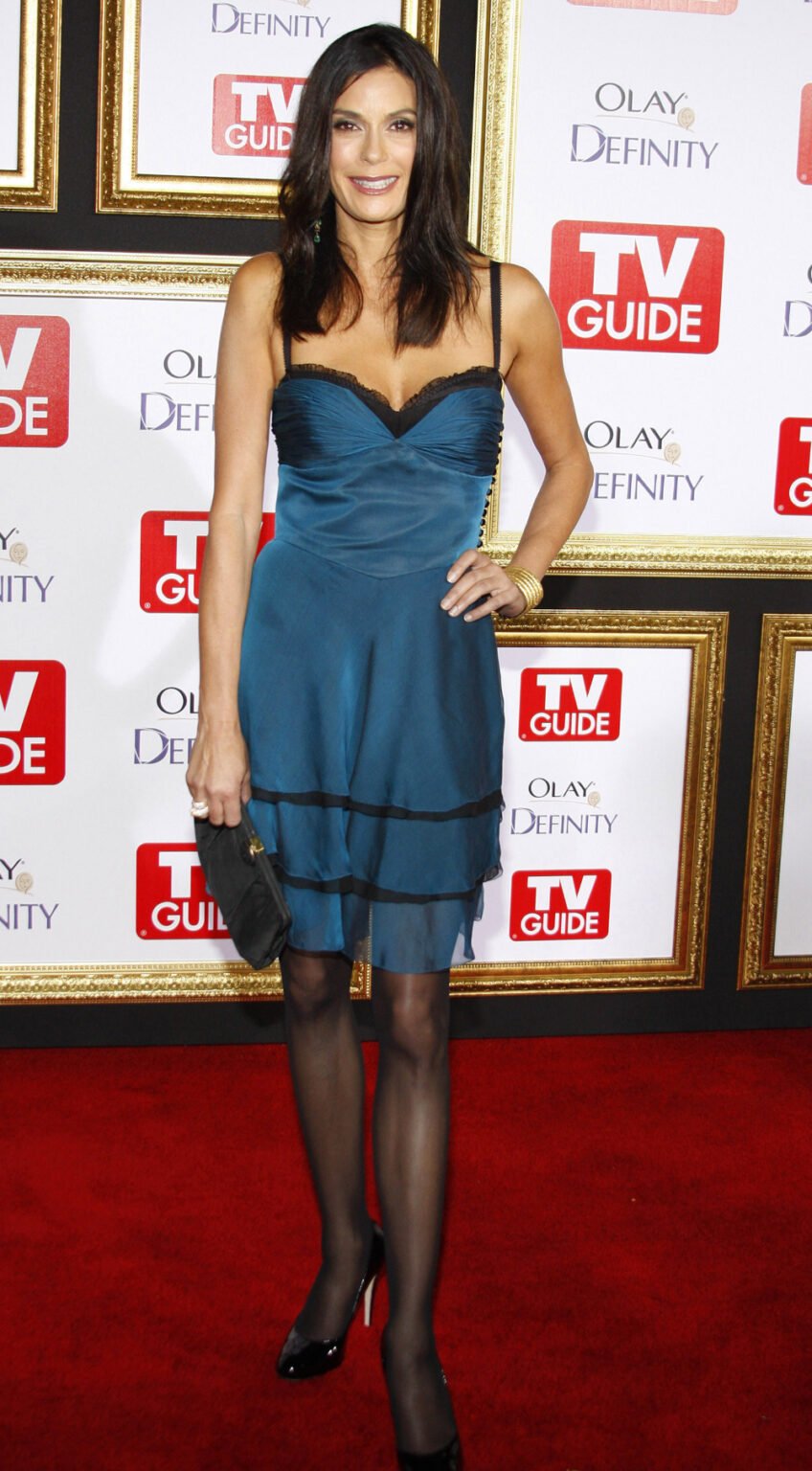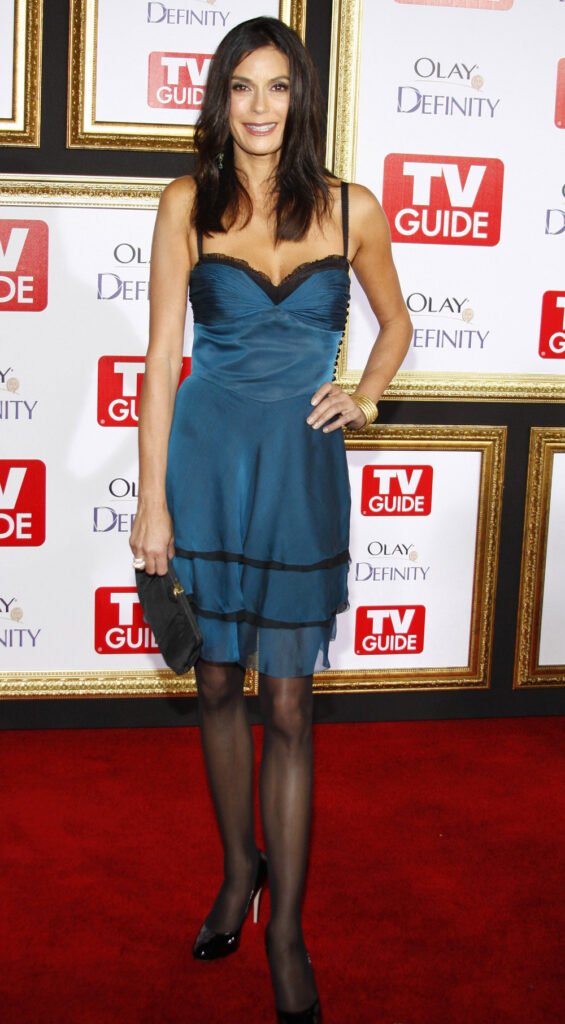 Teri Hatcher's Dating History
Teri Hatcher has been in different relationships but struggled to find love in each of them.
The Desperate Housewives star was initially married to Marcus Leithold, her trainer, from 1988 to 1989. However, the marriage only lasted for eight months.
Following that divorce, she met Jon Tenney on a blind date and eventually married him in 1994. The couple had a daughter, Emerson Tenney, in 1997.
Unfortunately, the marriage lacked romance and intimacy. Hatcher revealed that they were rarely close, that she even knows when she conceived her daughter. As a result, Teri Hatcher ended up divorcing Tenney in 2003.
Richard Dean Anderson, who appeared in MacGyver with her, confessed to falling in love with Teri after working with her in 1991.
In 2005, Teri Hatcher opened up about being afraid of going into a relationship. She was scared of getting hurt again. Sadly, Hatcher constantly blamed herself for her bad relationships.
Later, in 2006, she tried her luck again and dated Ryan Seacrest for a short period. However, it did not work out.
Following their split, Teri Hatcher dated Stephen Kay from 2006 to 2008. Hatcher brought Stephen Kay as her date to the 2006 Golden Globes. She described him as "the most beautiful human being on the planet."
Lately, in 2021, Teri Hatcher and James Denton said that they were romantically interested in each other. However, currently, Teri Hatcher is single and living with her daughter.
Full Born Name: Teri Lynn Hatcher
Nickname: Hatch
Occupation: Actress and Writer
Religion: Unknown
Date of Birth: 8 December 1964
Birthplace: Palo Alto, California, United States
Zodiac Sign: Sagittarius
Father Name: Owen W. Hatcher
Mother Name: Esther Beshur
Siblings Names: None
Spouse: Jon Tenney (m. 1994 – 2003) and Marcus Leithold (m. 1988 – 1989)
Children: Emerson Tenney
Teri Hatcher's Body Measurements
Teri Hatcher's red carpet looks always do justice to her waistline. Particularly, her sheer dress by John Paul Gaultier on the 2006 Grammys showed off her stunning body measurements of 34-24-34 in or 86-61-86 cm.
Teri Hatcher follows two simple rules when it comes to her eating habits. That helps her to stay healthful and maintain her body. First, she avoids food that doctors advice not to eat. Second, She only eats foods including vegetables, fruits, whole grains, or proteins.
Teri Hatcher's Ample Bosom
Whenever Teri Hatcher hits the beach, pictures of her in a bikini are shared. People cannot stop raving about her captivating body, and shapely busts are one reason for it. Her breast size is 34 inches. Her bra size is 32B with cup size B.
In December 2019, she posted pictures of her in a bikini. The comments on the post were filled with appreciation for her beauty.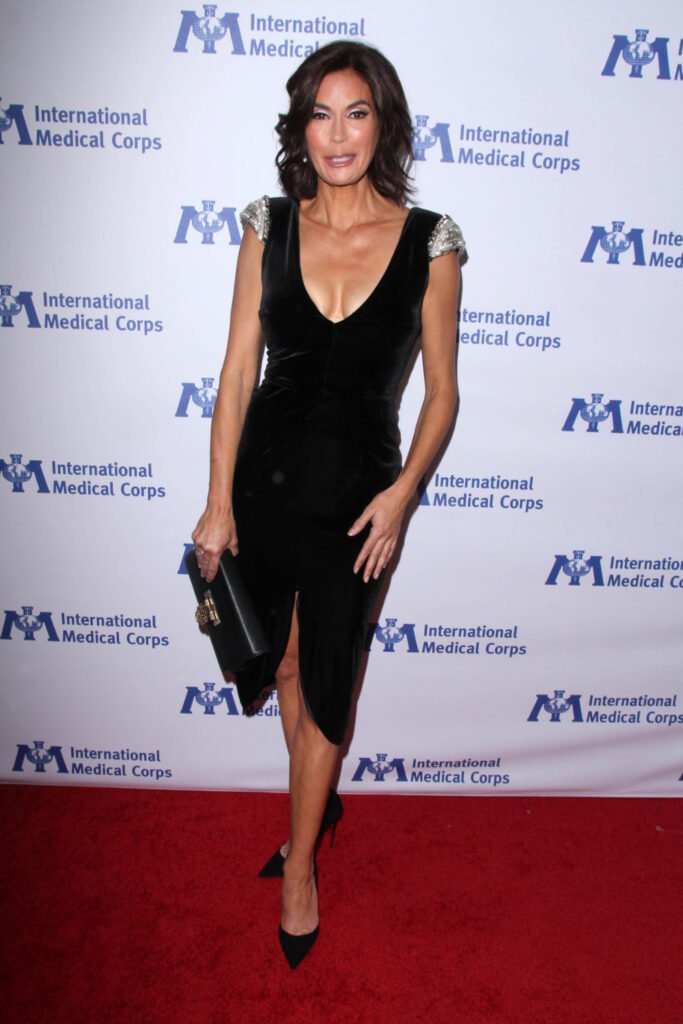 | | |
| --- | --- |
| Height | 5 feet and 6 inches or 168 cm (1.68 m) |
| Weight | 55 kg or 121 pounds |
| Breast Size | 34 inches |
| Bra Size | 32B |
| Cup Size | B |
| Body Measurements | 34-24-34 in or 86-61-86 cm |
| Figure | Slim |
| Chest Size | 34 inches or 86 cm |
| Waist Size | 24 inches or 61 cm |
| Hips Size | 34 inches or 86 cm |
| Shoe Size | 7 (US) or 37.5 (EU) or 4.5 (UK) |
| Dress Size | 6 (US) or 38 (EU) or 10 (UK) |
| Eyes Color | Dark Brown |
| Hair Color | Dark Brown |
| Natural breasts or implants | Natural |
Did Teri Hatcher Get Any Plastic Surgeries?
Plastic surgery rumors have followed Teri Hatcher as people have accused her of doing it several times.
Following such accusations, Teri Hatcher shared photos of her without makeup and said she never had plastic surgery or botox. Instead, she believes that inner beauty is more important.
Although Hatcher did not go under the knife, she did reveal that she had filler to look wrinkle-free after a certain age.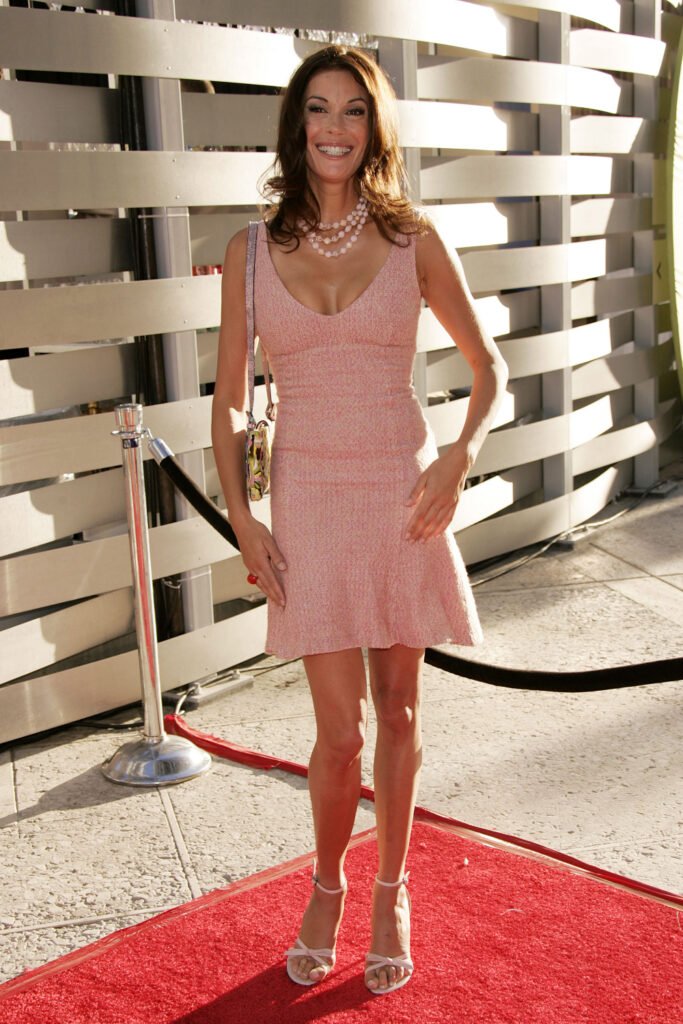 Teri Hatcher's Net Worth
Teri Hatcher has many years of acting experience, and she is getting the pay she deserves. Her net worth as of 2022 is estimated at $50 million.
In the first few seasons of Desperate Housewives, her pay per episode was $70 thousand. However, the show grew in popularity over the seasons, and her salary was raised to $400 thousand for one episode in the last few seasons, making her one of the highest-paid actresses in Hollywood.
Teri Hatcher's Most Loved Things
Favorite Activities: Traveling, Golfing, Cooking
Favorite Drink: Rosé and Champagne.
Favorite Place: Disneyland
Favorite Book: Fast Times and Excellent Adventures: The Surprising History of the '80s Teen Movie
Teri Hatcher's Most Notable Awards And Nominations
Golden Apple Awards: Female Discovery of the Year, 1996
Golden Globe Awards: Best Actress in a Television Series – Comedy or Musical, Desperate Housewives, 2005
Screen Actors Guild Awards: Outstanding Performance by a Female Actor in a Comedy Series, Desperate Housewives, 2005
Primetime Emmy Awards: Outstanding Lead Actress in a Comedy Series, Desperate Housewives, 2005 – Nominated
People's Choice Awards: Favorite Female Television Story, Desperate Housewives, 2006 – Nominated
Teen Choice Awards: Choice TV Actress – Comedy, Desperate Housewives, 2006 – Nominated
People's Choice Awards: Favorite Online Sensation, 2011 – Nominated
Teen Choice Awards: Choice TV – Villain, Supergirl, 2017 – Nominated
Interesting Facts About Teri Hatcher
Teri Hatcher joined the Desperate Housewives cast after winning over four other actresses considered for her Susan Mayer role.
Teri Hatcher tried having another child using a sperm donor, but it did not turn out as she expected.
Teri Hatcher opened up about being sexually assaulted by her uncle, Richard Hayes Stone.
Teri Hatcher went through a miscarriage in her 40s.
Teri Hatcher's marriage was so short that it ended even before they put together their wedding photo album.
Teri Hatcher suffered from a rare disorder called the 'frozen shoulder,' which put her in a lot of pain.
What face shape does Teri Hatcher have?
Teri Hatcher has an oblong-shaped face that makes bob cut and shoulder-length hair look gorgeous on her.
What is Teri Hatcher's hair color?
Teri Hatcher has dark brown hair, and dark-colored hair suits her skin tone.
What color eyes does Teri Hatcher have?
Teri Hatcher has attractive dark brown eyes that resemble the shade of chocolate.
Did Teri Hatcher win an Oscar?
Teri Hatcher has not won an Oscar yet. However, she has won other awards like the Golden Globe.
Does Teri Hatcher Skydive?
Teri Hatcher does not Skydive.
Did Teri Hatcher play in superman?
Teri Hatcher played Lois Lane in the Superman-focused series Lois & Clark: The New Adventures of Superman.
Is Teri Hatcher a chef?
Teri Hatcher is an excellent chef who can cook dishes ranging from gingerbread houses to meatloaf.
Did Teri Hatcher sing in Lois & Clark?
Teri Hatcher sang in Lois & Clark. She had lines in the song, I've Got A Crush On You, and Nobody Knows You When You're Down and Out.
Was Teri Hatcher a cheerleader?
Teri Hatcher was a cheerleader before she started acting. She cheered for the 49ers at the NFL in 1984.
Teri Hatcher is a talented actress and is absolutely gorgeous. Her beauty was recognized by the FHM magazine. Nathalie Emmanuel is another enchanting actress whose looks were chosen as the sexiest by FHM.