Tamar Braxton is one of those courageous and skillful women of today who have made their way to the top against all odds. Tamar's endless talent, exquisite looks, and outward demeanor have helped her rise to prominence and steal the hearts of millions of people.
If you wish to know more about this megastar, follow us as we take a deeper dive into her personal and professional life, and explore everything, including but not limited to her success story, romances, body measurements, height, and more.
Tamar Braxton's Road to Success
Tamar Braxton is a renowned celebrity in the American R&B genre world. Her talent, combined with her enthusiastic personality, has led her to break records and make the world groove to her tunes and become a media personality with her face all over television.
Tamar Braxton is a remarkable singer with fans all around the world. Braxton was born on 17th March 1977, in Severn, Maryland, to Evelyn and Michael Braxton. The duo had six children, Tamar being the youngest of them all.
Tamar Braxton had a knack for singing as a child, and because her father was a church pastor, she began singing in the church choir alongside her sisters. Soon after, the girls signed their first label in 1989, with Arista Records. The following year, they released their first single, The Good life; however, the song was not as popular, and they dropped from the label.
Tamar and her sisters collectively made their name as The Braxtons and signed a deal with LaFace records. Tamar Braxton's career began to lift by 1996, when she, along with her sisters, Trina and Towanda, released their new album called So Many Ways, which bagged 26th place on the Billboard R&B/Hip-Hop Albums chart.
The Braxtons finally got their breakthrough with Atlantic Records and went on to do various shows, including concert tours to Europe. However, in 1998, The Braxtons mutually decided to break up owing to Tamar's decision to sign the label with DreamWorks Records.
By 2000, Tamar was recording her solos and released her debut solo album called Ridiculous. The album had two songs, Let Him Go and Just Cuz. However, it failed to catch the youth's attention and was subsequently canceled after the public's reaction to it.
DreamWork Records tried redoing the album by adding new songs and renaming it Tamar. The lead single featured rap verses from the famous singers Jermaine Dupri and Jay-Z. The album also featured Tricky Stewart, Missy Elliott, and Time & Bob to catch the public's eye. However, when the singles failed to gain the required attention, the record dropped her.
In 2010, Braxton signed a label with Universal Records and released a single called, The Heart in Me. This single, too, did not meet people's expectations, and she went on to sign a reality television series called Braxton Family Values with her mother and sisters. The show went on air in April 2011; however, by December, Tamar left the show to start a new series with her husband.
Tamar rose to prominence with all of her public appearances via her singles and her series. She went on to perform at The Soul Train Awards and sign a fresh record with Streamline Records in 2012. In September 2012, Tamar and her husband, Vincent, released their reality show 'Tamar and Vincent' which premiered on We TV.
Her journey full of struggle opened new doors for her, and she was featured as a model for the Elle/Style360 NYC Fashion Week. She also co-hosted and singularly hosted shows such as Tiny Tonight, Basketball Vibes, The Culturelist. By March 2013, her new single, Love and War, finally received the success she deserved.
Braxton released various singles after her success which continued to top the Hot R&B charts. Simultaneously, the seasons of Tamar & Vince continued to air on television. In 2015, Tamar revealed that she would appear on the 21st season of Dancing With the Stars.
In 2019, Braxton appeared on the show called Celebrity Big Brothers and became the first African-American to win the show. In 2020, Tamar was cast in a film called True To The Game 2 and further hosted a show for the VH1 channel. Tamar Braxton's latest work is her series called Braxton- Get Ya Life!, which aired on We TV.
Most recently, Tamar Braxton worked in the 2022 TV Series "kingdom Business" alongside Serayah McNeill and Yolanda Adams.
Tamar Braxton's Height and Weight
Tamar Braxton has the ideal height and weight ratio, which gives her the perfect frame. The stunning musician stands tall at 5 feet 2 inches, or 158 cm (1.58 m), and her weight is around 75 kg or 165 pounds. 
Being a media personality and always appearing on shows, Tamar has been cautious about her weight. She ensures that she eats right to look right on the screen. Tamar Braxton has even addressed her eating habits on social media, specifically Twitter, and shared her two cents.
Tamar had recently revealed to the public that she had gained around 20 pounds. One of Tamar's Twitter posts in November 2021 spoke about how she has been avoiding chicken and biscuits to lose and maintain her weight.
Tamar Braxton's Romances
Tamar Braxton is incredibly gorgeous, in addition to her eccentric personality. Her charm and sex appeal can make anyone drool and want her. Owing to her looks, it may seem like Tamar may have dated a handful of men. However, it is not quite true.
Tamar Braxton married songwriter and producer Darrell Delite Allamby in 2001. The duo met during Tamar's initial days in the industry, while Darrell and Tamar worked together on her debut album tracks, Money Can't Buy Me Love, and Once Again, in 2000. They got married a year later. However, it only lasted two years, and the couple called it off in 2003.
In 2003, Tamar met Vincent Herbert, and the two began to date soon after. She met him through her sister, Toni, and dated for a good five years before tying the knot. The duo got married on 27th November, 2008, and had a son born out of the said wedlock named Logan Vincent in 2013.
However, Tamar and Vincent ended their marriage after being together for 14 years and filed for a divorce in 2017, which got finalized in 2019. Post her divorce from Vincent, Tamar dated financial advisor David Adefeso. In September 2020, David filed for a restraining order in the court against Tamar for domestic violence.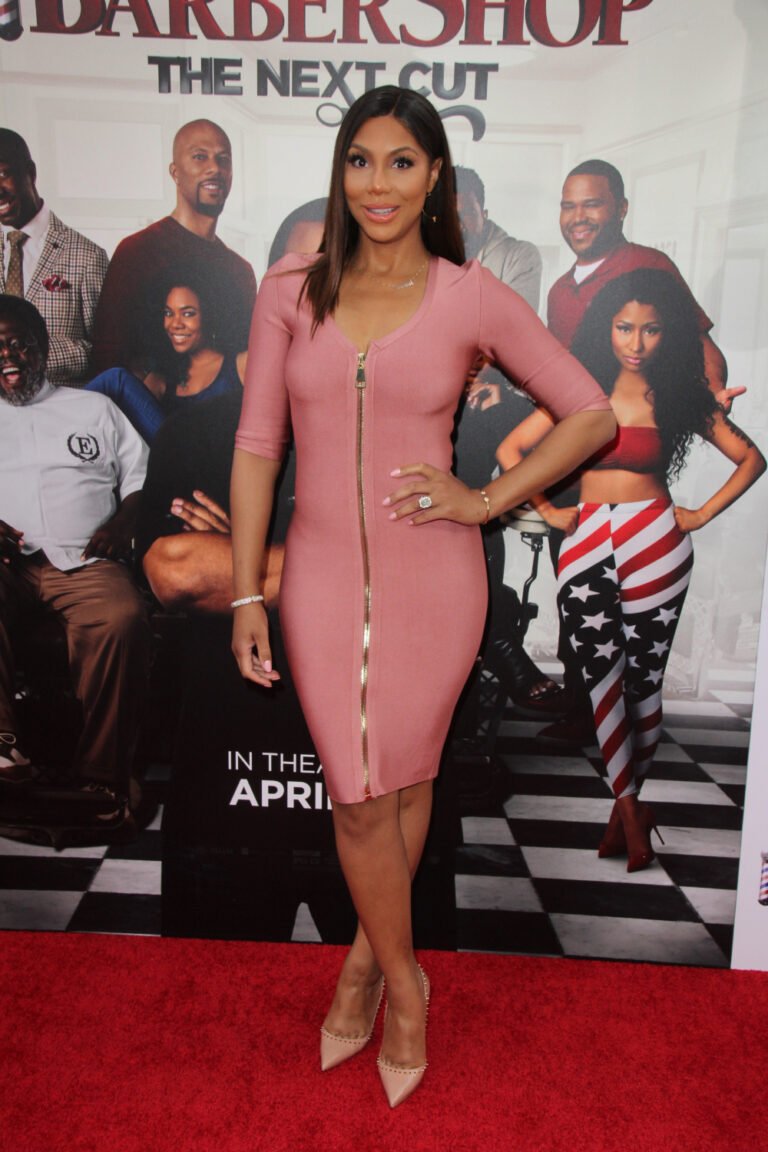 Full Born Name: Tamar Estine Braxton
Nickname: Tay, Tay Tay
Religion: Christianity
Date of Birth: 17th March, 1977
Birthplace: Severn, Maryland, United States of America
Zodiac Sign: Pisces
Father Name: Michael Braxton
Mother Name: Evelyn Braxton
Siblings Name: Toni Braxton, Traci Braxton, Towanda Braxton, Trina Braxton, Michael Jr. Braxton
Spouse: Delite Allamby (2001 – 2003), Vincent Herbert (2008 – 2019)
Children: Logan Vincent
Tamar Braxton's Body Measurements
Tamar Braxton has always had a sexy and sultry body frame, with body measurements of 38-28-40 inches or 96.5-71.12-102 cm. Tamar's figure is very curvaceous, and she flaunts it in the best ways possible.
Tamar attained her seductive figure with nothing but dedication towards her workout regime. Tamar openly talks about her exercises and weight loss techniques on social media. She has even uploaded a dance workout video in one of the Braxton Family Values episodes, along with the other Braxtons.
Tamar Braxton's Shapely Bosom
Tamar Braxton loves to show off her curvy girl figure in her slinky bikinis, trotting down the beach. Tamar's physique is worth falling for, with her breast size of 38 inches and her bra size of 34D with a cup size D.
One of Tamar's best looks that show off her tantalizing frame has got to be her appearance on The Soul Train Awards, where she performed in black, sheer, see-through overalls that only covered her intimates.
| | |
| --- | --- |
| Height | 5 feet 2 inches or 158 cm (1.58 m) |
| Weight | 75 kg or 165 pounds |
| Breast Size | 38 inches |
| Bra Size | 34D |
| Cup Size | D |
| Body Measurements | 38-28-40 inches or 96.5-71.12-102 cm |
| Figure | Hourglass |
| Chest Size | 38 inches or 96.5 cm |
| Waist Size | 28 inches or 71.12 cm |
| Hips Size | 40 inches or 102 cm |
| Shoe Size | 11 (US) or 44 (EU) or 10.5 (UK) |
| Dress Size | 12 (US) or 42 (EU) or 14 (UK) |
| Eyes Color | Dark Brown |
| Hair Color | Blonde |
| Natural breasts or implants | Natural |
Has Tamar Braxton Gotten Plastic Surgery Done?
Tamar Braxton is one outspoken celebrity who does not shy away from the knife. She owns up to all her bodily changes and is incredibly proud of it. Tamar Braxton has confirmed that she has undergone plastic surgery and redone her nose to make it look better.
The honest and explicit reality star shares that she is all in favor of plastic surgery and self-esteem and believes that one should do whatever makes them feel good about their bodies. Talk about guts!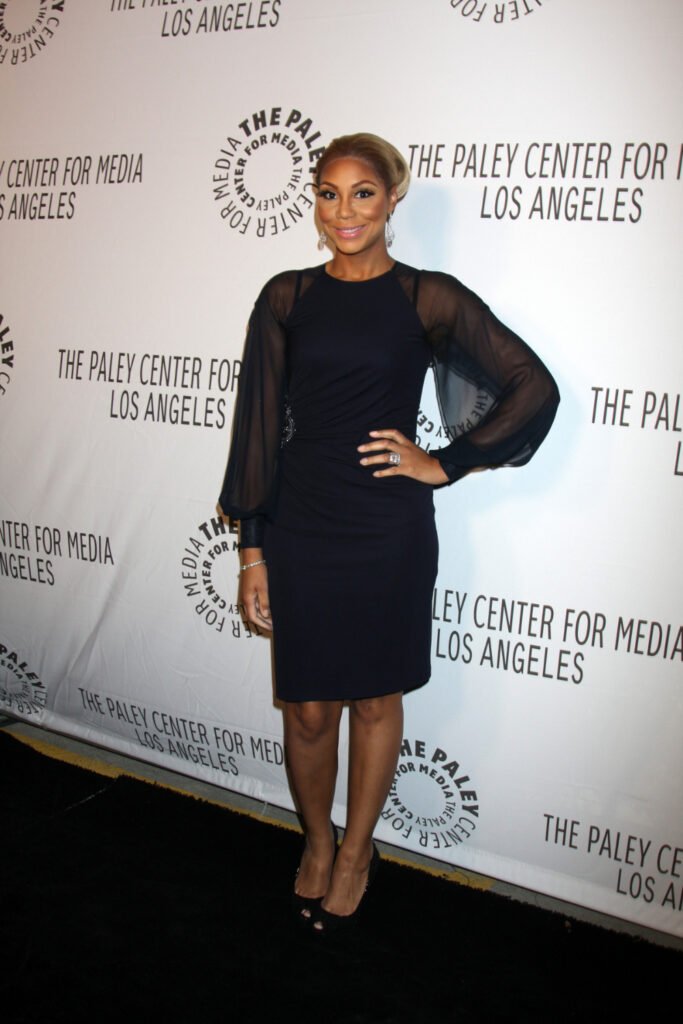 Tamar Braxton's Net Worth
As of 2022, Tamar Braxton has an estimated net worth of $3 million. In 32 years of her career in the R&B industry, being a prominent media personality, Tamar has managed to build up a substantial bank balance and a large fan base globally. 
Tamar Braxton's Most Loved Things
Favorite Holiday Song: The Christmas Song
Favorite Movie: Caillou's Holiday Movie
Favorite Celebrities: Whitney Houston, Mariah Carey, Kim Burell, Diana Ross
Tamar Braxton's Awards and Nominations
BET Awards: Best Female R&B Artist, 2013
Daytime Emmy Awards: The Real – Outstanding Entertainment Talkshow Host, 2016, 2017
Grammy Award: Love and War – Best Urban Contemporary Album, 2014
Grammy Award: Love and War: Best R&B Song, 2014
Soul Train Music Awards: Love and War – Song of the Year, 2013
Fun Facts About Tamar Braxton
The BET.com once stated that Tamar Braxton has the ultimate angelic voice, with an unmatched vocal range. Her vocal range is a five-octave coloratura soprano, equivalent to that of the renowned Mariah Carey.
Tamar Braxton has performed in the opening acts for various esteemed luminaries, including John Legend, R. Kelly, and Xscape.
What shape of face does Tamar Braxton have?
Tamar Braxton has a round face shape with fuller facial features and high cheekbones.
What is Tamar Braxton's hair color?
Tamar Braxton's natural hair is blonde in color, but the celebrity loves to experiment with her hair and color it in shades such as brown, ash, and pink.
What color eyes does Tamar Braxton have?
Tamar Braxton has dark brown eyes, which compliment her dusky skin tone.
Why did Tamar Braxton lose her hair?
Tamar Braxton revealed that she began to lose her hair postpartum after the birth of her baby, Logan Vincent.
Does Tamar Braxton have a grammy?
Tamar Braxton does not have a Grammy yet; however, she has been nominated for three Grammy awards between 2014 and 2016.
Where does Tamar Braxton live?
Tamar Braxton presently lives in Atlanta, Georgia.
Tamar Braxton is one of the very few celebrities in the music industry who has fought against all odds and made her way to success. Tamar's life reminds us of the beautiful American actress Gwen Stefani. If you wish to know about this enchantress's life story, romances, body measurements, and more, do look her up!