If there is one comedian who knows how to challenge the masses with her witty humor while looking like a dream, it is Sarah Silverman! The two-time Emmy winner is not only talented but brilliant at tackling controversial discussions intelligently.
Also a popular host and actress, Sarah has never backed down from making a difference in art, entertainment, and even political areas! She is just brilliant at pushing boundaries and bringing important matters to light via her fame. Now, who wouldn't love her?
IN A GIST
American comedian and actress Sarah Silverman stands strikingly tall at 5 feet and 7 inches or 170 cm (1.7 m).
Sarah Silverman has a naturally slim build weighing around 57 kg or 126 pounds.
Sarah's birthday falls on the 1st of December, and she is 52 years old. Let's explore more about her life, career, family, measurements, and more!
How Old Is Sarah Silverman?
Living her adventurous life at the age of 52, Sarah Silverman was born on the 1st of December, 1970. Her fans are always excited about her birthday and send her heartfelt wishes via social media. Sarah never forgets to thank them with her witty replies.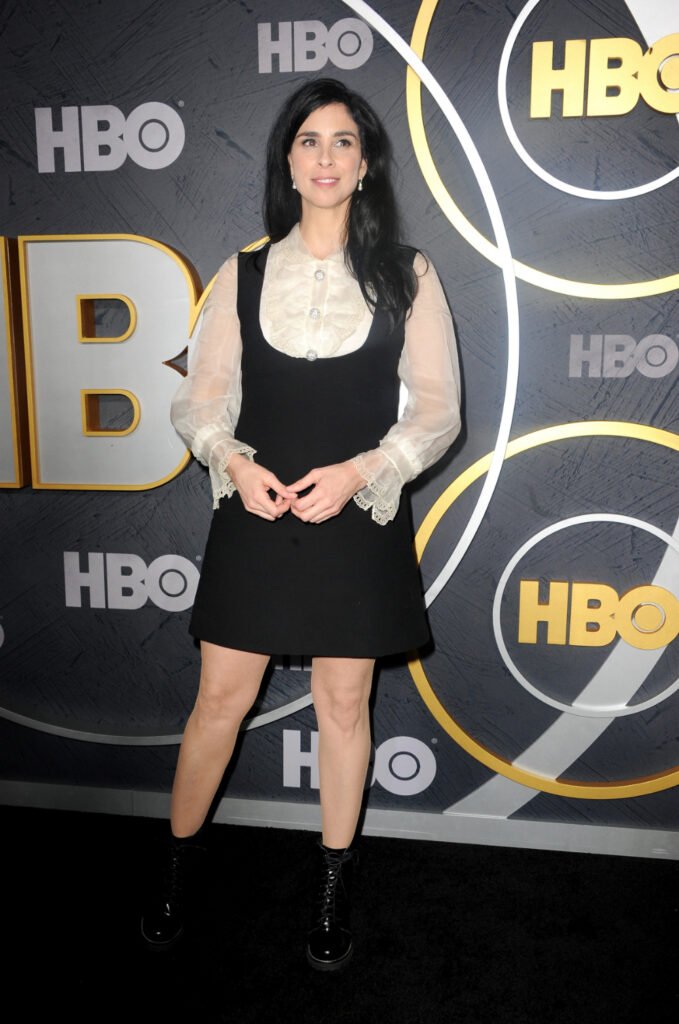 Sarah Silverman's Education and Net Worth
The popular stand-up comedian and actress grew up in New Hampshire and attended The Derryfield School in Manchester.
Then Sarah went to New York University but dropped out a year later after developing an interest in stand-up comedy. So, instead of continuing her studies, she focused her entire attention on setting up a stand-up career. That was the early 90s!
Soon her dedication to her craft led her to join Saturday Night Live and, eventually, star in her own TV show, The Sarah Silverman Program. Besides, she is a prolific writer, podcaster, and actress who has amassed massive fame and an estimated net worth of $8 million in 2023.
Sarah Silverman's Adorable Family
Sarah's family plays a huge role in accelerating her career. She fondly remembers how she made her family laugh with her comedy skits and how they supported her on her journey!
Her father, Donald Silverman, worked at a clothing store, and her mother, Beth, worked as a photographer before launching a theater company. Even though her parents divorced when Sarah was young, they made sure to be there for her.
Sarah grew up with three sisters who are as funny as herself. She also had a brother who passed away before turning one. Sarah's mother, too, passed away in 2015, leaving her heartbroken. Sarah continues to make her mama proud every day and often hangs out with her father and siblings.
Full born name: Sarah Kate Silverman
Nicknames: Big S, Sarah
Occupation: Comedian, Actress, Podcaster, Writer
Date of birth: 1 December 1970
Birthplace: Bedford, New Hampshire, USA
Education: New York University
Zodiac sign: Sagittarius
Father name: Donald Silverman
Mother name: Beth Ann O'Hara (Dec. 2015)
Siblings' names: Susan Silverman (Sister); Jodyne L. Speyer (Sister); Laura Silverman (Sister); Late Jeffrey Michael (Brother)
Sarah Silverman's Height and Weight
Sarah Silverman towers above most people in the room with her undeniable presence, standing at an impressive height of 5 feet and 7 inches or 170 cm (1.7 m). Her tall, striking stature really matches her witty charm, making her a complete package on stage and on screen!
And it's not just her imposing height; Sarah Silverman proudly boasts a gorgeous figure that weighs approximately 57 kg or 126 pounds. With such desirable stats, Sarah can effortlessly turn heads and make hearts flutter wherever she goes. The woman is a whole vibe!
Sarah Silverman's Spectacular Body Measurements and Physical Traits
Sarah Silverman has a slender build which really suits her estimated body measurements of 37-27-38 inches or 94-69-96 cm, making her a perfect addition to the stand-up stages.
Sarah is also blessed with a bewitching bosom area with possible bra size 36C and cup size C. She'd walk in a T-shirt and trousers and still draw attention to her slim figure. Now, imagine how stunning she must look in body-hugging dresses!
Besides, Silverman's striking brown eyes really complement her fair skin and oval face. Her signature long black hair gives her a classic and elegant appearance. With her playful sense of style and humor, one can't ignore Sarah Silverman!
What Keeps Sarah Silverman's Fit?
Sarah maintains her fitness through regular exercise and a healthy lifestyle, which is admirable considering she is in her early 50s. She has been into basketball for a long time, and it passes as an effective workout activity.
But Sarah is more inclined towards eating healthy to stay fit than relying on anything else. She prefers lean proteins, green salads, and colorful fruits over carbs and fats to look 30 at 50! Honestly, it's working!
| | |
| --- | --- |
| Height | 5 feet and 7 inches or 170 cm (1.7 m) |
| Weight | 57 kg or 126 pounds |
| Face Shape | Oval |
| Breast Size | 37 inches |
| Bra Size | 36C |
| Cup Size | C |
| Body Measurements | 37-27-38 inches or 94-69-96 cm |
| Figure | Slim |
| Shoe Size | 7 (US) or 37.5 (EU) or 5.5 (UK) |
| Dress Size | 6 (US) or 37 (EU) or 4 (UK) |
| Eye Color | Dark Brown |
| Hair Color | Natural Black |
Disclaimer
A Few Favorites of Sarah Silverman
Favorite Animal: Dog
Favorite Book: All About Me by Mel Brooks
Favorite Artist: Jennifer Lopez
Favorite Movie: The One and Only
Sarah Silverman's Career Summary
The multi-talented performer began her career in the 90s, performing at local clubs. But Sarah started getting recognition after appearing in several episodes of the comedy sketch show Saturday Night Live.
Sarah was fired from SNL after a while and disappeared for a year, but she proved herself again by playing various characters in another sketch comedy, Mr. Show with Bob and David.
And then, there was only going forward as she appeared in popular shows like Seinfeld, Crank Yankers, Bob's Burgers, and I Love You America, marching to the top of showbiz.
Her most popular show, The Sarah Silverman Program, ran for 32 episodes from 2007 to 2010. She also released several comedy specials, including Sarah Silverman: We Are Miracles which won a Primetime Emmy.
If you want to get the best of her wit, watch her Netflix special, Sarah Silverman: A Speck of Dust. She is brilliant at it! Besides, she has over 30 film credits, including popular ones like School of Rock, Wreck-It Ralph, and The Book of Henry.
She currently hosts her podcast named The Sarah Silverman Podcast and works on a musical based on her New York Times Best-selling memoir, The Bedwetter.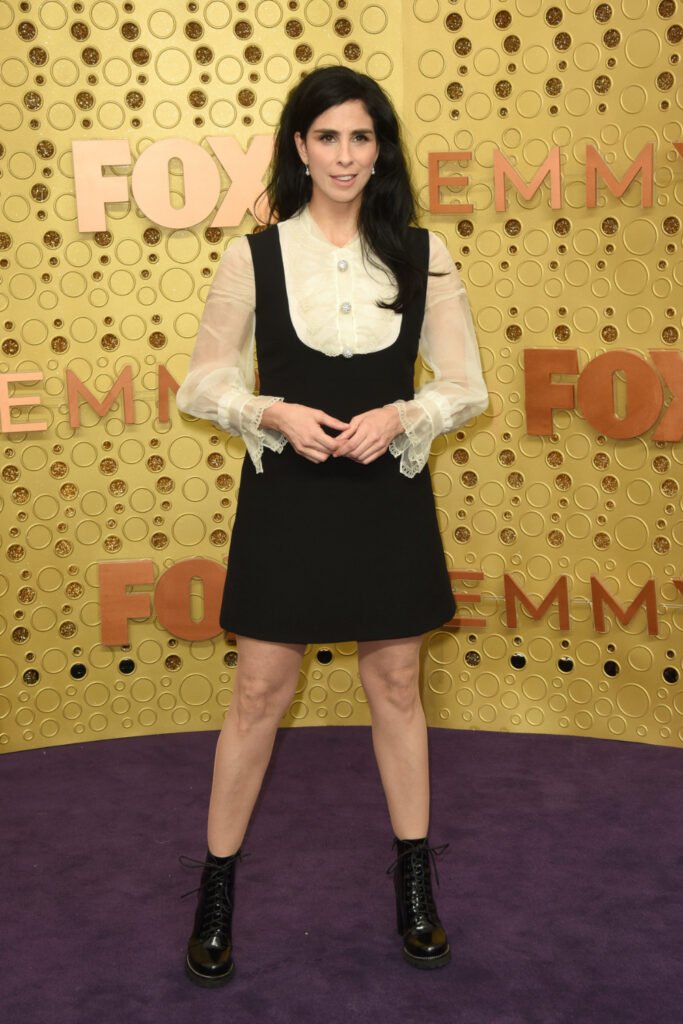 Fun Facts About Sarah Silverman's Life
Sarah won an Emmy for the song I Am F***g Matt Damon, which she wrote and composed for Jimmy Kimmel Live. In total, she has earned ten nominations with two wins!
She traces her ancestry to Polish Jewish and Russian Jewish heritage, adopting those breathtaking features!
She was ranked 74 and 29 in Maxim's list of Hot 100 Women of 2002 and 2007. The woman has been hot and happening since her debut!
Sarah was awarded a star on the Hollywood Walk of Fame in 2018 and cherished that moment!
Sarah plays acoustic guitar, doesn't drink alcohol, and was the class clown in high school. Apparently, she has no regrets about the last two!
What face shape does Sarah Silverman have?
Sarah Silverman has an oval face with high cheekbones and sharp features. 
What is Sarah Silverman's hair color?  
Silverman has naturally black hair that draws a lot of attention to her for all the right reasons!
What color eyes does Sarah Silverman have?
Her eye color is dark brown, which really suits her overall complexion and face shape. 
Does Sarah Silverman have tattoos?  
As of 2023, Sarah Silverman has no visible permanent tattoos. 
Did Sarah Silverman win an Oscar? 
Sarah didn't win an Oscar yet, but she is a two-time Emmy winner and has earned several other awards and honors. 
Does Sarah Silverman Sing?
Sarah Silverman sang an original country song in one of the episodes of her show I Love You, America, and has released and composed several songs, winning an Emmy for one. 
Did Sarah Silverman play in SNL? 
Sarah Silverman played various characters on SNL during the 1993-94 season. 
Did Sarah Silverman go to high school?  
Sarah attended The Derryfield School in Manchester, New Hampshire, USA. 
Where does Sarah Silverman live?
Sarah lives in Los Angeles, California, USA. 
Sarah Silverman is a star entertainer, but her comedy comes with the purpose of challenging the status quo while also valuing integrity and honesty. And that makes her pretty real and a gem in the media industry, just like Canadian actress Natasha Henstridge.