One of the boldest Hollywood icons, Raquel Welch was nothing less of an inspiration! She never shied away from taking chances, be it working as a waitress or dropping out of college to marry her first love. And Welch's unbent acting talent is a Hollywood legacy to be reckoned with!
IN A GIST
Actress Raquel Welch's 5 feet 6 inches or 168 cm (1.68 m) tall stature always gave her a stellar appearance.  
Welch boasted a voluptuous figure with a weight of 60 kg or 132 pounds. 
Welch passed away due to a cardiac arrest on February 15, 2023, while living in Los Angeles. Keep reading to explore more about this legendary actress's career, family, measurements, etc.!  
When and How Did Raquel Welch Pass Away?
Actress and singer Raquel Welch passed away on the 15th of February, 2023, at the age of 82, after losing her life to a serious cardiac attack. Welch was born on September 5, 1940, and lived her grand life with grace and charisma, leaving an inspirational story to be remembered!
Raquel Welch's Educational Background
From the very beginning, Welch took her interests quite seriously. When her family moved from Chicago to San Diego, she started going to the local Church. This was the time she figured out she wanted to be a performer in life.
Welch started learning ballet at just seven, and at fourteen, she was proving herself at beauty pageants. From her high school beauty competition to the San Diego County Fair, she won it all!
Welch had decided she wanted to act by the time she graduated high school. She went on to study theater arts at San Diego State College but dropped it soon to get married. Then Raquel stepped into the bright world of acting, leaving her footprints all around!
Raquel Welch's Loving Family
Raquel Welch's mixed roots and relations define her culture. Her father, Armando Carlos Tejada Urquizo, who was an aeronautical engineer in Bolivia, was of Spanish descent. And her mother, Josephine Sarah Hall, was English.
Welch had two siblings; James/Jim Tejada, Gayle Tejada, and Castillo Tejada. Besides, her cousin, Lidia Gueiler Tejada, was none other than the first female president of Bolivia!
Welch's love life saw its share of ups and downs. After four unsuccessful marriages, she finally decided to take it solo! She was a single mother of two children named Damon Welch and Latanne Welch from her first husband, James Welch.
Full Born Name: Jo Raquel Welch
Nickname: Jo, Raquel
Occupation: Actress
Date of Birth: 5 September 1940
Birthplace: Chicago, Illinois, US
Education: La Jolla High School; San Diego State College
Zodiac Sign: Virgo
Father Name: Armando Carlos Tejada Urquizo
Mother Name: Josephine Sarah Hall
Siblings' Names: James/Jim Tejada, Gayle Tejada, Castillo Tejada
Spouse: James Welch (1959-64); Patrick Curtis (1967-72); André Weinfeld (1980-90); Richard Palmer (1999-2004)
Children: Damon Welch, Latanne Welch
Raquel Welch's Height
Actress Raquel Welch looked like a queen with her admirable height of 5 feet 6 inches or 168 cm (1.68 m). Combined with her stellar, sensational physique and features, her tall stature makes her look heavenly!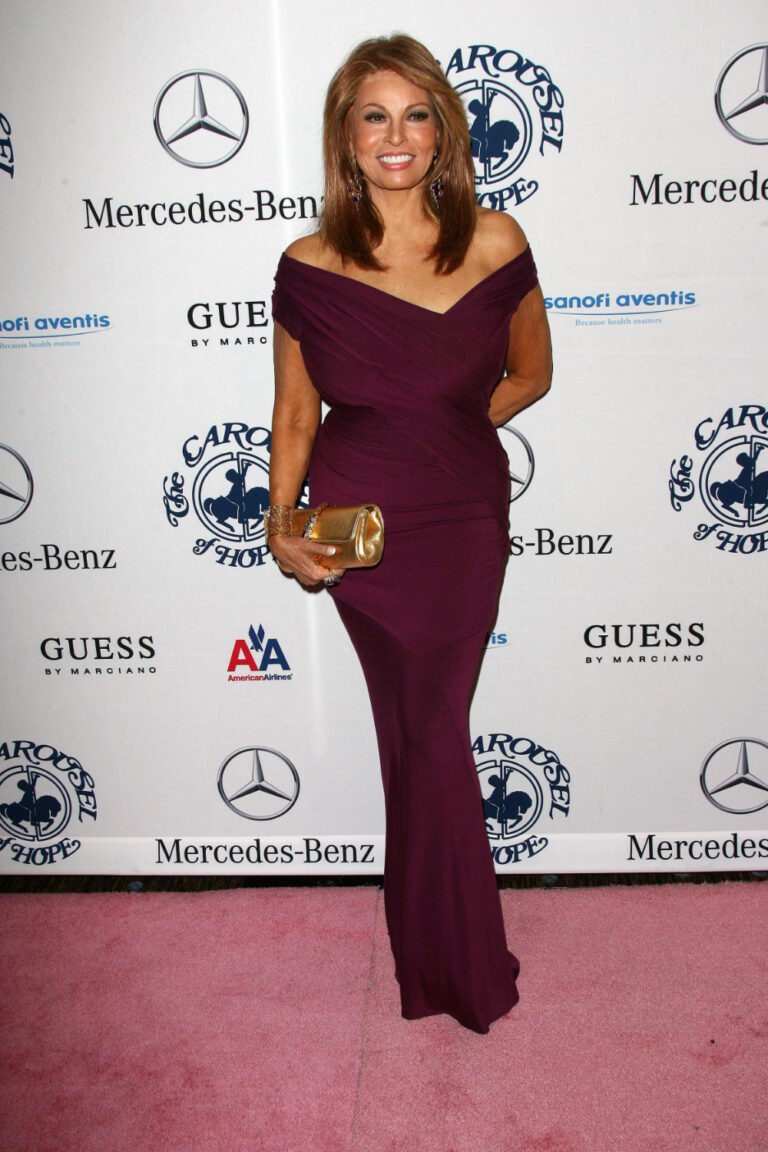 Raquel Welch's Weight
Welch always managed to swoon hearts, thanks to her bold, hourglass frame weighing around 60 kg or 132 pounds. Welch's physique played quite an important part in shaping her early career. And although she put on some weight in the later years of her life, she still outshined her age! 
Raquel Welch's Body Measurements and Physical Appearance
From the 1960s to the 2020s, Raquel Welch's figure won countless compliments from everyone in and out of the acting world! Welch took pride in her voluptuous figure with possible body measurements of 38-26-38 in or 96-66-96 cm and a possible bra size 36D with a cup size D.
Welch's natural attributes were no less! Aged like a fine wine, Welch's sparkly dark brown eyes and dark blonde hair always held the magic. And whether wearing wigs or not, she looked sensational anyway.
When Raquel was spotted in public back in 2021 after a long time dressed in white and black, people just couldn't get over her timeless beauty!
| | |
| --- | --- |
| Height | 5 feet and 6 inches or 168 cm (1.68 m) |
| Weight | 60 kg or 132 pounds |
| Face Shape | Oval |
| Figure | Curvy |
| Body Measurements | 38-26-38 in or 96-66-96 cm |
| Breast Size | 38 inches |
| Bra Size | 36D |
| Cup Size | D |
| Shoe Size | 6.5 (US) or 37 (EU) or 4.5 (UK) |
| Dress Size | 10 (US) or 42 (EU) or 14 (UK) |
| Eyes Color | Dark Brown |
| Hair Color | Dark Blonde |
Disclaimer
Raquel Welch's Net Worth
After taking decades after decades by storm with her sensuous acting performances, the late actress spent her 70s and 80s peacefully without much buzz. Raquel's stardom and lucrative career led to her staggering net worth of approximately $40 million at the time of her passing. 
Welch gave the industry the best of her talents with over 35 movies, many TV shows, plays, and books. She truly is a legend, and her contribution to the entertainment world will always be celebrated!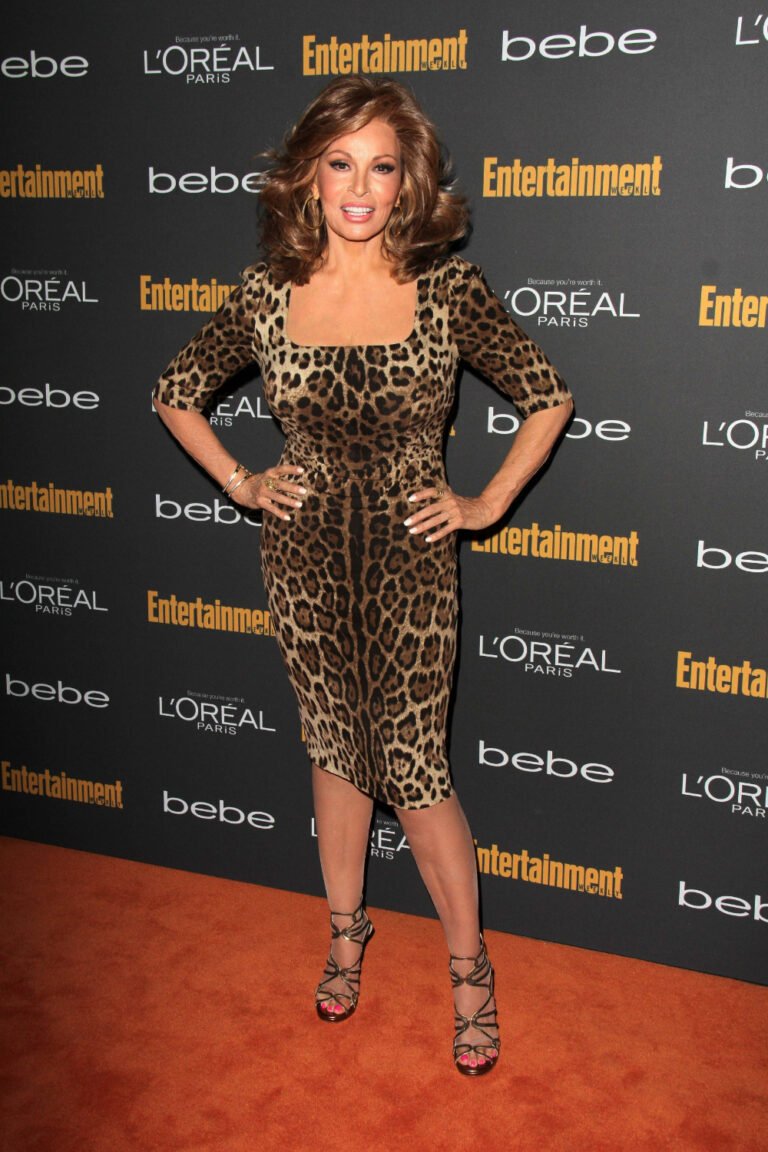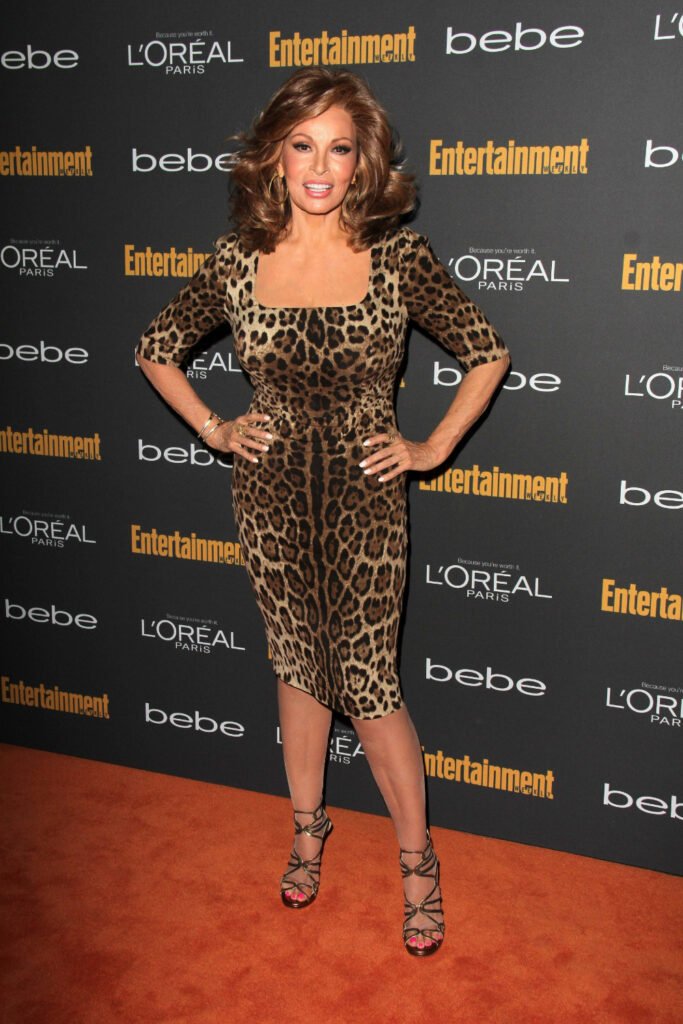 A Quick Overview of Raquel Welch's Career
Welch's love for acting was quite serious. She gave herself to the acting industry as soon as she completed her theater studies. But it doesn't always come easy!
Welch started by acting in local plays and working as a weathercaster in San Diego. After moving to Dallas, she even waited and modeled to meet her ends. But her talent finally landed her a slew of minor roles.
Raquel's first breakthrough leading role was in the movie Fantastic Voyage in 1966. With this, she didn't just get a lot of attention but also many lead roles in films like Fathom, Lady in Cement, Myra Breckinridge, and others.
Owing to her oh-so-hot figure, Welch got famous as a pin-up girl with her three-line-dialogue role in the fantasy film One Million B.C. That look literally made her the dream icon of many!
After gracing many films, shows, and TV movies, Welch took her shot at music in 1987. Her pop single This Girl's Back In Town made it to Billboard's dance club chart. She took a break from her singing career as a nightclub singer in Las Vegas but continued acting.
From the 1964 series The Hollywood Palace to the 2017 show Date My Dad, Raquel Welch's shining talents enlightened Hollywood for more than five decades. Now in her 80s, Welch seems to have settled down, living her life away from the limelight!
Exciting Facts about Raquel Welch's Life
Raquel was asked by 20th Century Fox to change her first name to Debbie as Raquel is hard to pronounce for many people.
Raquel Welch has won the titles of Miss La Jolla, Miss Fairest of the Fair, San Diego, and Miss Southern California in her college days.
Welch was rewarded with the Hollywood Walk of Fame at 7021 Hollywood Boulevard in 1994.
Welch had her wig collection on the hair extension line called HairuWear.
What face shape does Raquel Welch have?
Legendary actress Raquel Welch's expressive face had a pretty ovals-shaped face.
What is Raquel Welch's hair color?
Welch's hair color was dark blonde, perfectly matching her eyes. Besides, she was seen wearing wigs on shows and screens.
What color eyes does Raquel Welch have?
Raquel Welch's charismatic eyes were a deep dark brown shade that popped out more against her fair skin complexion.
Does Raquel Welch have tattoos?
Raquel Welch's features were enough to make her enigmatic. So, she never had any permanent tattoos, as she never needed them!
Did Raquel Welch win an Oscar?
No, actress Raquel Welch didn't win an Oscar. But she won the prestigious Golden Globe for the film The Three Musketeers in 1974.
Did Raquel Welch play in Planet of the Apes?
Raquel didn't play any part in either the old or new Planet of the Apes.
Did Raquel Welch go to school?
Actress Raquel Welch went to La Jolla High School while living in San Diego. She even studied theater art at San Diego State College.
When you talk about sex icons in Hollywood, Raquel Welch is the name that echoes back. From theater to movies, this timeless beauty left her marks everywhere. Another gracious actress who's defying time and age is Kim Basinger. Join us to know her journey and more!