Monica Lewinsky may have come to the limelight for a dishonorable reason; however, now she is using her infamy to advocate anti-bullying on social media. Miss Lewinsky has constantly worked on rebuilding her image and discussed her Clinton Lewinsky scandal on series like Impeachment American Crime Story.
Curious to know about the most famous White House intern? Here is everything about Monica Lewinsky's personal information, career, dating history, height, weight, body measurements, net worth, and more.
Monica Lewinsky's Career
Born in San Francisco, California, Monica Lewinsky grew up in Los Angeles. She was educated at Santa Monica College. While studying there, she worked for Beverly Hills High School's drama department. Following this, she graduated from Lewis & Clark College with a degree in psychology in 1995.
The same year, Monica Lewinsky started working as an unpaid White House intern with the help of her family's connections. In December 1995, she secured a paid position at the White House and worked for the White House Office of Legislative Affairs.
In April 1996, Monica Lewinsky was posted as chief Pentagon spokesman Kenneth Bacon's assistant at the Pentagon due to the Clinton Lewinsky scandal. Authorities considered that it would be better for her not to work a lot in the White House, where President Bill Clinton stayed. She worked in the Pentagon until December 1997.
The infamous Clinton Lewinsky scandal brought immense public and media attention to Monica Lewinsky. In March 1999, Andrew Morton released her biography, Monica's Story, that detailed the scandal from her perspective. An excerpt of it was published in the Times Magazine.
In March 1999, Monica Lewinsky was interviewed by the ABC Network for its 20/20 program. With Barbara Walters as the interviewer, the segment received 70 million views which is said to be record-breaking in new broadcast terms.
Two months later, Monica Lewinsky performed as herself in two skits on Saturday Night Live. Following this, Monica Lewinsky started her bag line, The Real Monica, Inc, in September 1999. The brand was known for its reversible tote bags and was sold online and in stores in New York and London.
Then in 2000, Monica Lewinsky was a correspondent for Channel 5. She covered American trends and culture.
Monica Lewinsky has appeared in a couple of television shows like The Clinton Affair, In the Gutter, The Tom Green Show, America Undercover, Mr. Personality, V Graham Norton, High Chaparall, The View, and Jimmy Kimmel Live.
Wanting to get away from the public attention she was getting in the United States, she shifted to London and enrolled in the London School of Economics to study social psychology. She received her degree in December 2006.
Monica kept a low profile in the following years to come. Then, she re-emerged into the spotlight with her Vanity Fair article, "Shame and Survival," in May 2014. After this article, she began regularly contributing to Vanity Fair.
Monica Lewinsky openly discussed her opinions against cyberbullying as she was a victim of public shaming. She spoke on different occasions, including Ted Talks, Forbes "30 under 30" summit, Cannes Lions International Festival of Creativity, and Good Morning America.
In September 2021, American Crime Story released its third season entitled Impeachment, which was about the Clinton-Lewinsky scandal. Monica Lewinsky co-produced the 10-episode season.
Currently, Monica Lewinsky is an anti-bullying activist and a contributor to Vanity Fair.
Monica Lewinsky's Height and Weight
Monica Lewinsky's height is 5 feet 6 inches or 168 cm (1.68 m), and she weighs 72 kg or 159 pounds. Over many years, she has struggled with the trauma of the Clinton Lewinsky scandal. This has impacted her to gain weight and become a victim of body shaming.
Monica Lewinsky modeled for the Craig diet plan and said in the commercial that she lost 32 pounds by following the program.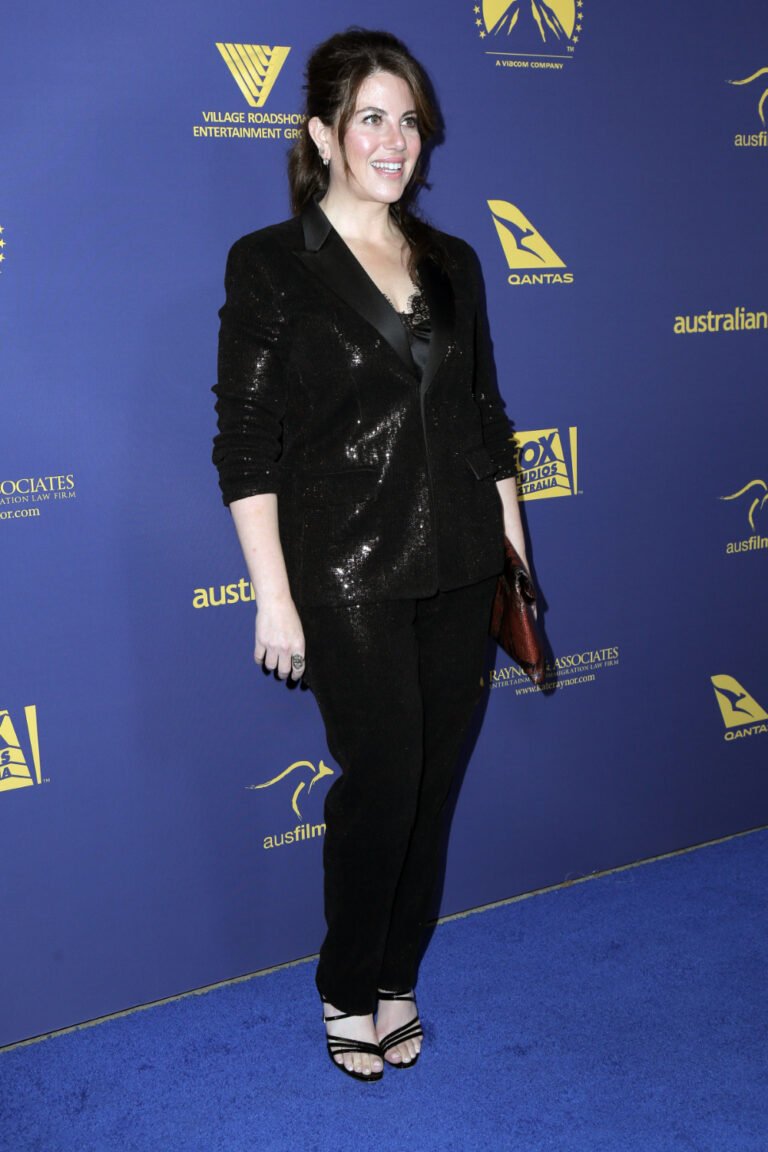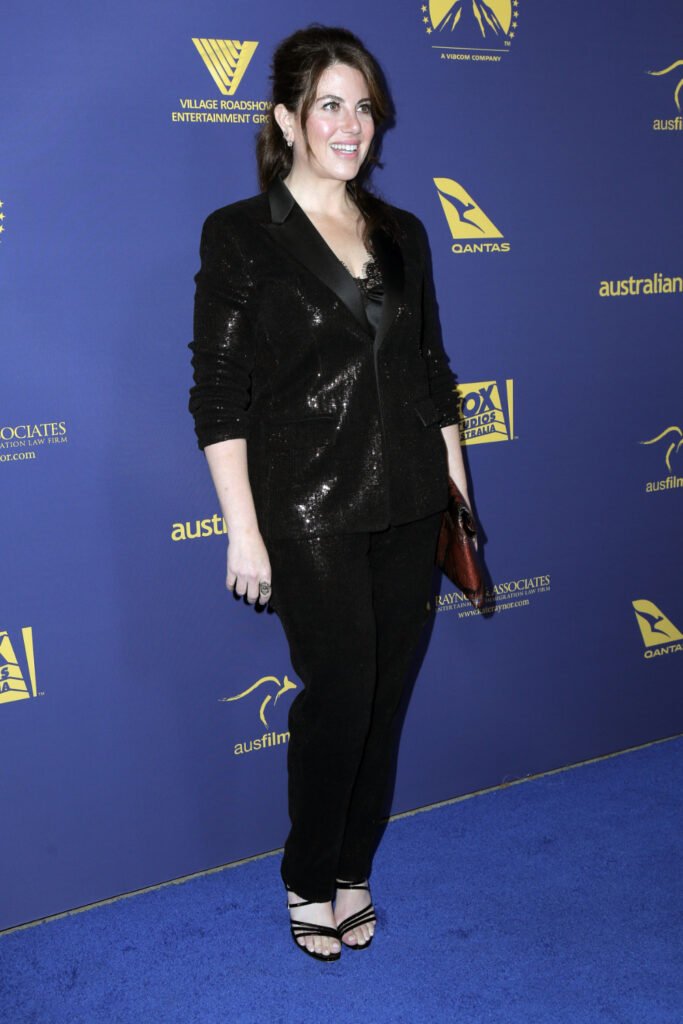 Monica Lewinsky's Dating History
Monica Lewinsky became a national sensation for her illicit relationship with then-president Bill Clinton. Due to this, her dating life became news. This included her past relationship before her affair with President Bill Clinton.
18-year-old Monica Lewinsky started dating her married drama professor, Andy Bleiler, in 1992. The relationship continued during her time in the White House. She bragged about her sexual relationship with an anonymous White House authority.
During this time, Monica Lewinsky sent Andy Bleiler and his wife gifts from the White House. These gifts were later auctioned by Andy Bleiler's wife in 2013.
Monica Lewinsky revealed in Larry King Live that she was in a sexual relationship with a married man. Although she did not name anyone, it was implied that she was talking about her relationship with Andy Bleiler.
Monica Lewinsky was also in a relationship with former US President Bill Clinton. The notorious affair began in November 1995 when she was working at the White House.
Monica Lewinsky was called to take the witness stand for Paula Jones vs. Bill Clinton's sexual harassment case. Lewinsky did not cooperate with those lawyers and rejected allegations of her sexual relationship with President Bill Clinton.
Pentagon employee Linda Tripp who had previously recorded her conversation with Monica Lewinsky, shared the tapes with the lawyers. Monica Lewinsky speaks about her affair with President Bill Clinton. Linda Tripp was later booked with charges for secretly recording her phone conversation with Miss Lewinsky.
Soon the Clinton Lewinsky scandal gained national attention and was headlining on every new channel.
In the "Shame and Survival" article Monica Lewinsky wrote for Vanity Fair, she discussed the disreputable Monica Lewinsky scandal and described it as an abuse of power.
Currently, Monica Lewinsky wishes to keep her dating life down low. While it is not clear if she is seeing anyone, the American television personality remains unmarried and admits to being happy about it.
Full Born Name: Monica Samille Lewinsky
Nickname: Monica
Occupation: American television Personality, Actress, Writer
Religion: Jewish
Date of Birth: 23 July 1973
Birthplace: San Francisco, California, United States
Zodiac Sign: Leo
Father Name: Bernard Lewinsky
Mother Name: Marcia Kay Vilensky
Siblings' Names: Michael Lewinsky
Spouse: None
Children: None
Monica Lewinsky's Body Measurements
Monica Lewinsky's body measurements are 39-27-38 in or 99-69-96 cm. She has a beautiful curvy figure that allows her to stun on red carpets.
Monica Lewinsky's Ample Bosom
Monica Lewinsky's breast size is 39 inches, and her bra size is 36C with a cup size of C. She has an ample bosom that gives her a bold, busty look.
Even without wearing revealing clothes, it can be seen that Monica Lewinsky has a large bust that adds to her sensual appearance. Case in point, when she attended the 2020 Vanity Fair Oscar party wearing a black gown.
| | |
| --- | --- |
| Height | 5 feet 6 inches or 168 cm (1.68 m) |
| Weight | 72 kg or 159 pounds |
| Breast Size | 39 inches |
| Bra Size | 36C |
| Cup Size | C |
| Body Measurements | 39-27-38 in or 99-69-96 cm |
| Figure | Voluptuous |
| Chest Size | 39 inches or 99 cm |
| Waist Size | 27 inches or 69 cm |
| Hips Size | 38 inches or 96 cm |
| Shoe Size | 8.5 (US) or 39 (EU) or 6 (UK) |
| Dress Size | 12 (US) or 44 (EU) or 16 (UK) |
| Eyes Color | Green |
| Hair Color | Black |
| Natural breasts or implants | Natural |
Did Monica Lewinsky Have Any Plastic Surgeries?
As someone who has been in the public eye for a very long time, Monica Lewinsky's looks did not go unnoticed. People were quick to notice any changes in her appearance, whether it was a weight gain or a possible cosmetic surgery.
Allegations first began in 2013 when Monica was out in London. She seemingly looked slimmer. There were even rumors that she would be on The Swan. It is a reality show that gave its contestants intense makeovers that involved plastic surgery.
According to the expert plastic surgeon, Dr. Jeffrey Spiegel, Monica Lewinsky may have gotten botox, fillers, and liposuction.
However, Monica Lewinsky neither appeared on The Swan nor admitted to going under the knife, thus confirming that she has not undergone plastic surgery.
Monica Lewinsky's Net Worth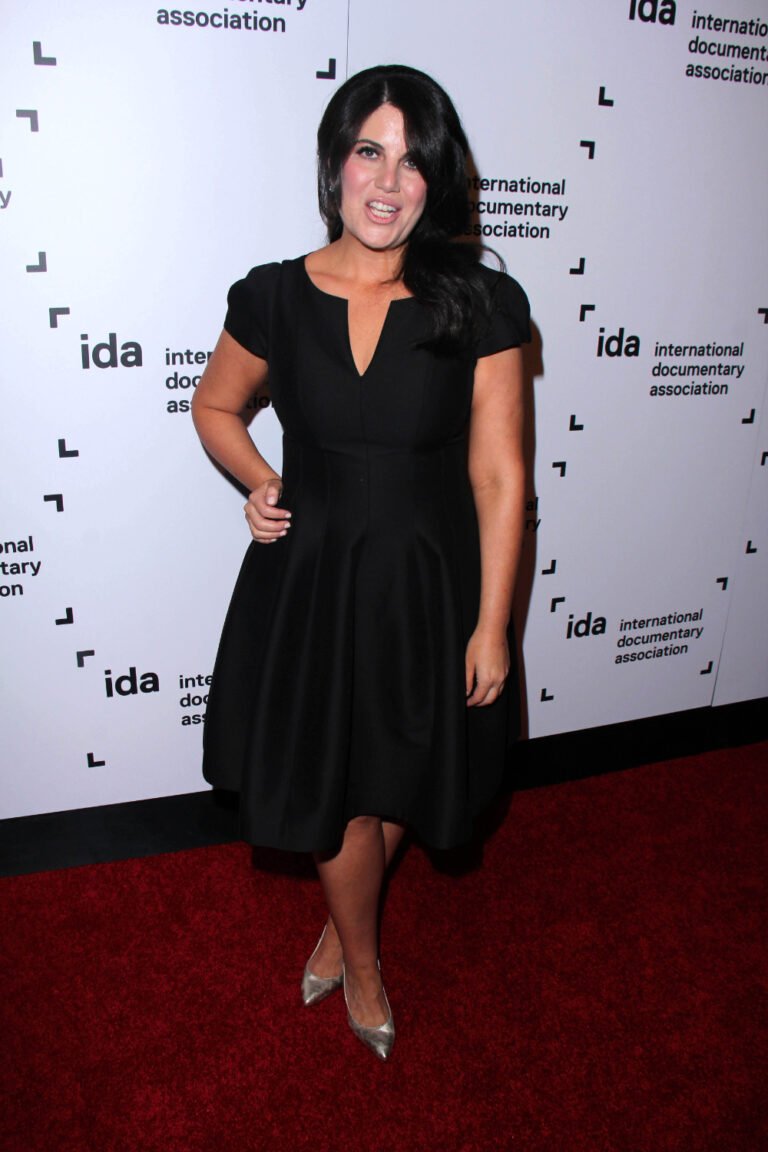 Monica Lewinsky gained and spent a lot of money because of the Clinton Lewinsky scandal. The infamous relationship gave rise to book deals and interviews that led to her making money. However, most of it was spent on legal fees. She also earned money through her bag line and Vanity Fair contributions.
Combining all of it, Monica Lewinsky has an estimated net worth of $1.5 million as of 2022.
Monica Lewinsky's Most Loved Things
Favorite Activity: Knitting
Favorite Song: Like I Did by Jackson Guthy
Monica Lewinsky's Most Notable Awards And Nominations
The Webby Awards: Public Service & Activism (Series & Campaigns), Monica Lewinsky – #DefyTheName, 2019, Nominated
National Magazine Awards: Essay and Criticism Category, Shame and Survival, 2015, Nominated
Emmy Award: Outstanding Commercial, In Real Life – Monica Lewinsky – Anti-Bullying, 2018, Nominated
Interesting Facts About Monica Lewinsky
Monica Lewinsky enjoyed knitting as it helped her take her mind off the Clinton Lewinsky scandal that was stressing her.
Monica Lewinsky once did not want to sign an autograph as she felt she was famous for the wrong reasons.
Monica Lewinsky exited an interview after being asked if President Bill Clinton had to apologize to her. She had previously canceled that question during the practice round.
What face shape does Monica Lewinsky have?
Monica Lewinsky has a square-shaped face. She goes for side partition hairstyles that suit her face the best.
What is Monica Lewinsky's hair color?
Monica Lewinsky has jet black hair that looks great short or long.
What color eyes does Monica Lewinsky have?
Monica Lewinsky has green eyes, which are one of her most beautiful features.
Does Monica Lewinsky have tattoos?
Monica Lewinsky does not have any visible tattoos. She shared on her social media that she was considering getting one because of the Human Rights Tattoo organization.
Did Monica Lewinsky host SNL?
Monica Lewinsky did not host SNL. However, she did make cameos and acted as herself in the skits.
Is Monica Lewinsky on Instagram?
Monica Lewinsky is not on Instagram. But she has social media accounts on Twitter and Facebook.
Where did Monica Lewinsky go to college?
Monica Lewinsky attended Lewis & Clark College. Later, she attended the London School of Economics. She has psychology degrees from both these colleges.
Where did Monica Lewinsky live?
Monica Lewinsky lives in West Village, New York. She is a socialite.
Monica Lewinsky was once passionate about theater and even worked for her school's department when studying in college. Samara Weaving is another celebrity who was so interested in theater that she was appointed as the drama captain in her school. Her acting talent led her to her award-winning roles in Three Billboards Outside Ebbing, Missouri, Ready or Not, and more.