Milla Jovovich is an incredibly beautiful actress who took the world by storm with her first breakthrough appearance in Return to the Blue Lagoon. Her breathtaking eyes can capture the heart of any onlooker within seconds.
Milla's amazing acting talents have always amazed critics, which is why she's considered such a successful actress. If you want to learn more about this great celebrity, follow along as we go over her body measurements, dating history, fitness routine, and more.
Milla Jovovich's Success Story
Milla Jovovich was born in Kyiv, Ukraine, on 17 December 1975. She was born in the Soviet Union and was raised in Moscow as her mother was a Soviet Russian actress. At the age of 5, she moved to London to achieve a better life with her family.
They didn't fit in well in London and moved to Los Angeles, California, with financial problems. Young Milla was also quite discriminated against for being Russian. However, she didn't let this deter her, and within three months of moving, she was fluent in English.
Milla started modeling at the age of 9 to support her family and quit school at 12 to focus on her career. She had a rebellious streak in her teen years, committing petty crimes like vandalism and drug use, but she was always committed to building her career.
Milla got her film debut at age 13 in Two Moon Junction. Her acting was quite impressive, and she got to debut in an undisclosed television show due to this newfound fame.
Milla soon scored a breakthrough role as the lead actress in Return to the Blue Lagoon. The lead role came despite Jovovich still being a teen at the time of filming, and hence was a testament to her dedication to becoming an actress.
Milla gained prominence after appearing in The Fifth Element, a cult favorite and an incredibly high grossing film. The film launched Milla's career into 6th gear and allowed her to pursue many other opportunities.
Milla is also a hit singer, as her first studio album came out in 1994 and was quite well received by critics. The album included various Ukrainian folk songs apart from Milla's creations. Since then, Milla has been rocking the industry with perfection.
Milla Jovovich's Height and Weight
Milla Jovovich has an impressive height that's always helped her stand out from the crowd. She stands 5 feet 8 inches or 174 cm (1.74 m) tall, and her weight is only 64 kg or 141 pounds.
Milla can normally eat what she wants without worrying about weight gain, but this changed during her pregnancy. During her second pregnancy, she decided to avoid eating unhealthily and vowed to lose weight fast after recovering.
She started eating cereal with fat-free milk for breakfast, chicken for lunch, and salmon for dinner. These eating habits made a big difference in Milla's figure, and the numbers are above for you to see.
Milla Jovovich's Relationship Timeline
Milla Jovovich has lived a glorious career in the entertainment industry who is praised worldwide for her works in the mainstream media. She has won the hearts of her fans and co-stars alike.
Although Milla has kept most of the personal information from her personal life a secret, we have explored some major insights from her dating history.
Milla Jovovich's first relationship started in 1992 with American Actor Shawn Andrews. Milla was just sixteen years old when she had decided to marry Shawn. The couple was co-stars in the movie 'Dazed and Confused.
After discovering their marriage, Milla Jovovich's mother – Galina Jovovich, a famous actress in her prime, annulled this marriage. As a result, Milla and Jovovich were married for only two months in 1992, until this marriage was declared invalid.
After separating from Shawn Andrews, Milla's name was associated with Stephen Dorff and Mario Sorrenti from 1993 to 1997. Milla never confirmed these rumors, but in 1997, she made frequent appearances with French film director Luc Besson.
Luc Besson is sixteen years older than Milla Jovovich, who cast her in 'Fifth Element.' In 1997, after spending some quality time with him, Milla Jovovich decided to marry him.
Milla Jovovich and Luc Besson were married until 1999 until they started facing irreconcilable issues in their married life. Most of these issues were due to the age difference and career choices that led them to end this relationship.
After separating from Luc Besson, she dated celebrities like her 'The Million Dollar Hotel' co-star Jeremy Davies, the Red Hot Chili Peppers singer and guitarist John Frusciante, and the English poet and musician Anno Birkin.
Milla Jovovich tried finding love in these friendships but was never successful. So she chose to focus on her career and her role in the Resident Evil series.
In 2002, Milla Jovovich fell in love with her Resident Evil series director Paul W.S. Anderson. This time she gave proper time to her relationship, which later proved its worth.
Presently, Milla Jovovich has been married to her husband, Paul W.S. Anderson, since 2009. Their family looks adorable together as they were blessed with three children; Ever Gabo Anderson, Dashiel Edan Anderson, and Osian Lark Elliot Jovovich-Anderson.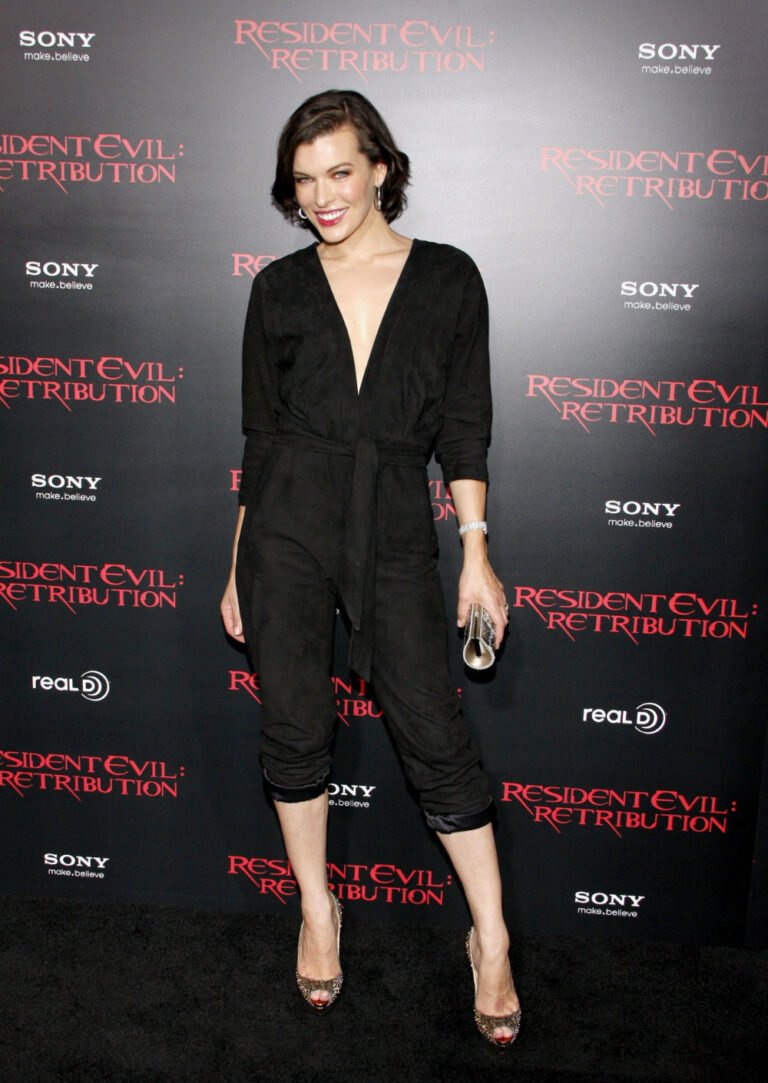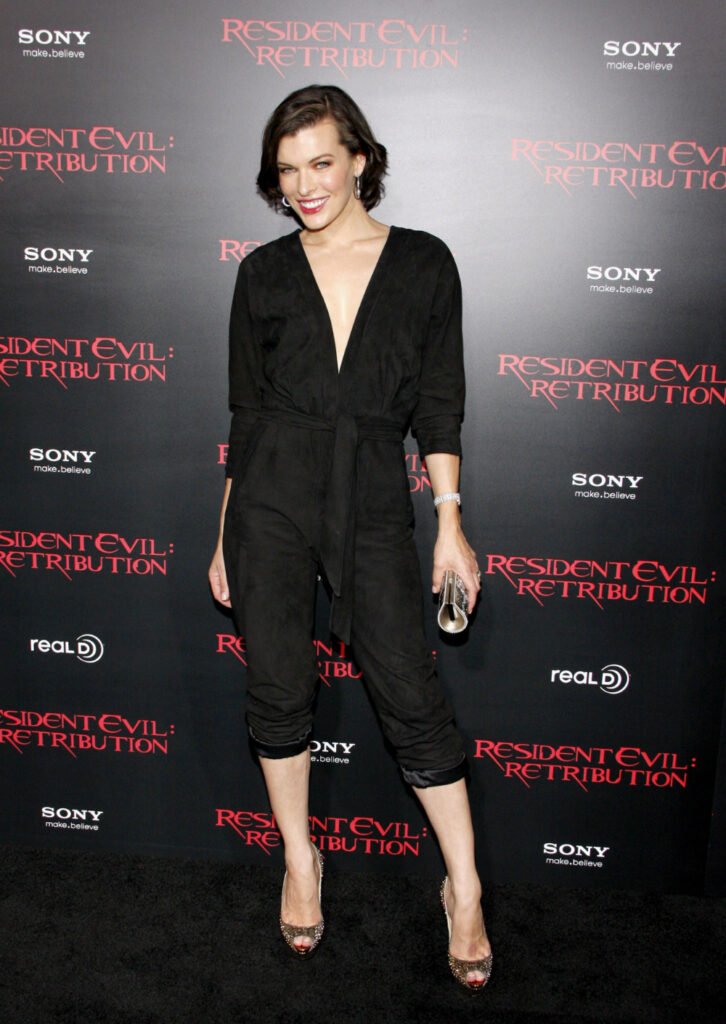 Full Born Name: Milica Bogdanovna Jovovich
Nick Names: The Brat, Yo-Yo, Milla Jovovich, Mishach
Occupation: Actress, Singer, Guitarist, Voice Actor, Poet, Fashion Designer, Supermodel, Model, Film Producer
Religion: Russian Orthodox
Date of Birth: 17 December 1975
Birthplace: Kyiv, Ukraine
Zodiac Sign: Sagittarius
Father Name: Bogdan Jovovich
Mother Name: Galina Jovovich
Siblings Names: Marco Jovovich
Spouse: Shawn Andrews (m. 1992 – ann.. 1992), Luc Besson (m. 1997 – div. 1999), Paul W.S. Anderson (m. 2009 – present)
Children: Dashiel Edan Anderson, Ever Gabo Anderson, Osian Lark Elliot Jovovich-Anderson
Milla Jovovich's Body Measurements
Milla Jovovich's figure and perfect body is a fitness goal for several young women today. Her body measurements are 34-25-34 inches or 86.36-63.5-86.36 cm.
Milla Jovovich has not only attained these measurements by her healthy diet but has also been working out quite a lot. Milla's workouts involve HIIT and cardio three times a week, which helps keep her heart healthy and her metabolism fast.
While she doesn't lift heavy weights, Milla does perform resistance training now and then to keep her core just as strong as her spirit. This also helps her during stunt scenes in her films.
Milla Jovovich's Ample Bosom
Milla Jovovich has perfect assets that are impossible to ignore. Her breast size is 34 inches, and she wears a bra of size 34B with a cup size B.
While Milla mostly cares about how she dresses, she has had her share of wardrobe malfunctions, such as when she went to the Gorby 80 Gala Concert, she took several pictures with a nip slip.
| | |
| --- | --- |
| Height | 5 feet 8 inches or 174 cm (1.74 m) |
| Weight | 64 kg or 141 pounds |
| Breast Size | 34 inches |
| Bra Size | 34B |
| Cup Size | B |
| Body Measurements | 34-25-34 inches or 86.36-63.5-86.36 cm |
| Figure | Slim |
| Chest Size | 34 inches or 86.36 cm |
| Waist Size | 25 inches or 63.5 cm |
| Hips Size | 34 inches or 86.36 cm |
| Shoe Size | 9 (US) or 40 (EU) or 7 (UK) |
| Dress Size | 4 (US) or 36 (EU) or 8 (UK) |
| Eyes Color | Green |
| Hair Color | Dark Brown |
| Natural breasts or implants | Natural |
Has Milla Jovovich got Plastic Surgery?
Milla Jovovich is a beautiful woman who's been in front of the camera since the very start. But some haters will always hate beauty just to help themselves cope with their insecurities.
As a result, there are many haters online who've been claiming they have proof that Milla has undergone plastic surgery. However, this accusation comes without any solid basis since Milla has had no dramatic changes in her looks over the years.
While Milla Jovovich herself has not commented on the rumors to deny them, we can safely say that she has not undergone any cosmetic surgery. She's always been naturally beautiful and doesn't need surgery to boost her confidence.
Milla Jovovich's Net Worth
Milla Jovovich started her career at a time of financial imbalance in her family and has risen to the top of Hollywood thanks to her talents, beauty, and unwavering determination.
Her net worth as of 2022 stands at $80 Million. Milla has earned her net worth from working in blockbuster hits and her very lucrative modeling career for magazines like Vogue and Cosmopolitan.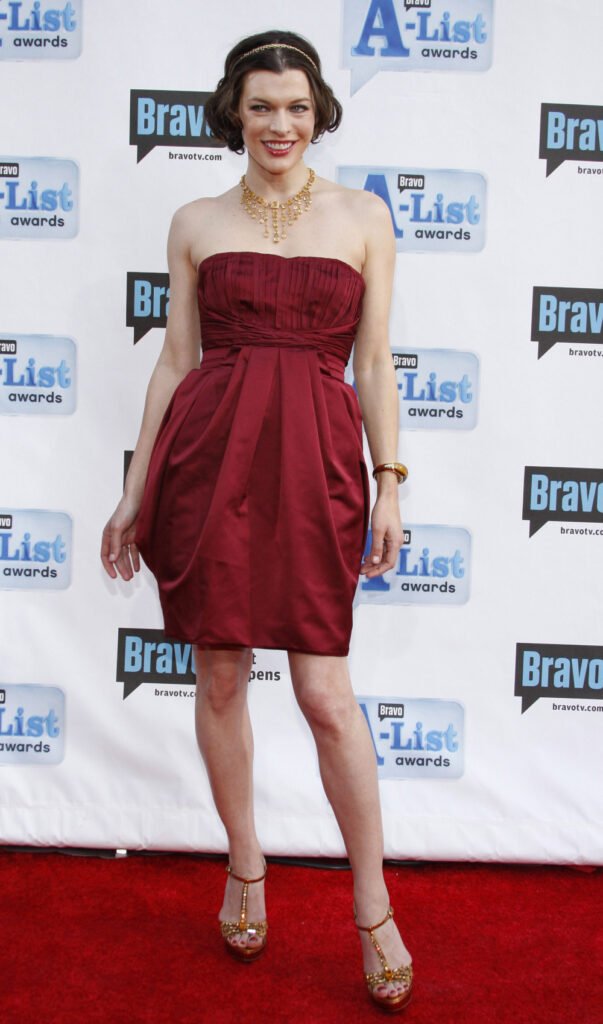 Milla Jovovich's Most Loved Things:
Favorite Foods: Buckwheat, Millet, Berries, Almonds, Coconut Flakes
Favorite Hobbies: Martial Arts, Yoga
Favorite Colors: Black, Blue, Red, White
Awards Won By Milla Jovovich
Scream Awards: Best Science Fiction Actress, 2008
Hollywood Film Awards: Spotlight Award, 2010
Scream Awards: Best Science Fiction Actress, 2011
Exciting Facts About Milla Jovovich
Milla Jovovich is a trained martial artist who practices Jiu-Jitsu to stay fit and active. She has even done all the stunts by herself in the Resident Evil series.
Milla Jovovich was bullied in her school for relocating from the Soviet Union. She turned out to be a rebellious teenager who got into smoking, drug use, shopping mall vandalism, and credit card fraud.
What face shape does Milla Jovovich have?
Milla Jovovich has a round-shaped face with an equal distribution of beauty over all her exquisite facial features.
What is Milla Jovovich's hair color?
Milla Jovovich's natural hair color is Dark Brown, and she looks ravishing in short hair length. She has experimented with different shades of hair color like blonde, red, and other darker shades in braided or side-swept fringes.
What color are Milla Jovovich's eyes?
Milla Jovovich's natural eye color is green which is so tempting that they have captivated her fans and followers alike.
Does Milla Jovovich have tattoos?
No, Milla Jovovich does not have any real tattoos on her body.
Is Milla Jovovich Russian?
Milla Jovovich has Russian roots, which she inherited from her mother. She was born in Ukraine and was raised in Moscow, Russia.
Is Milla Jovovich left-handed?
Yes, Milla Jovovich is a left-handed person, suggesting that she is fearless and creative. She has proved these qualities of being a lefty while filming the action sequence in the Residential Evil series.
Can Milla Jovovich play piano?
Milla Jovovich has learned to play piano during her childhood. However, she only knows some basics and does not have any professional knowledge in this domain.
Does Milla Jovovich know martial arts?
Milla Jovovich is a trained fighter who grew up in Russia. She has trained extensively in different Martial Art forms like Wushu, Tae Kwon Do, and Brazilian Jiu-Jitsu, which has helped her perform her stunts.
Milla Jovovich has won everyone's hearts with her charismatic personality and vivid aura. In addition, she has a credible acting temperament which reminds us of starlet Whitney Cummings, who has showcased her incredible physique and exquisite beauty to be a trending star of the present times. So do check out her inspirational life story as we have explored some insightful scenarios.